The 1989 Porsche Speedster we featured back in January is back up for sale. Will warmer weather entice a buyer into this rare 3.2 Carrera based variation?
THE BELOW POST ORIGINALLY APPEARED ON OUR SITE January 16, 2014: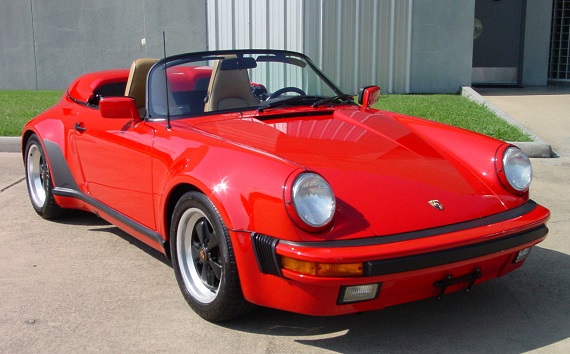 In 1954, Porsche introduced the 356 Speedster. Derived from the 356 Cabriolet, the Speedster was minimalist and featured a raked and removable windshield, bucket seats, and folding top and made Porsche an immediate contender to the two-seat roadsters popularized by the British motoring industry and favored by many weekend racers. That car was a success and today a 356 Speedster is one of the most prized Porsche collectibles. As the classic Porsche 911 came to its production end Porsche reintroduced the Speedster model. Like the 356, the 911 Speedster featured the same low, raked removable windshield, the rear seats were removed in favor of a hard tonneau cover, and most came with the wide-body turbo look of the 930. Like its predecessor the 911 Speedster is a highly valued Porsche collectible and many remain extremely low mileage and in pristine condition. Such is the case with the example here, a Guards Red over Cashmere 1989 Porsche 911 Speedster located in Houston.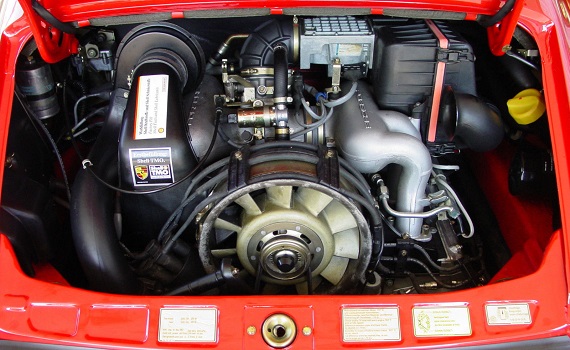 Year: 1989
Model: 911 Speedster
Engine: 3.2 liter flat-6
Transmission: 5-speed manual
Mileage: 7,500 mi
Price: $186,500 Buy It Now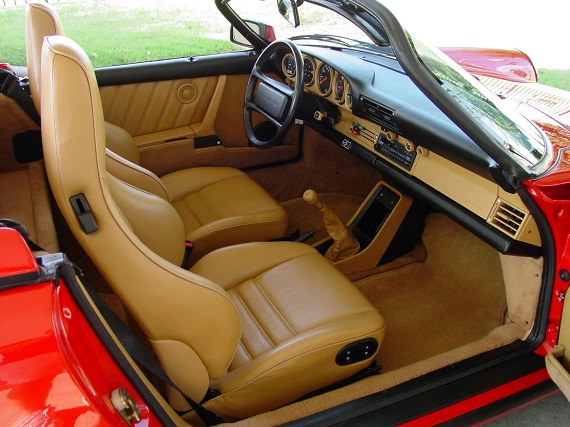 1989 PORSCHE 911 SPEEDSTER

Guards red/Cashmere, 7,500 miles, sport seats, limited slip differential, short shifter, steering wheel with raised hub, cruise control, factory alarm, Blaupunkt radio w/ factory amplifier, velour trunk liner, rear storage compartment, belt line leather, rim crests, rare A/C delete, factory "Special Wishes" leather interior options, fresh service, Certificate of Authenticity, one owner, finest available.

Factory "Special Wishes" Leather Interior Options

Leather instrument housing
Leather instrument rings
Leather door lock rosette and knobs
Leather ignition lock rosette
Leather control knobs (4)
Leather glove box knob
Leather turn signal/wiper switch
Leather fresh air vents side dash
Leather heat/vent control knobs
Leather shift lever cover
Leather shift lever knob
Belt line leather- cashmere/black
While the 911 Speedster is already a rare and special car, this one was ordered with additional interior extras through Porsche's Sonderwunsch ("Special Wishes") program, which replaced much of the black interior trim with Cashmere leather to match the rest of the interior. These are somewhat subtle, and some may think pointless, modifications, but they do allow this Speedster to stand slightly apart from the crowd. As with any Speedster the asking price is high, but as a representation of Porsche's first foray into production of a gentleman's weekend racer any version of the Speedster always holds a high place in Porsche history.
-Rob