Warning!
This post is in our archives. Links in this post may have been updated to point to similar cars available to bid on eBay.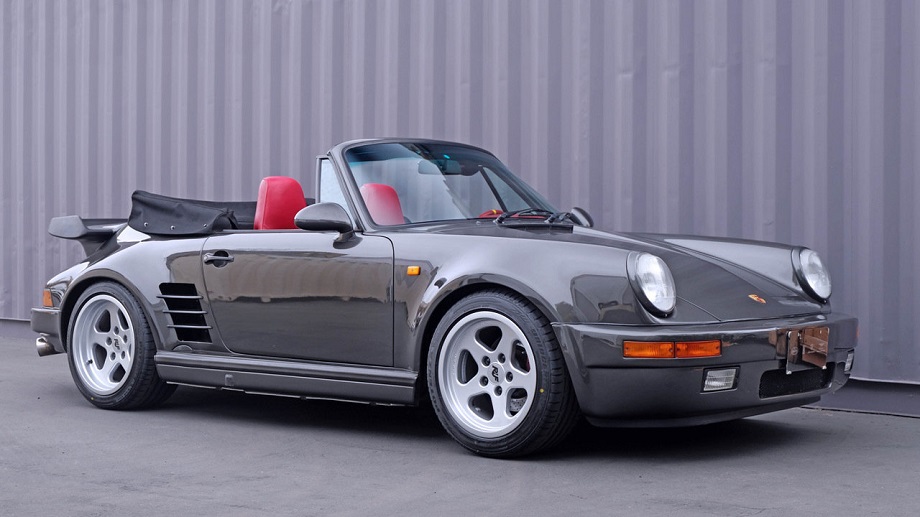 There is something wonderful about the excesses of certain '80s automobiles. I assume at the time this was all taken quite seriously, but looking back now it is always good for a laugh. Now, that doesn't mean I don't like these cars. In fact, I like them quite a lot, but driving a convertible with a massive spoiler supporting its huge rear surely can't elicit feelings of seriousness. It's not as head-turning as a Slantnose, but still these 930s are ridiculous in the best possible ways. The only thing that can make these better is when its excesseses are turned up even more. If you're going to punt subtlety, then why not go all the way?
This Porsche does just that. Here we have a Slate Grey Metallic 1989 Porsche 930 Cabriolet, located in San Diego, with a special order Lobster Red interior and a whole host of additions by the tuning mavens at RUF. The RUF bits are mostly of the cosmetic variety so there isn't much in the way of additional performance to be had here, but the 930 does just fine as standard and those cosmetic enhancements help this 930 stand apart a little more. As if it needed much help. I love it!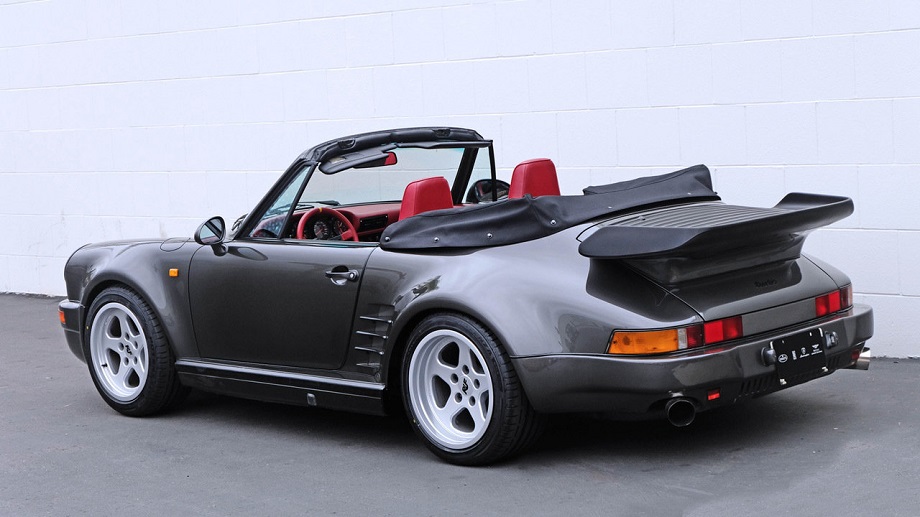 Year: 1989
Model: 911 Turbo
Engine: 3.3 liter turbocharged flat-6
Transmission: 5-speed manual
Mileage: 52,598 km (32,683 mi)
Price: $165,000 Buy It Now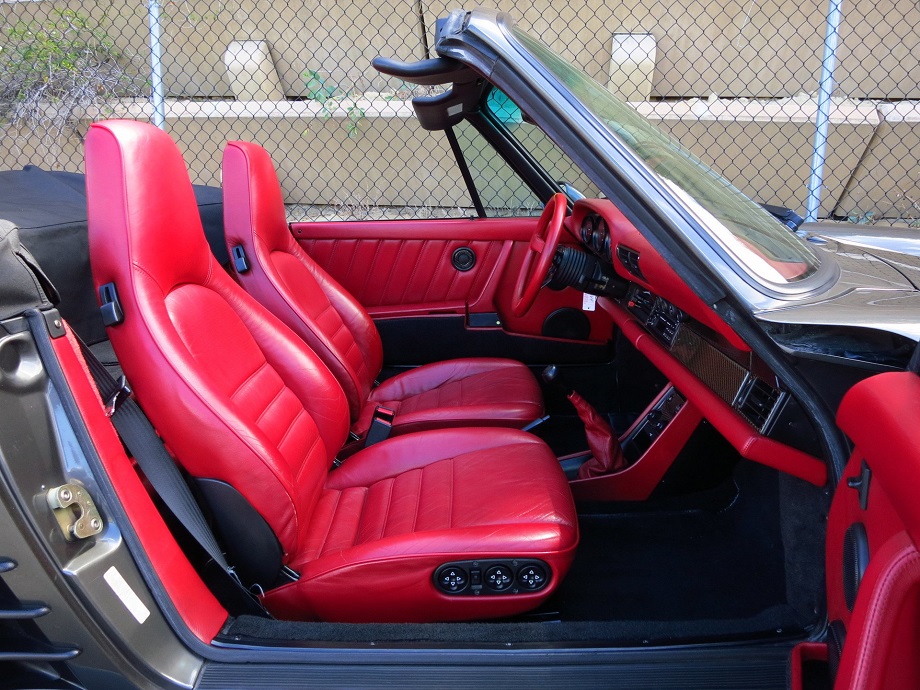 1989 Porsche 930 Turbo 3.3

Year 1989

Make Porsche

Model 930 Turbo Cabriolet
Type German Market Domestic Configuration
VIN WP0ZZZ93ZKS020136
Engine No 67K00515
Engine Type No M930/66
Gearbox No 2K01632
Gearbox Type G50 / 50 Limited Slip 5-Speed
Exterior Color Slate Grey Metallic (Code Q9)
Interior Color Special Order Color to Sample "Lobster Red" (Code 99)
Completed February 14th, 1989
Sold March 8th, 1989
Delivered March 15th, 1989
Mileage 52,598 Kilometers / 32,727 Miles

Options: Code Description
-COO Equipment for Germany Domestic Market
-058 Bumpers front and rear with impact shock absorbers
-139 Driver's side adjustable Seat Heating
-197 Heavy duty deep cycle higher amperage maintenance free battery
-220 Limited slip differential
-340 Passenger's side adjustable Seat Heating
-430 Yellow front supplemental fog lights
-513 Special lumber support for passenger's seat
-567 Tinted front windscreen with graduated darker upper green tinting
-586 Special lumber support for driver's seat
-975 Special front trunk soft carpeting in black
Special Request Goodyear Tires

WP0ZZZ93ZKS020136 Individual History: This particular 1989 Porsche Turbo was a unique special order example requested in late January of 1989 by the German import/export specialist, AVUS Auto Vermeitung on behalf of a Japanese museum collector. The order was filled and completed on Valentine's Day, February 14th, 1989 with "Tourist" delivery and temporary registration issued the following month on March 8th, 1989 and physical possession taking place the following week on March 15th, 1989. The order was quite specialized and highly personalized with no less than 12 different option groups. The exterior was the fantastically popular and ever appealing "Slate Grey Metallic" which was dramatically accented by a special order, full leather "Lobster Red" interior. The car was then delivered to Alois Ruf's AUTO RUF in Pfaffenhausen, Germany where it was given further unique "RUF" optional equipment and updates, including the following: -Front and Rear Valences -Supplemental Front Oil Cooler -Low-Flow Dual-Outlet Exhaust System -Lightweight Magnesium Alloy Wheels with RUF Center Caps -935 Type Boxed Rockers -935 Type Engine and Rear Brake Cooling Ducts -MOMO Sport Steering Wheel in matching "Lobster Red" leather -Carbon Fibre Dash, Facia and Console Inserts After completion of the additional work by Alois Ruf, this Porsche was formally exported to Japan and registered there for the first time in May of 1989. It remained in Japan for the next 29 years as part of several prominent Porsche collections as well as a corporate asset at least twice. In May of this year, this Porsche was sold and purchased by our company and formally exported to the States. Total mileage at the time of arrival and completion of services and safety checks is 52,598 kilometers or the equivalent of 32,682 miles which are documented from new by continuous registration records and Japanese Motor Vehicle Extracts.

WP0ZZZ93ZKS020136 Today: Upon arrival, this Porsche was extensively and comprehensively inspected and given full safety checks. A full and complete set of major services and comprehensive fluid and filter services were performed bringing everything to zero-time fresh. An engine compression check was undertaken with the following results:

Cylinder No. (Pounds Per Square Inch):
1 130
2 135
3 135
4 130
5 138
6 135

Tires are near zero-time, perfect tread, high-performance 17-inch Bridgestone Potenza S-04's. This Porsche is sold with all services and safety checks now completed and it is sold with full history from new as well as all original delivery items including jack, tools, manuals, pouch and various other delivery documents and items. This is a completely matching numbers, rust and accident free vehicle in need of nothing but an enthusiastic fortunate new caretaker! Please contact me if I can assist further with inspections, test-drives and any manner of world-wide shipping for this Porsche or any of our other vehicles.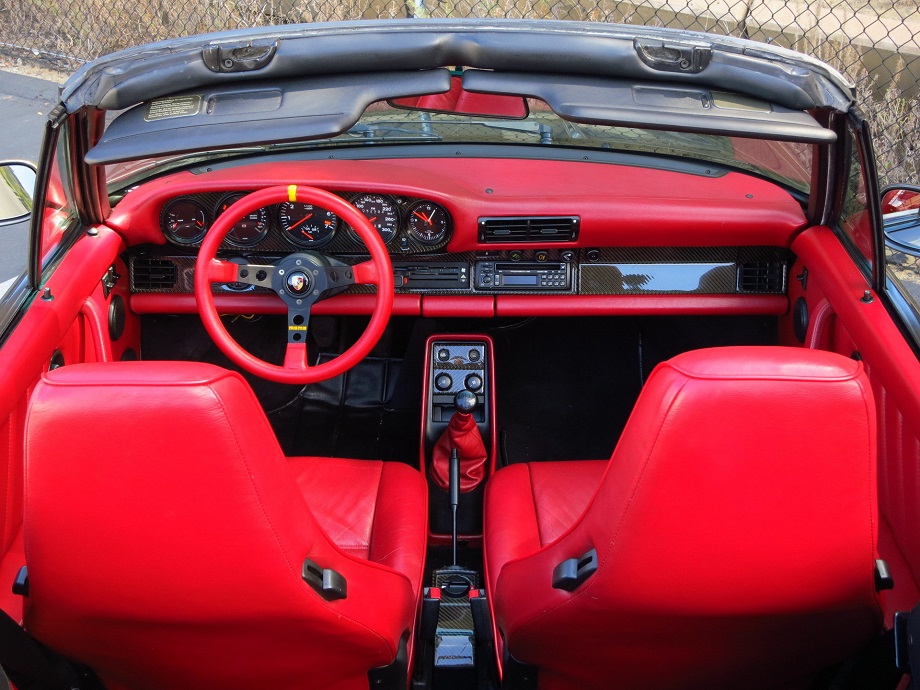 I don't know if Lobster Red is the brightest red interior Porsche has offered, but it must be close and I'm not sure how it could be brighter. Its contrast with the Slate Grey exterior simply makes it stand out all the more. The only way it could be better is if this were the original non-metallic Slate Grey rather than the metallic version available in '89. RUF is stated to have added the matching Lobster Red MOMO steering wheel and the carbon fiber trim present throughout the interior. The interior otherwise is said to be as it was ordered from the factory. I'm not sure if the carbon fiber trim improves the look or not, but it does provide additional contrast that's a bit different from the standard black. I'd like the steering wheel better in all black, but this clearly was never intended to be an interior that blended in so I can understand why even the MOMO wheel is covered in that bright red.
The exterior received front and rear valences from RUF along with a set of their 5-spoke wheels. The rocker panels also were modified a la the 935 similar to those we see on the Slantnose 930. A dual exhaust completes the various cosmetic upgrades. Overall everything looks in really nice shape.
Originally configured for the German market, it sounds like this 930 has spent most of its time in the hands of various collectors with much of that time spent in Japan. It's said to be fully documented and we see some of those documents in the pictures. The one obvious item missing would be documentation from RUF and hopefully that is present as well. All told this is a pretty unique 930 that blends factory upgrades with those from one of the best known Porsche tuners. The asking price is understandably high, but given that this is a final-model-year 930 with a very unique color combination and some nice RUF upgrades I imagine someone might consider it worthwhile. I don't suspect it will sell quickly, but it shouldn't be around too long either.
-Rob