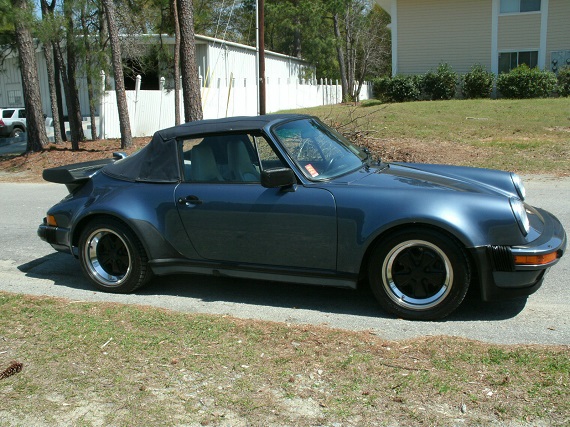 What a difference a year can make! In 1989, for the 930's final year, Porsche equipped its iconic model with a 5-speed manual transmission for the first time. Enthusiasts had long wondered why Porsche had been so persistent in continuing to use a 4-speed manual, but they needed wonder no longer. Now 25 years down the road Porsche's decision has rendered that single year of the 930 as an extremely valuable commodity, easily surpassing the values of the model years that immediately preceded it. As a quick case-in-point: the starting bid for this auction is pegged right around the point at which we might expect to see an '86-'88 930 sell. The BIN price is quite a bit higher. The example we see here is a Marine Blue 1989 Porsche 930 Cabriolet, located in South Carolina, with a Linen leather interior and 50,200 miles on it. For someone looking for that combination of classic 911 style, open-top motoring, and pulse-quickening performance a 930 Cabriolet is sure to provide an ample amount of excitement and driving joy.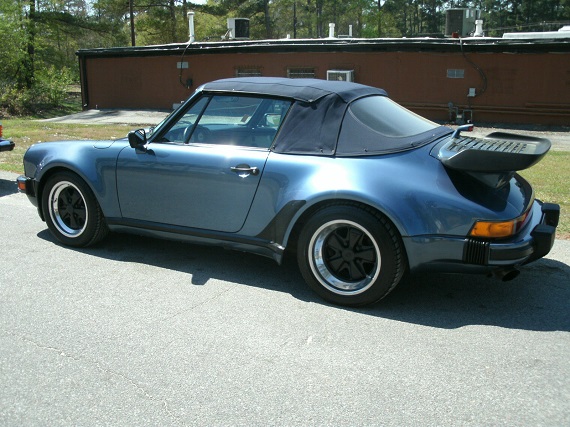 Year: 1989
Model: 911 Turbo Cabriolet
Engine: 3.3 liter turbocharged flat-6
Transmission: 5-speed manual
Mileage: 50,200 mi
Price: Reserve Auction ($145,000 Buy It Now)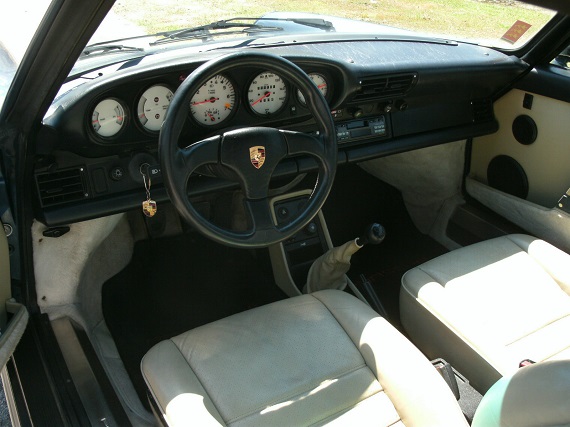 What a unique opportunity to own one of the most rare turbo Porsches ever made. This two owner car is marina blue with linen interior and a blue top. The car has a clean car fax and has spent the last 20 years with one owner in Columbia, SC.. Garage kept and only driven on sunny days in the south. The unique color combination is so rare that it may be only one of a hand full made.

The 1989 Turbos are the only 5 speed made in a long line of 930's and 911 Turbos. This was the last year and probably the most desireable on all 911 Turbos. The car is original paint and all the original parts to go with it that have been changed which includes the muffler, the steering wheel, and the radio.

These cars are going up by 50% in value every couple of years and this one has never been for sale in the last 20 years. It has a great service history with the same local shop having done the regular maintenance for many years.

If you want to own a piece of Porsche Turbo history, the is the car to purchase. A pre-purchased inspection is welcomed with a down payment prior to the inspection. If you have any questions, just give me a call at 803 414 2760….Andy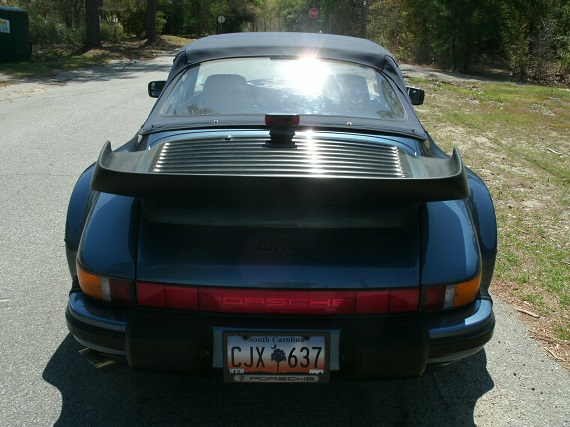 A 1989 Turbo Cabriolet is special for one additional reason: it is the last of the air-cooled Turbo Cabriolets Porsche would offer as a standard model. A small number of 964 and 993 Turbo Cabriolets were produced by Porsche Exclusive, but it was not until the 996 that the Turbo Cabriolet reappeared. While that will not necessarily have a significant impact on the value of the car here it is at least a fun piece of trivia. About this particular 930: Marine Blue is always a nice color on any 911 and the Linen interior certainly provides an interesting contrast. I'm not sure if that interior is easy to live with on a convertible as it seems like it would easily show all sorts of dirt and other debris, but the lighter interior does provide a nice departure from black on a car like this. Bidding currently sits at $90,200 so we are a long way from reaching this BIN price. The seller's statement that a down payment is needed prior to a PPI might turn a few buyers off, but hopefully the long ownership history of the current owner will mean there is good deal of documented maintenance on hand. If those things check out, then there is a good deal of potential here.
-Rob