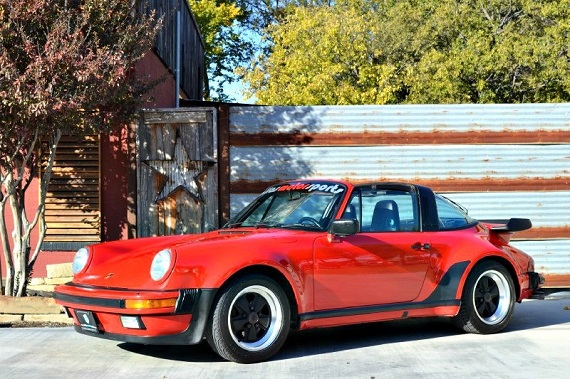 In my write-up of the previous Turbo Targa we featured I mentioned that the only way to further the collector desirability of that car was if it were a 1989MY 930. Lo and behold, we have just such a machine here. To be fair, the previous Turbo Targa was very low mileage, while this one is nearing six-figures, so a market comparison cannot be made directly between the two, but as the only year the 930 came equipped with a 5-speed transmission the '89 models have garnered a significant premium over earlier years. Stylistically the Turbo Targa is a reflection of the '80s with wild lines and prodigious power. They are rarely the prettiest 911s as the tea-tray spoiler juts away from the Targa's expansive rear greenhouse, but they still possess the ferocity of the 930 Coupe while providing a measure of open-top freedom. The example we see here is a Guards Red over Black 1989 Porsche 930 Targa, located in Texas, with 92,352 miles on it.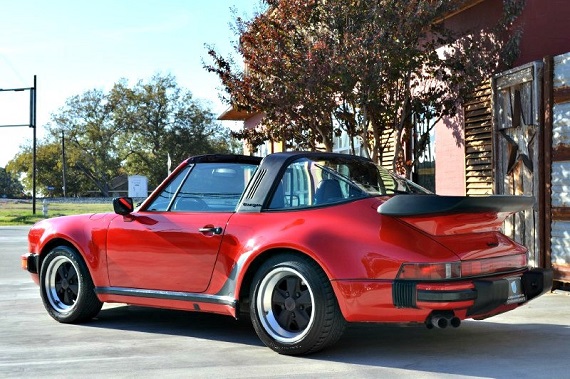 Year: 1989
Model: 911 Turbo Targa
Engine: 3.3 liter turbocharged flat-6
Transmission: 5-speed manual
Mileage: 92,352 mi
Price: $99,900 Buy It Now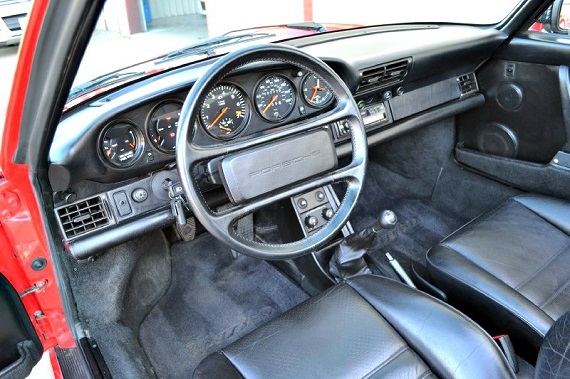 1989 Porsche 930 Turbo Targa
Contact Jared Orem (214) 435-2917 email: Jorem@DallasMotorSports.com

1989 Porsche 930 Turbo Targa G50 – 1 OF 49 Produced for the U.S. Market!

One of the nicest we've seen! Collector condition!

Fresh out of a collection, this 930 Turbo Targa is a 2-Owner, well documented car that arrives to us in exceptional condition inside and out. Up until our photo's, this car had its original sheep skin covers on the factory sport seats since new keeping them completely original and well preserved over the years.

A physician in Wisconsin was the 2nd owner of this car where he purchased in 1994 with only 12,000 Miles. To this date; this 930 looks, drives and presents in every way like it did as a 12,000 Mile example!

Certain to complement any collectors garage; this car comes complete with its original stamped service booklet, owner's manual & pouch, space saver spare tire, jack, complete tool-kit, air-pump, extensive service records and even the original window sticker!

100% Stock with no suspension, turbo or exhaust modifications.

Factory Options Include:

MY89 Porsche 911 Turbo Targa ($77,065.00)

Steering Wheel With Raised Hub ($67.00)

Heated Seat Left ($231.00)

Heated Seat Right ($231.00)

Shorter Gear Shift Lever ($67.00)

Sport Seats With Electric Height Adjustment

Luggage Compartment With Black Velour ($178.00)

Original MSRP ($79,254.00)

Contact Jared Orem (214) 435-2917 email: Jorem@DallasMotorSports.com!
For a sense of the premium attached to the 1989 930, Hagerty pegs the average value for a 1988 930 Coupe at $66,414 while a 1989 930 Coupe climbs all the way to $116,366. That appears to make this car a reasonable value until we check out comparable values of the Targa, which are far lower than those of the Coupe. That is typical of 911 values as the Targa has always been less valued and there is a way in which this car is in search of a market and I can understand the seller's ask given what we've seen with 930 values in general. For now, however, this is ahead of the market with this mileage, but it nonetheless remains a very attractive example of the 930 Targa that though it has a few miles on it should still provide for plenty of driving fun.
-Rob