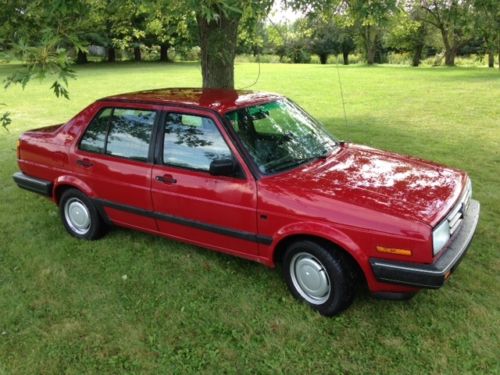 Back in 1989, if you showed me a brand new diesel Jetta, there is zero probability I would have been excited about anything regarding it. Gas was relatively cheap, so having a diesel getting great mileage was really for fringe people. There were no spoilers, great alloy wheels, or even mud flaps to get excited about. The diesel Jetta was pretty basic transportation by even 1989 standards; plus, it was noisy, stinky and slow. Park it next to a GLi 16V, and it would be a no-brainer which one would be my choice to check out. But 25 years on, I was genuinely excited to find this listing pop up on eBay. Isn't it crazy how time changes your perception? Finding a mostly or fully original 1989 Jetta that isn't a rusted, beaten basket case with lower miles has become such a rarity that it makes me smile to see one, especially when it's the same color combination as my 1986 Golf was: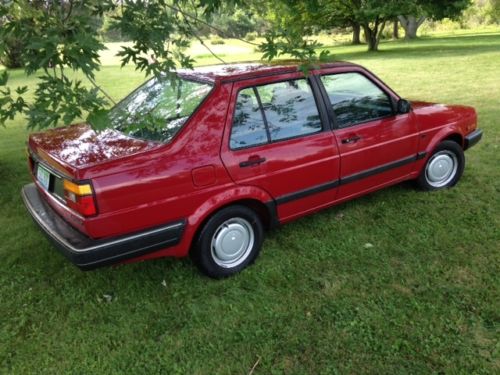 Year: 1989
Model: Jetta Diesel
Engine: 1.6 liter inline-4
Transmission: 5-speed manual
Mileage: 65,891 mi
Price: Reserve auction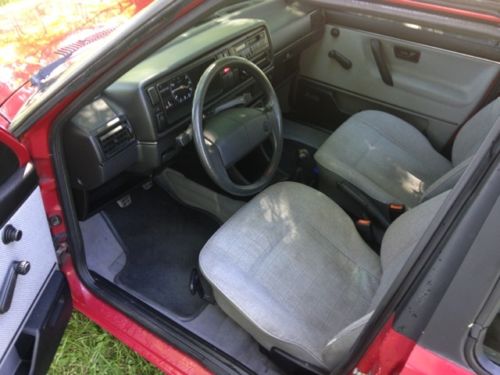 1989 VOLKSWAGEN JETTA DIESEL

1.6L Naturally Aspirated

NON TURBO

65,891 original miles

NON SMOKER

one previous owner car (retired Marine)

5 speed manual transmission

air conditioning

power steering

am-fm cassette player

rear window defroster

This car was pampered by a senior citizen in his 80's, retired Marine and was driven on weekends mostly. It definitely shows as the wear on the seats and other indicating locations have minimal wear. A NON SMOKER vehicle and NO PETS either, make it a pleasure to drive as there are no masked smells or dander for those who are allergic. The car has been garage kept and it shows. The paint still shines but could benefit from a buff. This vehicle has never been in an accident, all the panels are original, the nose and tail sections are clean, original paint and trim. The underside, inner fenders and strut towers are clean.

Recent work performed:

New battery
New complete exhaust from manifold to tail pipe
New CV shafts (drive axles both sides)
New shifter remote rods and bushing kit
New tires less than 1000 miles on tires
Alignment
Fresh oil change /MANN oil filter/ Lucas oil additive
New MANN fuel filter

Car runs great and it is very fuel efficient, stop and go traffic or highway it performs smooth and with out hesitation. I did a average from fill up to fill up and got a solid 51.68 MPG based on about 90% of expressway driving. Alignment was done at time of tire replacement and it tracks straight down the road. All lights work, heater wipers and rear defroster. The car is ready to be driven and is road worthy, fly in and drive home. DTW is the local airport code. Arrangements can be made to have you picked up from the airport if you choose to fly in or a bus/train. For train and bus local station would be the Ann Arbor, Michigan terminals. For those that are interested in coming here and driving the car home.

Arrangements can be made after the auction ends and a temporary tag 30 day can be purchased from the Department of Motor Vehicle to be ready for you to drive the car home, this would be an extra item that would have to be purchased through the State of Michigan and I would be willing to do it for the winning bidder. ( I am not a dealer and do have to purchase it). And a proof of insurance is required to have on you. Please note this.

The Air condition unit was converted over to the new standard R134 in late 2012, since then the car was driven less than 500 miles, I did notice that the a/c has been less cold air every time I took the car for a ride. There is one or two small dings and some rock chips but overall the car shines and looks great even up close. Not a rust bucket or a heap by any means.

********************************************************** Please Note ********************************************************************

I have had several questions in regards to the timing belt, the car only has 65,000 miles and it was not due for service yet and so it has not been replaced
Also the engine is clean and no oil leaks or issues are present

This is an Auction style listing , I do not have a Buy it Now or Best Offer, I know that there are a lot of VW enthusiasts that frequent eBay and that is why I have it listed it here in order to give everyone a fair chance on bidding what they feel the car is worth to them. Thanks to all for your interest and Good Luck!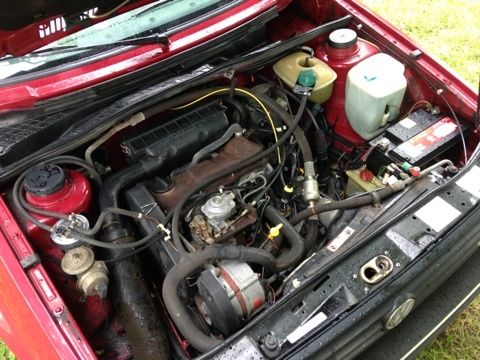 Of course, the other aspect is that 25 years on, gas is much more expensive and the prospect of a 50 m.p.g. commuter is sure appealing, especially if it doesn't have the purchase price of the new TDi Volkswagens. And while those new Volkswagens are sure nice inside, this diesel was actually reasonably optioned with air conditioning and cassette player, as well as power steering – my Golf had none of those options, believe it or else! I believe the color is the same Titian Red Metallic my Golf was, though the condition of the paint and beige tweed-like interior (also the same that my Golf had) looks to be a bit worn. Still, it appears to be all original, miles are lower, and the condition overall is much better than average. This isn't a car that will light fires or turn heads, but it's a rare to see driver that has a bit of personality.
-Carter