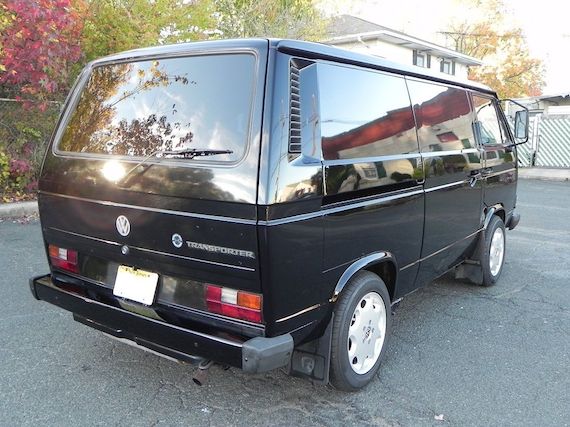 I normally write up trucks and vans with an eye on how they could be used or repurposed as a do-all traveler for camping, biking, and exploring. Westfalias remove some of the imagination, as they were created for exactly my kind of adventuring. Today's black Transporter panel van presents the yang to last week's Westy Hightop yin, cutting the Vanagon's great lines to their essence by removing most of the windows and doing without any add-ons. The clean, all-business exterior continues in the cab, while the rear area shows the scuffs and bare bones of former commercial use. I am truly in love with the look of this van, and while my mind runs wild thinking of a bed and Porsche motor retrofitted in the rear, the 41k-mile, 52mpg diesel makes it an eminently practical van as is.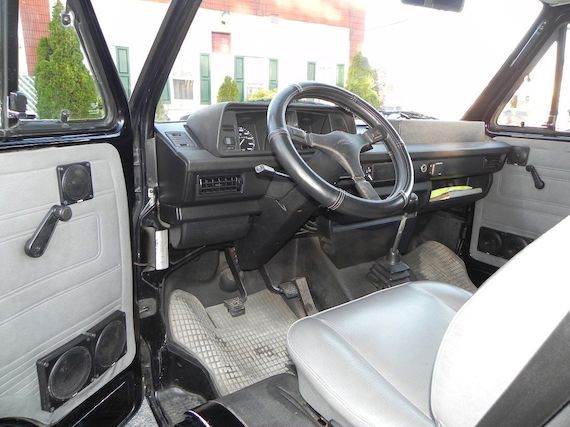 Year: 1989
Model: Transporter Panel Van
Engine: 1.6 liter turbocharged flat-4 diesel
Transmission: 4-speed manual
Mileage: 67,648 km (~ 42,000 mi)
Price: No reserve auction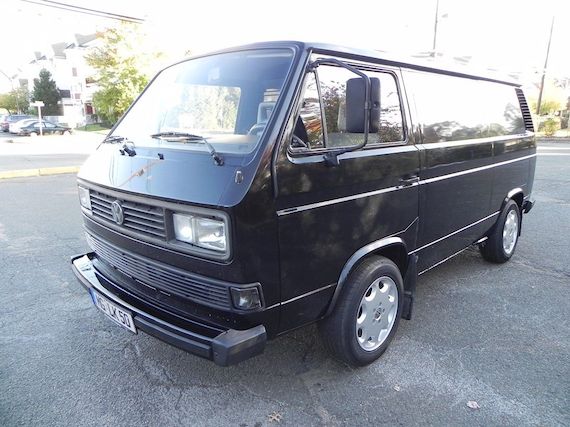 NO RESERVE. Highest bidder takes this van. For sale is a 1989 Vanagon 1.6 Turbo Diesel Panel Van with only 42k original documented miles. This is a European market van so the Speedometer reads in km. (67,648 original km)

(eBay wants to say its a 1980 because of the Euro VIN, but it is really a 1989, please see copy of the Title).

1989 Vanagon Factory 1.6 TURBO DIESEL Panel Van.
Only 42,034 documented miles.
Excellent condition. No rust anywhere.
True and Original Factory German Market Panel Van
Lots of Upgrades and Options.
Factory 1.6 liter Turbo Diesel
4-Speed Manual with Tall 4-th Gear
52 MPG
16-inch Alloy Wheels with Brand New Tires.
Upgraded Shocks
Truck Mirrors
Walk Through Cargo Partition
Euro Grille
Euro Smoke Turn Signals
Euro Headlights
Euro Bumpers
Euro Mud Flaps
Power Steering
Radio Prewire and Speakers
Never Smoked In
Sport Steering Wheel
Original German Metric (km) Speedometer (67,000 km)
Rear Window Limo Tint (50-state legal), Rear Wiper.
All Original Books, Tools, and Keys
And a whole lot more…
Completely Serviced and Ready for the Road
Just serviced and ready for the new adventures
Runs, Drives, and Looks Excellent.
Fresh Tune Up and Brakes
Needs Nothing
Free and Clear NJ Title in hand
All US Customs, DOT, and EPA importation paperwork in hand.
No accidents, no rust. Clean CARFAX and AutoCheck Reports.
Rustproofed and Undercoated since day one. Only very few minute imperfections here and there consistent with age and mileage.
Always garaged. Inspected, Maintained, and Serviced as needed at slightest hint of anything needing attention.

MORE PICTURES HERE:
http://s401.photobucket.com/user/avantspeed/library/1989%20VW%20Panel%20Van%20Black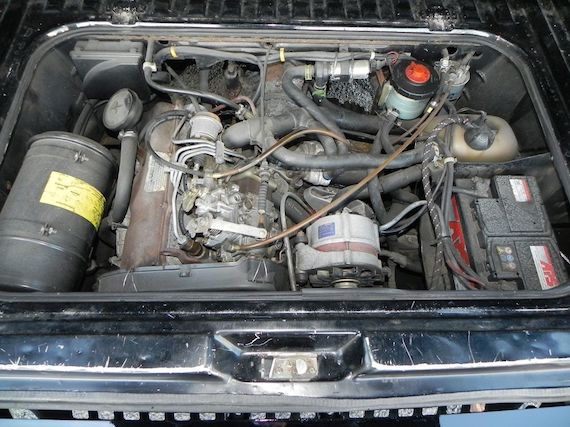 Whoever buys it will have an excellent van on their hands, ready for whatever direction their imagination runs. Bidding is hot but the amount is still low, as the main attractions (unique and attractive exterior combined with practicality) are paired with some typical price-killers, namely zero extra equipment and being rather slow. This is my favorite van I've seen in a while – and that includes the bonkers Syncro Westies. If you can do without a sleeper top and want a cool Vanagon, I'd watch this auction closely.
-NR