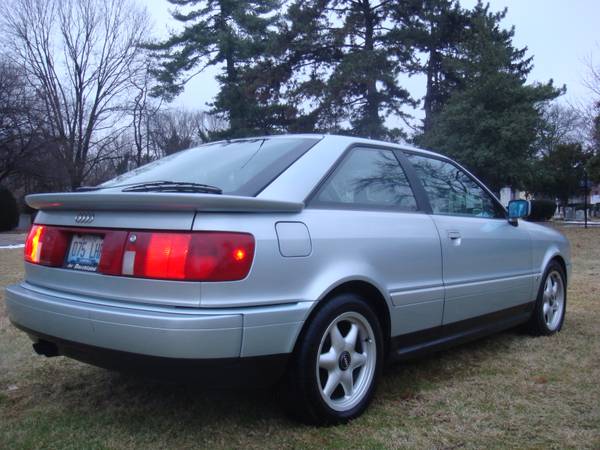 Last week I wrote up a clean Euro-modded 1991 Coupe Quattro, suggesting that one with a strong ownership history and the right mods was a good buy. Today, I've got an even stronger example and even though it doesn't share the same desirable Euro goodies, it's certainly the one I would choose of the two. There are several reasons for this, but first has to be the color – this car was special ordered in Glacier Blue with navy blue leather. While that may not be to everyone's taste, I think this example is simply stunning. With a strong ownership and maintenance history, this car looks like one of the best examples we've seen lately: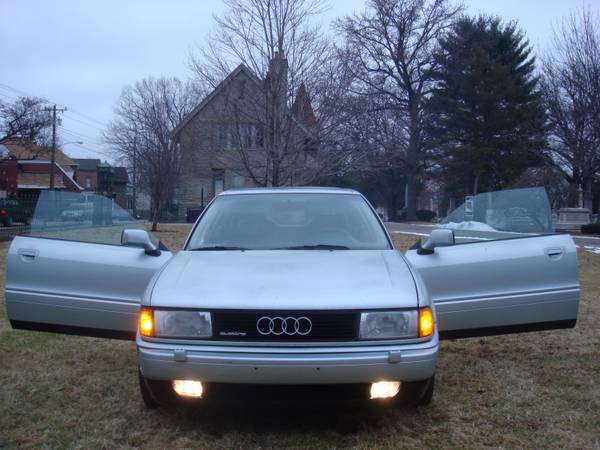 Year: 1990
Model: Coupe Quattro
Engine: 2.3 liter inline-5
Transmission: 5-speed manual
Mileage: 126,000 mi
Price: $7,000 Buy It Now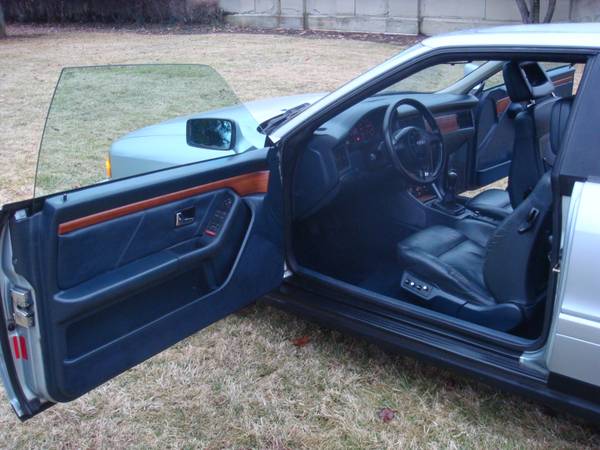 FOR SALE: 1990 Audi Coupe Quattro 20-valve
I am the 2nd Owner of this adult driven & cared for vintage Audi. This car features a Glacier Blue exterior paint with Navy Blue leather interior. I'm aware that other coupes do exist here in the states with the Navy Blue interior, this is the only one with a Glacier Blue exterior color. This car was specially ordered & registered every year of it's life by a local collector. It is equipped with the factory exhaust header, rear sway bar assembly, cold-weather package & 8-way power seats ($825 option, see original window sticker photo). It is a very nice, unmolested example of the B3/B4.
I have owned this car for the last three years. It is my fourth coupe over a 20 year span. As you can see from all of the additional parts (B4 hood, lights, trim, core support, seats) that come with this car, my intentions were to complete the B4 update of the hood & lights.
This car has been garage kept, never ditched, and doesn't appear to have any rust or body corrosion – it is a very clean car. One important fact is that the original 'belly pan' covering the chassis of this car has always been installed.
The body is very straight, no noticeable dings, but some minor imperfections are (see photos):
-clear coat is peeling around the roof antenna
-some road rash at the driver's side rear bumper
-paint is faded (washed-out look), but it is original & uniform

Mechanical / Electrical condition is better than average, many parts have been replaced (see list below) and the dealer records / stamped book is extensive!

The car has 126k+ miles and has had many new parts / upgrades replaced in the last two years / 12k miles, including:
-factory Audi exhaust from converter back
-205/55 R16 Michelin Pilot Sport A/S tires (less than 10k miles)
-factory Audi sport 16″ Speedline wheels
-factory Audi sport steering wheel
-new air conditioning compressor & dryer (A/C does work) + V-belts
-034 'red' fuel injectors
-upgraded distributor with metal drive gear
-new front axles w/ inner & outer CV joints
-new sway bar linkage
-new front control arm bushings
-new front ball joints
-new front tie rods & performance alignment (car tracks very well & straight)
-new 034 rear dif mount
-new secondary radiator w/ original G11 phosphate free Audi/VW coolant (blue)
-fresh synthetic trans & dif. fluids
-car has always had synthetic Mobil 1 oil changes w/ factory filter
-the original coded radio in this car works well & has never been cut or spliced. However, the speakers are original also & could stand to be replaced.
I am pleased to provide any additional photos or answer any specific questions you may have regarding this car.

The winning bidder is fully responsible for the shipping arrangements and costs associated with receiving this item. The car will remain in a conditioned garage space until item is paid & pick-up is arranged. I will assist with shipping arrangements for local pick-up. Full payment shall be received within (3) days of the auction end.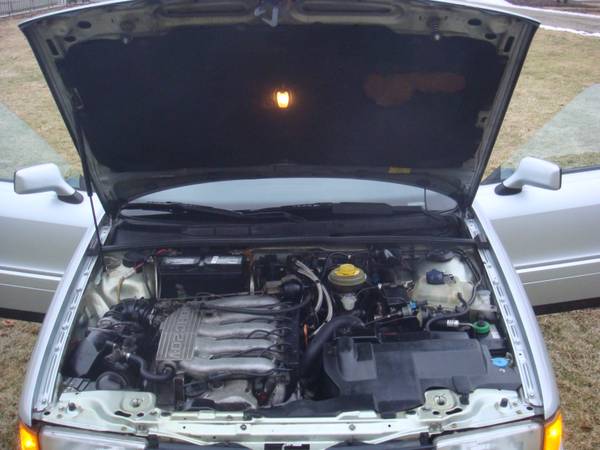 The overall condition of this car is much better than most that come up for sale. I've always loved the optional Cabriolet Speedline wheels; they really dress up the look of the Coupe without looking out of place in contrast to the TSW wheels on the last example. Lower miles are mated by a very rare color combination and good maintenance to create a really desirable package, overall. As an early build car, it also has the tubular header and rear swaybar. My only complaint is that the car was originally listed on Craigslist at $4,500 – a stunning deal for such a package; but then popped up on Ebay at $7,000 Buy It Now. I don't mind the higher ask for a car in above average condition, but I'm always confused by the multiple prices sellers seem to ask in different areas. At $4,500, buy it and drive it home. At $7,000, if you like the blue/blue it's not a horrible deal, but you might wait for one in a color you like more if not.
Thanks to our reader John for spotting this beautiful Coupe and sending the original ad our way!
-Carter