Warning!
This post is in our archives. Links in this post may have been updated to point to similar cars available to bid on eBay.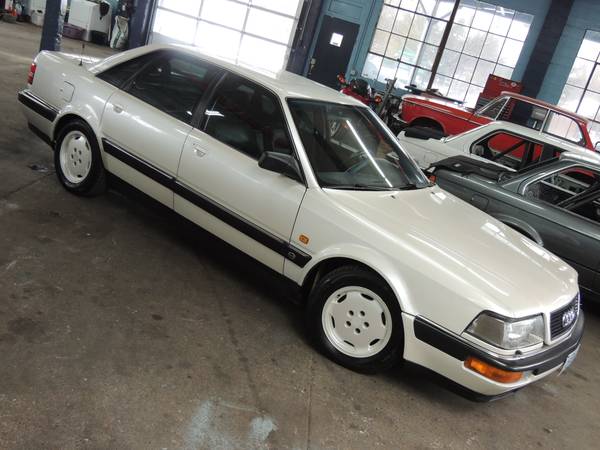 I'm not going to hide my love of the Audi V8 quattro. It was one of the most challenging cars I have ever owned, but it was also the one that I find myself still looking at and wanting in spite of the many repairs and several headaches. I've like the V8 quattro since it first came out; a hunkered down, V8 engined, heavily modified 200 quattro, it managed to feel almost nothing like the C3 chassis it was based on. Audi seemed to agree, renaming the V8 "D11", effectively creating a new chassis class despite the nearly identical dimensions to the 200 that ran alongside the V8. Recently I wrote up a first year 4.2 V8 quattro that was in great shape, evoking memories of both my ownership and the DTM series that Audi dominated with the slightly portly but very powerful V8 quattro. Today, I've decided to round up all of the model years; we'll cover 1990-1994 V8s that are currently for sale. Let's start where it all began: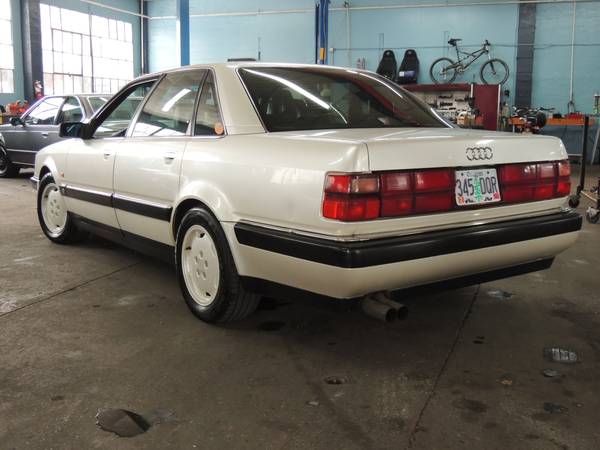 Year: 1990
Model: V8 Quattro
Engine: 3.6 liter V8
Transmission: 4-speed automatic
Mileage: 234,000 mi
Price: $2,000
This is the rare Audi V8 Quattro which was the predecessor to the flagship A8. It has a 32 valve, 4 cam 3.6 liter V8 with all wheel drive. This car has 234000 miles on it but looks far better than most cars of it's vintage. It has never been wrecked, has no rust and has been garaged and well cared for. The black sport leather interior is in spectacular condition, the dash is excellent, all options work as they should. The pearl paint is in terrific shape apart from the pitting on the nose. The suspension is awesome with Bilstein Sport dampers and sport lowering springs that drop the car 1.5″ and provide a firm, aggressive ride without being harsh. Magnaflow exhaust cat back sounds mean as all get out. I have two sets of wheels: the factory paint matched 15″ wheels with winter traction tires and a set of 17″ Audi wheels from an A6. Both sets have good tires. In the last few years I have done a ton of maintenance. It started with a valve job, timing belt and all of the front engine equipment. I have replaced all of the ignition and maintenance items regularly, regular fluid changes, etc. Many of the numerous hydraulic hoses are new, recent brake job, radiator, ignition lock cylinder and lots more.All that said, a crack developed in the left exhaust header which led to a burned valve, so there is low compression on #7. It still runs and drives, though obviously with a bad miss. I have a good used complete motor with only 75k miles on it that will come with the car. With racing season around the corner, I would rather sell this project than monopolize the garage with it when I need to get ready for the track.
This is a unique car and I know I'm looking for a unique Audi guy. Let me know if you are interested, I could be interested in trades too – other European cars or motorcycles or parts, tools, shooters, bicycles, electronics. I will trade up or down, add or accept part cash, let's talk. I'm painfully aware of the scarcity of people that can identify this car – let alone want to fix one! Email for more info or an appointment to check the car out. I will add photos later today.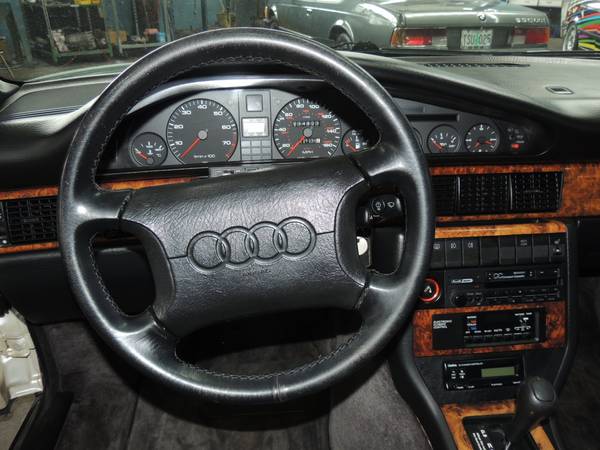 Many V8 quattros are listed as "projects" when they're put up for sale, but few are in this condition. The engine has issues, but to me that's just an opportunity to upgrade. Pop a 5 or 6-speed transmission and V8 out of a later car and for $5,000 or less you can have a real stunner. I generally don't like the Pearl V8s, but first year cars with the color matched Pearl wheels are special, somehow. I love the black sport seats and Euro lights and the overall condition looks well worth the $2,000 ask. On to 1991: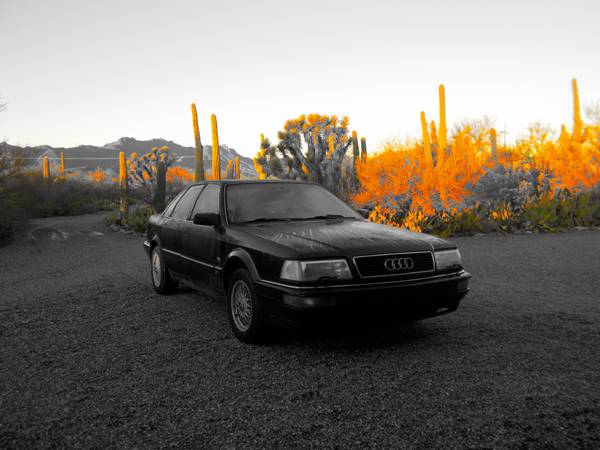 Year: 1991
Model: V8 quattro
Engine: 3.6 liter V8
Transmission: 4-speed automatic
Mileage: 121,000 mi (TMU)
Price: $2,250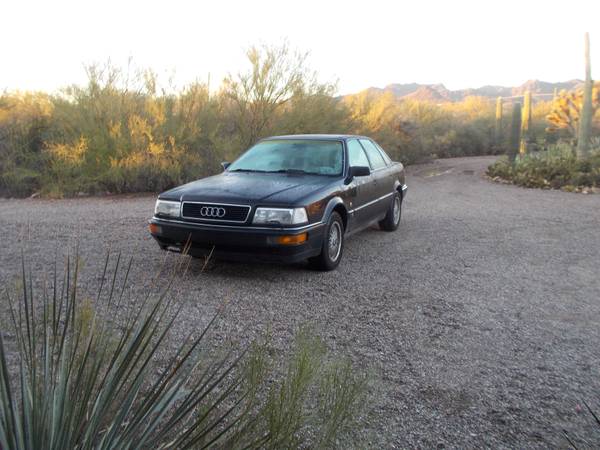 For Sale
1991 Audi V8 Quattro
121,000 miles* (not the actual mileage)
$2,250

The Audi V8 (Typ 4C) is a four-door, full-size, luxury sedan, built by Audi in Germany from 1988 to 1993, as the company's flagship model. It was the first car from Audi to use a V8 engine, and also the first Audi to combine a quattro system with an automatic transmission.

The Audi V8 was specifically designed to be a top of the range 'flagship' car and included a number of luxury features as standard equipment, including leather seating and Audi's quattro all wheel drive system (see standard features list). The Audi V8 created a new elevated image for the company, providing a viable alternative to established competitors such as Mercedes-Benz. In this regard, the car was a cornerstone in developing the history of the Audi marque as it is today.

V8 engine
All wheel drive
Automatic transmission
Leather seats (front and back)
Air bags
Anti-lock brakes
Walnut wood trim, woven wool carpets
Heated front and rear seats
Power front seats with 4 position driver memory
Power windows and doors
Bose sound system
Electronic climate control
Anti-theft alarm system
Sliding roof (sun roof)
Aerodynamic halogen headlamps with wiper/washer system
Telephone
Roof rack
Child locks
Sport program
Original List price (1991): $50,200
Equivalent in 2013 dollars: $85,862
current AZ annual registration cost (2014): $26.46

Following items are new or have been upgraded in the past 3 years:
(4) Yokohama Avid Touring tires (Oct 13) $328
Starter motor (Dec 12): $585
Oxygen sensor July 12): $465
High pressure Power steering hose (Feb 12): $482
Crankshaft position sensor, RPM Sensor, Timing belt (Jan 12): $2,411
Thermostat (Nov 10): $392
Battery (Aug 10): $145

Following items are not working:
Heater/ AC Switch
3 of the power windows have been disabled
Oil pressure sensor
Cable to open hood
Odometer / speedometer is intermittent (<10% of the time) Call weekends or evenings (before 8 pm)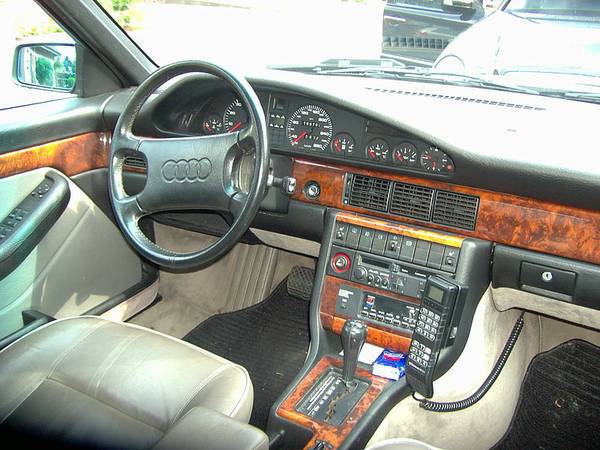 Sounds like this example has some electrical needs, unsurprising on an Audi of this generation. The big concern is the lack of ability to open the hood and the oil pressure sensor – there could be a major issue there, but like the earlier car even if the motor goes replacements aren't all outdoors and an opportunity to free the chassis of that heavy ZF automatic. The color appears to be black or the very dark blue, though it's hard to tell. Seats look like the standard comfort seats in grey leather. Overall this looks like a reasonably kept example from the southwest, but would not likely be the one I'd want. Rolling changes to the 91 model were few; the only really notable one is the inclusion of the lighter BBS wheels which gave the V8 a classier look. On to 1992: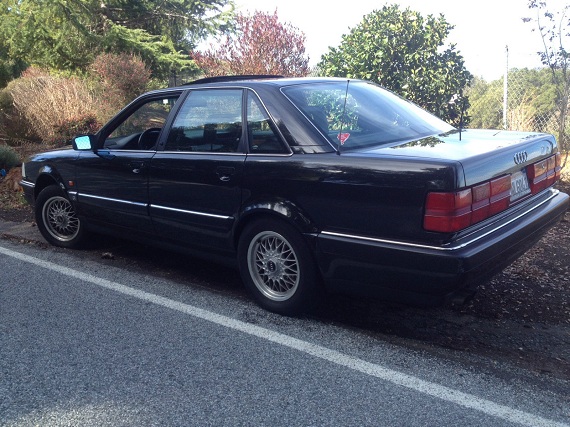 This is the same car I wrote up last week, but it's back on Ebay with another chance to grab it. Following is my original ad copy, and my feelings haven't really changed on it: If I were looking for a V8 quattro, there are a few conditions I'd want met. Unless it was a manual, I'd really prefer the later 4.2 models. There were subtle changes such as the climate control and transmission cooler that, coupled with the higher power, make it a bit more enjoyable than the 3.6s in my opinion. Couple that with the easier to live with S4-spec G60 brakes and great BBS wheels, and the 4.2 really is the one I'd look for. The second condition to buying any Audi V8 is the history; specifically, if you're serious about one you really need to buy from an owner who has maintained the car well – ask me why. Today's 1992 V8 fits both of those stipulations; it's a first year 4.2 upgrade, coupled with a strong ownership history – and it looks great in black over black: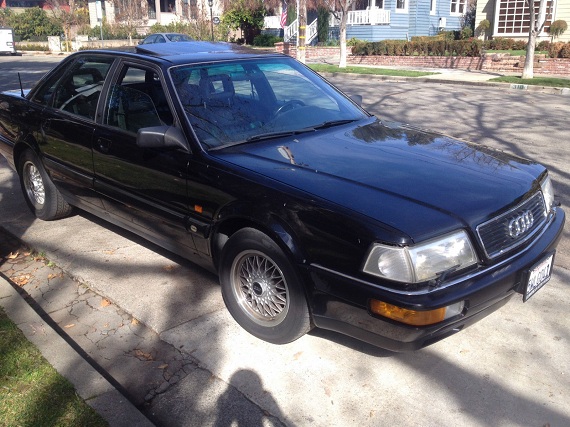 Year: 1992
Model: V8 quattro
Engine: 4.2 liter V8
Transmission: 4-speed automatic
Mileage: 121,199 mi
Price: No Reserve Auction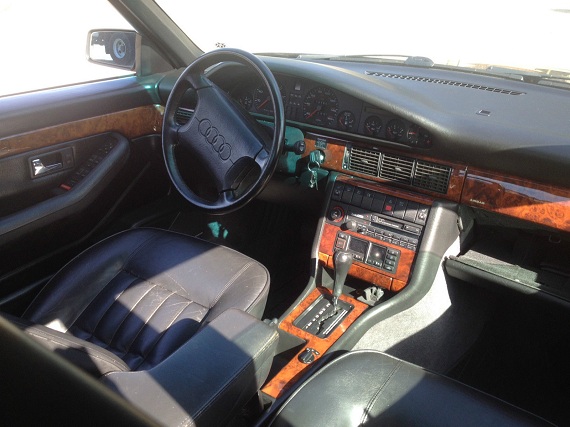 I'm am selling my beloved. And I promise you will never see another one on the road. This 1992 audi v8 Quattro 4.2 has been very well cared for and shows all over. Black on black electric memory heated front/rear seats. Electric everything and onboard computer. 121,000 miles timing belt water pump thermostat done at 105,000. Just rebuilt steering pump with one year warranty from certified zf distributor. Beautiful car in and out. The v8 quattro won the 90,'91 dtm series against the BMW e30 m3 and mercedes 190e with it's 275 hp 4.2 v8 own a piece of German muscle for a fraction of its original 60,000 sticker price. Service history since new, owners manual tool kit and jack present. The 10 disk changer in the trunk is present but I cannot get it to power up. A fantastic car to drive, and very rare, the predecessor to the a8 that honed its skills on the track. dent on the trunk lid near the lock paint chip on the left rear bumper and front right. Worldwide shipping is available and I will be happy to help in transport to a san francisco bay area shipping port. Any questions or additional photos or video please feel free to ask. NO RESERVE HAPPY BIDDING!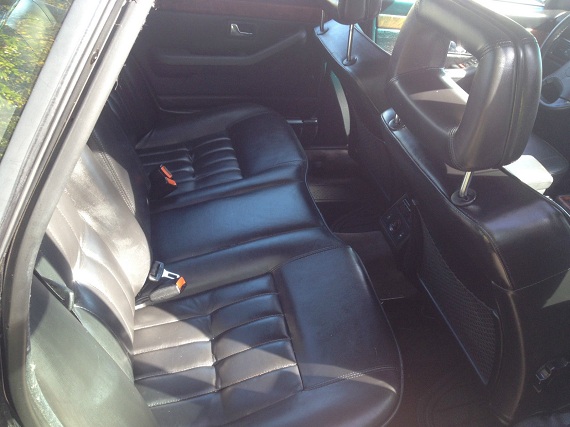 Crucial in this post is the dreaded V8 quattro timing belt service that was completed (either very late, or very early) at 105,000 miles. That leaves you 40,000 or so miles before really worrying about it again, and aside from that the only other big dollar item on the V8s is hydraulics – which usually are only suspect on abused or higher-mile cars. This car has a rebuilt steering pump, which solves that issue too. Together, those two items along represent over 75% of the opening bid on the car. Add in that this is a West Coast car, and the typical Eastern wear and tear are nothing to worry about as well. Also notable is how much better the black leather seems to have stood up compared to the often worn-looking Travertine leather that many V8s got. Downsides? Well, I guess if I was buying black would probably not be my choice – but it's a nice departure from the typical Pearlesant or green that adorned the 4.2s. There are two dents on the trunk, but the trunk is shared with other models and there is always one being parted, so that shouldn't really hold you back. Also, the V8 badges are missing from the front and rear – perhaps it had some bodywork at some point? All in all, this looks like a very solid example of the late V8 quattros, and is probably the one you should buy if you're seriously in the market. As I'm about to head out to the lakes to instruct in some Audi winter driving events, I can't help but wish I was heading there in this car. On to 1993: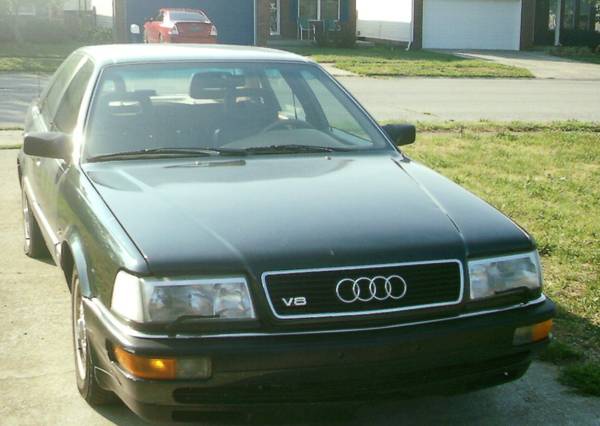 When I bought my 1993 V8 quattro, it was just about identical to the condition of this car; not super well maintained, not pristine, and the same worn colors. It seems that many of these later V8s were the Ragusa Green/ Travertine Connolly combination to suit the time period. It's not a bad color combination overall, but certainly dates the car: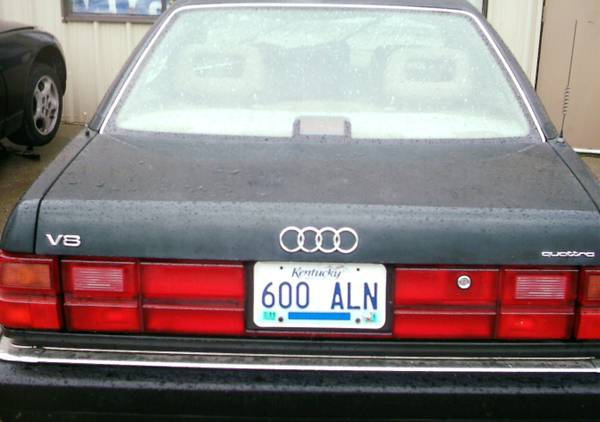 Year: 1993
Model: V8 quattro
Engine: 4.2 liter V8
Transmission: 4-speed automatic
Mileage: 151,000 mi
Price: $3,000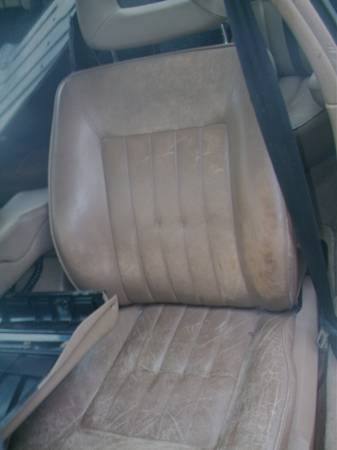 This Audi model was the Flagship vehicle of 1993. LOADED with the best of everything.

Very smooth driving vehicle. About 151,000 miles. Powerful 4.2 V8 engine. AWD. Dark Green Exterior, Tan interior, sunroof, etc.

Right now, I've evaluated it in KBB as "Fair Condition" which lists the private party value at $3,557, "Good Condition" is at $4,057. NADA Average Retail is at $5,350.

This car has lot's of possibilities for the buyer. It could be a great car for anyone wanting a car for about $3,000. Or, it is nearly at classic age for the Audi enthusiast or collector. Or, it could be purchased as a parts car by someone who owns another one of this model. One aspect is that the value shouldn't go down much at all if you choose to re-sell later. Reconditioned, it may be fairly valuable. So, reply by E-mail or call 576-7641. The pricing starts at $3,000 or best offer.

The car is not in perfect condition. After all, it is 20 yrs old. I will grant full disclosure to a serious buyer. This was a $53,000 car in 1993. It is at classic status. It sports the coveted classic all-wheel-drive, and 8 cylinder engine. A 1987 4000s Quattro recently sold on E-bay for $12,655. It's NADA high retail value is $6,125.00, so go figure. http://www.ebay.com/itm/111236766450?ssPageName=STRK:MEWAX:IT&_trksid=p3984.m1423.l2649

… This is a similar, yet was not nearly as valuable a car off the lot as the V8 Quattro. Rejuvenate this car to pristine condition & you may have a car worth just as much if not more. This is a rare vehicle & has potential to incline in value.

The only downside to this vehicle is the cost of maintenance. Please consider that before contacting me & when making your final decision. Serious inquiries only please. Then, we can take a look at it.

Thank you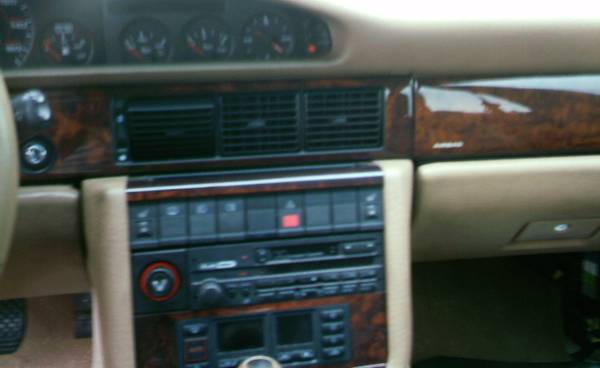 Make no mistake, this isn't the one to buy. I think the seller's description of it as a potential parts car sums that up pretty well – these cars will quickly bankrupt you if not properly maintained and they're far too expensive to recondition. If I had my V8 ownership to do all over again I'd quickly spend double what I spent on the purchase price to buy a better example. No, it's a much better idea to buy one that it ready to roll, such as the 1990 or 1992 examples. How about 1994?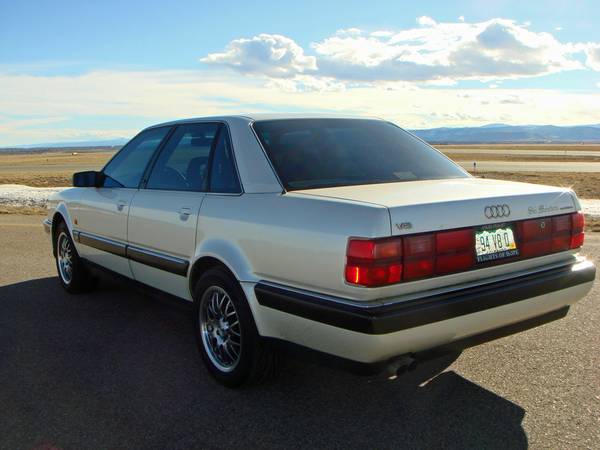 This is exactly what I'm talking about; with nearly the same miles as the previous 1993 example, this 1994 is in much better shape. We're back to Pearlesant White Metallic, but this time with the Grey Connolly comfort seats that were standard on the 4.2 quattros. Overall condition is quite good on this example: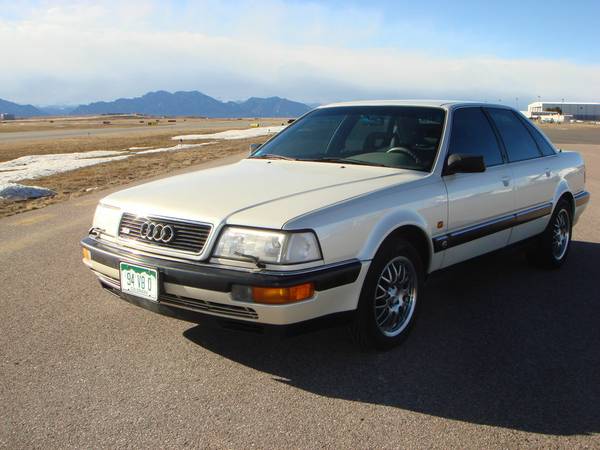 Year: 1994
Model: V8 quattro
Engine: 4.2 liter V8
Transmission: 4-speed automatic
Mileage: 151,400 mi
Price: $4,500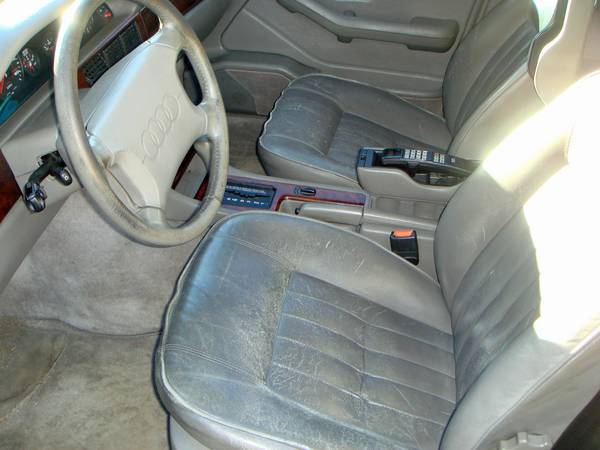 This rare low mileage V8 Quattro has been in dry Colorado since 1996. My wife's car, it was purchased it from the second owner in 2004. It averages 24 mpg highway driving, and 16 to 18 mpg for short trips in town. The Quattro 276 hp drive train and the car's low center of gravity provide excellent handling on Colorado's mountain roads-It's a joy to drive! Please email for details including complete summary of maintenance since 1997.

You may notice in the maintenance records that I did much of the work myself: Included with this sale are the full printed five-volume set of repair manuals and two CD's with Audi's 'Family Album' which provide parts drawings, numbers, etc. Repairs were made recently but a few minor oil leaks remain (likely the hoses to/from the oil cooler need rebuilding).

Price is $4,500 firm. Sold in as-is condition, no warranties given or implied. Thanks for looking!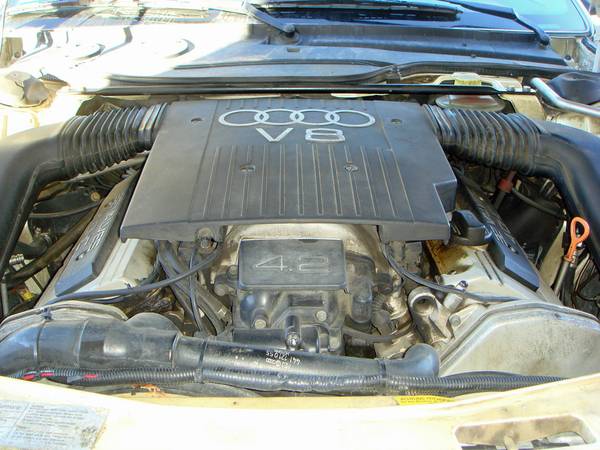 Condition on this car appears to be far above average for the V8s. I've not a fan of the replacement wheels, but originals can be sourced or there are plenty of upgrades. There are still needs, but this 1994 example is pretty appropriately priced considering the condition. 1994 is also the rarest year of the V8, with only around 100 imported – in this case, you're really not likely to run across another soon. Despite that, the interior looks a bit worn and the oil leaks can get expensive quickly.
Overall, I think that 1992 is still the car to buy if you really want a stock example. If you're in for a bit more of a project, the 1990 looks really appealing in the period dipped look with Euro lights and sport seats. For different reasons, I find both of those cars really great!
Thanks again to John for a few of these finds!
-Carter