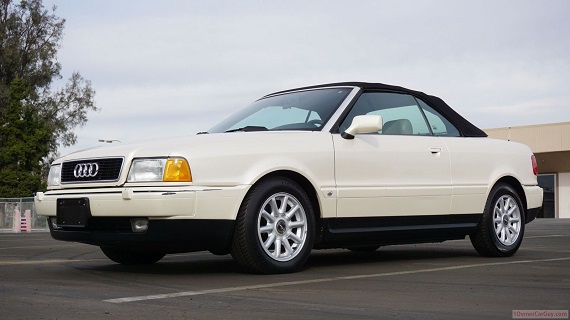 Every semester at the culmination of my teaching experience with the college students who have selected my course rather innocently, I let them in on my super-secret double agent identity as your author here. Having suffered through a few too many of my lectures already, most treat the news with about the same amount of enthusiasm and interest as they do when I tell them about the Sudanese Kush Pharaohs – which is to say, none (seriously, it's a very interesting topic. Egypt basically denies they existed!). But occasionally I get a student who is much more interested in my double-life than in my lecture notes. One such student passed through was perhaps as unexpected to me as I was to him. He nonchalantly aced the class with seeming little difficulty, but upon seeing my announcement regarding German Cars For Sale Blog, he excitedly emailed me about his shared love of Audis. He revealed that he owned a '97 Cabriolet, which proves two things: first, smart people buy Audis, and second, Audis turn up where you least expect them. And the Cabriolet might be the least expected Audi Audi made – coming from a manufacturer renowned for turbocharged inline-5, manual all-wheel drive coupes, sedans and wagons came a front-wheel drive, automatic only (in the U.S.) V6 2-door convertible. Expensive, a bit slow and soft compared to the competition, the Cabriolet sold slowly with only around 1,000 units moved per a year during its availability here with a total of 5,439 imported through 1998. I think a fair amount of fans view the B4 Cabriolet as the least interesting of the Audi lineup in the 1990s, but to me it's always been a very pretty and underrated car. In particular, the rear 3/4 view is very attractive and the shape changed little with its progeny. But the unusual nature of the Cabriolet has generally meant that it's been a pretty big bargain in the used convertible market for the past few years – if you can find a good one: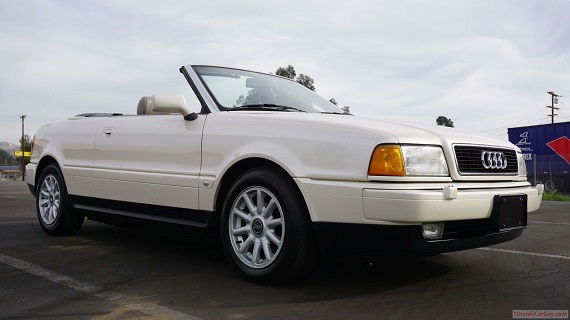 Year: 1996
Model: Cabriolet
Engine: 2.8 liter V6
Transmission: 4-speed automatic
Mileage: 70,000 mi
Price: $2,750 Buy It Now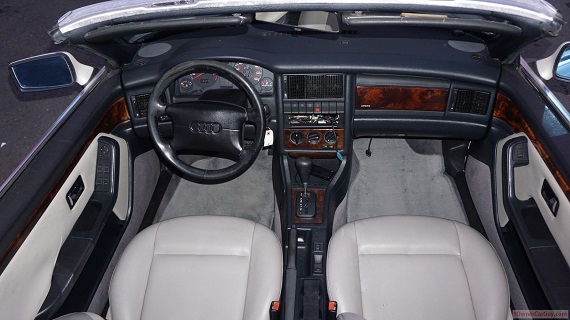 This is a Super Clean 1 Owner California Audi that has been taken care of over the years and it shows.

1 Owner with 70K Original Miles

This is a Great looking little classic Audi. It is a 1 Owner car I really like the Style. The Power Convertible Top is in really good condition, it goes up and down just fine and fits nice and snug. It has been raining here and I have Not noticed any leaking. This is a clean 1 Owner Audi, it is not perfect and it will need a few things here and there over time. Make sure and check out the video below, I will give you a complete walkaround of the car show you any flaws that it may have, I will go thru the interior and go thru all the options and then I will take you for a test drive.

It has a nice set of tires with lots of tread left them on with Factory Wheels.

Options:

V6

Automatic Transmission

Convertible Top

Power Windows

Power Locks

Power Seats

Air Conditioning

Cruise Control

CD Changer in trunk

70K Original Miles

The Grey Leather Seats are in great shape and we all know how hard it is to keep Light Grey Clean…;-) This Audi has been very well taken care of over the years by its previous owner and with Only 70K original miles. There is one stain that I found on the back seat and it may come off with a good shampooing. The carpet is clean, I did not see any rips or tears anywhere. It came with all kinds of books and manuals from the original owner, there are a lot of them and I am not sure if any are missing.

I took pictures of every detail of this car so you can see everything there is to see about this beautiful car and know exactly what to expect when you get your new car…..;-) If you have any questions please give us a call. I bought this Beautiful little Audi and drove it from Los Angeles to San Diego and it ran and drove great. Then it sat for about a month and it has a leak and now it seems to be slipping a little while you are driving it around. i would suggest replacing the trans and I do have a Shop here that will put in a Guaranteed transmission for about $850 Installed if you want. It is Not a good driver like it is and have to be transported to you, not driven

Call anytime with questions…. Nathan 406-544-6919

Current Mileage: 70,000
Look, you knew you wouldn't get perfection in an older Audi for under $3,000, but there seems to be a lot of value here. First, the car does appear to be relatively clean minus some scrapes to the bumper and a small dent under the taillights. The Speedline wheels don't look great on these but are correct and appear above average in condition. Okay, the radio is gone but they can be had inexpensively via eBay, and even the slipping transmission isn't an expensive repair. For under $4,000, you should have a tidy lower mile Cabriolet. Plus, it was worth taking a look at that listing just to find out that the seller is also eBay's number one retailer of all-marshmallow cereal and a free bag comes with purchase. No, I'm not joking. But what if you're not into Fruity Pebbles and want a turn-key solution?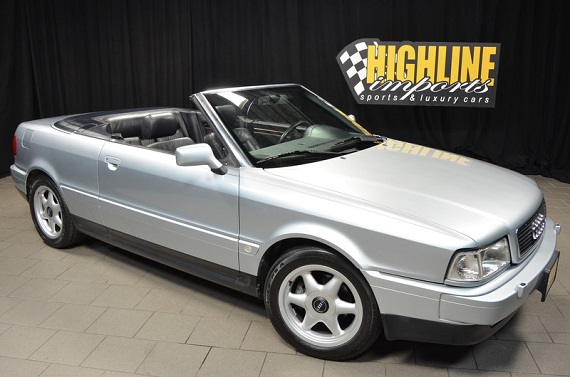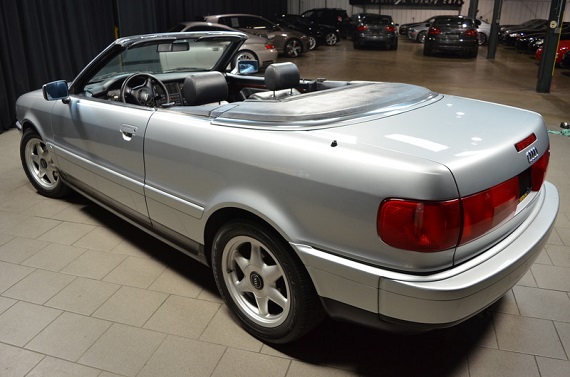 Year: 1997
Model: Cabriolet
Engine: 2.8 liter V6
Transmission: 4-speed automatic
Mileage: 33,420 mi
Price: $6,900 Buy It Now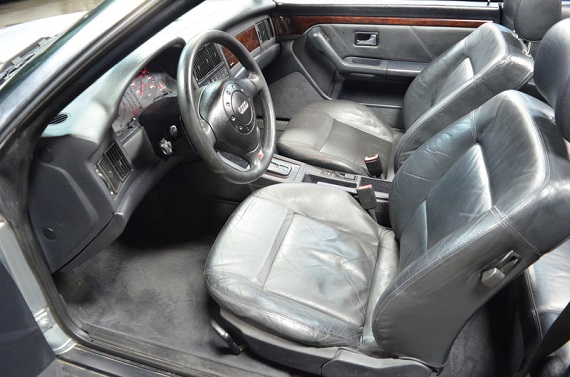 1997 Audi Cabriolet

WHY THIS CAR IS SPECIAL…

Only 33K 1-Owner Miles!!

-172HP 2.8L V6

-Front Wheel Drive

-Fresh Top & Rear Window

-Heated Leather Seats

-CD Changer

-Clear Carfax History Report

-Well-Maintained 1-Owner Car

-Great Value For Such a Low Mileage Cabrio!

-Very Nice Condition In and Out

We take all trades

We can set up financing with any one of our many banks

Warranties are available at unbeatable prices

CALL 610-250-5600

Attention eBay Bidders;

Please keep in mind you are bidding on a pre-owned vehicle. Everyday driving can cause minor chips, dings or scratches on a vehicle. Unless otherwise noted in our photos or description these items are minimal, but may exist in some cases. Our photos are designed to be a visual description of this vehicle, please look at them carefully and use them to make a confident decision to bid on our vehicle. Get a great vehicle at a great price and bid now. Alternatively, simply call us to end the auction early, or if you have any questions about this vehicle. Thank you for your interests and we look forward to hearing from you at 610-250-5600, ext. 1 for Sales Department.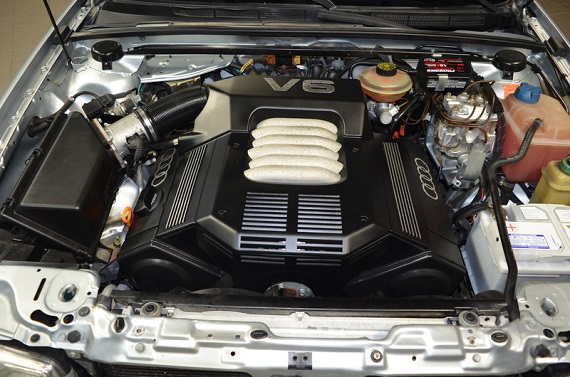 Aluminum Silver Metallic is actually rarely seen on the Cabriolet for some reason though it was less money than the more popular Pearlescent White Metallic. It looks nice too, and though visually the B4 isn't as aggressive as the E36 M3 Craig wrote up yesterday and the chassis is older, this contemporary of the BMW somehow looks more fresh and modern – never mind a lot less plastic-y. This car is pretty loaded with the Premium Package which gave you leather, power roof and alarm, the Cold Weather package that got you heated seats, the trunk mounted CD player and the sport package Competition Ronal 16″ wheels and steering wheel. Condition of the dark leather isn't outstanding but is quite serviceable and otherwise this car's condition appears near top. It is also one of the least traveled Cabriolets I've seen in some time. Despite that, this car is yours for under $7,000.
Which is the winner? I'm a sucker for the 16″ Competition wheels and I have to say I think the Aluminum Silver Metallic looks pretty swell overall, so even at the greater price I think there's still value here. Unfortunately, the higher price puts it into competition with some of Audi's more desirable convertibles, such as the TT Roadster and for a touch more than the ask here you can find a S4 Convertibles, but both are more complicated beasts that will require some yearly sacrifices to the Audi Gods from your wallet. The Cabriolet may still be a quirky car and out of character with Audi's other bread and butter, but that doesn't mean it's not a reasonable choice for an enthusiast of the brand who loves a little sun.
-Carter