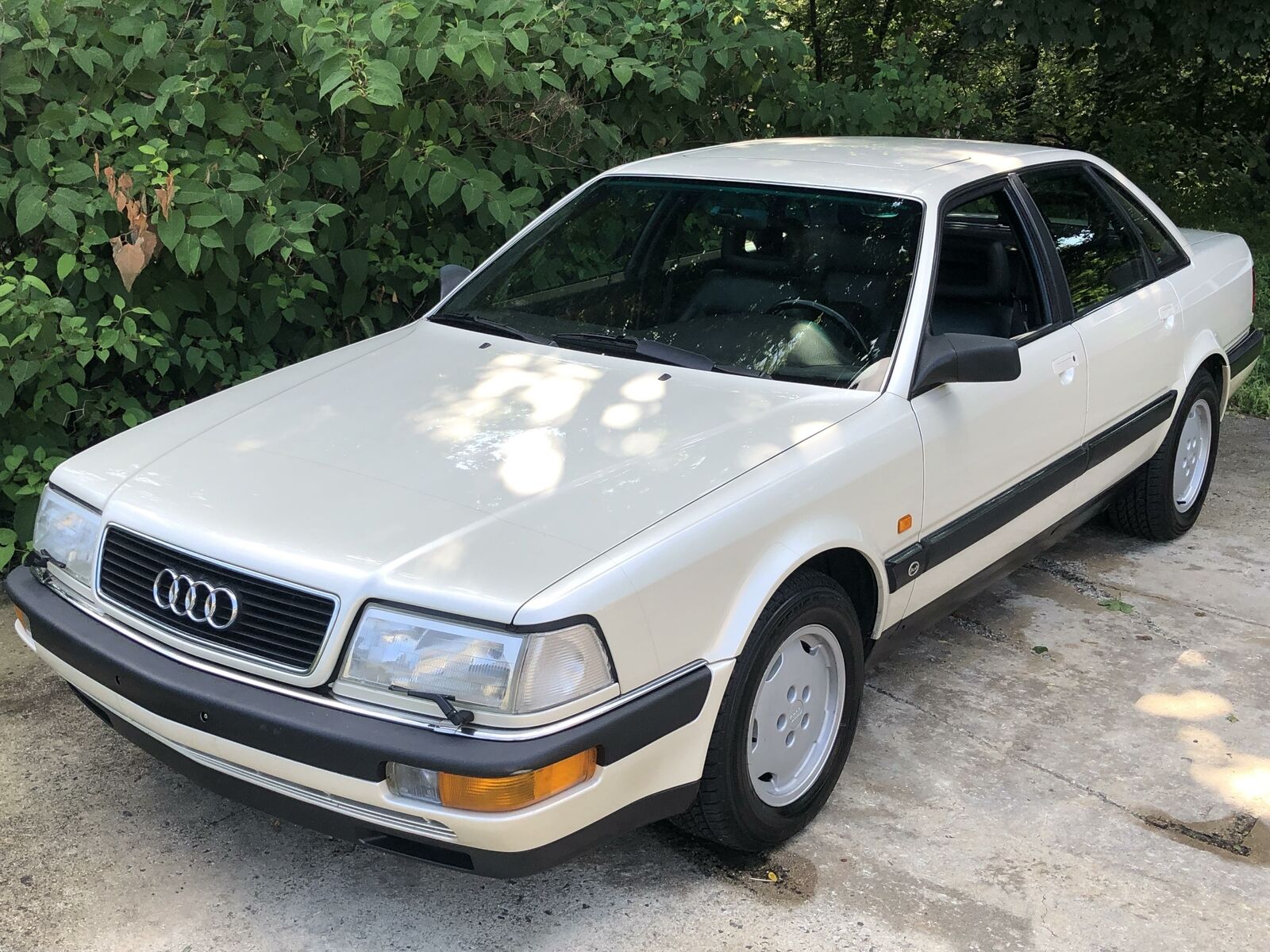 If Alfa Romeo built a German car, it would be the V8 quattro.
First, it was hugely complicated. There were computers controlling everything, and in the great manner in which Audi and Volkswagen developed their late 1980s computer technology, it worked great until it didn't, at which point the car would be thoroughly incapacitated. One day driving my '93 4.2, during a rain storm the "convenience controller" failed, opening all of the windows AND the sunroof and not allowing me to close them. Needless to say, it was less than convenient. Second, it hemorrhaged fluids. We're not talking a little bit, either – full on "Oh, I'm sorry, did you want me to keep that $20 a liter worth of hydraulic fluid IN me?" hemorrhaging. Oil, coolant, transmission fluid…you name it, if you could put it in, it would instantly come out. It tried to kill me, too. Not just once, either. See, that fluid loss resulted in a buildup of oil gunk. Where does the oil gunk build up, you ask? On the throttle. This normally isn't a problem, unless once in a while you opened the throttle. Then, it became a problem, as the throttle wouldn't close. Again, not a problem so much on a 4000 quattro with all 115 stampeding horses, but in the '93 V8 quattro, there were 2.5 times that amount – 276 horsepower with even more torque launching my 3,900 pound missile down Route 195. Leaks presented themselves in other odd ways, too – like, for example, when I got a self-imposed flat tire at a winter driving school. Out came the tools to jack the car up, no problem. However, when I went to retrieve the spare, a sad sight awaited me – the trunk had leaked into the spare tire well apparently, resulting in the space saver spare being thoroughly embedded in 10 inches of tire well-shaped ice cube. In story generation alone, the V8 quattro was by far the Professor Emeritus of my car history. Thirdly, no one knew what it was when you went to get a part. Allow me to present a theoretical trip to the parts counter – even at an Audi dealer…
Parts Guy: Hi, what kind of car?
Me: Audi
PG: What model?
Me: V8
PG: No, not what engine, what model.
Me: V8
PG: They made a model named V8?
Me: Yes
PG: (turns to other Parts Guy) You ever hear of an Audi V8?
OPG: He probably means A8.
Me: No, the A8 is the model that replaced the V8.
(both look confused)
PG: Okay, what year?
Me: 1993
PG: Audi made cars in 1993?
Me: Yes. Not many.
PG: Okay, the computer tells me that your car doesn't exist.
Me: It's outside. Would you like to see it?
PG: No, maybe I can cross reference the part. What do you need?
Me: The transmission control unit.
PG: ………………
PG: ……….. (turns to other PG and looks confused)
Other PG: Ah, you should probably just go to the dealer.
Fourth, when eventually you convinced someone who supplied parts for your non-existent car that it really was real, inevitably the part would be expensive. Really, really expensive. And, on backorder, or no longer available. It made repairs lengthy and always have at least one comma in the price estimate. That estimate was almost always below what it actually cost to get it running again, and when it did run again, inevitably there would be something still wrong that would need to be fixed on the next trip to the mechanic. And that was 15 years ago!
Yet, more than any car I've previously owned, it's the one I'd want back.
Year: 1990
Model: V8 quattro
VIN: WAUKE5448LN000188
Engine: 3.6 liter V8
Transmission: 4-speed automatic
Mileage: 101,970 mi
Location: Bridgeport, Connecticut
Price: $5,900 Buy It Now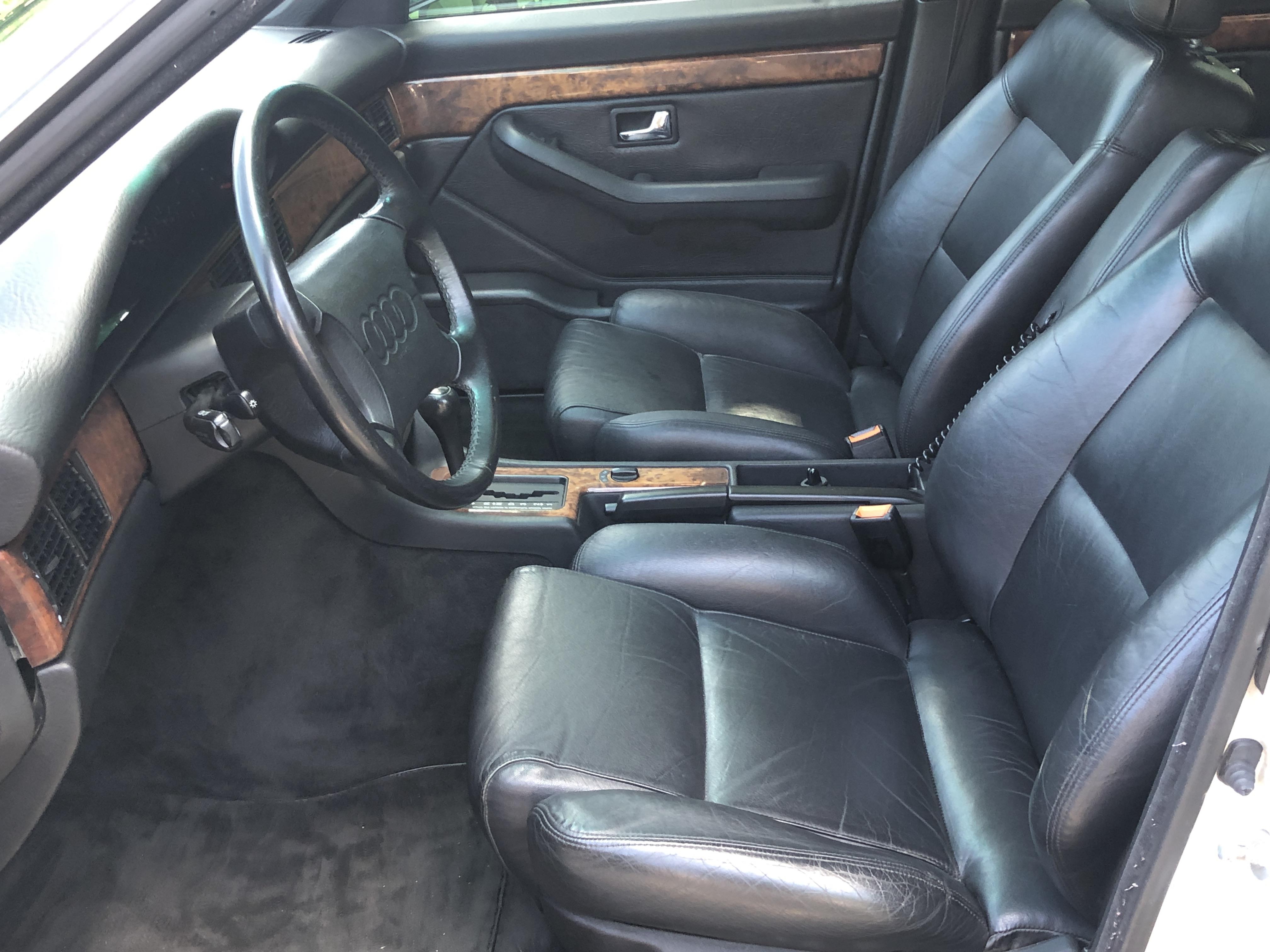 BECAUSE LIFE IS TOO SHORT TO DRIVE A BORING CAR!!

The Classic Car Gallery
2316 Fairfield Ave.
Bridgeport, CT 06605
203-446-4172

1990 Audi V8 Quattro "Up to date on all services, new tires, new rebuilt transmission"

VIN WAUKE5448LN000188

The Audi V8 Quattro was designed as Audi's top of the line flagship car in the early 1990's. Only 1,600 units were produced for the US-market and incorporated exclusive luxury features as standard equipment, including heated leather SPORT seating, automatic climate control, and Audi's Quattro all-wheel drive system. These specialty cars were rare and expensive.

The car on offer here is an excellent 1990 Audi V8 Quattro. The car shows 101,970 miles from new and is powered by a 32-valve 3.6 liter all-aluminum quad cam V8 and mated to a 4-speed automatic transmission.

The cosmetics of the car bely the age and mileage of the car. The Pearl White Metallic paint, one of the few available options when new, is in excellent condition. The body has a clear bra on the hood, wheel wells, and door handles. Panel fit has uniform gaps and flush shutlines as per the factory. It is being sold on clear Connecticut registration; the car has a branded title history.

The well-equipped leather interior features walnut trim, driver's side airbags, automatic climate control, heated front and rear seats, mirrors, wiper washers, and power door locks. It is stock with the exception of a modern JVC Stereo with Bluetooth. The gauges, HVAC controls and electronic accessories operate as designed; the cruise control does not work.

Power is provided by its original 3.6 liter all-aluminum 4 -cam V8 that produces 247 horsepower and is paired with a 4-speed ZF automatic transmission. The transmission is equipped with Sport, Economy, and Manual modes, the car can be adapted to all situations. Very advanced for its time, the car featured all wheel drive using a multi-plate clutch center differential and Torsen front & rear differentials; the V8 sedan provided a driving experience unlike any other car of the period.

The car has been recent collector owned, is well-maintained, and just received a timing belt and water pump replacement in 2018 (less then 200 miles ago). Other notable repairs include a rebuilt transmission within the last few thousand miles along with new tires.

The car runs and drives as well as it looks; the engine starts easily and has good power and torque. The rebuilt transmission shifts as designed and the car is a joy to drive. Buy with confidence, as this car has been enthusiast owned, is up to date on maintenance and needs nothing except an enthusiastic new owner. Feel free to call 203-446-4172 or Email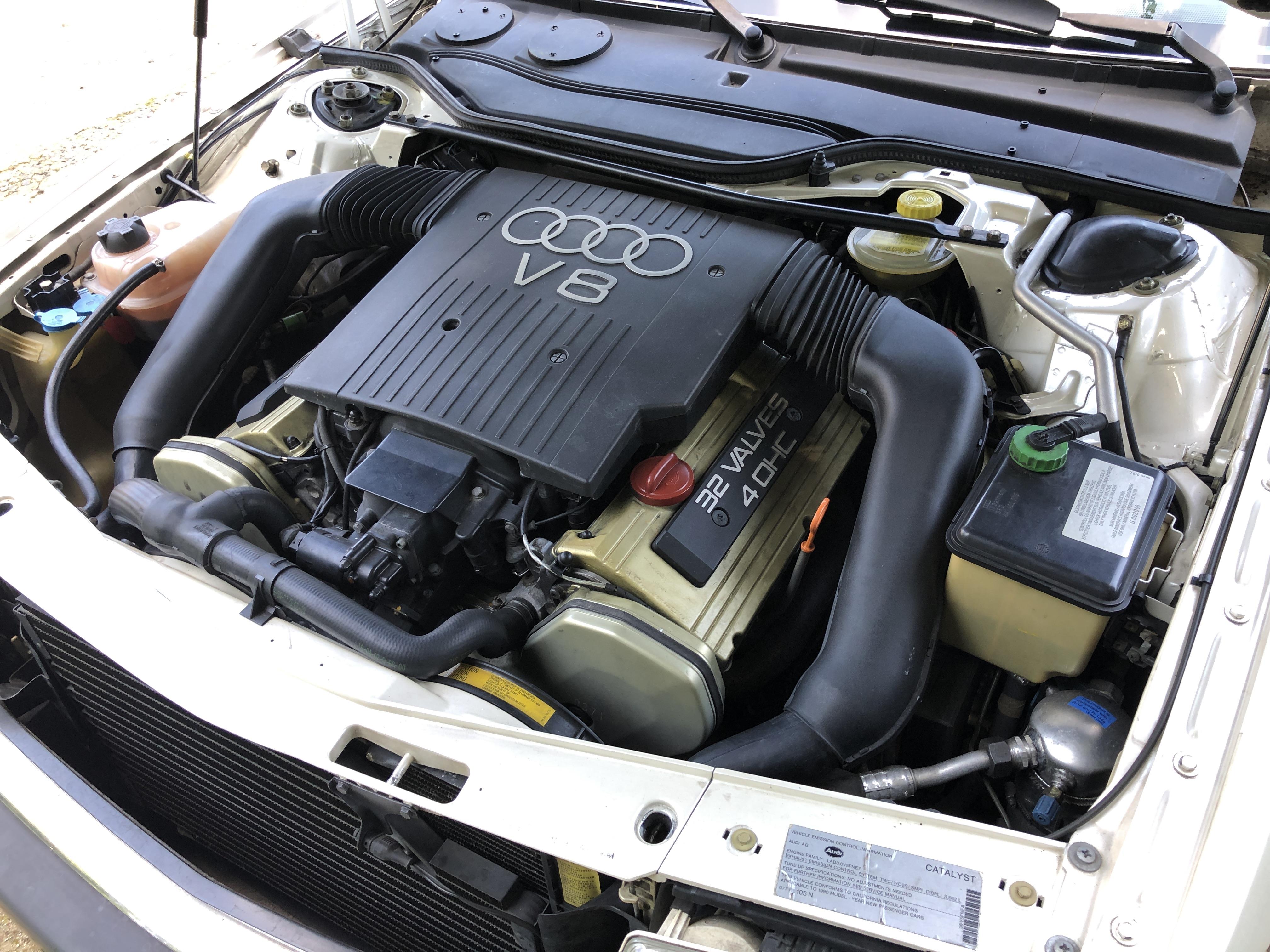 Because there were so few V8 quattros, each model year is a bit unique. The roughly 2,800 sold in 1990 carried the 15″ x 7.5″ 'Aero' wheels, and if you ordered the expensive Pearlescent White Metallic paint like this one has they were color-matched. This one also has the sport seats, which is ultra cool since most pack the Comfort Seat option. The radio has been replaced which isn't much of a surprise since the Bose speaker amplifiers had a way of…well, 'not working' is the nice way to say it, since they'd catch on fire occasionally too…and the head unit wouldn't work with conventional speakers. But the big problems if you're considering a V8 quattro at all, and specifically the 3.6, are the engine and the transmission. The V8 needed punctual timing service, which has just been done here, and the transmission was weak due to overheating (the 4.2 gained a cooler which seems to help them) but it's also been gone through. The last question mark is the '90-'91 specific 'UFO' floating front brakes, which work stupendously on the Autobahn and horribly in American traffic. The good news here is that if they haven't been changed, a swap to later C4 S4/S6 front suspension and brakes is straightforward and should be easy to source parts for. Otherwise, this car looks like a really good example throughout.
Is it worth $5,900 today? Great question. That's relatively strong money for a V8 quattro. And, indeed, for this particular chassis, since it has an branded title and we know it sold in 2016 on Bring a Trailer for $3,000. That auction, admittedly, did not have the headliner fixed (no note is made of it here), the transmission rebuilt or a fresh timing belt change. And you'd be right to estimate those three items at more than $3,000 value. With only 7,000 more miles since 2016 but a few big lifts completed, just not having to deal with the headaches of fixing them might be worth the extra $2,900 ask. So, while it seems a bit steep at first, I think in this case it's probably justified.
You know why? Because as this dealer says, "LIFE IS TOO SHORT TO DRIVE A BORING CAR!!"
Life will never be boring with a V8 quattro in your driveway.
-Carter