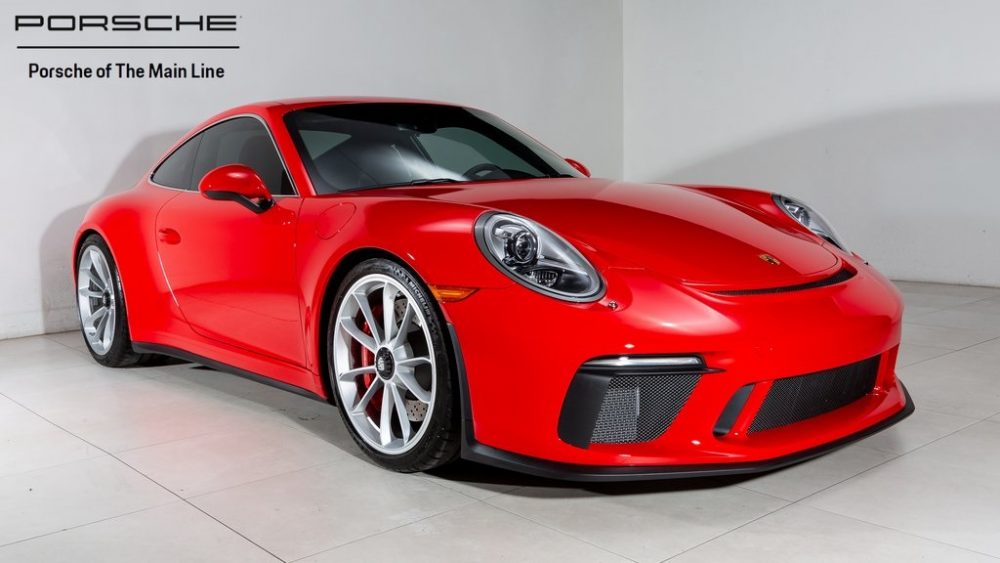 Guards Red is one of those Porsche colors you can recite without thinking about. It was immensely popular on the G-body cars and naturally carried on to the 964, 993, 996, 997, and now the 991. I don't think you'll hear anyone argue it didn't look good on those early cars, but now that the 991 is roughly twice the size as an original long hood car, you end up looking at a lot of paint. This seems to be true with the 991 with its extra wide hips and overall really big stature when it comes to what are suppose to be light, nimble sports cars. So when I saw this GT3 Touring come up for sale, I had to take a look. I think I'm still on the fence about it.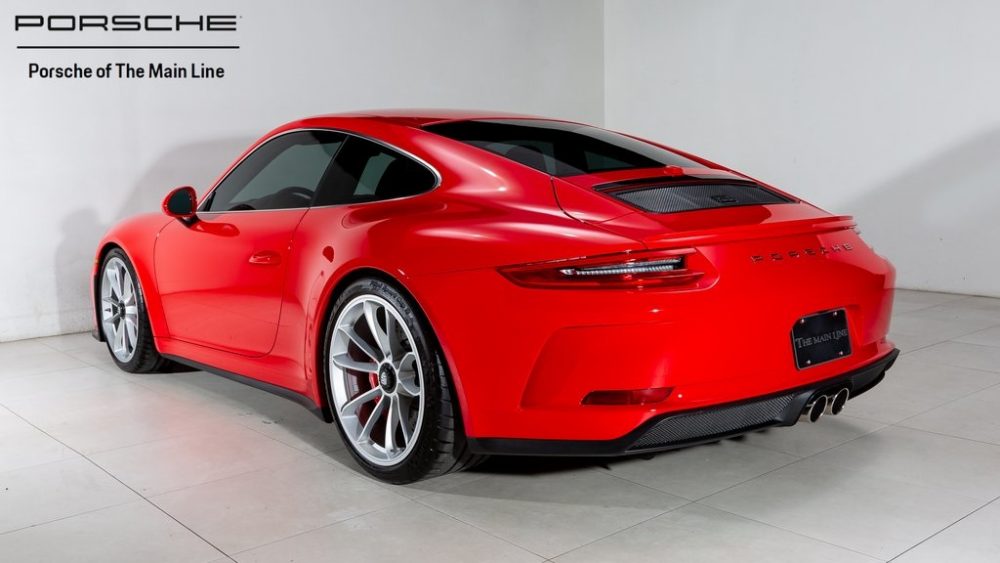 Year: 2018
Model: 911 GT3 Touring
VIN: WP0AC2A95JS175970
Engine: 4.0 liter flat-6
Transmission: 6-speed Manual
Mileage: 2,028 mi
Location: Newtown Square, PA
Price: $176,995 Buy It Now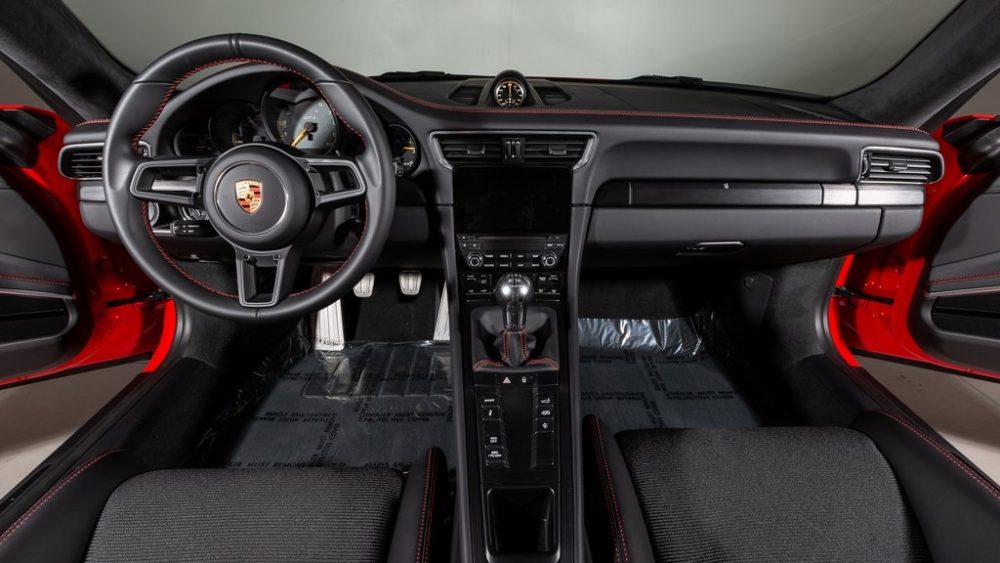 Certified, Clean Carfax, 6-Speed Manual Transmission, Chrono Package, Touring Package, 1k Miles. You are looking at a 2018 Porsche 911 GT3 Touring. This vehicle has 2,028 total miles on the odometer. It comes fully equipped with 6-Speed Manual GT Sport Transmission, Full Bucket Seats, Interior Stitching in Red, Navigation, Extended Range Fuel Tank, Wheels Painted in Satin Aluminum, Pedals & Foot Rest in Aluminum, Chrono Package w/ Preparation for Lap Trigger, Seat Belts in Guards Red, Front Axle Lift System, Luggage Net in Passenger Footwell, and much more! This vehicle is being sold with the balance of factory warranty which is good until 6/06/2022 or 50,000 total miles on the odometer, whichever occurs first. In addition, we are also offering this vehicle with our Porsche Certified Pre-Owned Warranty which extends your warranty until 6/06/2024 * Unlimited Mileage*. Along with the 2 years of warranty, the Porsche Certification gives you the reassurance that this vehicle is as close to new as possible having gone through Porsche's rigorous 110+ point inspection and reconditioning process. Please feel free to call or email us with any of your questions regarding the vehicle, or stop in, and find out why Porsche of the Main Line was given the award as the top Premier dealer in the U.S. An award given to the dealer who exhibits uncompromising excellence in every phase of business. A title distinguishing us as the best of the best.
Please feel free to call or e-mail with any questions or comments.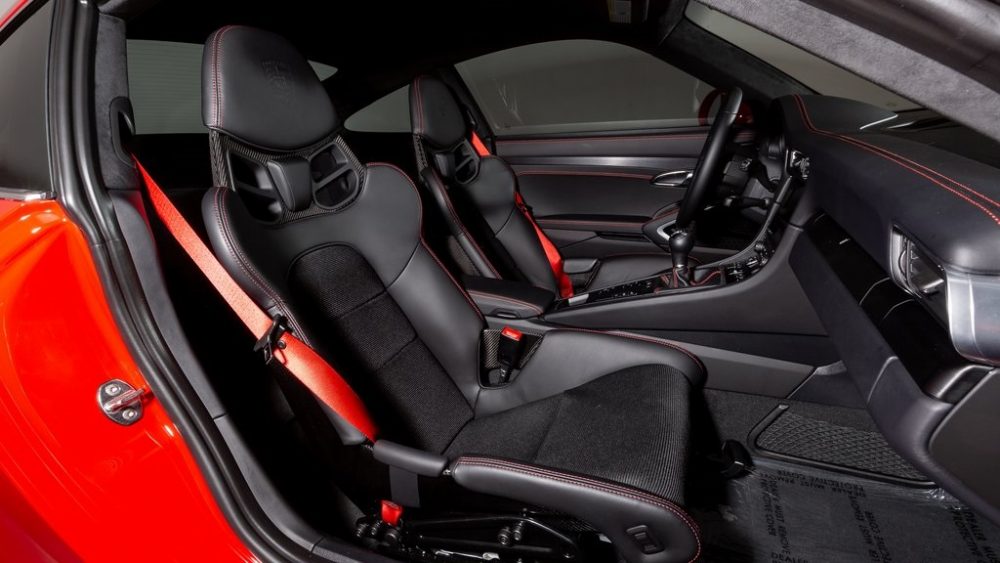 If you gave me a $175,000, which this car is priced at, and told me to pick a color on a GT3 Touring, I don't think Guards Red would be near the top of the list for colors I'd chose. I love the GT3 Touring and I think Guards Red is a wonderful color, but I don't think I like them together. It just feels like 'too much', if you know what I mean. The color basically screams "look at me" and while driving a 991 does that in the first place, I think something a little less loud would do. Maybe even if this was just the standard GT3 with the wing I'd like it better, but for now, I can't say I'm a fan of this color on this car.
The interior accents in red are really wonderful and this car has those awesome full bucket seats, but I find myself wishing this car was maybe white with the red calipers and red seatbelts. For $175,000, this is one of the better priced GT3 Tourings out there, and I think it won't have any trouble selling. But for me, I can't say I love it. How about you?
– Andrew