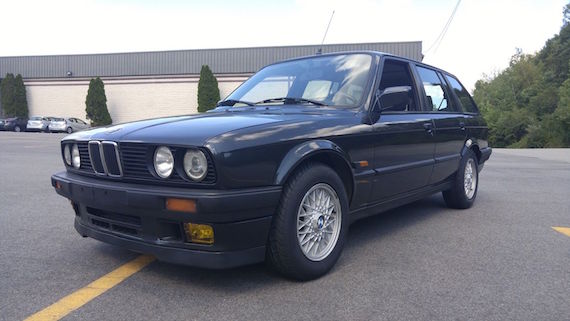 I've been on a wagon kick lately over the past week and I'm not about to slow down with my first post of the week. This BMW E30 estate might not have the engine the enthusiast lusts after, but it is wrapped around the one body style forbidden to US customers that is highly sought after on these shores, given their legal status in the eyes of the government. This 324td estate for sale in New Hampshire is originally an Italian market vehicle, equipped with a 5-speed manual to help get the most out of the oil burner under the hood.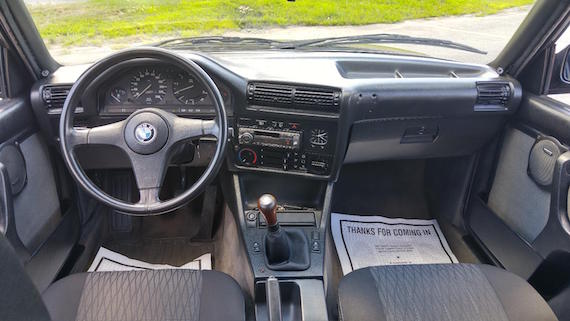 Year: 1990
Model: 324td
Engine: 2.4 liter turbocharged inline-6 diesel
Transmission: 5-speed manual
Mileage: 169,000 mi
Price: $10,995 Buy It Now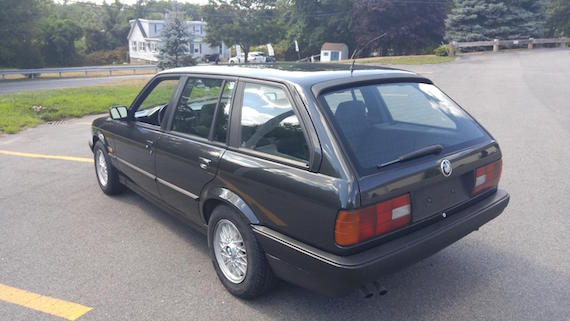 Recently imported from EU on 25 year rule, legal both EPA and DOT. Finished in Diamantschwarz Metallic, 1990 BMW E30 324TD Touring. Well equipped for Euro model, Italian market, comes with A/C that actually works and appear to have been upgraded to new gas, Power steering and power front windows, power locks. There is no apparent rust. Looks dry and clean underneath. If not familiar with those engines, M21 was very popular in Europe, aspirated and turbo version. Unlike other period diesel engines this motor runs much smoother and quieter, yet still quick and economical. US market has seen it in 1984 and 1985 BMW 524td, sadly only as automatic, as well as Lincoln continental MKVII of same vintage and some Vixen motor homes. Based on M20 engine but with much stronger internals.

Shows 272k kilometers witch loosely translates into 169K miles. Odometer and speedometer are in working order. Engine starts right up, smooth and no hesitation.

I have had replaced few things on this car, as I felt car would benefit from. Rear end sub-frame bushings have been replaced, right side rear wheel bearing, rear brake rotors, pads, e brake shoes, front rotors and pads, front brake rubber hoses, Valve cover gasket and injector return lines have been also replaced due to age. Engine is dry and free of any leaks, so is the rest of the car. Timing belt was done not long ago, all other belts appear new or recent. New tires have been installed as the old tires have aged. Factory BMW 14″ wheels. Also comes with set of 15″ winter wheels on aluminum rims.

Interior has been recently re-upholstered, and so was headliner. Those are not seat covers!

Run drives handles excellent, smooth ride, nothing bangs, pretty quiet, shifts smooth and effortlessly, good power, excellent fuel mileage.

There is few imperfections as of right now, Driver side rear power lock doesn't work, will probably need actuator, rest of the car locks does work just fine. Fog lights are there just for show, not hooked up. Rear wiper motor appear to be no good, didn't investigate further, however it is available on eBay and elsewhere for about $30 ish, RPM gauge is not operational. Radio works but not the greatest sound, could use upgrade. I'm sure there is another thing or two but cant recall anything else as of right now.

European VIN WBAAH91060EB24874

Video clips on you tube show running as of 2 days ago!
https://youtu.be/3BN3FUZ6u6s

It is currently registered in State of New Hampshire, that has no title for vehicle this old, but rather just registration. That registration will transfer into Title in all Title states.

As far as California, I have no knowledge what "flies" there as far as emissions but I'm sure there is plenty knowledgeable people to advise. I invite and encourage you to check the car out in person prior to the AUCTION end.

A NON-REFUNDABLE, 200 PAYPAL deposit within 24 HOURS of AUCTION end with the final payment within 3 business days via Bank Wire or CASHIER CHECK. After all clear, vehicle can be picked-up. The Winning Bidder is responsible for all transportation. Thanks for your visit and Good Luck with this RARE, UNIQUE and COLLECTIBLE vehicle. Please bid thoughtfully, as this BMW is sold 'as is' and there is no expressed Warranty of any kind. All Pre-sale 3rd party inspections are welcome to personally inspect this BMW. There will be no 'Post Sale Inspections'- to determine whether you actually want to purchase this car. Zero feedback bidders, need to call us to verify credibility, or bids will be cancelled. This car is being advertised and marketed outside of eBay. I reserve the right to end this auction at any time. Mike 781-941-6969 Text please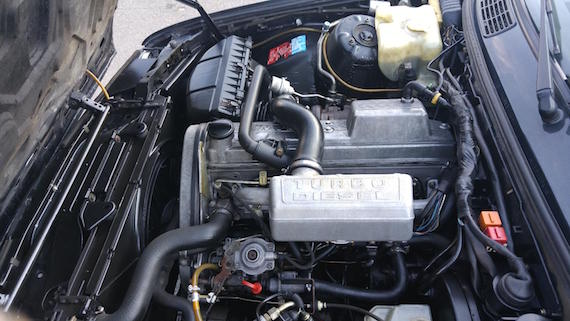 For the most part, this appears to be a no-excuses E30 estate. There's a few imperfections as noted but would be a good start to someone looking for a car they could tinker with a bit while still enjoy on a daily basis. The asking price here is right in line with what we've seen petrol versions of the E30 estate fetch as of late, especially considering you won't have to hassle with customs and importation. Any day one can avert dealing with the feds is a good day. While I probably wouldn't opt for the diesel variant, I'm sure there are plenty of fans out there who would be willing to give this 324td a whirl.
-Paul