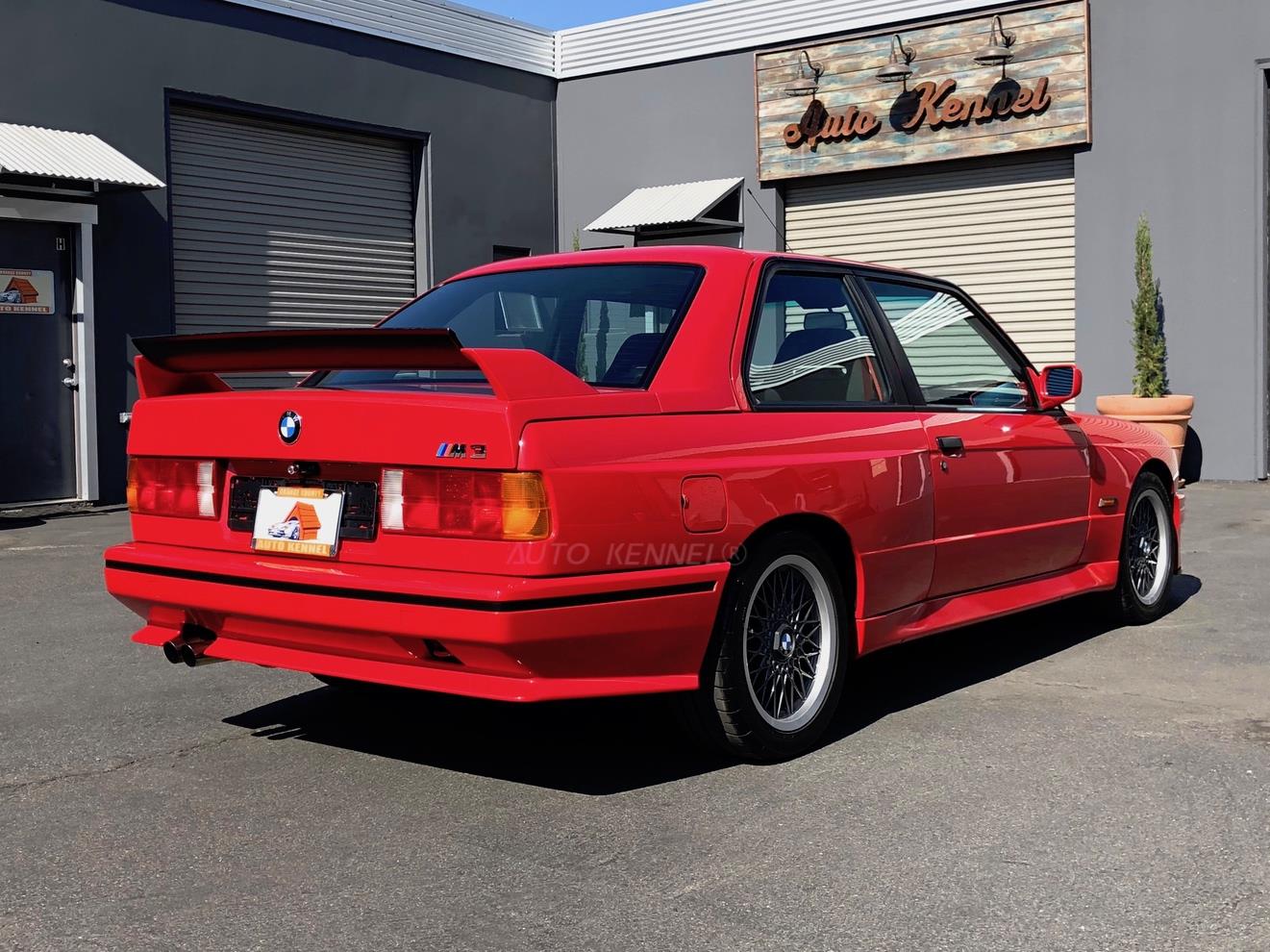 Update 11/11/18: Auto Kennel has dropped the asking price from $109,990 to $99,990.
Just as with Andrew's 190E 2.5-16 Cosworth Evolution II, a series of modified M3s were run past the FIA to introduce new aerodynamic equipment and changes to serial M3s. Also dubbed the Evolution, three separate models were brought to market to homologate the changes. The last was called the Sport Evolution and brought the most amount of changes in the run. Thin glass and lightweight bodywork was carried over from the Evolution II, while the Sport gained adjustable front and rear spoiler extensions and wider arches in front. Under the hood, the 2.3 S14 was replaced with a 2.5 version of the motor which cranked out 238 horsepower. There were a host of other minor changes, all of which added up to a very special – and very quick – package. A total of 600 were produced; though this was the last of the specials, it was also the most prolific. To help differentiate them from the other Evolutions (if the spoilers weren't enough), the Sport Evolution also got unique bumper trim and Nogaro Silver painted 16″ BBS wheels, along with special Recaro seats inside. While they are the most frequently produced E30 M3 special, they're still arguably the most desirable and collector friendly. Since they were never officially imported to North America, it's quite a treat to see stateside. Presented in Brilliant Red 308, today's Sport Evolution is one of the better examples on the market: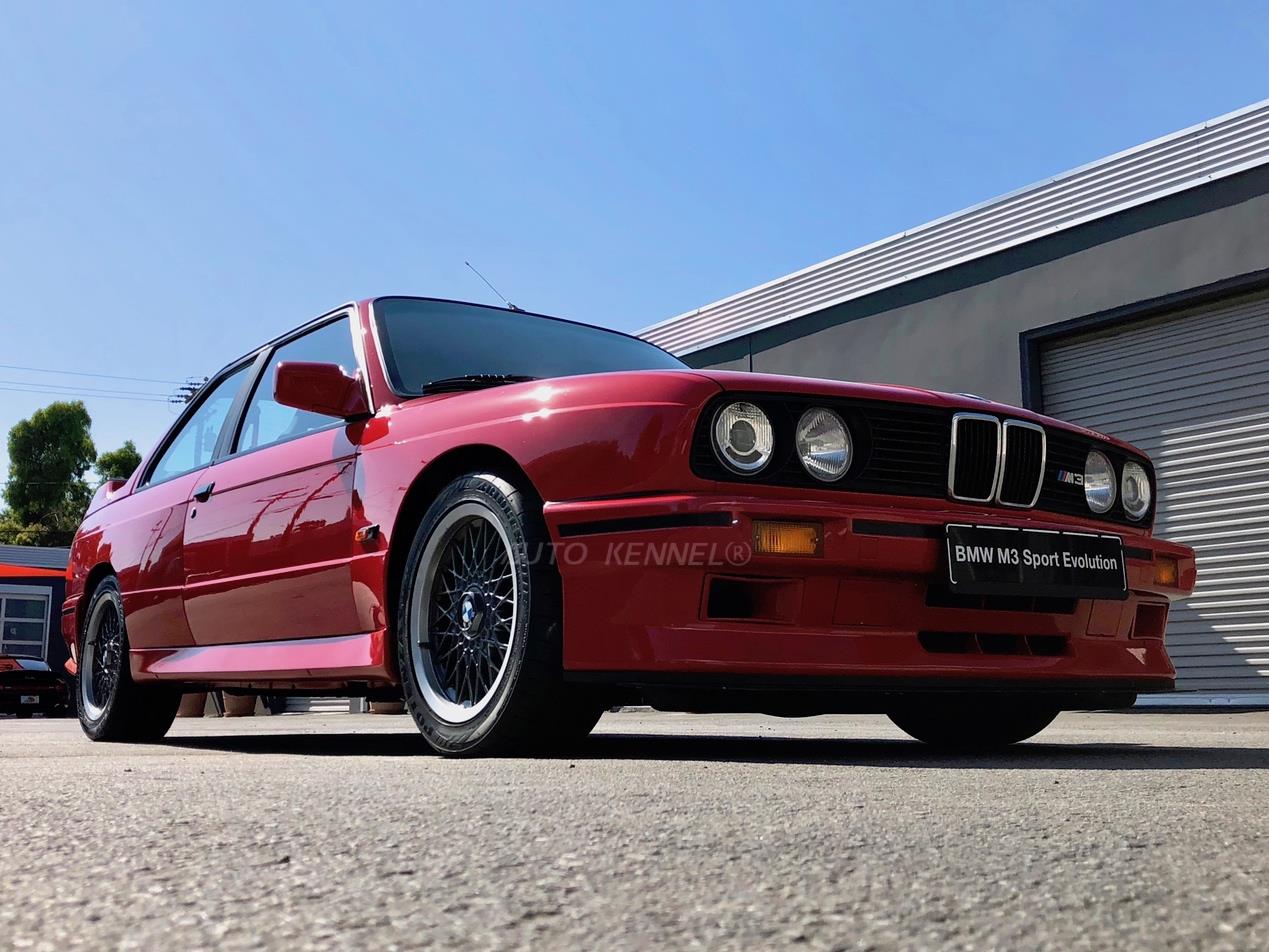 Year: 1990
Model: M3 Sport Evolution
VIN: WBAAK07070AC79056
Engine: 2.5 liter inline-4
Transmission: 5-speed manual
Mileage: 140,000 mi
Price: $99,990 Buy It Now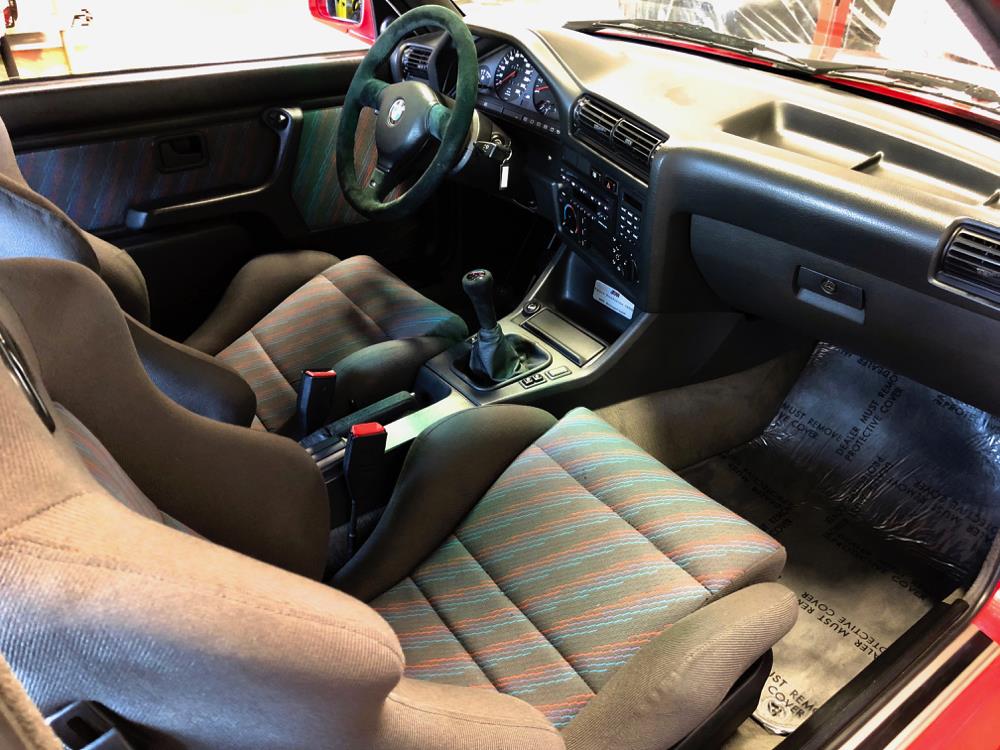 1990 BMW E30 M3 Sport Evolution/Evo III #056 of 600 Homologated Examples Built 20-Years of Excellent Documentation VIN # WBAAK07070AC7xxxx ENG# 6035xxxx/254S01 (S14B25) Manufacture date of 1/18/90 140,200 Original Miles (226,000 Kilometers) 50,000 Miles on Full Engine Rebuild Brilliantrot (308) on Anthracite M Cloth (0316) 5-Speed Manual Gearbox Clean and Clear Montana Title Clean CarFax Report/No Accidents As BMW was finishing its run of E30 M3 manufacturing, they released the final homologated version: the Sport Evolution. Commonly referred to as the Evo III, only 600 were produced and none was delivered new to our shores. Unique differences with these cars included the following factory enhancements:

Only delivered in red or black
Built for only 4-production months
Displacement increased to 2.5L
Larger valves
More aggressive cam
Red spark plug wires
Oil sprayers in block for piston lubrication
Horsepower increased to 238hp at 7,000 rpm
3.15:1 differential ratio
Suede steering wheel, shift knob, and hand brake lever
Red seat belts
Recaro sport seats with harness holes integrated
Unique adjustable rear wing and front spoiler
Reprofiled front grill slats
Brake cooling ducts
10mm lower ride height
Two tone (Nogaro Silver) 16" BBS wheels
Thinner glass
Lighter trunk lid and bumpers
Smaller fuel tank
Wider front fenders with sealed body gaps
Center console identification plaque
Door sill plates with colored M3 insignias

This Sport Evo was built on January 18th, 1990 and sold new by BMW Niederlassung of Nuremberg, Germany on March 7th, 1990. It was equipped new from the factory with the following equipment:

Air conditioning
Sliding electric sunroof
Power windows
On board computer

We have service receipts and ownership records dating back to 1998/100,000km where it was owned by a couple living in Kent, England. This couple serviced the car at their local BMW dealer. We also have copies of their M.O.T. inspections until they sold the car to an enthusiast in Okinawa, Japan in 2003 with 117,300km.

This last owner was fastidious with services. Most of the work was done by either the BMW dealer in Okinawa or Shirai (a very well respected independent BMW shop in Shimizu City that specializes in E30 M3s). *Highlights of these services include:

Regular and frequent fluid changes: motor oil, trans, brakes, diff
Rear shocks and mounts (@ 119k-km on 1/04)
Motor and transmission mounts (@120k-km on 2/04)
Front struts, mounts and control arms (@120k-km on 3/04)
New front oil cooler and hoses/mounts (@ 121k-km on 5/04)
Window washer system and main fan (@123k-km on 8/04)
Bare metal/drivetrain removed repaint of entire car/approx. $10,000
(@ 129k-km on 7/05)
By local BMW dealer in Okinawa
Replace starter (@130k-km on 8/05)
Wheel bearings (@ 140k-km on 11/06)
Significant suspension/drivetrain work (@142k-km on 10/06)
Replace rear trailing arms and bushings
Koni shocks/struts
Oil pan gasket
Driveshaft, coupler, and bushings
Universal ball joints and center ball joint
Sway bar supports and bushings
A/C compressor and convert to 134
Rebuild A/C system
Total cost about $5,000
Full engine rebuild/approx. $10,000 (@ 144k-km on 1/07)
Valve job
Heads
Crank polish and balanced
Camshafts
Clutch kit/flywheel resurfaced
Chain tensioners/chains
Connecting rods/bearings
Steering rack (@ 167k-km)
Restore original wheels (@ 175k-km on 3/10)
Water and fuel hoses replaced (@ 179k-km on 7/10)
Rebuild A/C system (@ 180k-km on 8/10)
Rebuilt alternator (@ 191k-km on 6/11)
Power steering pump and hoses (@ 222k-km on 11/15)
Oil Service (@ 224k-km on 11/16)

This M3 Evo III was imported from Japan last year by a Southwest enthusiast. He immediately had inspections and work performed by a couple local BMW independent specialists. This work included:

Fuel pump/main relay
Crankshaft position sensor
Replace ECU
Test fuel system and vacuum
New fuel injectors
Compression/leakdown test
Adjust idle

Unlike many of these homologated specials, this Sport Evo was driven, enjoyed, and well-maintained. It didn't sit dormant in a garage yet, it wasn't tracked or abused. The whole car looks more like a sub 50k-mile example. The paint looks very nice with minimal signs of use. There are no major flaws, scratches, or dents. The glass is correct and has no cracks or major chips either. The wheels are in great shape with no curb rash and are wearing older Bridgestone Potenza tires with about 1/3rd life. The brakes have 75% life. All the exterior lights work.

The interior is equally as nice and mostly original. The seats are wearing their original motorsport fabric inserts and show no stains or wear. The driver exit bolster was reupholstered due to normal wear. It matches the rest of the factory fabric. There are no tears. The headliner is original and is not sagging or torn. The door panels and carpet all look fresh. The dash has no cracks or warping. It has a slight round discoloration spot on the top (see pic). The gauges appear to work properly as does the power sunroof. The clock/trip computer display is out and needs a new bulb. A later U.S. BMW factory CD player has been installed and it works. The A/C system was inspected and appears to be in good condition. The system will be serviced and recharged before delivery to the next owner.

The engine bay, trunk, and chassis are all in very good condition (considering the miles) with no major signs of abuse, damage, or rust. The normal trunk spots (ie spare tire well, battery area, and jack area) all appear dry with no rust. The spare appears to be unused and wearing its original Michelin tire. The chassis looks good with just some slight wear at the front jack points (typical). There are a couple small areas of engine oil weeping at the timing chain cover and front tensioner. There is also some slight coolant moisture at the thermostat. All are minor and not critical for attention, just monitoring. The stock exhaust tube from the engine to the muffler has some usual surface corrosion but no holes. This Evo III appears to be completely stock with the exception of an ARQRY muffler, rear strut brace, and Shirai lightweight/larger capacity alloy air intake accumulator.

We just had a compression and leak down performed by a local BMW marque expert and the results were excellent (leak down numbers percentage off of 100%):

1) 180/2% 2) 180/2% 3) 175/2% 4) 175/2%

With the turn of the key, you quickly realize that this is no water-downed U.S./EPA variant, but rather what BMW Motorsports always intended this car to be for the consumers. It has a nice low end growl. It's a bit cold blooded and although will start on the first try, needs some time to warm up. It pulls nicely as you wind the motor out past 4k rpm. The shifter feels precise with no slipping or grinding. The clutch engages easily and has a very nice positive engagement to it. The brakes have excellent initial bite with no fading. And, of course, handling is its strong suit. Turn in is incredibly precise and the whole chassis has a wonderful balanced feel to it. This example is mostly non-modified and would be welcome on any show lawn. However, it's not so much of a garage queen that you can't have some guilt free touring in the canyons or on vintage driving events. Plus, when's the last time you saw a true Sport Evolution driving down the road. It is truly a unique and rare specimen that is a car guy/gal's car.

This M3 comes with extensive service records going back 20-years, one-key, original spare tire/wheel, tool kit, emergency triangle, and jack/lug wrench tool.

*Note: Many of the receipts were translated from Japanese and we did our best using google tools and friends who speak Japanese to translate repairs.

**Note: VIN and other numbers withheld to protect against fraud. All numbers including VIN, Engine, and color will be provided to serious buyers.

***Note: Not CA Legal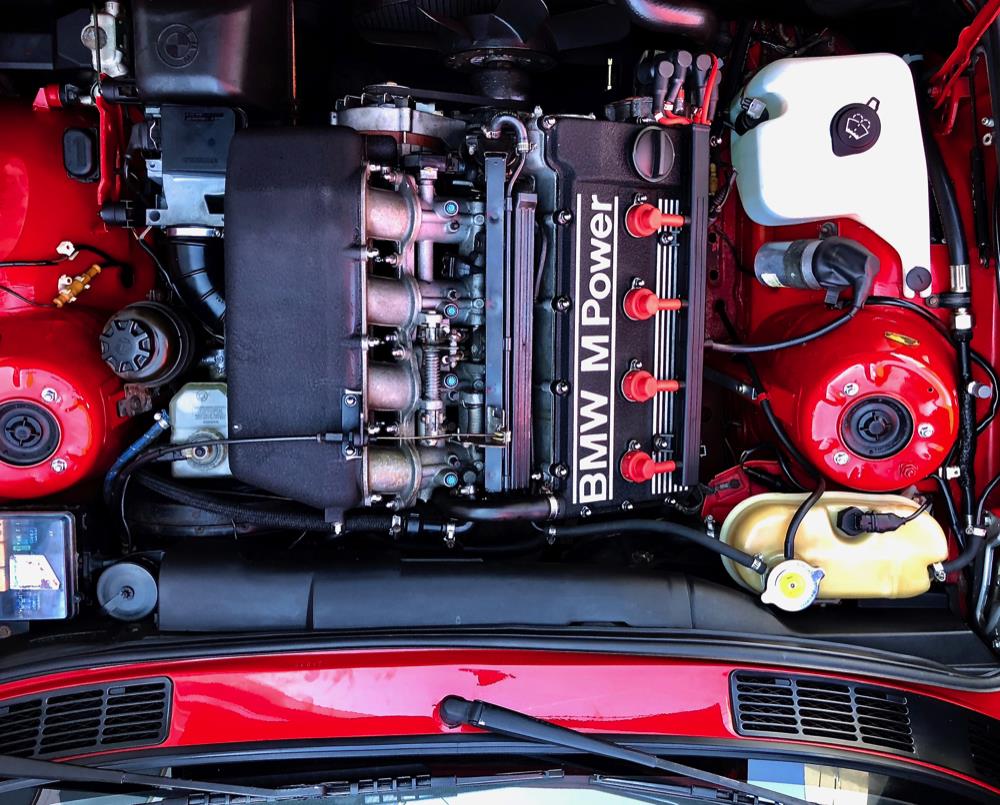 Auto Kennel's presentations never fail to disappoint, and the great description and detailed photos depict a great condition collectable M3. At this point the price shouldn't really shock you; normal U.S.-spec cars with low mileage have traded in this territory recently, so a documented Sport Evolution in original condition would certainly be up there too. More to the point, it's only around 50% of the asking price of the 190E Andrew saw. The documentation covers an engine rebuild – the very expensive undertaking on the S14 – along with normal maintenance, and while the base Sport was devoid of all luxury, this example had options like power windows, a sunroof and air conditioning installed – basically it's a full option Sport. For a car that will stop crowds when you appear, the special nature of the Sport Evolution is hard to beat in today's market and this one certainly looks the part.
-Carter