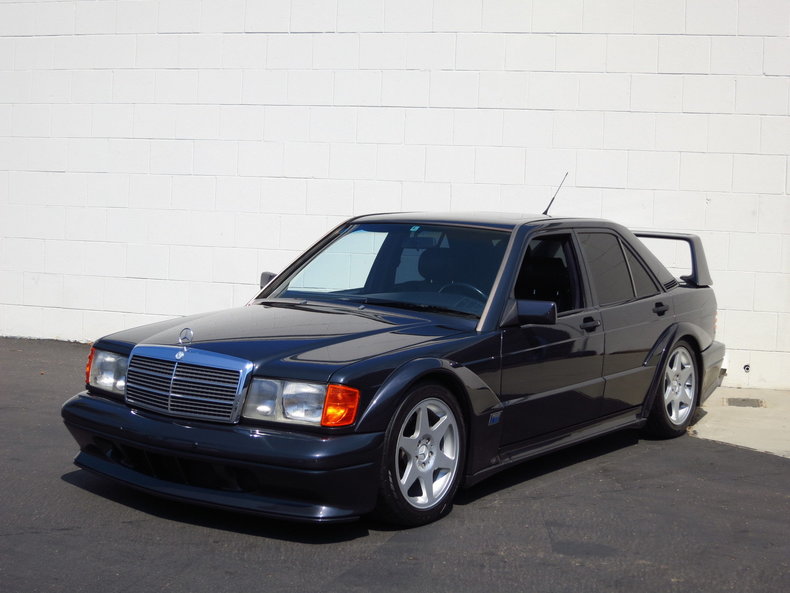 The Mercedes-Benz 190E 2.5-16V Evolution II is one of those cars that you know exists, but thanks to its rarity of just 502 examples made, don't pop up all that often in any kind of setting. The majority of these cars are now securely tucked away in private collections thanks to their crazy price tags (more on that later) and very rarely come up for public sale. Today, car number 208 painted in Blauschwarz, is up for sale for anyone who has enough money to sink into a car that you probably can't justify it costs as much as it does. The best part about this car? It's for sale in sunny San Diego, California.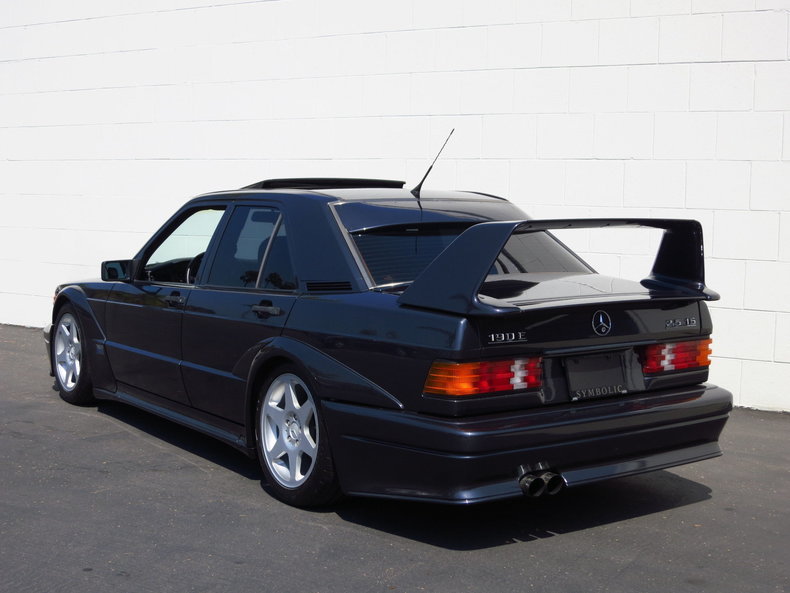 Year: 1990
Model: 190E 2.5-16V Evolution II
Engine: 2.5 liter inline-4
Transmission: 5-speed manual
Mileage: 58,999 km (36,660 mi)
Price: Buy It Now $205,000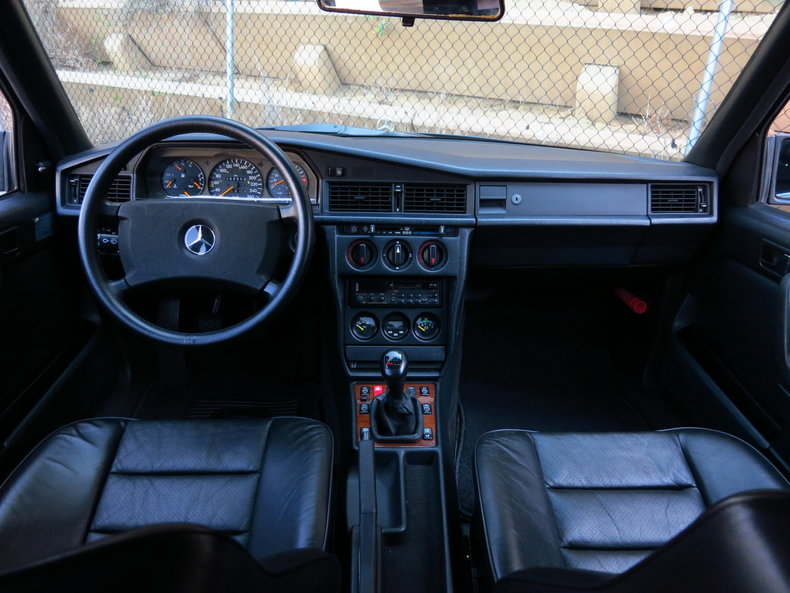 1990 Mercedes Benz 190E COSWORTH 2.5-16 EVO II

Ultra rare, pristinely preserved, conserved and cared for original Cosworth EVO II! Number 208 of 500 built. Low mileage, never raced, matching numbers, rust and accident free!

– 208th of just 500 Examples Completed

– 58,998 Kilometers / 36,659 Miles From New

– All Matching Numbers

– Rust & Accident Free

Year 1990

Make Mercedes Benz Model 190E

Type COSWORTH 2.6-16 EVO II

Kommission No 0 0 226 03170

Production No 0027667 5

Production Sequence No 208 of 500 units

Production Plant Bremen, Germany

Selling Dealer Branch Mercedes Benz, Munich, Germany

VIN WDB2010361F736550

Engine No 102.992-10-000304

Gearbox No 717.404-00-021172

Exterior Color "Blauschwarz" blue/black metallic (Code 199U)

Interior Anthracite Leather Seating front and rear (Code 271A)

Tires Dunlop Completed May 25th, 1990

Shipping Date May 31st, 1990

Current Total Mileage 58,998 Kilometers / 36,659 Miles

Options – Cosworth 2.6-16 EVO II Option Package – Special Dunlop Tires – Special Bosch Lighting – Special Bosch Windscreen Washer Equipment with SWF Wiper System -199U "Blauschwarz" blue/black metallic Exterior Paint -211 Automatically Activated Limited Slip Differential -240 Remote Outside Temperature Indicator -271A Anthracite Leather Seating front and rear -412 Electric Sliding Sunroof -412 -1 Electric Sliding Sunroof System 1 -412 -2 Electric Sliding Sunroof System 2 with Tilting System -430 Rear Seat Head Rests -470 ABS (Anti-Lock Brake System) -489 Self-Leveling Suspension System with Control -511 Becker Grand Prix Mercedes Benz Premium Sound System -580 Air Conditioning & Automatic Climate Control System -591 Special Green Tinted Glass all around with heated Front & Rear Glass -620 Exhaust Emission Control Systems -682 Fire Extinguisher -812 Rear Mounted Speakers -853 Nokia Intergral Telephone System -873 Seat Heater for Left and Right Seats -876 Supplemental Rear Mounted Courtesy Lamps

Background: In 1990, Mercedes with the direct assistance of Cosworth and AMG debuted the highly revised 190E 2.6-16 Evo II. In order to meet DTM homologation requirements 500 units were built, all of which were immediately spoken for and sold before the first examples had even been completed. The Evo II had a numerous cosmetic and mechanical updates and changes including a radical and fully functional aerodynamics package, an in-car adjustable suspension, improved brakes, bigger 17-inch wheels, and a reworked Cosworth/AMG 2.5-liter four-cylinder engine that produced an incredible 235 horsepower! VIN: WDB2010361F736550 This particular COSWORTH 2.6-16 EVO II was the 208th of 500 examples built. It was ordered under "Kommission No."0 0 226 03170" for assembly at the Mercedes Benz Bremen, Germany production facility where all EVO II models were completed. The order was initiated in early April of 1990 by the Mercedes Benz official agent in Munich, Germany. The order was very specific and included a total of 23 separate option packages furthering the known fact that no two of these rare MBs were alike. Completion of all work was recorded as May 25th, 1990 with shipping a few days later on May 31st by overland transport. Initial ownership and registration was via a private collector in Munich, Germany. The vehicle remained there until May of 1994 when it was purchased by a Japanese Dealer and formally exported and imported into Japan. It was then road registered there for the first time on June 6th, 1994 using plate number "33 5978.". One year later on September 13th, this EVO II was sold to a another dealer and the registration plate was changed to "33 2216." Three years later this vehicle was purchased by a private museum collection on March 27th, 1998. New registration and plates "35 5059" were then issued and assigned to the vehicle. For the next twenty years, this EVO II remained in a preserved and largely un-driven state until March of 2018 when it was purchased by a Japanese dealer and given extensive services and safety checks. In July of 2018, it was offered for sale and purchased for export by our company. VIN: WDB2010361F736550 Today: This is a fully documented, rust and accident free, all matching number example. It is sold with all services and safety checks complete in a total "turn-key" state. Full history, internal Factory assembly records from new, tools, books and manuals remain with the vehicle and will accompany it when sold to her next fortunate owner. It is highly unlikely you will ever encounter a finer, more correct, authentic or lower mileage example anywhere at any price!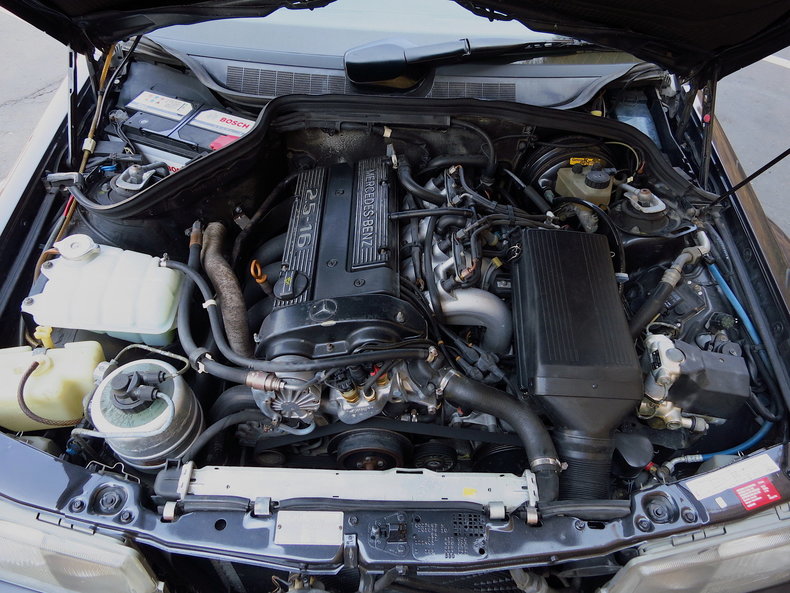 The dealer does a great job of explaining the history of this car so I don't need to repeat everything, but the short of it is that is a German-spec car that was exported to Japan where it remained for the last 24 years until it was imported into the United States to be put up for sale. I am really surprised to see this car painted in Blauschwarz, which is a really deep, dark navy blue color, because the vast majority of these cars were painted black with the Blauschwarz color being by special request only. I am pretty confident that these were the only two factory colors for this car as I've yet to see one of these painted in something else. The interior is a full leather setup as opposed to the tartan cloth and the data card even says it was optioned with the Nokia Intergral Telephone System which must have been removed at one point. As special and as nice as this car looks, it has two little flaws I can see that probably should be fixed given its enormous price tag. The first being the digital clock that floods all its pixels that is common across all the 16V models and the second being the gauge cluster surround. All the cars from this era are prone this odd discoloring on the plastic inside the gauge cluster that I think is caused by high heat and humidity. The easy fix to this is to pull the gauge cluster and swap the piece out with a clean example from any other W201 as they are interchangeable for honestly not that much money at all. I know these are super minor things, but if I am spending this much money on this car, I would like it to be as near as perfect as possible.
The price tag of $205,000 surprises me in general, but this is simply what they sell for. Do I think you get $200,000 worth of enjoyment from this car? Of course not. This is just one of those cars that the rarity and demand determine the market and for whatever reason, around $200,000 seems to be the sweet spot. Personally, I'd save a few bucks and pick up the much more conservative Evolution I, but the Evolution II is the best and final 190E, so the bigger price tag only makes sense. I'm really curious to see what happens with the values of these cars in 5-10 years time as the lure of these probably is only going to grow stronger, but who really knows when it comes to something as niche as this car. I just hope we actually see this thing run around on the streets and not locked away.
– Andrew