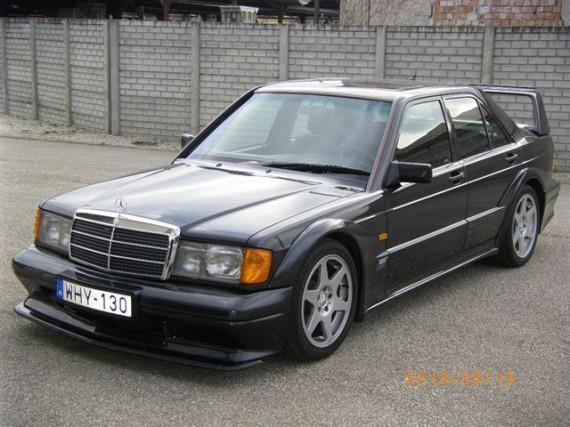 It isn't often that an Evolution model 190E comes up for sale. We usually notice when one does. With only 502 of these produced, to meet DTM homologation requirements, you are not going to see one on the street except for special occasions.
These cars show how Mercedes 190s can compete in the collector car market with BMW E30 M3s, just as they competed in the marketplace and track when new. While the E30 seems to have the marketplace edge right now, prices of the Cosworth engined 16 valved 190s continues to rise. The Evolution models being the absolute top dog.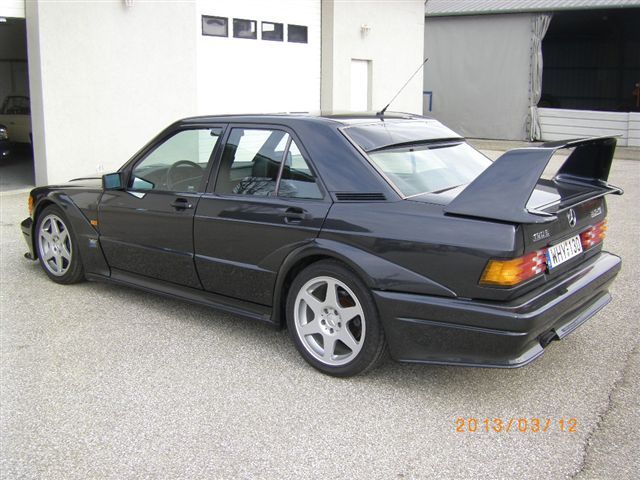 Year: 1990
Model: 190E 2.5-16 Evolution II
Engine: 2.5 liter 16 valve inline four
Transmission: dog leg 5-speed manual
Mileage: 35,000 miles
Price: Bid to $61,290, reserve not met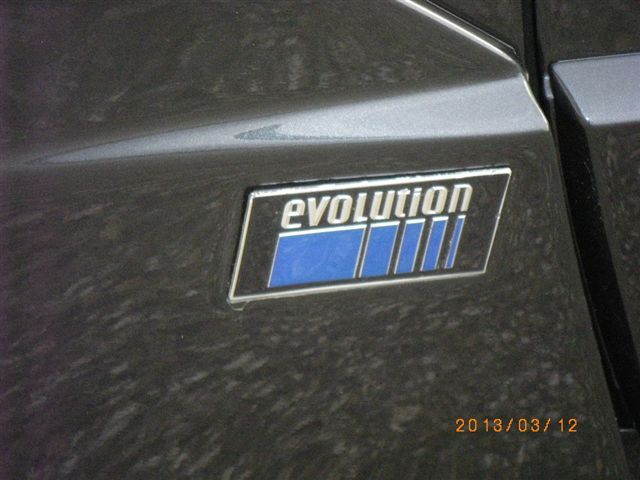 About this car: 1990 190E 2.5-16 Evolution II.

This is a factory Evolution II. The VIN #: WDB2010361F743573 The car is fully loaded: leather seats, a/c, suspension level, etc. Everything is looks like brand-new. The body is straight and rust free, the car was never ever in any accident. The four tires are new. On the car have a fresh major service including, oil service on the engine, Trans, and rear axle. The break fluid is also new. All filters were changed, new spark plugs, spark plug wires, distributor cap, and rotor, etc. The car runs very strong, and straight. The a/c is ice cold. No noise or oil leek. Everything is original, and in working condition: like the radio, a/c, the leather, floor and trunk mat, wheels, etc. The car comes with full service history. All books, the four keys, tools, original window sticker are in my hand. This is a matching numbers car, 1 of the 500 units Evolution II were made.

Now the car is in Europe, but I can help to shipping the car to the anywere, or you could pick-up your self. Here is a choice to take a piece of history from the 90's when the Mercedes was built the legend. This car has no warranty and selling AS-IS. If you have any question call: 805-300-9763 Joe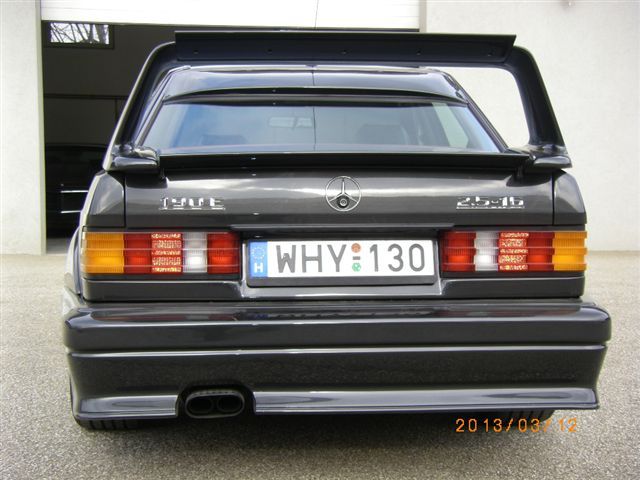 The sporty car is pushing 235 horsepower out through the race setup 5 speed for plenty of fun. Any car that has an engined designed by Cosworth and that, while not an AMG model, has been breathed on slightly by them to boost output is a good thing. The difficulty with an Evo 2 is that those not in the know may think you have boy racered your Mercedes due to the wild factory body kit. The massive fender flares might get overlooked, though not likely, but the absolutely nuts rear wing will not get missed. This piece is not for looks, but gives the car its low coefficient of drag.
This particular car is located in Hungary and looks to be near factory fresh. The seller doesn't provide a whole lot of description or particularly high resolution photos. It looks to be well taken care of as it comes with the original window sticker and service history.
These are basically collector cars in any condition, but this one appears to be a high grade example. It isn't clear what the seller is looking to get for the list. The first time it was listed bidding ended at $62,000 so it must be somewhere north of that. They don't come much rarer than this for factory Mercedes from this era so certainly an investment opportunity.
~Evan