One of the great questions in my life is, after the massive success of the W123 300TD, why Mercedes-Benz decided to import the W124 300TD for one year only to the United States in 1987. Maybe it was too expensive as it cost $42,500, which is a whopping $91,000 in 2017 buying power. Whatever the reason aside, this caused Mercedes-Benz diesel lovers to this day to snag these W124s up and keep them as long as possible. So when I was alerted to an imported 250TD that also had a manual transmission, I had to check it out.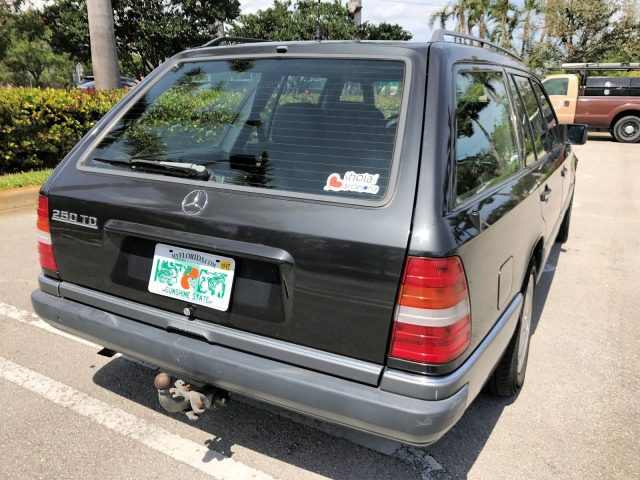 Year: 1990
Model: 250TD
Engine: 2.5 liter inline-5
Transmission: 5-speed manual
Mileage: 95,293 km (59,212 mi)
Price: Buy It Now $10,990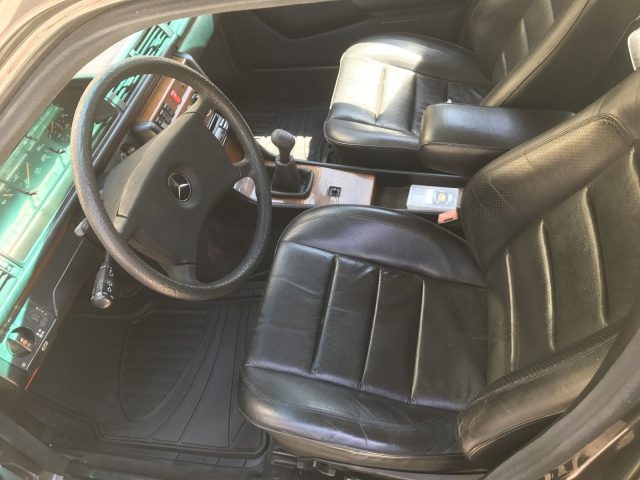 Up for auction, an ultra rare 1990 Mercedes 250TD 5 Speed (Factory original), equipped with A/C and power sunroof and leather.
The vehicle was part of an estate that I acquired a while ago in Barcelona (Spain).

This is a NO BRAINER, at such giveaway price it will sell fast, there is NO WAGON 5 speed diesel low mileage equipped like this (leather, A/C…) in the whole country!
Smart buyer will "Buy it now" and run with it. EXCELLENT BUY. NONE FOR SALE, BE SMART !

The Mercedes was seating in a climate controlled garage. The vehicle is extremely nice as seen on the pictures, I would say; way above average ! Being an import, the gauges are still in KM.
The black leather seats are in outstanding condition, headliner and carpeting as well as the cargo space all nice.
Paint is very shinny, NO fading.
Color original
Paint is original.
A/C blow very cold
Straight as an arrow
All electric works
Pneumatic locking works
Tow package
No bearing noises, no shaking at high speed
Mechanically wise, the car runs and drive as it should, very smooth ride 35MPG+ diesel.
Clutch, brakes, exhaust are in pretty good condition.
No abnormal noise or smoke.
Headliner is good
Sunroof close and open fine
Very reliable vehicle and very safe
Has been serviced, and can be driven anywhere.
This is a non smoker car, no pets either.
eBAY does not recognize Euro vin, here we go: WDB1241851F156560

Great buy for a Mercedes enthusiast, collector or if you in search of a 5 speed wagon that will ran for 1,000.000 miles there it is.
Now for the defects, 2 doors speakers are damaged, some light scratches in the car but way over average, and 1 nick in the windshield. Awesome vehicle.

Register in Florida, and sold with a clear FL title.
I require a $500 non refundable deposit at the end of the auction, and the remainder within 5 days at the latest by wire transfer, cash, or certified funds.
I need at least 3 days notice as I travel a lot for my work.
Sold as is, where is, no warranty expressed or implied, no trades this is a private sale.

If needed I can assist with shipping, please note I need a couple of days notice as I sometime travel out of state for my job.
Good luck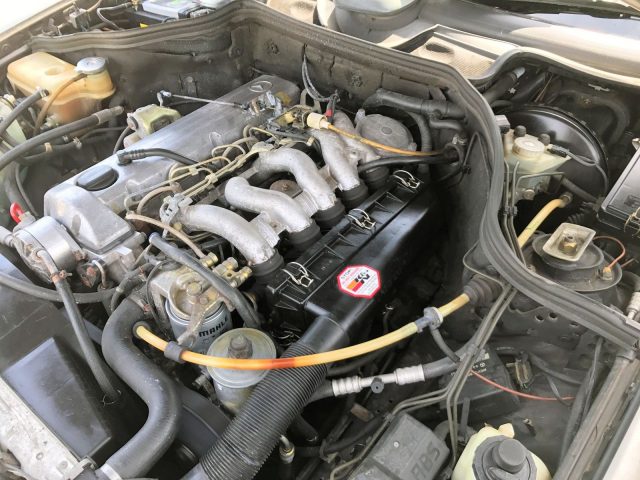 This is a really interesting build of a W124. It has a manual transmission, manual windows, manual climate control but has the same leather seats out of the amazing W124 500E. I knew this was too good to be true and according to the VIN, those seats should be cloth. Either way, that's a nice upgrade to have if you prefer leather. Under the hood is the OM602 diesel engine and for my money, it's probably the second best diesel engine Mercedes ever produced behind of course the OM616/617. These engines don't have problems with the heads like the later OM603 models and will easily get you 30 mpg even on a bad day. Some might even argue they'd take the 602 over the 616/617.
The asking price for this wagon is almost $11,000 and at first scoffed thinking that was kind of high, but then I thought about it and realized I can't argue with the seller for asking that. This combination is probably the best diesel Mercedes wagon you can buy. It has everything to last you 500,000 miles or more in a chassis that is totally comfortable to drive everyday if you wanted it. If you told me to pick the components and package them together, it would probably end up looking exactly like this. So if you are state side and looking for the ultimate Mercedes diesel estate, this one might just be it.
– Andrew