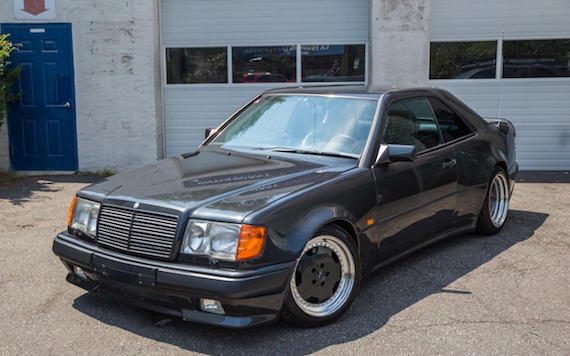 This car couldn't be more different from yesterday's slightly dodgy "AMG" 190E. While that W201 was in rough shape and of dubious authenticity, this low-mileage, AMG-tuned, widebody W124 coupe appears to be both the real deal and in glorious, mint condition.  There's no denying that this black on black 80s bad boy has incredible presence, with deep dish wheels and bulging fender flairs. Unfortunately, it also comes with hefty price tag to match.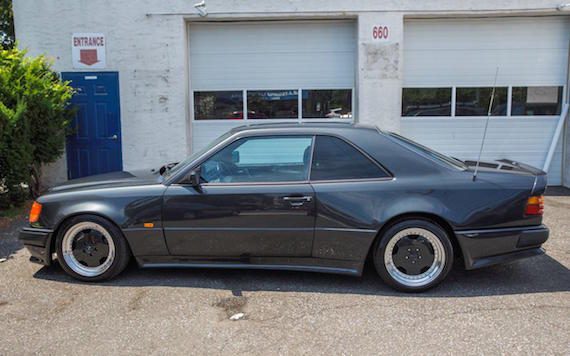 Year: 1990
Model: 300CE AMG
Engine: 3.4 liter inline-6
Transmission: 4-speed automatic
Mileage: 25,400 mi
Price: Reserve auction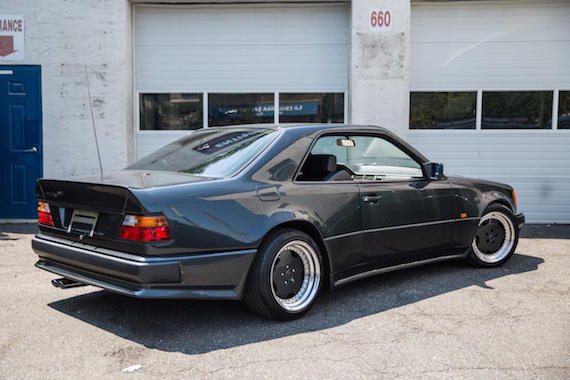 1990 Mercedes Benz 300CE 3.4 AMG

1 of ~ 25 Made

~25,000 Original Miles

VIN: WDB1240511B182985

*Note: This is not a U.S. market car. As such, no records will be found by searching for the VIN number on U.S based VIN services (Carfax, Autocheck, etc.). The following link is to a Mercedes Benz VIN lookup database, where the original build options and information can be found (Note the car model listed as 300CE-24 (AMG 300CE) Coupe): http://carinfo.kiev.ua/cars/vin/mercedes/vin_check?su=ilbc0pu0

This is an extremely rare (estimated 25 made), low mileage, very clean widebody W126 AMG. The car was imported to the United States from Japan, where it was sold by a very well known and reputable dealer, found here: http://www.garagecurrent-global.com/amg/medium-class/59/. The car drives extremely well, and the AMG tuned suspension, coupled with the Classic Recaros provide for an extraordinary driving experience. This is one of the last pre-merger cars to come out of Affalterbach, and arguably one of the most beautiful. The AMG tuned, naturally aspirated 3.4L Inline 6 is both rare, and a thrill to drive, as performance was significantly improved over the standard 300CE. It is a unique experience to see this car on the road, the widebody fenders give the car a very aggressive stance unlike anything else on the road today.

Some of the AMG Options on the car:
AMG Wide Body "Hammer" Look
AMG Genuine 17 inch 3 piece aluminum wheels
AMG Full aero (front, side, rear)
AMG Suspension
AMG Muffler
AMG RECARO classic leather seat
AMG M104 3.4L engine  272hp
AMG Steering Wheel
AMG 300km/h Speedometer
AMG Hammer grill

This example has been meticulously taken care of by its previous owners and comes with extensive service records (in Japanese) to back-up the mileage.

The car is in showroom condition and has recently undergone CQuartz ceramic paint protection.

Additional photos of the car can be found here:

https://www.dropbox.com/sh/agtcfmz8nl1kpeo/AACO7KZeoYnNPiJfKR3FLBJfa?dl=0

The car is currently located a short distance north of New York. If there are any additional questions please inquire.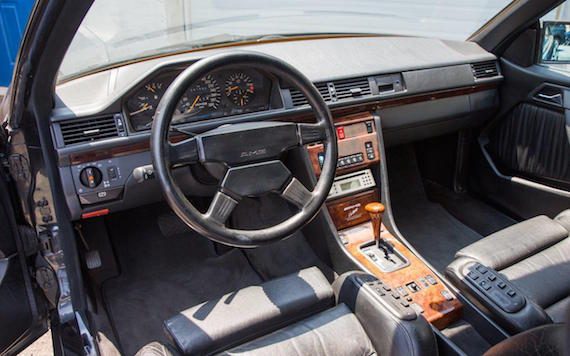 This is not the legendary W124 "Hammer." That car, while outwardly similar, was powered by a 6.0 liter V8. Instead this car started life as a 300CE with a 3.2 liter, 24v M104 engine, which has been bored to 3.4 liters and breathed on by AMG to produce 272 hp (about 50 hp more than stock). While the motor is not quite as monstrous as the V8, it's still quick and torquey. In addition to the engine work and tuned suspension, the car has also been blessed with a hilariously over the top, AMG Aero kit (replete with front and rear bumpers, side skirts and flared wheel arches – god help you if you get into an accident and need replacement parts, since they are most likely NLA), steering wheel, Recaro seats that look like they belong on the Death Star and deep dish 17″ wheels. The result is an extraordinarily exotic package which screams "80s coke dealer," as any early period AMG should.
According to the seller, the car was recently imported from Japan, which would explain the low miles and mint condition. He has priced the starting bid at $45k, and if he gets anything like that kind of money, I presume this car will end up as part of a collection instead of seeing much use on the road (which would be a shame). Since these are so rare, it's hard to tell where bidding will end up, but I suspect that it won't sell for that price. Evan wrote up a very similar car back in 2013, also sourced from Japan, and the buy it now was around $21k.
– Craig