This car is the very definition of a hot mess, so much so that I almost passed it by. But a V8 powered Baby Benz is such an outrageously fun proposition that I couldn't resist writing it up anyway. In the 1980s, AMG was still an independent tuner that offered bodykit, engine and suspension upgrades for Mercedes cars. These are known to enthusiasts as the "pre-merger" years; AMG would later be folded into Daimler-Benz in about 1990. While we're fairly familiar with W124 and W126 AMGs from this period (especially the W124 Hammer, which you can see Chris Harris hooning here), occasionally a 190E will pop up to remind us that the geniuses at Affalterbach also worked their magic on the W201 chassis. At first glance this candy red 190E appears to be an AMG-modded car, but a look beneath the surface reveals that it's actually a bit of a Frankenstein's monster.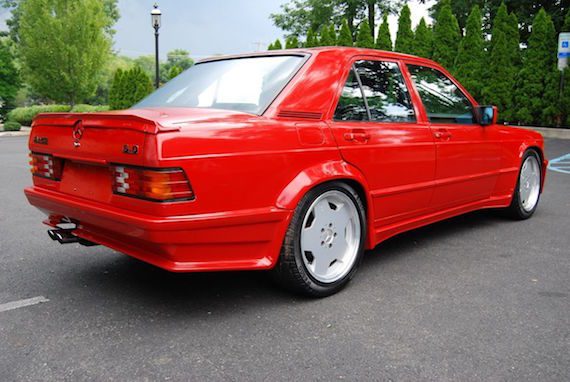 Year: 1987
Model: 190E
Engine: 6.0 liter V8
Transmission: 4-speed automatic
Mileage: "28,200" mi
Price: Reserve auction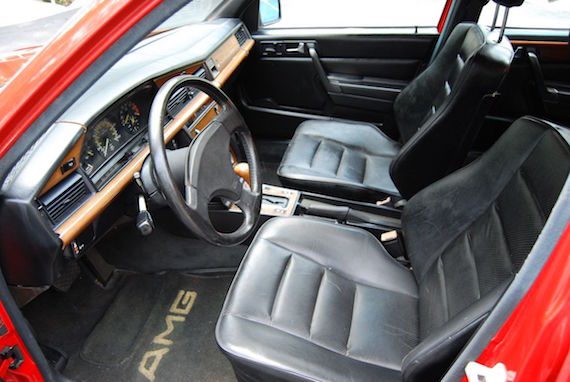 THIS IS A ONE-OF-A-KIND 1987 W201 190E AMG WIDEBODY WITH ONLY 28K ORIGINAL MILES!!! IT'S WORTH $40,000 OR MORE IN EXCELLENT COSMETIC AND MECHANICAL CONDITION. UNOBTANIUM. GONE FROM THE FACE OF THE EARTH. COLLECTOR'S ITEM. These are all phrases that apply to this car. It is a one-off 1987 190E AMG widebody custom engineered to hold the M117 Mercedes V8 engine in its engine bay. You want to laugh like a lunatic every time you drive a car, and start conversations everywhere you go? This is the car my friends. I have shepherded this project since 2008 when I literally found it in a barn in New Hampshire. It has been a back-burner project for me for a long time. It has spent time with a marque and pre-merger AMG specialist and received lots of engine work worth well over $10,000. This car in proper cosmetic and mechanical condition, with only 28,xxx original miles, authentic/period correct W201 AMG widebody conversion, 2.3-16V interior, V8 M117 engine, AMG W201 period-correct authentic exhaust, and much more, would command approximately $40,000. But this car is a project, and as such will sell at a significant discount to that price. I will go into detail about what's been done, what it still needs, and the ballpark pricing it will take to get it there using a shop to do the work. If you do your own work, you can take this car from being a great deal to an ABSOLUTE STEAL as you will get it completed for far less than its retail value. I sold a 1990 560SEL AMG 6.0 for $30K two years ago, and that car had 86K miles. I have sold and many more unique W126 and other older MB's. I know what they are worth, so please read on to find out more.

— Here is your BEAST!! —

Please let me stop you now if you are looking for a daily driver. This car needs work in spite of how nice it may look in pictures. But I will do my best to tell you what it needs, be conservative about the costs, and you will wind up with a VERY fair deal. Just selling the no-longer-available authentic AMG parts off of this car could get you close to what you'll pay for it; the exhaust alone would fetch $2K+. Just to be clear, it starts, stops, runs, and drives. It just needs mechanical and cosmetic work to get it to completion. But oh the sound of the solid-lifter M117 V8 engine running through the AMG exhaust, the crisp PUSH as the AMG-valved transmission upshifts after holding each gear to high RPM, and the slot-car lowered handling…so much potential! Please read on to find out more.

Here's the deal:
— This is a 1987 Mercedes 190E in bright red over black leather, wood trim, and black carpets. It has only 28,xxx miles! Clean Carfax but so much of its life was spent in garages it has virtually no records. It started off life in Quebec, then sold to previous owner 2000. Work was done in Canada in 1998. I bought it from previous owner and titled it in 2008. The owner prior to me that kept it indoors owned it for at least 8 years as well. –

— Exterior condition – In spite of it looking nice for pictures, it needs minor bodywork to fill some small damage and bumpy spots on lower bumpers and fender flares, and to address the bubbling and rough spots under the paint. The current red paint will fade to oxidized if left in the sun so it needs a repaint. The glass is all in good shape. Authentic Bosh Euro lights are in good shape. It's missing one trim piece on lower driver's door, but it is a stock 190E piece, not anything AMG specific, probably a $30 pickup on ebay. There are also a couple of rust spots in the undercarriage that need addressing if you are going to drive this car like God and AMG intended. If you hire a bodyshop that does good work at fair prices (not a show-car shop and not Earl Scheib, somewhere in between), you can get the exterior and undercarriage back to very good condition with fresh paint and needed repairs for around $4000. If you do the work yourself or have access to body materials, welder, and a spray booth, figure time plus $1000 in paint, parts, and materials. If you want to have me do the work, I can get it done to very good condition through my dealer contacts for about $3000. —

— All widebody panels are AMG authentic period correct. Not the garbage 'duraflex' replicas you see on ebay and elsewhere. They have their AMG markings and part numbers on them as they should. —

— Look at the body panels…..they are straight. —

— The 17"authentic AMG Aero I (post-merger) alloy wheels are in good condition with some minor marks to the lips and wheel faces. The tires are matching 235/45/17 Pirelli P600's that while in excellent tread condition are older and should be replaced. The wheels are true with no bends. —

— Suspension – The suspension is weak, and springs need to be replaced (struts/shocks seem OK). I will provide a set of matching brand new springs for the buyer that I bought but never installed. Assume a few mounts and bushings will need to be replaced as well. Figure $1500 to get the suspension in road-ready condition at a decent wheel/tire shop.—

Brakes – This car has a new master cylinder, brake fluid flush, lines, and pads/rotors. There is little if anything to do in the braking area. Stops fine, no noise or grindy feeling. —

Interior – Overall for a 1987 the interior is pretty nice! The seats are supportive and generally in very nice condition. Yes they could use some Lexol or other leather moisturizing treatment due to age, but they are not dry-rotted, cracked, etc. They feel very good to sit in, firm and supportive. The carpets and headliner are also very nice with no attention needed. There is the usual splitting to the top of the rear seating area that needs to be patched, the dash has a few cracks in it, and it needs a few stock 190E trim pieces like the C-pillar upholstered panels that are cheap pickups ($50 each) on ebay or at a wrecker yard. The door panels switches need to be secured with adhesive, a couple of speaker covers from the ADS/Nakamichi system are missing, etc. Wood trim has stress cracks and would need to be refinished if you want it perfect, but it's very presentable as-is. Figure $500-$1000 will get the interior to very nice condition. —

— The door panels and trim are in pretty nice condition for the age. —

— Even the headliner and trunk are in decent shape. —

— Electrical – Some attention will be needed to lighting, left side turn signal flashes quickly, right side is fine. Headlights and taillights work. Windows go up and down although two are slow. Electric seats work. I am not brave enough to try the sunroof as I don't want it to get stuck in the open position, but it might work fine. HVAC blows heat, but due to the V8 engine the A/C has been removed. It was relocated to underneath the car and I retained much of the system with parts and lines boxed up, but I do not want to make any promises. I don't know if rear defogger still works. Wipers work. So as I said, it will need some sorting, let's call it $1000. —

— Engine – Much work has been done to what was originally an M117 6.0 SOHC sleeved block. It has lots of new parts and I will post the list shortly, but for now it has a solid lifter conversion, new valve seals, head gone through, new distributor cap, rotor, plugs, and wires, and much more. The engine rebuilder produced a work invoice totaling $19,000! It starts right up and settles into an aggressive cam-heavy deep bass idle. Engine revs well. There are two remaining issues that need sorting. The car will run hot. Radiator has been pressure tested and has hot and cold spots. And there is a misfire that could be an injector, fuel distributor, or other issue. I just do not have the time to keep going on this project, which is why I am selling. To be VERY conservative, and because the engine is the heart of this car, let's call the engine work needed $4000 if you bring it to a shop. That's actually enough to throw your hands up and buy a used M117 engine with warranty and have it installed! So no way could you go over that amount. If you have a parts car, do your own work, etc you can get an engine into this car in proper running order for MUCH less. –

— Exhaust – The authentic W201 AMG sport exhaust (period-correct) is in very nice shape, sounds great, and is fitted to the car. It does its job well and puts out a great low-bass tone. –

— So there you have it. A one-of-a-kind 190E with authentic AMG widebody kit, AMG exhaust, AMG wheels, and much more. If you take the $40K perfect condition retail selling price, and then deduct the (generously conservative) repair estimates above of $11,500, you get a selling price of $28,500. Honestly, I think the best idea is to buy a nice 190E with a non-running engine, and you can steal so many parts off of it, it will save you a lot of money. A nice cosmetic condition 190E rolling chassis is $1000-$1500 give or take a little. Of course you'll want to earn something for doing the work to get this car to completion, so no one is going to pay $28,500 and then $11,500 to get to its $40K value, I understand that. I set the reserve thousands and thousands (and thousands) below the $28,500 amount, so you can feel like you're getting an excellent deal and have plenty of profit opporunity once the car is complete if you should decide to sell it, have a fantastic car if you plan to keep it at a VERY reasonable price, and even have some discount to account for something you discover that needs attention. –

— At the BIN price, I will include everything I have for the car……springs, other spare parts I have bought and accumulated over time, AMG mats, and more. —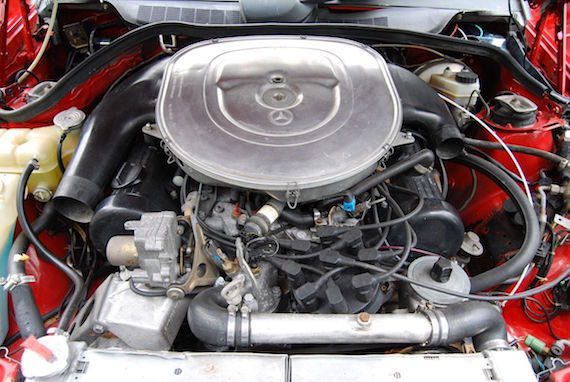 The first bit of disappointing news is that it's probably not an authentic AMG car. A quick bit of googling reveals that it has been put up for sale a few times over the last decade or so. This thread over at MBWorld dating from 2007 suggests that it was probably a standard 2.3 liter car with an AMG body-kit and 16v interior that was resprayed and had its engine replaced with an M117 V8 block. AMG did not put the 6.0 engine into the W201, preferring instead to work with the existing M103 inline-6, which they bored out to 3.2 liters. So in all likelihood, this car was probably a DIY project put together with some authentic parts by an AMG fan rather than an authorized dealer.
The second bit of disappointing news is that it's in pretty rough shape and, as the seller freely admits, the next owner will need to complete some extensive restoration work to bring it up to spec. You can read through the ad for details, but the short version is that the car needs electrical, interior, body, paint and suspension work. Moreover, while the mileage is listed as 28k, that MBWorld thread indicates the engine was previously rebuilt at some point, so I'd take the odometer reading with a grain of salt. On the plus side, the rare, wide-body AMG body-kit (made of unobtainium) and the sought-after Aero-I wheels look to be intact.
The reserve price has been set at $19.5k. I get the sense that the seller is trying to recoup the hefty sum of money he's already put into the car. Given the amount of restoration work still needed, I think it's probably worth less than half that. For comparison's sake, the gorgeous, authentic 3.2 liter 190E AMG featured on Petrolicious in 2014 cropped up on Craigslist in LA for $10k last year, and I would much rather have that instead. The seller throws around a figure of $40k in the ad. Trouble is, it's hard enough to put a value on authentic pre-merger AMG cars, and this one isn't even authentic. So I don't know where he's getting that figure from. While a V8 powered 190E is a neat oddity, and I bet it would be a corker to drive once its running, this car has too many question marks hanging over it to be worth anywhere near that amount of money.
– Craig