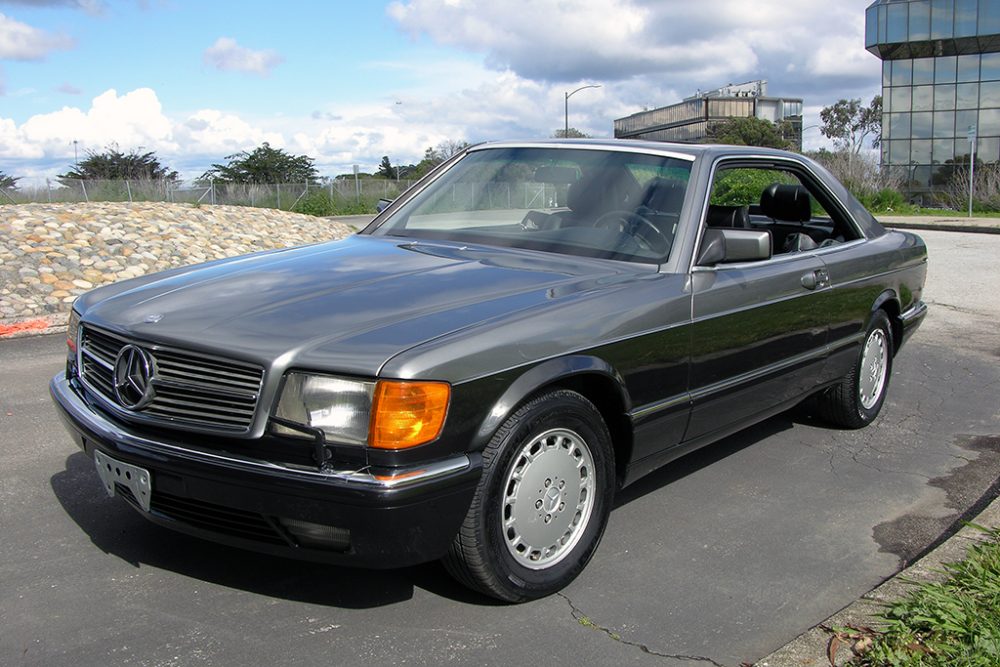 Updated 12/6/18: It looks like this 560SEC we looked at in June is still for sale with an even more attractive of price of $9,990. Check it out here.
About a month ago I checked out a really nice and really gold 1984 Mercedes-Benz 500SEC. That was a European-spec car with all the nice upgrades over the North American-spec'd cars at the time but as you might have guessed, carried a hefty price tag at $35,000. Today, we have another C126 that wasn't originally destined for American in a 1990 560SEC. This car comes to California from Japan in a non-factory paint color and some other interesting touches. The price? Probably not as high as you might guess.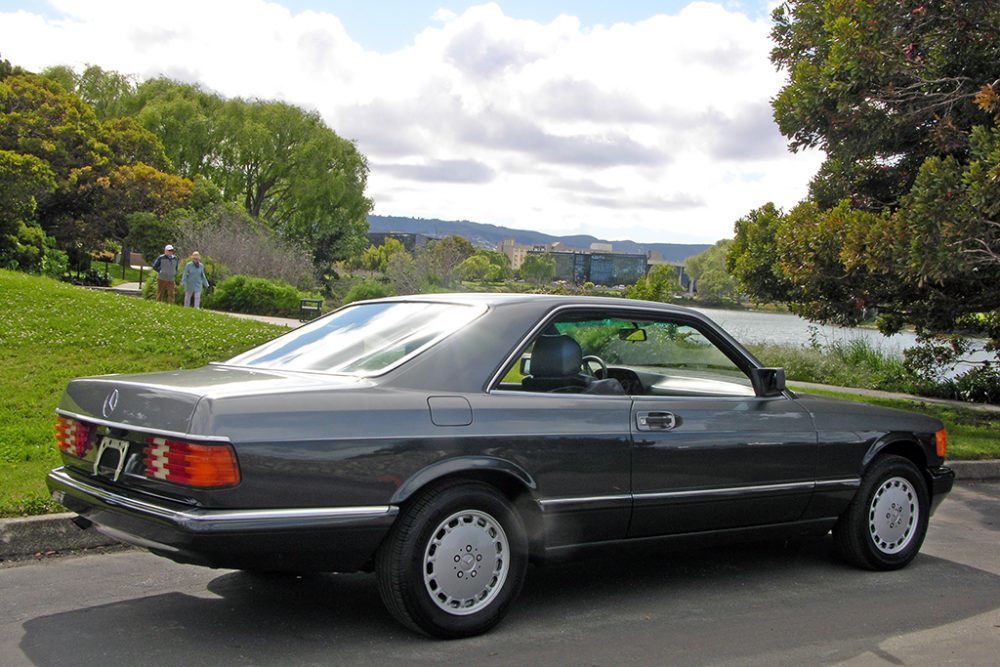 Year: 1990
Model: 560SEC
Engine: 5.5 liter V8
Transmission: 4-speed automatic
Mileage: 140,000 mi
Price: $16,000 Buy It Now
1990 560SEC Euro (Japan) model – ID# WDB1260451A503849 – Engine # 117968-12-074326.

1 of just a handful of 300 HP Euro 560SECs sitting in North America.

Extremely rare – Registered and titled in California.

140k miles – 199 Pearl Black with non-factory two-tone pewter upper body/roof. Black leather.

Euro emergency triangle – Adjustable headlights.

Driver's airbag – Auto climate control – Heated front seats – Sunroof.

Data card on hand – Euro headlamps w/wipers.

Euro short bumpers ft/rr – 10.0:1 compression ratio compared to US ratio of 9.0:1.

300 hp (in non-EPA spec) instead of US power of 238 HP – 2.65 rear axle ratio instead of US model's 2.47.

333.5 ft/lb torque compared to US model's 287 ft/lbs – Original Euro Y-pipe exhaust.

The Euro 560SECs were also fitted with 215 series tires. This car is on 205 series Michelins.

Quite a special car. The ultimate 560SEC Specification.

Average paint with misc. blemishes – Restored ft/rr bumper faces.

Nice headlamp lenses – Nice tail light lenses.

Hood/door/trunk lid/fender bolts undisturbed.

Nice leather – Distressed center wood – Cloudy dash wood – Nice door panels.

Nice package panel. Sound headliner – Excellent dash pad.

Both belt extenders function – Aftermarket radio.

All power windows function correctly – All seat adjustments function.

Good switchgear functionality – Misc. exterior weathering.

A very solid SEC.

Just serviced – Recent tires – AC serviced – Safety checked.

Tidy undercarriage – Transmission inspected and adjusted.

Enjoy it as-is or take it to the next level.

You're likely never going to see another one at a MB gathering.

Roy Spencer 650-343-7980 – Global shipping gladly arranged.

Global references available – Pre-purchase inspections available locally.

Learn more about Mercedes-Benz SECs HERE.

Providing exceptional cars to the global Mercedes-Benz community for 26 years.

This ultra-rare SEC can be inspected at my facility in Burlingame, CA – 5 minutes south of SFO.

Have a look at the 48 images below.

Be sure to fully scroll the description field and the page to see all images.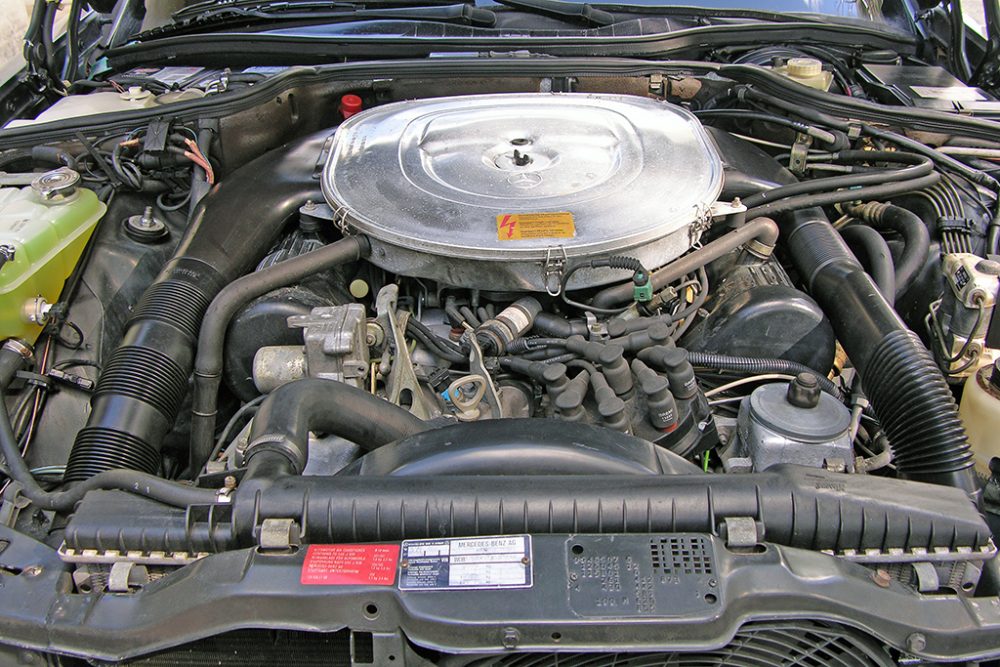 The big thing with the European 560SECs is the power bump you get from the M117 that put out around 300 horsepower compared to the 238 that you would get from a North American car. Torque was also increased from 287 to 333. You also get a different rear end, some wider tires, the smaller bumpers and the much improved headlights. There are some other small details, but a SEC like this one is regarded at the "one to get" if you had to pick from its entire production run. As for this specific car, I'm a little down on its condition. The two-tone paint is a little odd and judging by the giant pieces that are starting to crack away, it hasn't aged very well. Inside, some wood is starting to crack and there are some other flaws like the holes where someone probably drilled for a cellphone mount years ago and was then removed. Under the hood, the mighty M117 looks clean enough for 140,000 miles but the coolant expansion tank that is almost filled to the brim is a little odd.
I'd say this car is priced fairly at $16,000. If this was a perfect example with a third of the miles, you could probably double that price and I wouldn't balk at it. I think if you wanted to really sort this car out to really nice condition, you are going to spend many thousands of dollars but I can't say it would be money wasted. C126 values have been holding strong for the past few years and I don't really see them getting any cheaper in the near future. This 560SEC is a great starting point with a decent buy-in price if you wanted a car you could drive and really dial-in at the same.
– Andrew