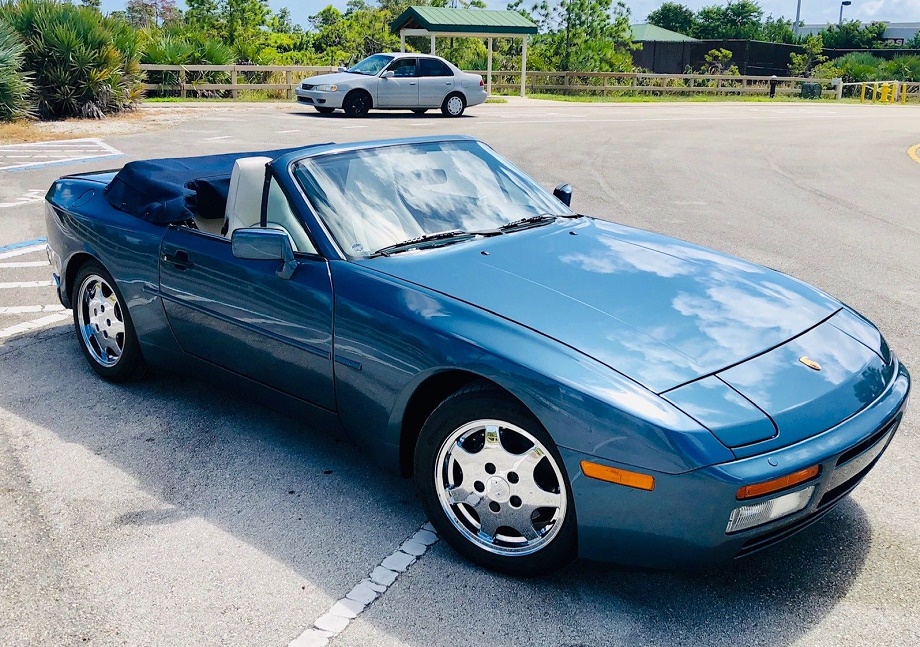 Any time I see an ad stating that a car is the nicest one available I like to imagine it being from an extremely conscientious seller who has looked through all of the available inventory and come to that conclusion. He even frequently checks for additional listings just to make sure his car remains the best one available and if not provides an appropriate update. This probably isn't what happens, but it's funny to me and makes looking at cars more entertaining. Is this the nicest 944 S2 on eBay? It very well could be! It certainly looks pretty good.
As the days have begun to turn colder I'm starting to reminiscence about the days of sunny, warm weather driving, and that makes this Cabriolet even more appealing. It is the promise of joyful open-top cruising. There are a lot of Porsches you could spend money on in order to achieve that goal, but if you desire something from an older vintage the 944 and 968 seem to offer some of the most promise for fewer dollars.
Here we have a Baltic Blue Metallic 1990 Porsche 944S2 Cabriolet, located in Florida, with just 20,843 miles on it. I don't know that the 944 is as pretty as a 968, but its lines are quite clean and classic and when looking good provide just the right elegance to balance its sporting pretensions. I obviously like 911s quite a bit, but the 911 Cabriolet's lines don't always seem to work as well as they do on Porsche's front-engined cars. So if you want the top down a 944 could be both a less expensive and better looking option. Maybe even the better option.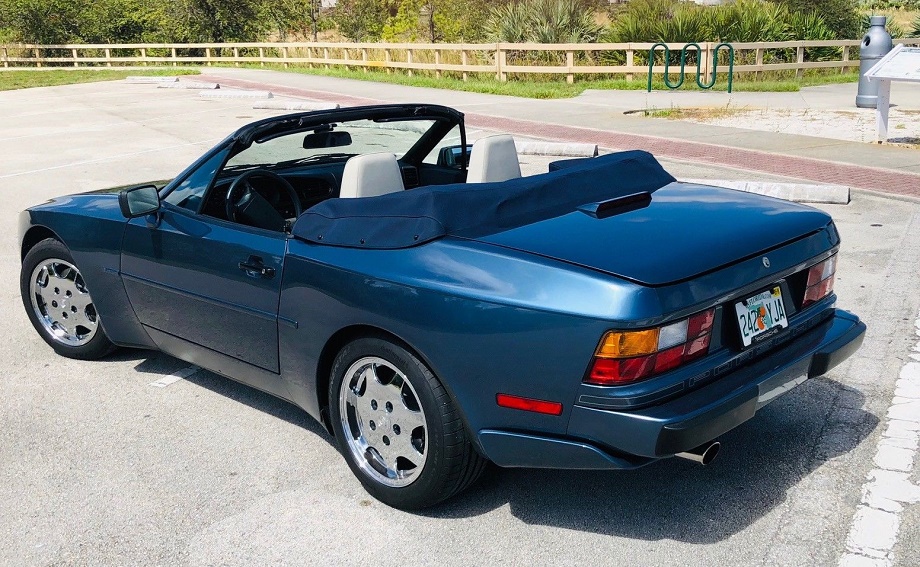 Year: 1990
Model: 944S2 Cabriolet
VIN: WP0CB2942LN480669
Engine: 3.0 liter inline-4
Transmission: 5-speed manual
Mileage: 20,843 mi
Price: $33,000 Buy It Now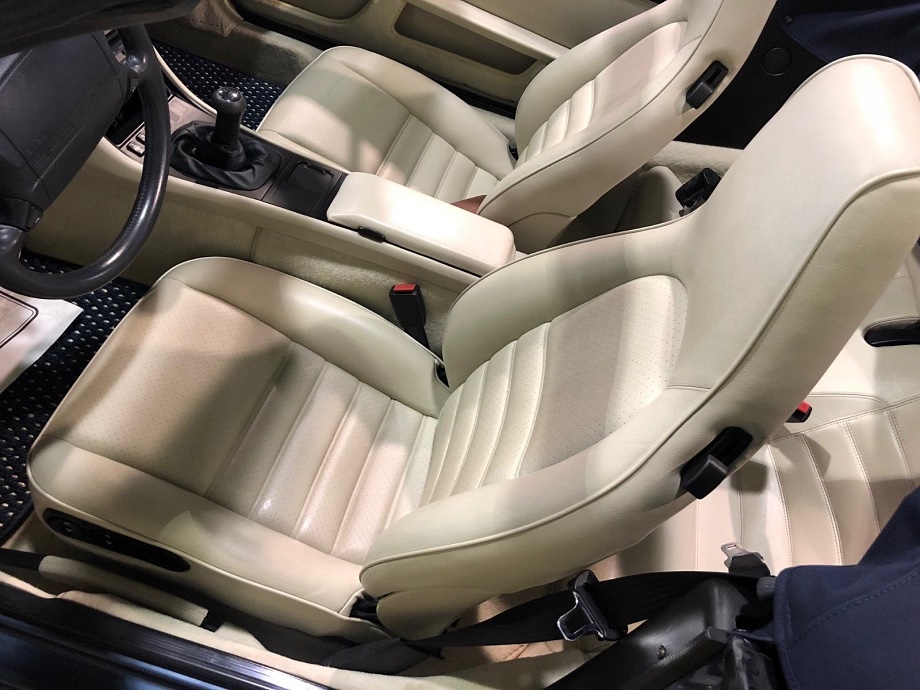 This car was purchased new, in California, by an avid car collector. When he passed away, his daughter inherited the car and kept it in storage for most of its life, as she preferred driving a larger family car. I (Steve – a 25 year member of the PCA) purchased this car in 1999. I was looking for a low mileage 944 S2 Convertible, in perfect condition, to add to my personal collection. This car is absolutely original. You may bring a paint meter to check original paint on the car. This 944 includes the original Blaupunkt Reno 2 radio. Everything works properly, no chips or dings, and is a very well sorted 944. I have all original maintenance records, including original bill of sale. There is a Clearplex bra on the nose. This is a true Concourse Winner, and a beautiful driver.

I am selling this car for a friend. His name is Steve. If you have any questions, please contact me and I will put you in touch with him. Please look at all the pictures carefully. You can see the car details in the picture that shows the Certificate of Authenticity. Additional pictures can be provided on request.

This car is located in Pompano Beach, Florida. It is kept in a climate controlled, air-conditioned building, under a dust cover. Car is always on a trickle charger and is exercised regularly. So, mileage may be a few more by the time this car sells. This "True Collector's" 944 is a MUST SEE!!! Thanks for checking out the auction and Good Luck, Joe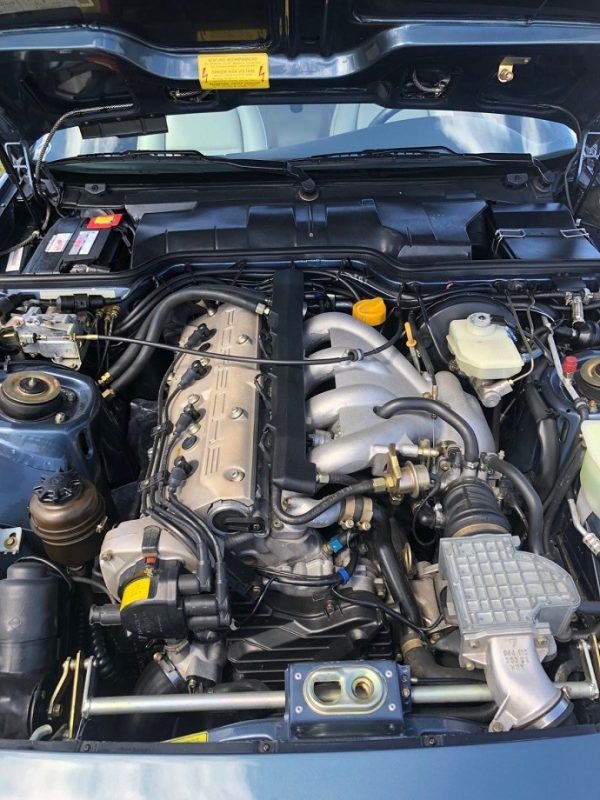 Everything on this 944 looks quite good and is said to be entirely original. All maintenance records are said to be included and everything is stated to work properly. What we see at least validates our sense that this 944 has been well cared for and its condition befits the very low mileage. A PPI can verify its mechanical state and I don't think I'd approach it with much trepidation.
The 944 would never strike me as the most likely candidate to find itself in a collection so coming across one with around 20K miles is kind of surprising. That's part of what makes this one appear as nice as it does, but of course it also means the price is quite high. Mileage premiums are like that and the question any buyer must grapple with is whether that premium is at all worthwhile. Is there long-term potential here? Are you ok with not enjoying many miles behind the wheel? Regarding the first question, the 944 is an overlooked model so they could be set for an uptick in value, but capitalizing upon that requires you buy in at a relatively low price and I'm not sure that's the case here. Then again, a low-mileage 964 Cabriolet, which I guess would be the most likely candidate from this period to show long-term value, is going to cost quite a bit more in similar condition so I don't know looking to that makes much sense either.
For the avid 944 fan this S2 Cabriolet might make good sense even at such a high price. Perhaps such a buyer could even live with a lesser promise of long-term gains. For most, however, I think looking for one with a few more miles, but still in very nice condition would be the better route. Nonetheless, this is a great looking example and we do always enjoy seeing cars in this sort of condition. It reminds us of their potential and just how good an older Porsche can look.
-Rob