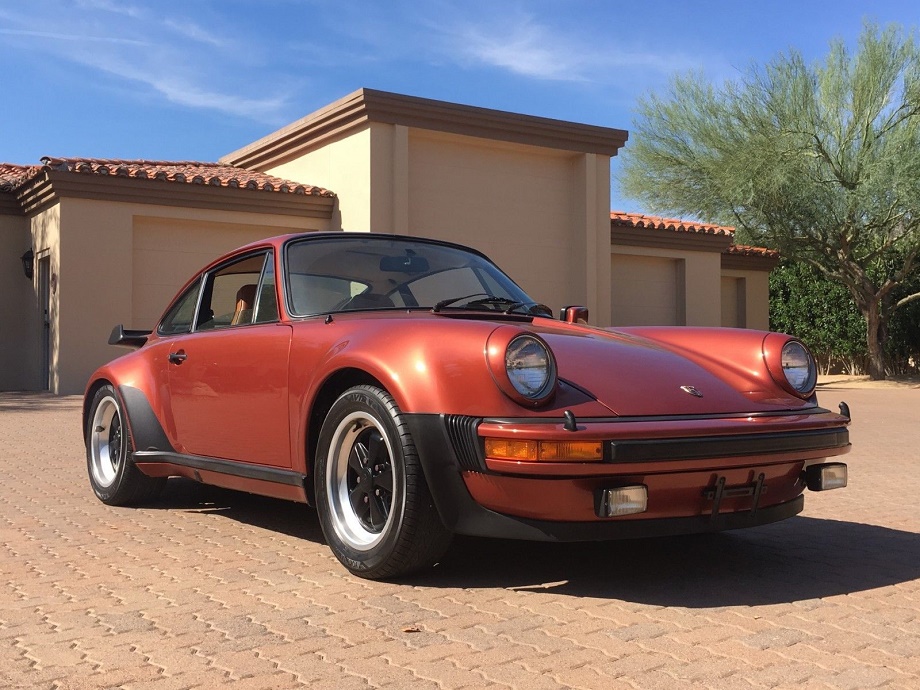 Update 10/19/18: This Porsche 930 has been relisted with a reserve auction ending 10/22/18 and the seller has provided a link to a picture gallery.
Let's continue the theme from yesterday's 928 Weissach and look at another older Porsche in fantastic original condition and with very few miles. As the seller describes, there are a couple of flaws with this one so I don't know that we'd place it on the same plane of perfection as the 928, but it still looks incredibly good by any standard.
This is a paint-to-sample Sienna Brown Metallic 1978 Porsche 930, located in Arizona, with Cork leather interior, sport seats, and only 25,453 miles on it. We love the 930 around here as I'm sure everyone is aware. 1978 was the first year for the larger displacement 3.3 liter engine and intercooler so you're getting 20 more horses compared with the earlier models along with larger 4-piston brakes to help rein everything in. But it's obviously still very early in the 930's production life so a '78 is pretty raw and a few pounds lighter than the later examples. We've seen a few very low mileage and original examples cross our pages over the years and they're always a treat to come across. They're also very rare as most 930s from this period, quite understandably, have quite a few more miles and haven't always been well cared for.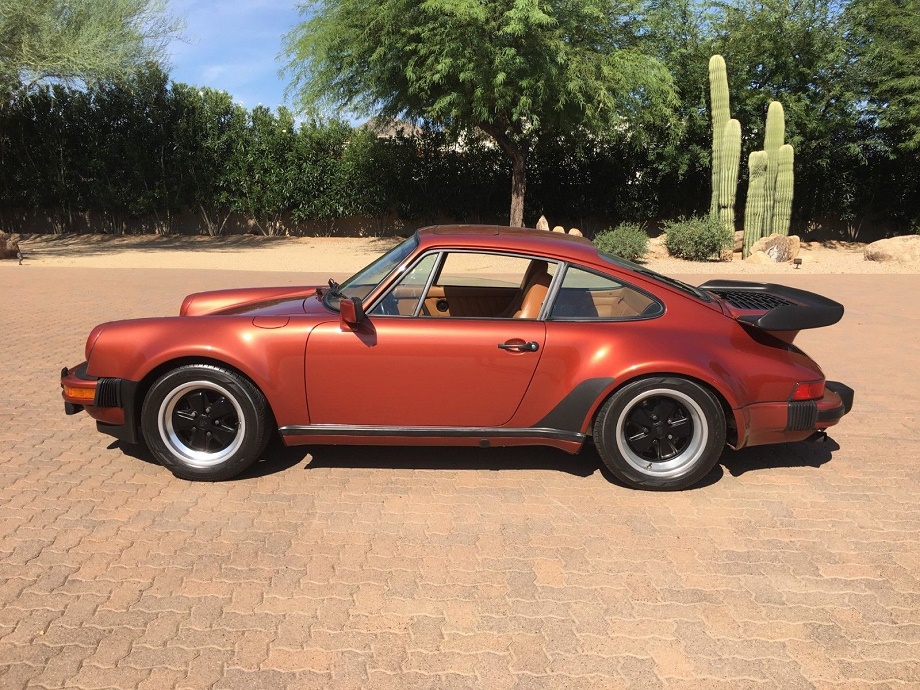 Year: 1978
Model: 911 Turbo
Engine: 3.3 liter turbocharged flat-6
Transmission: 4-speed manual
Mileage: 25,453 mi
Price: Reserve Auction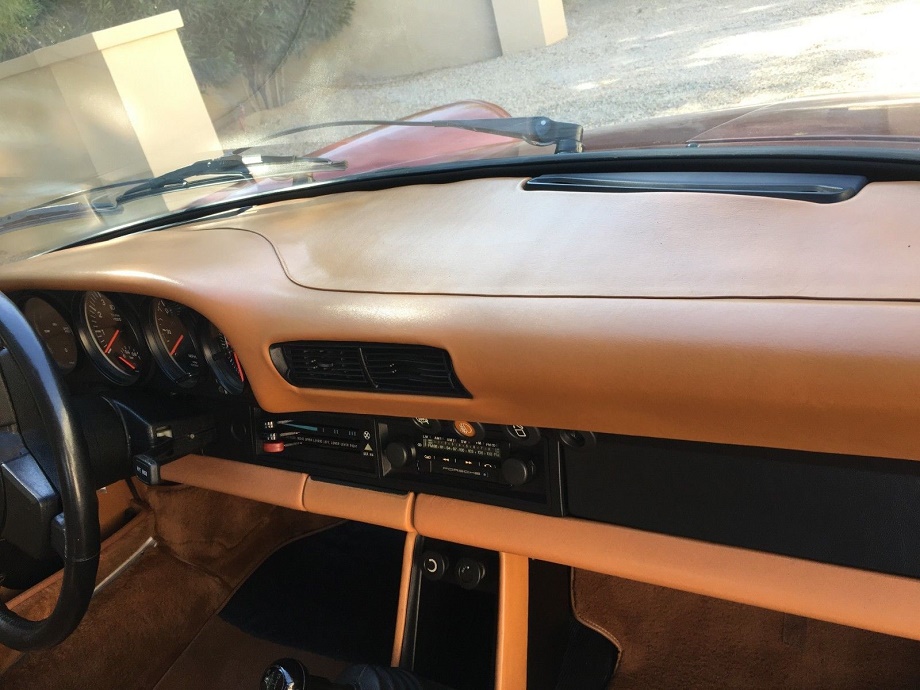 1978 Porsche 930 Turbo in rare Paint To Sample Sienna Brown Metallic (436) which was a 1977 color. Vin Number 9308800063 is the 63rd 930 built in 1978. This Porsche has 25,453 miles from new. No modifications 100% stock. We have no Carfax due to being a 1978, but we have several receipts as well as periods of long-term collection ownership to back up the mileage claim. See the documentation section below for further explanation. I did not own the car from new, so I cant say without a doubt, but I can show you the documentation and you can decide. The condition of the car appears as a 25K mile car that is 40 years old. It is not perfect. It has small flaws and wear and tear. It has not been restored or "rejuvenated". It has not had a "color correction". It is not an almost survivor, it is a true survivor. Fantastically original including the smell inside.

Body: Original paint with the exception of the driver's side rear quarter. The panel does not appear to have been replaced. Please see the letter from a 30 year veteran of the detail business explaining the paint meter readings. There are surface scratches and chips on the nose. Slight fading on the black trim. The exterior rubber has some dryness such as around the windshield. The windows appears to have all of original stamping. The doors open and shut with a nice click as they did when they were new.

Interior: Presented in Cork Leather as per the Certificate of Authenticity. Factory optional (per the COE) Sport seats and door panels show as close to new as 40 years of wear can allow. The dash has some warping. No cracks. The dash appears to have been covered in leather which may or may not be original. A/C Vents have some warping. Carpet has fading and some delamination on the front edges. Mush of the wear is from the Arizona heat sitting in a collection. Little to no wear on the steering wheel. There is a receipt showing a "steering wheel repair" from April of 2002 which could have been new leather. The headliner has slight staining, and a spot on the back of the sunroof headliner that appears to be coming off. I have a picture and can send it to you if you would to see it.

Boot: Clean with out any rust. Clean metal with all the bolts looking clean and un touched. The carpet pad is dry and a little out of shape, but shows well. Inspection cardboard plate is in tact and not torn. The original spare, and jack are present. The tool roll is in the trunk but appears to be missing a couple of tools. The underside of the boot lid looks as new.

Engine compartment: Numbers matching as per the COA (Motor sn #6881085) Numbers matching Trans axle ( #780175). No slimy dressing, just original Porsche finishes. There is a receipt evidencing the rebuild of the motor from Midwest Eurosport Inc in Benseville IL from 12-2-08. Total cost of $10,162.00. The millage in 2008 was listed as 24257. About 200 miles ago. Yes it leaks oil, but not much. The Engine and trans axle are clean of oil grime.

Chassis: The chassis is of coarse totally rust free and clean. Not detail scrubbed with a brush clean. This is the clean that a 25,453 mile car would be. There is a receipt for the tires from 2001. They are in excellent shapee, but they are old.

Mechanical: The current owner has not driven the car enough to really be called a shake down. It was purchased in 2015, and has sat in the collection. started monthly, and exercised small amounts by the on staff mechanic. Upon startup it puffs a small amount of smoke. Once running the smoke goes away. The lights, all work. The brakes work well. There are no odd noises. Again this has been a garage queen for many years. If you ask me "can I drive it to New York". I am going to say I think so, but it would be best to have a complete check up prior to leaving.

Documentation: The first owner traded or sold the car to Ducky Imports (appear to be out of business) in 1983 with a reported 12851 miles. The 2nd owner is a PCA member whom I found notes of his 24 ownership on the PCA website of SN# 00063. The Receipts that come with the car I believe to be the 2nd owner which include the engine rebuild in 2009. The second owner sold the car in 2011 with 25260 miles to a dealer named Sloan Cars (I have an email chain from them, and they are still in business). We have the email charting the sale from the dealer whom sold the car to owner 4, and documents the mileage. The 4th owner had the car from 2011 with 25260 miles till it was sold to owner 5 in 2015 with 25260 miles. Now displaying 25453, and ready to go to owner number 6.

As with any of my cars for sale I am happy to answer questions. Please call me. I will entertain all offers, and run them past the owner. I do tend to sell out side of Ebay. I will nicely say that this car will not be cheap. It is priced where an original low mileage well-preserved 930 Turbo Porsche should be. We are happy to schedule inspections. The car is located in Paradise Valley AZ .

Please call Frank at 602-908-9267.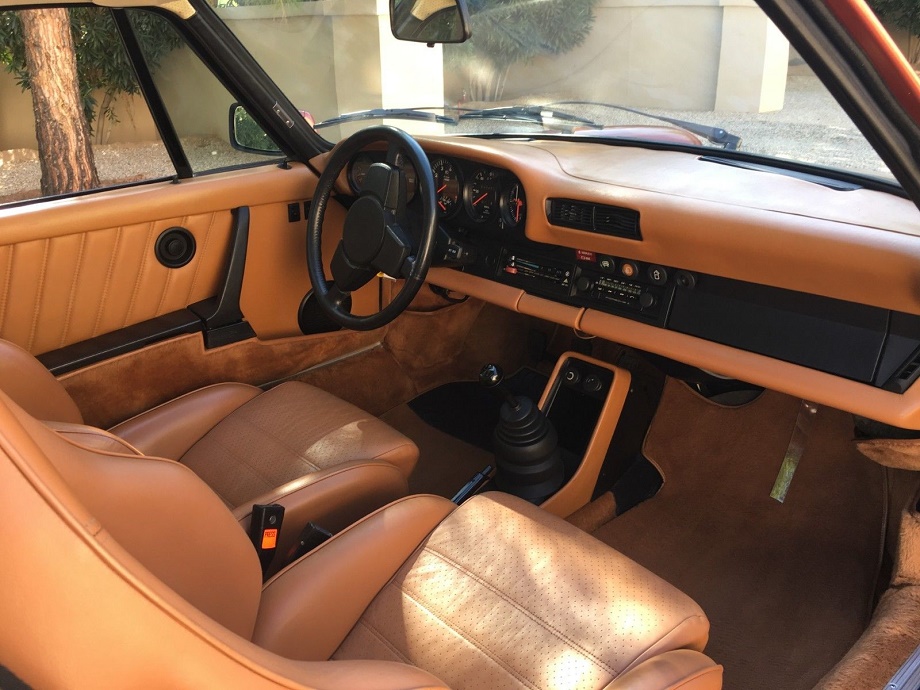 If I didn't have the seller to point out the flaws on this one I don't know that I'd necessarily notice them. We do see the slight warping in the dash. That's probably the only defect we might consider problematic, but given its originality and how great every other aspect of the interior looks I think it's something you can live with. It shows no cracks so that's nice. We're told the driver's side rear quarter has been repainted, though not replaced. One of the pictures shows it well and everything looks in good shape. The paint otherwise is original and shows very well. It sounds like a few blemishes and chips are apparent on closer inspection, but from any distance it looks great and the Sienna Brown paint shines.
The engine was rebuilt toward the end of 2008. Given the very low mileage I don't know that we'd necessarily consider that a positive and it also blows a little smoke currently at startup. It seems clear that this 930 has sat around a bit in a few collections. Presumably that's why the engine needed a rebuild at such low mileage, though I'm not sure. An inspection should tell you whether much of this would be a concern now or how much it'd cost to make everything perfect, but overall mechanically things seem in proper shape.
The biggest issue for this 930 is documentation. There just isn't a lot. That isn't terribly uncommon with these Porsches, but it is something that could hold this auction back from really hitting a high number. I've been talking about degrees of uncertainty in some recent posts and it is again the sort of thing we have here. Much of it comes down to whether the mileage can be verified since so much of the premium here will be tied to those low miles. From the various receipts and sales it sounds like everything pieces together. Cars maintained by a mechanic as part of a collection don't always come with service documents. Backing up the car's provenance is that it was at one point sold by Sloan Cars. We're familiar with them and they tend to have some excellent stock. If you go over to their site this 930 is indeed listed and the odometer shows 25,260 miles just as we're told here. While a full documentation isn't available, it does it seem like we can feel reasonably confident here.
The auction currently sits at $65,000. That's certainly much too low and I expect that to rise a good bit. As an example of the heights these sorts of 930s are capable of reaching we might recall the stunning Minerva Blue 930 posted back in 2016. It held a lot of similarities to this 930: excellent condition, Cork interior with sport seats, very low miles. It was bid to $216K. Now Sienna Brown is not Minerva and the documentation on that 930 was much better plus it was nearly flawless, so that needs to be taken into consideration. The market has changed a bit since 2016, but you're also not likely to find too many more 25K mile 930s in almost entirely original condition.
-Rob