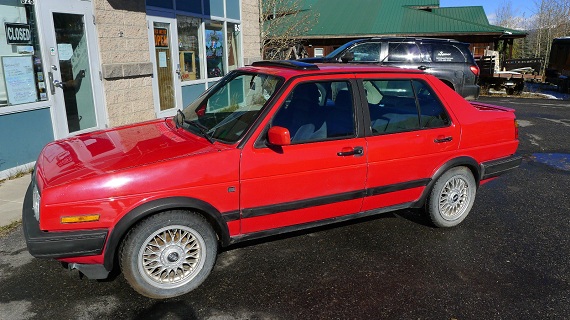 Volkswagen and Audi in the 1980s were an interesting bunch. Consistency in product was just not one of their strong suits, and consequently there are some strangely equipped "changeover" cars that made there way to the U.S.. My Coupe GT is one of these; a digital-dash equipped 1986 non-Commemorative Edition car, it's one of those "off the books" cars. However, I'm not alone; I had a friend with a 1990 8V GTi that should have had the later "big bumpers" but didn't. Today's Jetta GLi must have also been a "Monday" car as well, since although it sports the 2.0 16V engine, it doesn't have the 1990 aerodynamic bumpers that characterized the 2.0. Either way, it's red, it's got Recaros, and it's got a 7,200 RPM redline: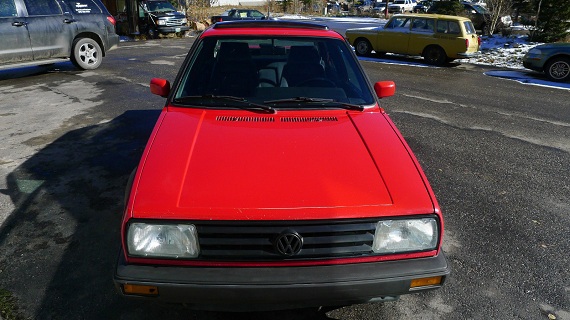 Year: 1990
Model: GLi 16V
Engine: 2.0 liter inline-4
Transmission: 5-speed manual
Mileage: 109,000 mi
Price: $3,800 Buy It Now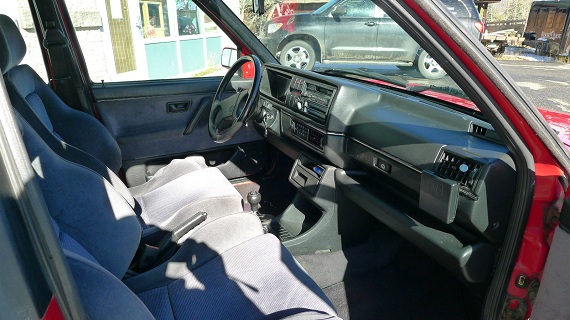 A dying breed, an unmolested pre-93 Volkswagen is a rare find. An unmolested 16v GLI is even rarer. A favorite of VW enthusaists, the 16v GLIs and GTIs are the top level of performance offered in the MK2 (at least in the US). The 1990 model sported the 134 bhp 2.0 16v (it was 1.8L on earlier GLIs) mated to a quick ratio 5 speed gearbox making these cars are a blast to drive. The GLI also offered Recaro sport seats, BBS RA alloys and a GLI trim package that differentiated it from your every day GLI, Recaro Seats. 109K mileage, well maintained, new studded snow tires,sunroof w/ deflector. One small dent on left rear door, one small dent under trunk lid, one crack in windsheild on passenger side, right rear ext. door handle needs work.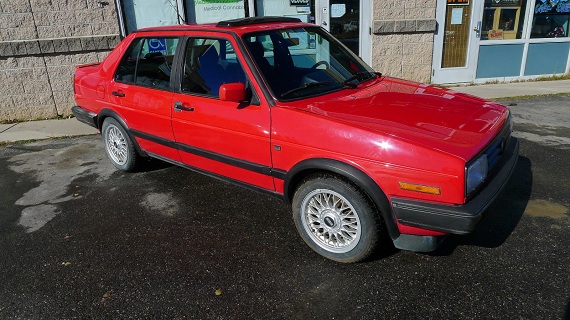 Sellers, sellers, sellers…if you're going to quote what makes your car special and then not have those items, don't quote them. Case in point; "BBS RA alloys". Yes, the GLi came with them but no, the wheels on this car are not RAs. They appear to be RZ alloys, probably off a Corrado. It's a minor point, but it shows a lack of attention to detail in ownership. That's backed up by the "quick ratio 5 speed" quote. Steering boxes are quick ratio, gearboxes are close ratio. But ultimately, you're not buying the seller or the description, so perhaps neither of these things matter but I do have to admit they bother me.
The car shows signs of use, but overall presents decently for a driver. The 16V specific air dam needs to be replaced but last time I bought one from the dealer it wasn't too pricey, there are some dents, but the important stuff is there. Critically for these cars, it's unmodified. While it would carry more weight if it was a GTi 2.0 16V, at below $4,000 this car appears to be appropriately priced considering it's current condition. It sure would make a fun daily driver!
-Carter