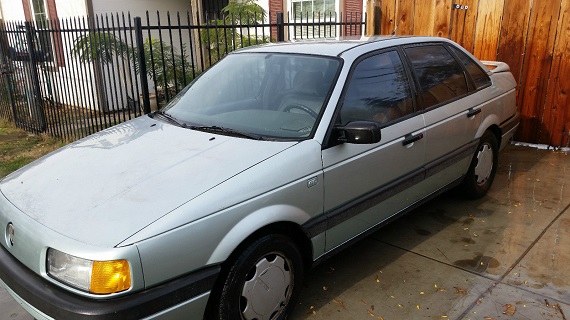 If the twin B4 Passat GLX VR6 Variants from the other day are a dwindling supply, the odds of running across a serviceable B3 Passat GL today are just about slim to none. While they were fairly expensive at the time, the 2.0 16V motored GL was seemingly a throw-away mid-level luxury car. It was quickly replaced at the top of Volkswagen's food chain by the short-lived B3 GLX VR6 model – and in general, enthusiasts prefer those. That makes sense since they're quicker than the early cars – but it also means that the odds of running across one of Volkswagen's grill-less sedans or wagons is a rare occasion. It's still neat to see them, though – even though they weren't the fastest, best looking or best equipped Volkswagen, there were neat and innovative design elements that were incorporated into the B3. It was a huge leap forward from the outgoing Audi-shared B2 platform, a slick design which looked sportier, more angular and aerodynamic, and leagues more modern than the Quantum: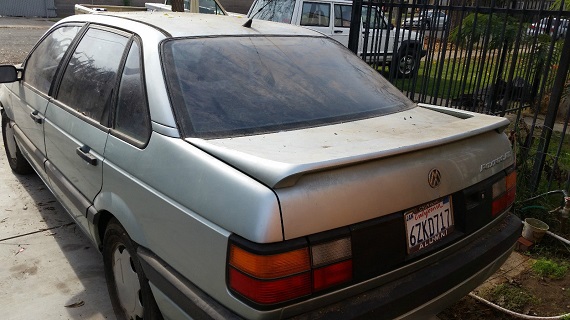 Year: 1990
Model: Passat GL
Engine: 2.0 liter inline-4
Transmission: 5-speed manual
Mileage: 111,900 mi
Price: $1,500 Buy It Now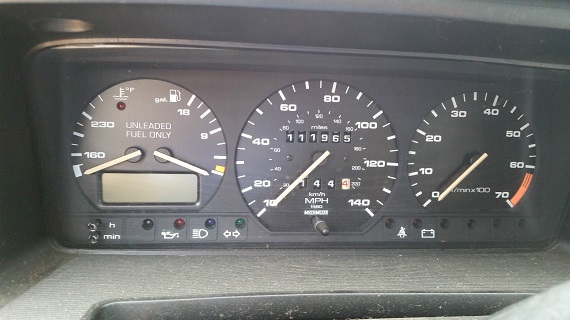 I bought this Passat from a younger girl who was a student. Her father did a lot of preventative maintenance including all recalls and updates. The Passat is currently on California Non-Op. Which means, there are no back fees to title it for California.

The car has 111900 miles (see picture). The car has a few scratches and could use a good cleaning (It has been sitting my garage for 2-3 with only a brief use last year.I've had the car probably since 2005. It was just an extra car that was used occasionally. Hence the low miles.

It has new fuel pumps, new tires, new shocks and the AC was R12 charged. Not sure if it still full of freon. They work fine converted to R134.

Nothing wrong with this car except it needs a new owner.

NOTE: I will not be supplying a California Smog Certificate with the sale. The sale will be as is and where is. BUT, the car was smogged by me when I got it a few years back with a new cat. It should pass without any issues other than it needs to be driven. Fresh fuel and drive it. The smog for California is the new buyers responsibility. Chances are great it will smog out on the first pass with fresh fuel, and oil change. The Bosch systems are that good.

The car is in Fresno, Cal.

The car will start and run. It needs a fresh battery. It needs a tank of fuel and a new owner. I just donated an incidental version that had 185k on it and still going strong.
I am selling only because of my interests have gone to collecting older Ford Trucks. This car just basically sits in my garage.

So, that being said.

A 1990 Passat with 111900 on the odometer. Factory replaced heater core. VW's flagship that gets decent mileage along with classic German lines.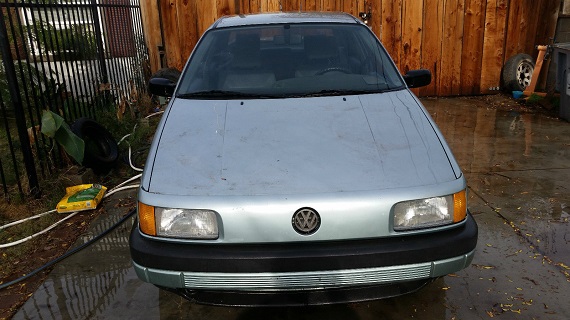 The 16V model of the Passat will likely be one that disappears even more soon than the VR6 models I discussed the other day. Horrible residual value, expensive repairs compared to the Japanese competition and a tendency to rust mean few are left in good condition. Though we don't get any pictures of the interior, the body seems reasonably straight. Both VW badges have issues but should be an easy fix and it appears the original wheel covers are still in place; this was a period when few of the VW lineup actually came with alloys – ironically, something Volkswagen has returned to over the past year or two. At $1,500, this looks like a solid platform to have alternative alternative transport (double intended); that said, I'm not sure it'd be the one I would chose. Frankly, for me the appeal of the B3 and B4 Passats is limited to the VR6 and Variant models, 5-speed only. This car gets the manual and rare aspects, but the rest of the package will remain a memory for most.
-Carter