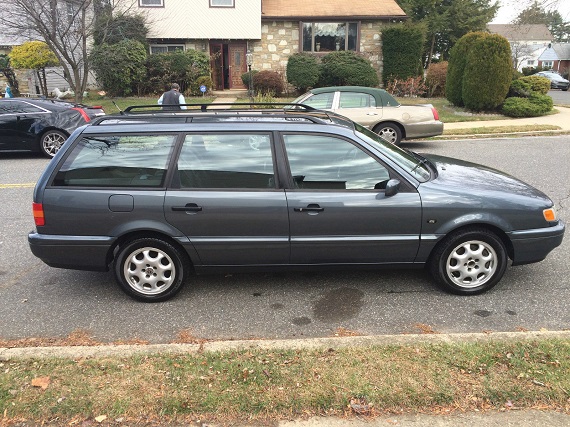 The Volkswagen Passat has always been a bit of the odd-man out in the Volkswagen lineup. Not as wildly popular as the Golf or as trendy as the Jetta, the Passat has alternated between the smart choice if you wanted quiet and capable German luxury to the odd choice if you just wanted to be a bit different than the norm. Volkswagen also can't seem to make it's mind up on which platform it wants to utilize with the Passat; the B1 and B2 generations, for example, shared their DNA with Audis. But with the B3 and B4 generation, Volkswagen moved to its own bag of tricks and developed a new Passat which mixed items from the Mk.2 and Mk.3 Golf chassis. For the B5 and B5.5, once again Volkswagen turned to the upscale Audi platform and the Passat was more popular than ever – effectively, it was a budget Audi A4, right down to the same powertrains and all-wheel drive systems. As effective as the B5/5.5 was for sales, when the B6 launched it was once again a return to the Golf chassis for the new Passat – and now we hang in limbo with a U.S. specific B7 Passat. But if the B5 and B5.5 were popular as a smart and upscale choice for budget Audi fans, the B3 and B4 seemed a bit odd. First there was the B3, with it's grill-less design. I always thought it was pretty cool, personally, but apparently it offended actual buyers so much that Volkswagen redesigned the car and in 1993 the car received new body panels and a normal grill. That didn't seem to bring with it massive sales, though – the Passat was still quite expensive and effectively the same size as the Jetta it was sold alongside. There was really only one trump card that the Passat had – denied the Golf Variant in the U.S., it was the only Volkswagen wagon you could buy here at the time: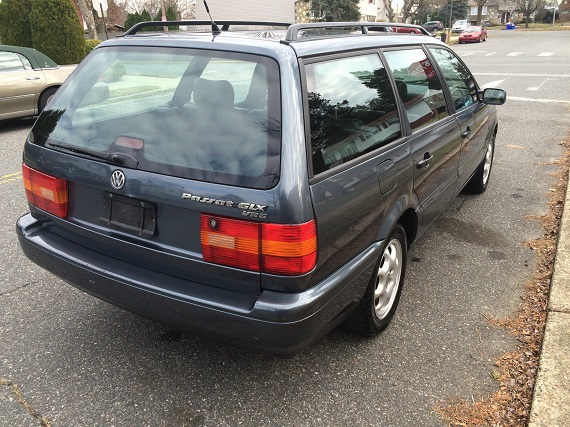 Year: 1996
Model: Passat GLX VR6 Variant
Engine: 2.8 liter narrow-angle VR6
Transmission: 5-speed manual
Mileage: 170,000 mi
Price: Reserve Auction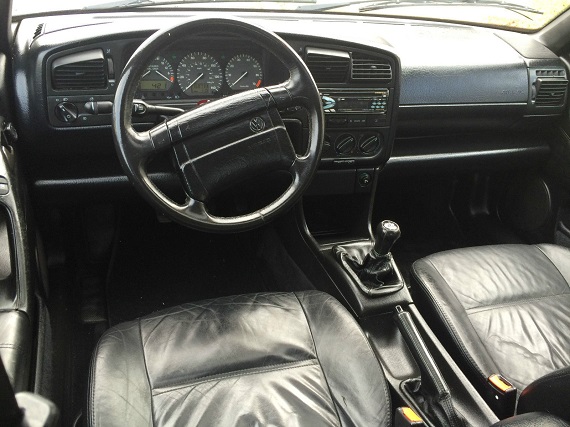 96 PASSAT WAGON VR6 5 SPD, 170K, NEW CLUTCH, FULL TUNE UP PLUGS WIRES CAP ROTOR BATTERY, TIMING BELT, BLACK LEATHER INSIDE FULLY POWER EVERYTHING, SUNROOF, NEW BRAKES FRONT AND REARS, NEW FRONT ROTORS, NO CHECK ENGINE LIGHTS, HEATED SEATS, RUNS PERFECT, SHIFT PERFECT, TIRES 75% LIFE LEFT, DOES HAVE FRONT DRIVER SEAT WORN MARKS AND SOME RIPS ON SEAT. VERY CLEAN INSIDE, ALPINE CD SATELLITE RADIO. MUST DRIVE THIS BEAST!!!!! VERY FUN CAR, GREAT ON GAS.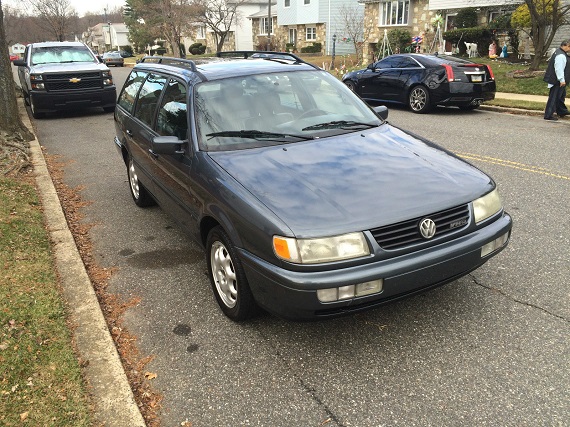 With the VR6 powerplant and a 5-speed manual, this was a GTi for those who needed a bit more practicality. It was, as mentioned though, still quite expensive and not many with the budget seemed to select this package. A fair amount of the examples were automatic – perhaps more fitting with the upscale Passat image. This example looks nice in Storm Grey Metallic with black leather, and inside you can definitely spot the Golf DNA. The dash layout is nearly identical to the Mk.3 Golf, for example. The Passat received unique BBS alloys which this car retains; not the most popular design, they still look reasonably good and help to set the car apart. Minus some trim issues and a damaged driver's seat, this car appears to be in good condition. The B3 and B4 suffered from premature rust issues like many Volkswagens from this period, so getting one that has been cared for and hasn't been a winter rat is the best bet. With recent maintenance and what looks to be a clean bill of health, this Passat looks like one of the few good ones left out there. That doesn't mean it will bring big money though – only the TDi Variants carry steep pricetags, so I'd expect this car to remain quite affordable. That makes it an appealing alternative to the normal wagon if you enjoy a bit a sport and that great VR6 soundtrack.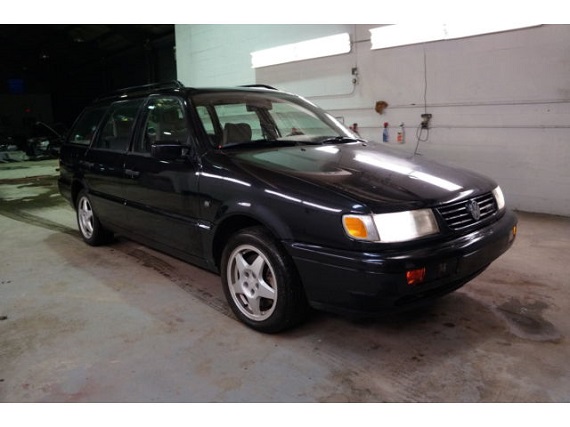 Year: 1997
Model: Passat GLX VR6 Variant
Engine: 2.8 liter narrow-angle VR6
Transmission: 5-speed manual
Mileage: 206,000 mi
Price: No Reserve Auction
Vehicle Description

Hello and thank you for looking at my auction. My name is Joe and I sell vehicles differently than most dealers. Buying your next car or truck through one of my NO RESERVE auctions is the best way to take the games out of your next automotive purchase. I personally road test each vehicle before it is offered for sale so I can give you my first hand opinion of how it runs and drives. Please keep in mind that I am not a mechanic. Each vehicle is represented accurately and honestly to the best of my knowledge and ability. Please take the time to read this entire description as well as our Terms & Conditions carefully BEFORE asking questions or placing a bid. An administrative fee of $149 will be added to the final bid of each auction.

Up for a NO RESERVE auction is a Volkswagen Passat GLX VR6 with the desirable manual transmission. I would rate the exterior of this VW to be in ABOVE AVERAGE CONDITION for its age and mileage. As you can see, this is a good looking wagon. It is finished in black over gray and shows very well for its age. The finish has a nice shine and looks as smooth as glass. The body lines are nice and straight. The hood and doors all open and close easily. I could not get the hatch to open. The worst I can say about the exterior is that there is a rust bubbls about the size of a can of soda on the LF door below the molding. All of the glass and lenses are intact. The original alloy wheels have been upgraded with a set of Speedline's which give an aggressive look to this wagon. Tire tread is average all around. Please take your time and check out each of the photos carefully.

I would rate the interior of this Passat to be in AVERAGE CONDITION for its age and mileage. As a whole, the interior is pretty clean…although you can see some wear commensurate with age and mileage. The door panels show well for their age. The carpets are clean and show well throughout the interior. The drivers seat cloth is torn near the top (see photos). The other seats show well and all are comfortable. The cargo area is spacious and clean. The only window that works is the RF window. The central locks and power sunroof work properly. The cargo area is spacious and clean. The original tape deck has been upgraded with an aftermarket CD player which powers up and appears to be working properly. The climate control system also appears to be working properly. The heater keeps the interior warm and toasty. The air conditioner appears to work, too.

Mechanically, this Volkswagen looks to need a little work but the important stuff seems to be all there. The 2.8L narrow angle V6 starts easily and runs smoothly. I didn't notice any leaks from the engine and she does not smoke. The issue I see is in the steering. The power steering does not appear to be working and I have noticed power steering fluid leaking. The issue may be the rack, the pump itself or just a faulty hose…I have no idea. Additionally, it feels like the front ball joints are worn out and will need replaced. Otherwise, the suspension feels good. The brakes stop this wagon with no issues. In spite of having high miles, the VR6 engine runs very well and is quiet. The coolant temp sensor works as it pleases so you don't always have a working temp gauge. The clutch engages smoothly and does not slip or chatter. Gear changes through the manual transmission are nice and easy. You can feel some play in the shifter, which is most likely just wear in the linkage bushings from age…nothing major. I've had her up to about 60 and she feels stable. I didn't venture out onto the highway due to the steering issues but she should be okay at highway speeds. You may want to consider towing it if you're not local…just for the sake of saving the steering in case the problem is something stupid and minor rather than pushing it and turning a small problem into a big problem by running it before it's properly fixed. These cars are hard to find. Thanks for looking and good luck bidding.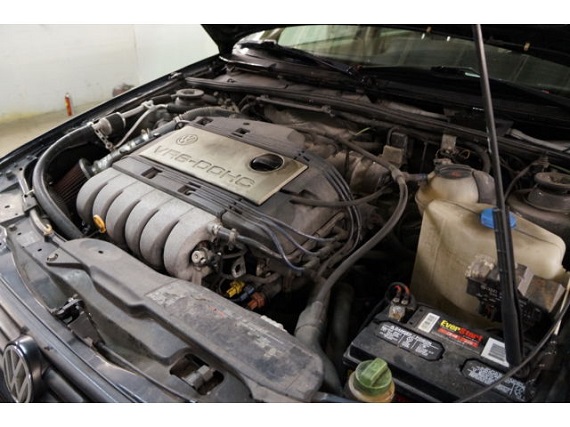 This example is much more typical of how these Passats come to the market. High miles and without really great photos, we learn from the seller that the interior is trashed and the body has rust. The Brilliantschwarz is no longer so brilliant. Not all of the doors open, the power steering apparently doesn't work and the electronics are glitchy. In a word, I'd call this car "representative" of mid 1990s Volkswagens. But, it's a manual VR6 and someone has fitted the awesome Speedline wheels from the Corrado on. It's also no reserve, and if it could be gotten cheaply, one could likely sort the interior with the plentiful Golf/Jetta interiors for sale and parts aren't hugely expensive for these cars. The rust will mean this car isn't likely long for this world because realistically few would want to repair it. But it could be a good beater car for someone who doesn't mind doing some wrenching.
In the not-too-distant future (fa-lala), we're not likely to see these Passats anymore. Like the Quantum that was before it, unfortunately many lived hard lives and have succumbed to neglect and falling residual values. When was the last time you saw a Quantum GL5 Variant for sale, for example? At their base, though, they're fun and quirky cars that offer drivers some enjoyment and practicality. Get them while you still can!
-Carter