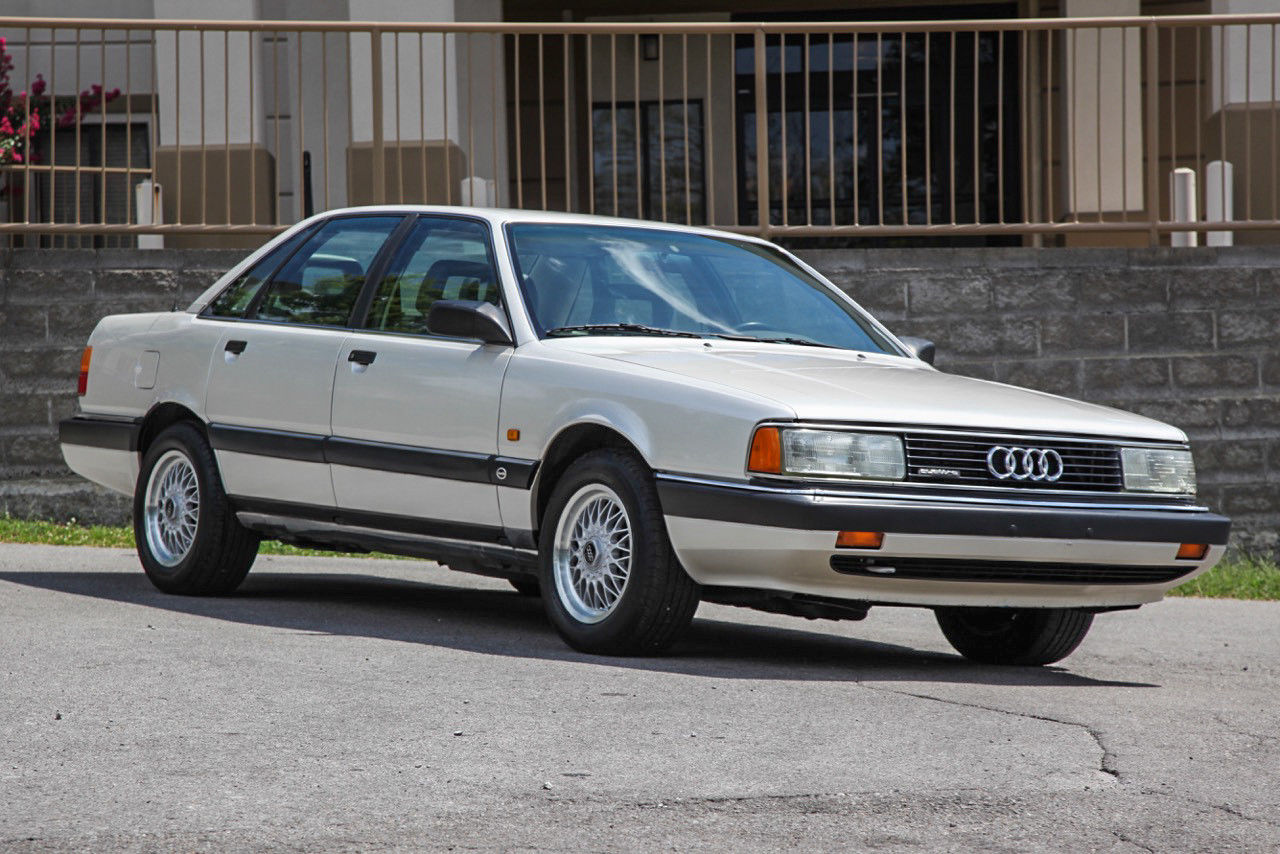 Update 9/13/18: This 1991 Audi 200 20V quattro sold for $7,900
Although 60 Minutes had disasterous effects on its U.S. sales, the confabulation by the television program failed to halt Audi's rapid developments in the late 1980s. First to launch was the V8 quattro in 1988. Although we wouldn't see the model emerge until late '89 as a 1990 model year car, Europeans got a jump start on Audi's top-tier luxury performance sedan. However, Audi simultaneously upgraded the 200 model with a new performance version, and in 1989 launched the DOHC 20V version of the model. This car sat in between the V8 and normal 200, with the familiar 2.2 liter turbocharged inline-5 just where you'd expect it but now with more spunk. Producing 217 horsepower and 228 lb.ft of torque, it was down on grunt to the PT V8's 240/258. However, at 3,350 lbs, it was also down on weight nearly 600 lbs and equipped solely with a 5-speed manual, and consequently the 200 20V could scoot to 60 in around 6.5 seconds and the boost didn't run out until 150 mph. The V8 and 200 20V shared some bits, such as the front "UFO" floating rotor design, forged 7.5″ BBS wheels and some interior trim, as well as the obvious body similarities. However, the two cars had remarkably different character and driving styles thanks to their drivetrain and engine differences.
Both have become hard to find in today's market; the V8 because of expensive repairs, and the 200 because of scarcity and parts pilfering. Because the 3B came only in the 200 to these shores, plenty have been used as a basis to build S2 clones or upgrade an older 4000 quattro chassis. Audi claims they built a total of 4,767 sedans and 1616 Avants worldwide, Audi sold around 1,200 total 200 20Vs here, with the vast majority being sedans like today's example: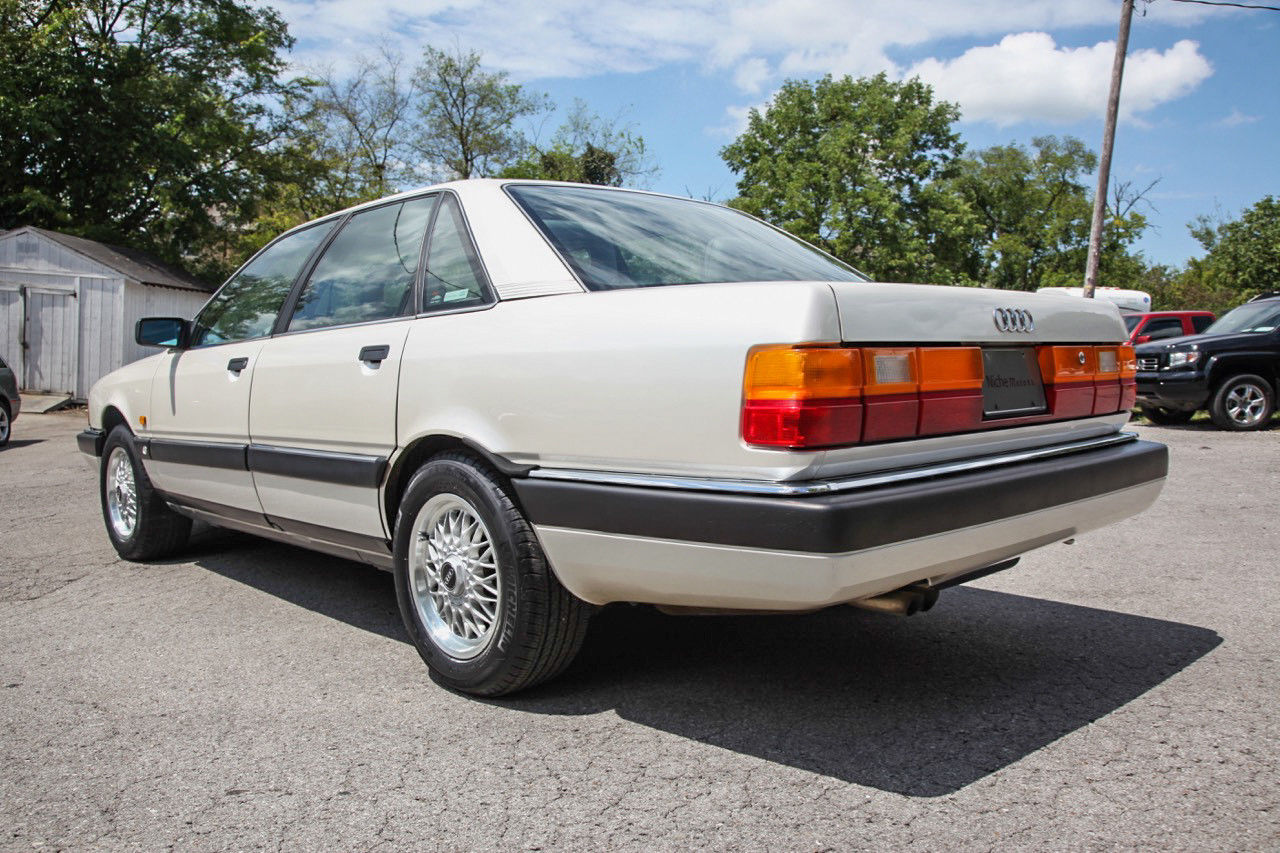 Year: 1991
Model: 200 20V quattro
Engine: 2.2 liter turbocharged inline-5
Transmission: 5-speed manual
Mileage: 119,006 mi
Price: Reserve Auction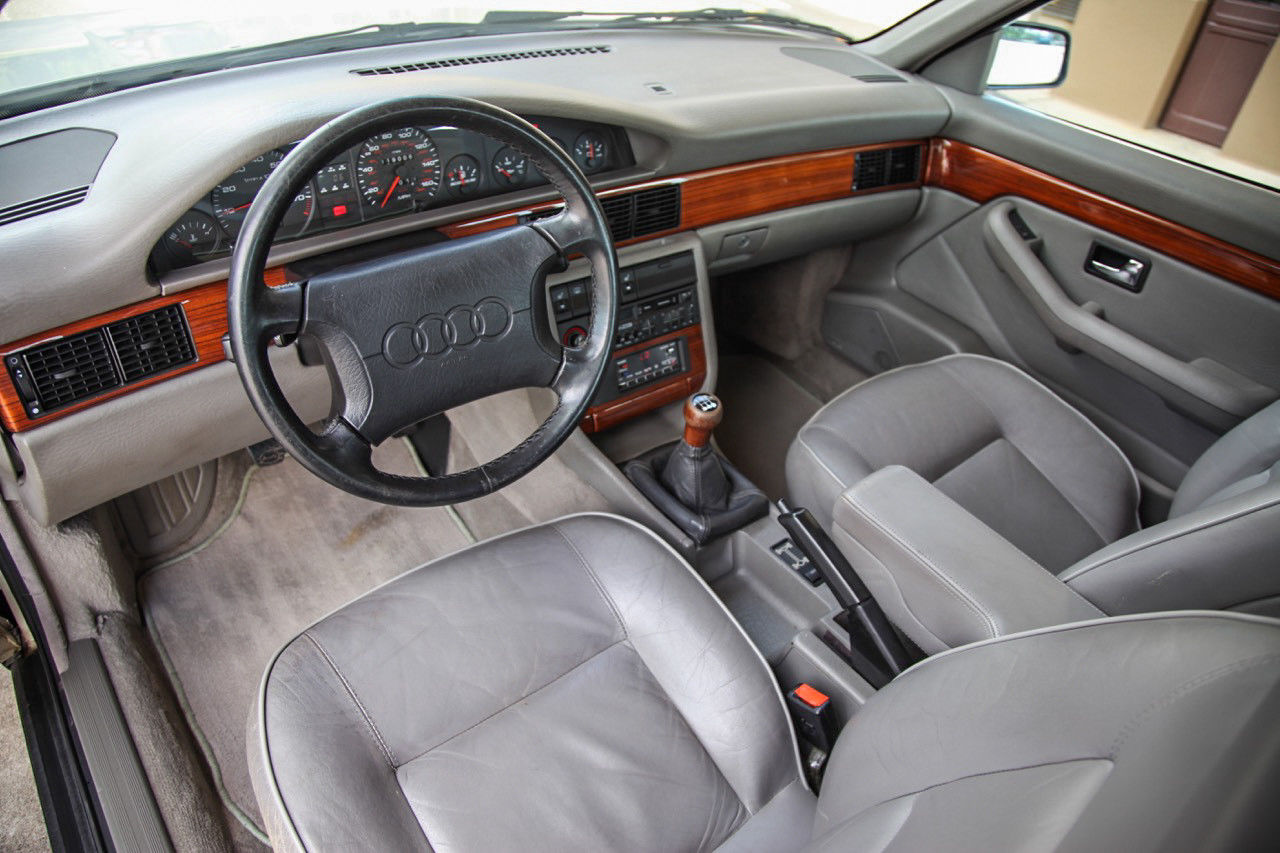 Up for sale is this stunning and extremely rare 1991 Audi 200 20v Turbo Quattro 5-Speed Sedan! In 1991, this was the Pinnacle of Audi performance! This 200 received the legendary 3B 20v 2.2 5-Cyl Turbo engine, Quattro system (last year for the lockable rear diff) and the desirable 5-Speed box. Audi produced just 1,000 200 model sedans like this in 1991. This particular specimen is an excellent 2-Owner survivor! No accidents, no rust, and excellent unrestored condition! This Audi 200 was sold new in Topeka Kansas, and then was traded in and re-sold at the same original selling dealership in 1998. It was traded in to us about 3 months ago by the second owner. It comes with a COMPLETE service history going all the way back to the original sales invoice! Ironically an 86' Audi 5000 was traded in on this 200 when it was sold new. It was purchased and always owned by a faithful Audi enthusiast. The service history in impeccable and anything needed was always done. The Timing belt was done with just shy of 100k miles. Under our ownership, we have replaced both front wheel bearing, had a new headliner installed, did a brake fluid flush with new reservoir, oil change, and a set of OEM spark plugs. This Audi 200 drives as good as it looks! Shifts smoothly and easily in all gears, clutch is nice and strong. AC blows ice cold, all BOSE speakers and original radio work beautifully. All lights and gauges work. Sunroof works well, and all windows work perfectly accept for the passenger rear window which is the only non-functioning item on the whole car. Please look at the pictures carefully and judge for yourself, but we believe you would be hard pressed to find another 200 for sale in this condition. Clean carfax available upon request. As with all used cars, there are some signs of wear and tear, small blemishes, etc. Please review the pictures closely and ask questions. Thanks. ——————————————————— Disclaimer: ***All cars for sale are pre-owned. All applicable tax, title, and license fees are separate and not included in the price.*** We do our very best to represent the vehicles we sell both cosmetically and mechanically. Our best advice to potential buyers is that if you aren't sure of something or have a question, PLEASE CALL. Our stellar eBay and online reputation over the last 18-years should put anyone at ease, but please do your research, ask questions, and buy all means feel free to have any of our vehicles inspected prior to purchase. All the vehicles we sell have been serviced and inspected to some degree (please refer to description for details) BUT, with all that being said, all our vehicles are being sold AS-IS and WHERE-IS unless otherwise stated in the description. These are used vehicles so please expect there to be small blemishes, imperfections, and some repairs needed. If you need help making inspection or transportation arrangements, please contact us and we will gladly help! We are not like other car dealers! We are 'Car Guys' just like you and aim to please all of our customers to the best of our ability! Please call with any questions or concerns today!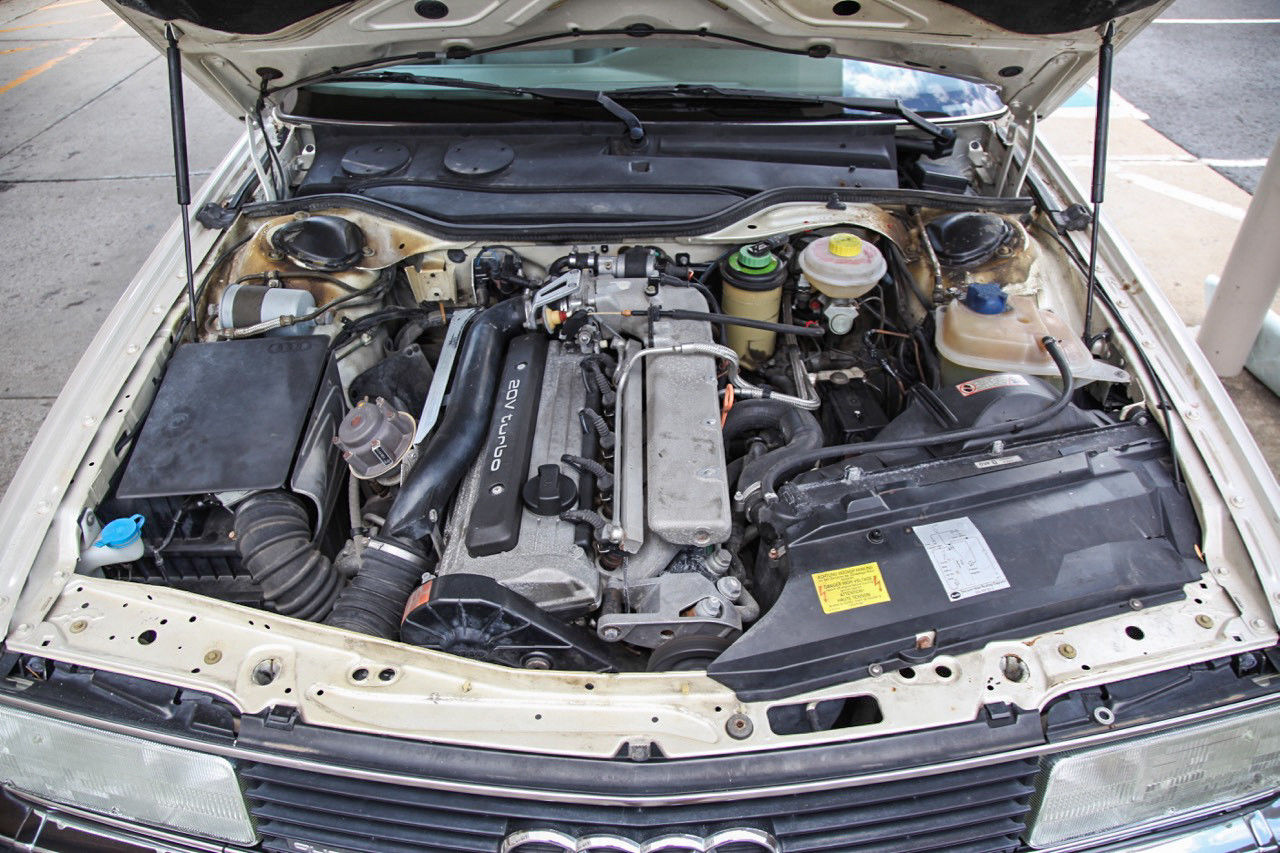 Pearlescent White Metallic over Platinum Kodiac leather seems to be the most prevalent combination of this model, but it's still very nice to see one in this shape. With under 120,000 miles, the presentation overall looks to be very good and the car still wears its forged 15 x 7.5″ BBS RG wheels. Hiding behind them you can still spy the original UFO brakes. In fact, throughout this car looks to be remarkably original, right down to the exhaust. As these cars go, a completely original one in great shape represents a blank slate for potential tuners who usually are resurrecting forlorn examples. Consequently, though it is not quite on the same level of performance or stature of the M5 or 500E, bids have been flying on this auction. These are well built, highly durable cars with classic styling that are a pleasure to drive and the market is recognizing that. Already it is past $6,100 with nearly a week remaining on the auction. It may just set a new high water mark for the 200 sedan market.
-Carter