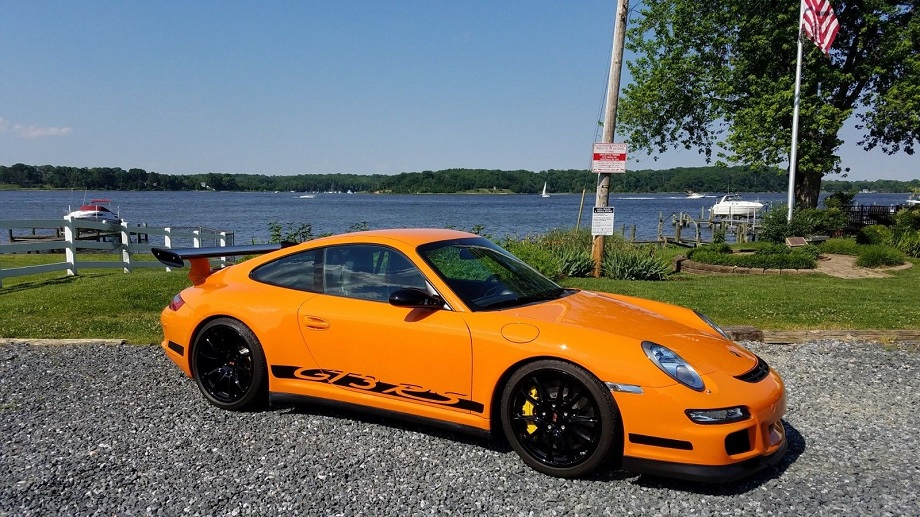 This is pretty much my favorite 911. I can't say there is any particularly great reason it's my favorite since there are probably more rare, more iconic, and better performing 911s in existence, but since the day I first saw one I've been in love. Some of the appeal for me is timing and because the 997 was the first GT3 RS sold in the US. Though it obviously was not the first RS entirely. There also is something about the 997 GT3 RS's looks that I really like and prefer over newer models and, probably not surprisingly, over the 996 GT3 RS. And it's Orange. When I say this is my favorite 911 I don't just mean the 997 GT3 RS in general, but specifically the Orange over Black option that we see here. I have a model of one that my wife begrudgingly allows me to display on our bookshelf. I love it.
Here we have what happens to be a really nice looking example of these great cars and to make things even better it's an example an owner actually has driven. Imagine that!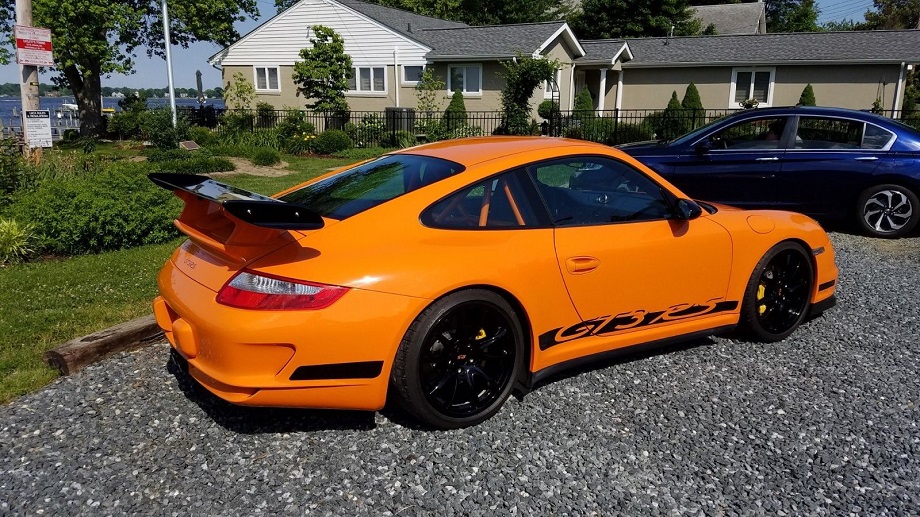 Year: 2007
Model: 911 GT3 RS
Engine: 3.6 liter flat-6
Transmission: 6-speed manual
Mileage: 39,500 mi
Price: $144,900 Buy It Now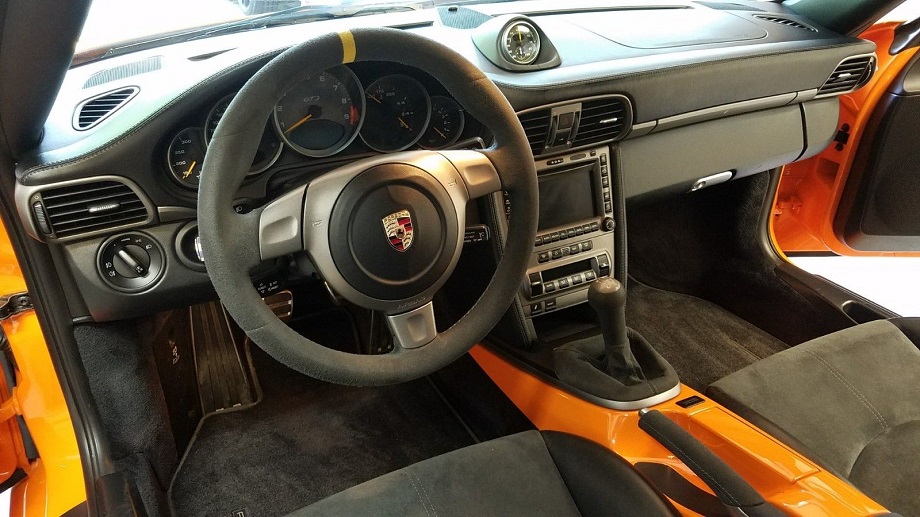 2007 Porsche GT3 RS

Orange

39,xxx miles

$144,900

Annapolis, MD

Perfectly clean title in hand. No stories, no drama and a basically original unmolested car with perfectly clean DME. I'm just a guy that owned and loved a great car and now is moving on. Car is trouble free and original. Maybe not absolute perfection for a vacu-seal collector but if someone wants a driver that remains original this is a good opportunity.

CLEAN DME – ZERO overrevs in any range. See documentation at very bottom of photos in this post.

OPTIONS:

N2 – Orange Paint

78 – Black Full Leather Option

810 – Floor Matts with Porsche Logo

640 – Chrono Package Plus

P16 – PCM 2.1 5.8" infotainment/Navigation screen

450 – PCCB Carbon Ceramic Brakes

P74 – Bi-Xenon headlamps

XME – Orange painted center console

XXZ – Aluminum foot rest

ADDED ACCESSORIES (Removable without any trace):
Roll bar kit. RSS Brand 901/30 4-point, painted factory orange. I was told this was installed at the time the car was originally delivered to the 1st owner but I do not have records for this purchase. This kit bolts to the factory seatbelt mounting holes so it requires no cutting/welding/modification to the car. This bar is removable with no evidence left behind if a new owner wanted an absolutely original car.
Rennline grill screens to protect radiators (added by me to protect the vulnerable radiators. Seemed crazy they were left completely exposed by the factory.). They are easily removable with no holes or marks left behind if a new owner wanted an absolutely original car.

PREVENTATIVE MAINT/IMPROVEMENTS:
Coolant lines pinned (all 6).

HISTORY:

I purchased the car in early 2013 from Porsche of Livermore in San Francisco Bay area. The car had 14,000 miles and was basically perfect with CPO warranty and a DME report showing zeros in all ranges. I was told it was traded in by a wealthy doctor who repeatedly buys and trades cars at the dealership. So I am the 2nd owners starting in 2013 and 14,000 miles.

I put every mile on the car since then and have done all maintenance myself since then. I do have a log book for all maintenance. The car did go to the dealership three times since it arrived in March 2013. The first time was for Maryland state inspection so I could register the car. The 2nd time was for an airbag light that just needed a code to be cleared and never had the issue again. The 3rd time was on the last day of the CPO warranty they replaced all the tire pressure monitoring system (TPMS) sensors as they were not working due to dead batteries.

I have never had a mechanical or other issue with the car. I just change the fluids (including transmission) and follow the factory schedule like replacing filters and spark plugs and the car has been running perfectly. The car has been solid as rock since I took delivery in early 2013. I wish my "non-exotic" cars were as trouble free.

I am a casual track day guy. I did do a few days at the track at the rather conservative and laid back Audi Club events. It is fun but due to the value and rarity of the car I ran conservatively with asset preservation #1 on the list at all times. I later decided that it was too risky and started taking my other car to the track instead if I even get a chance to go once a year or so. Total track days I did with this car are 6 but one of those was a rain day and I hardly even left the garage. As you can see there are zero overrevs of any range on the car so the track use was limited and casual in nature.

Other than the 2 removable accessories mentioned above the car is bone stock and original.

CONDITION:

The car is over 10 years old so if you want to find a blemish you could find one or two. Car has had no accidents and no damage. I had a friend with a paint meter go over it and it all is consistent factory finish. The car had clear film on the entire front end including full fenders, full hood, mirrors etc. I recently removed the film to prepare the car for sale as it was over 10 years old and had some yellowing (luckily not a big problem on an orange car.) I was going to have it re-done but I took the time to do some paint correction and polishing. Now I figure I will sell the car without film so the buyer can see the paint naked and then do what he/she wants after purchase.

The lower lip spoiler inevitably touches the ground from time to time so there are some scuffs on the underside of this consumable item. Most of us GT3RS owners consider this a wear item and replace it about once every two years. I can remove and replace it in about 15 minutes.

There are probably 2 or 3 places where you could find a pencil tip sized paint nick or imperfection. Other than that the paint is great without scratches, swirls, etc. The naked carbon on the spoiler is pristine. I recently replaced the GT3RS decal kit due to some visible wear and imperfections in the vinyl decals.

Glass is perfect. Lights are perfect. Wheels have no scratches, curb rash, dents or bends. They do show some micro pitting if you get on your hands and knees and inspect under heavy lighting. I assume this is caused by road grit over time.

PCCB brakes are in good shape. The PCCB rotors are original. I have been very careful to replace pads (at significant expense) well before they could wear down enough to cause an issue with the rotors but they last very well. Last set (full front and rear) was installed at 37,800 miles so only 1,600 miles on them. I did a complete brake fluid flush and fill at that time as well. I love the PCCBs as they give the the car such a light and precision feeling. It seems to make acceleration and change of direction more lively than a steel brake car.

Tires are Michelin Pilot Supersports mounted at 37,386 miles so only about 2,000 miles on them and plenty of tread left. The Pilot Supersports were the closest thing to what was fitted as OEM (Pilot Sport 2s.) They are great tires and plenty of life left.

The interior is very good. The alcantara at the touch areas (wheel and shift ****) has some wear in the sense that the alcantara is not as "fluffy" as it is on the non-touch areas. There are no tears, stains, etc. The leather bolster on the drivers seat shows the inevitable fact that you slide over it more often than any other part of the seats. There are some character lines in the leather but nothing I would call damage. See pictures. The back of the seats do contact the roll bar if pushed all the way back so there are marks on both items from this contact point. There is a mark in the leather dash material near the center vent that you can see under some lighting conditions but usually not noticeable. It was there when I got the car and got past several inspections without notice.

PCM and stereo work as well as they ever did. They are not a highlight of this car as I'm sure you are already aware.

I have all the original keys and the manuals.

At the link below are dozens of pictures in Google album. You can click on any picture to see a larger version.

https://goo.gl/photos/qPMQoPeV8jQsN4zx9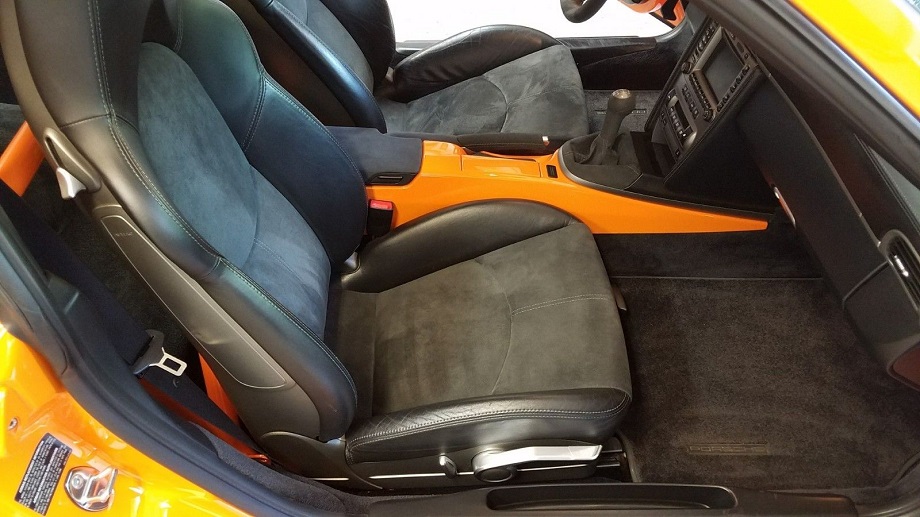 We obviously are accustomed to seeing a GT3 RS is very excellent condition. We are much less accustomed to seeing one with almost 40K miles. I've featured a GT3 RS many times and I believe this one has more than double the miles of pretty much every other example I've posted. That doesn't mean it's the highest mileage one there is, just that of those I've found interesting enough to write about this one has quite a bit more miles. I actually think that's great. Let's be clear, 40K isn't a lot of miles on a car more than 10 years old, yet it's still unusual for a GT3 RS. This one has been enjoyed, though all the while cared for just like those garage queens we see with fewer than 10K miles on them.
The seller has mentioned a few flaws here and there though like other meticulously presented ads we've seen these flaws really seem the sort that require very close inspection and only even are flaws to those looking for absolute perfection. Looking through the pictures we see virtually no problems. That bright orange paint looks phenomenal and the interior looks clean and nearly wear free. This one has an orange roll bar installed and the optional painted console both of which bring a touch of orange into the interior. The roll bar, installed by the original owner, is easily removed should a new owner so desire. I think I'd just leave it. Regarding recent servicing, the tires and brake pads don't have too many miles on them. We aren't told too much more about its recent history, but I'm sure the owner can provide whatever details are needed.
In addition to being a higher mileage example, this also is one of the lowest priced examples we've seen. At $145K it still isn't cheap and given the mileage that price might even be a little high, but when you know a GT3 RS has been well cared for then you pay a premium for that. If you're like me and an Orange GT3 RS is the one you're after, then I think this one deserves a serious look.
-Rob