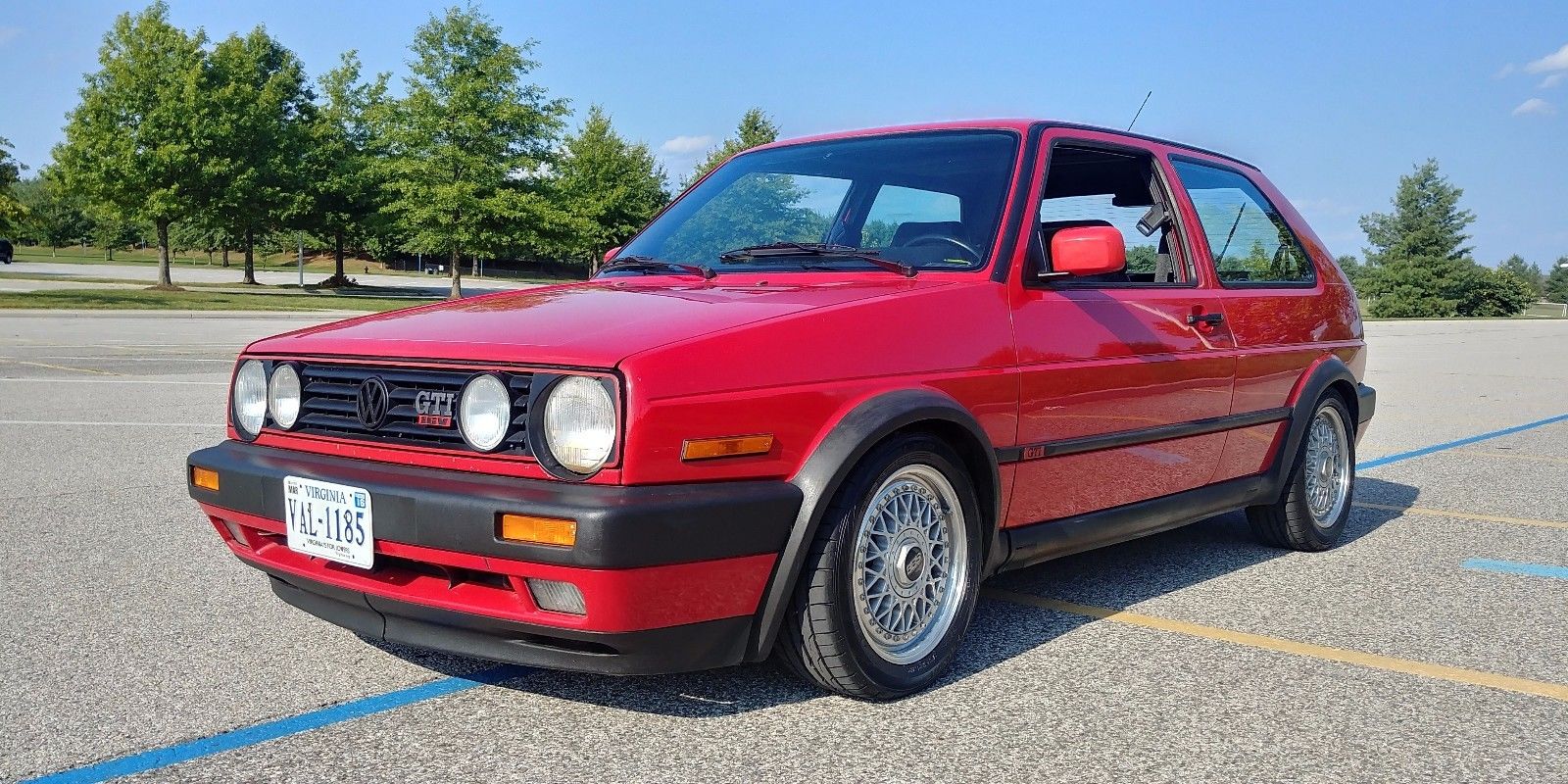 The 1991-1992 GTI followed the same basic recipe as the 1987 model we saw this past week, but everything was turned up a few notches. Starting in the mid 1990 model year, all US bound A2s received the "big bumper" treatment; new smooth aerodynamic covers front and rear. To help to differentiate it a bit, the GTI's blackened arches were widened. Filling those arches were new 15″ wheels from BBS. The multi-piece RMs were lightweight and the perfect fit for the design, echoing other contemporary class-leading sports cars such as the M3. Volkswagen color-coded the mirrors and rear spoiler to match the car, as well. VW also gave the GTI a fresh face with more illumination; quad round lights filled the grill, and foglights illuminated the lower bumper. Prominent GTI 16V badges still encircled the car.
Power was up to match the heightened looks. Now with 2.0 liters of twin-cam fun, the GTI produced 134 horsepower at 5,800 RPMs and 133 lb. ft of torque at 4,400 RPMs. Coupled to the close-ratio 5-speed manual, that was good enough to drop 0-60 times below 8 seconds. That may not sound like much today, but at the time it was another league of performance compared to the typical economy car. Holding you in place were the same heavily-bolstered Recaros that special editions like the 'Helios' 1989 Jetta GLI Wolfsburg had enjoyed.
It was a recipe for success, but these cars were also relatively expensive in period, and fell into the global recession time frame which affected sales of nearly all European marques drastically. The general consensus is that around 5,000 of the last of these GTIs were imported, putting their rarity on the level of the M3. But because they weren't M3s, there are far less around today to enjoy and few turn up in stock configuration for a myriad of reasons. It's always a bit of a joy to see one arrive in the feed, though, and this LY3D Tornado Red example sure looks great: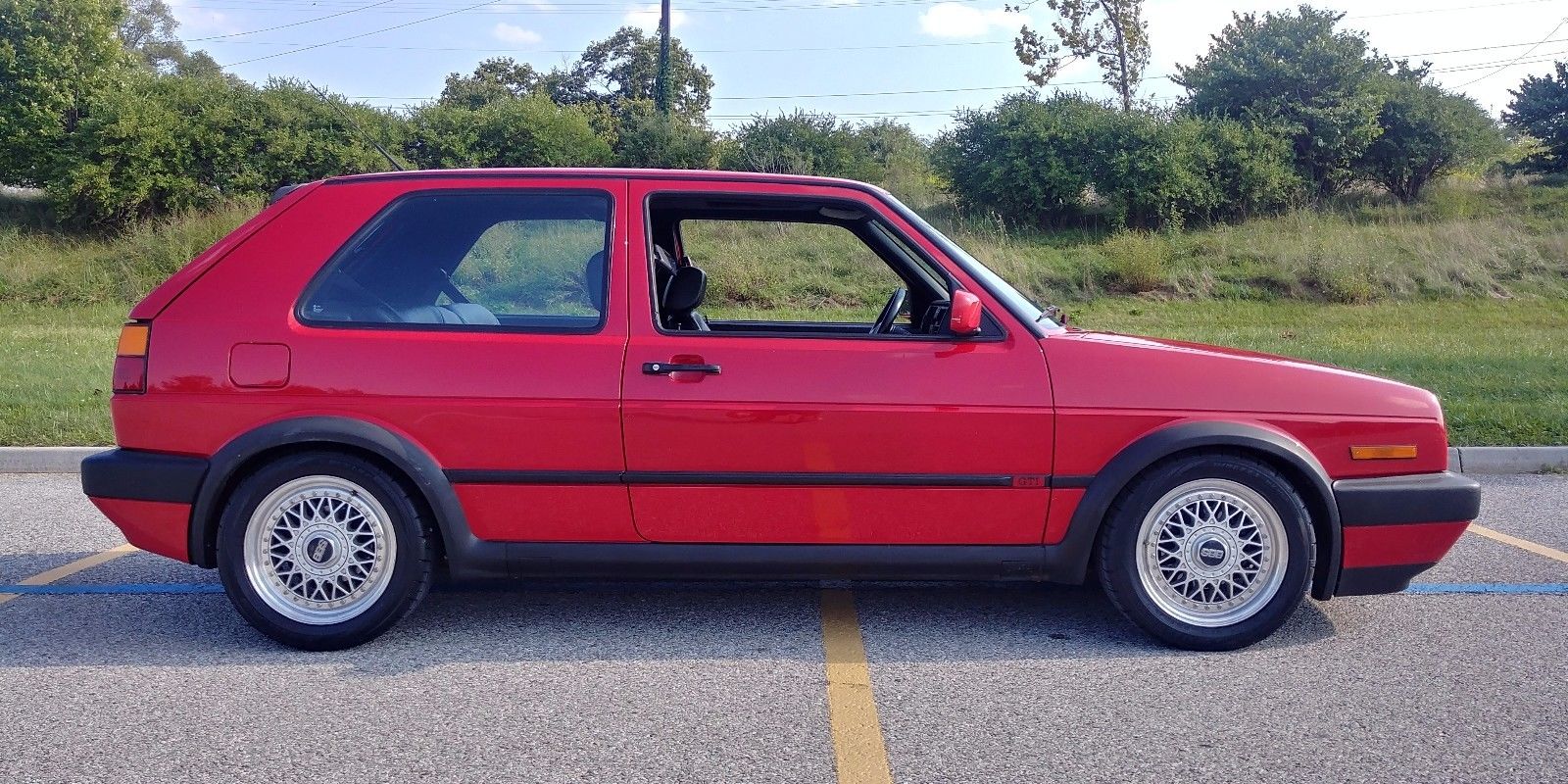 Year: 1991
Model: GTI 16V
Engine: 2.0 liter inline-4
Transmission: 5-speed manual
Mileage: 110,747 mi
Price: No Reserve Auction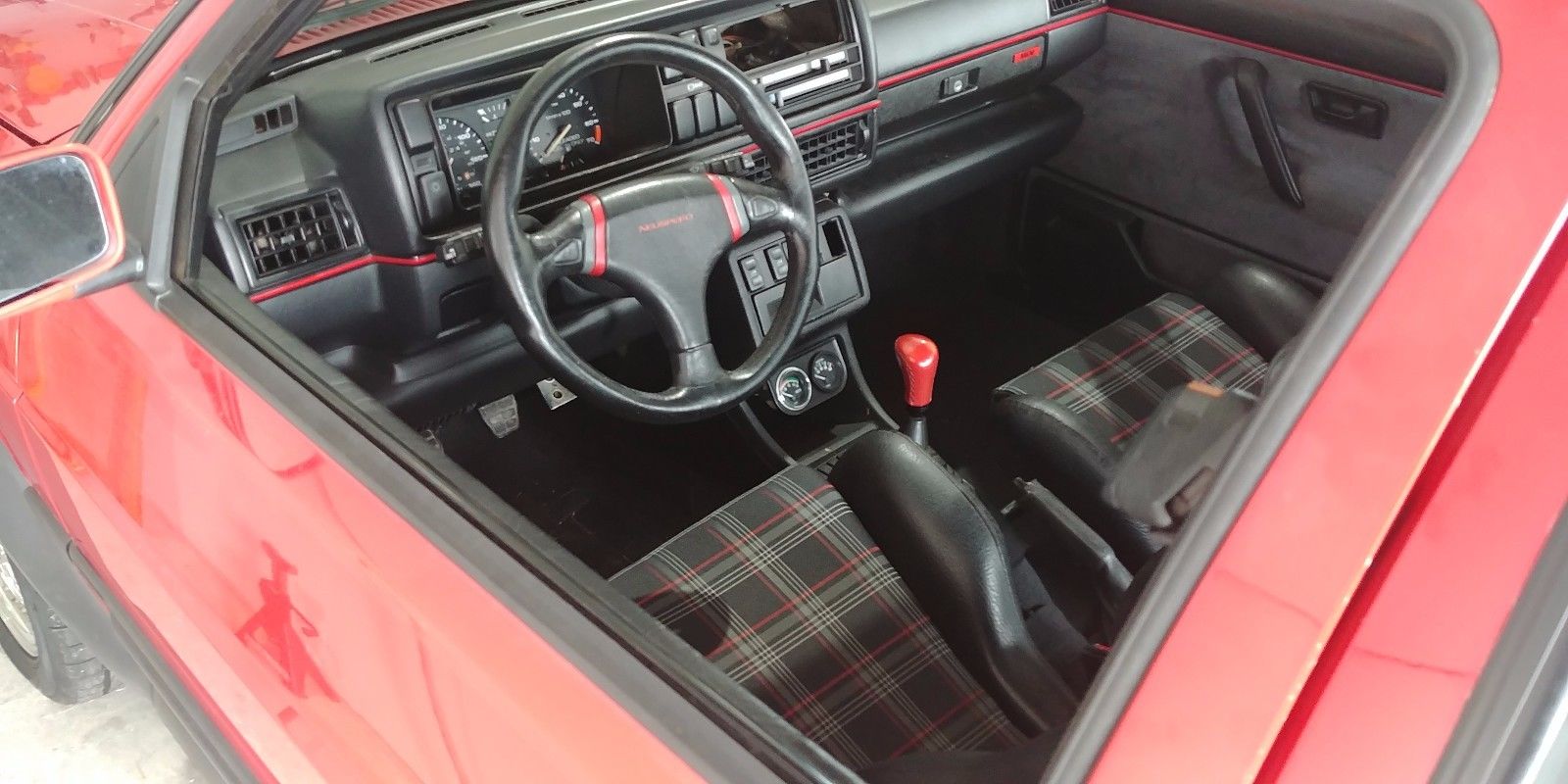 THE GOOD!
This is an unrestored 1991 GTI 16V pure survivor with 110k original miles, purchased from the original owner after looking for one for two years. These cars are almost impossible to find in unrestored state especial in this condition. It has spent most of its life in a garage not kept outdoors, including now. And was purchased solely as a toy to tinker with and occasionally drive. In my possession I have logged under 100 miles of use.

The 1991 and 1992 GTI 16V was a special car from VW included BBS RM wheels, Recaro seats, a 2.0 16V motor that was not put in any other GTI. 16V cars worldwide had a 1.8 motor. Total production numbers from "The last of the best" as they were known are around 3500ish units. I like to say it was Volkswagen's version of the E30M3 ( which I have two of) the driving feel is very much like the original M3 direct and unfiltered with superb feedback. A pure drivers car! I have a huge grin every time I take it out.

Includes the original window sticker laminated to keep it from deteriorating and sales brochures from the dealer.

It has a host of period correct VERY NICE upgrades. The interior was redone in Jackie plaid (OEM VW material) with black this year replacing the interior the previous owner did in bright red. It was not cheap but looks fantastic in the car. Also has NLA OEM GTI 16V black floor mat set. I remove the mats to drive the car to keep them looking as new. Also has a NEW 16V key pill ( the plastic key fob that you slide the key in has 16V on it. )

Mechanically it is in great shape has had regular oil changes every 3500 miles per the original owner. timing belt and water pump were done about five years ago and have maybe 300 miles of use. Oil was changed right before I picked it up and is clean and clear.

If you are looking for a garage kept extremely clean GTI 16V this is it! I have not seen a more original unrestored 16V GTI anywhere.

Some things amazing… the original tool kit is UNOPENED! Never used still in the plastic bag. The spare tire looks like it has never touched the ground! The fenders are glossy and shiny and look great under the car looks like new ABSOLUTE ZERO rust anywhere… If you know much about these older MK II cars you know how rare that is… All the under hood stickers are in place the fuel door area looks great with the original decals still present.

* has no stereo or speakers removed by original owner and I coudl not decide whether to find all the OEM equipment to reinstall or put aftermarket back in…

Upgrades
Nuespeed sway bar set front/rear
Nuespeed front stress bar
Nuespeed poly bushings in control arms
Nuespeed/Momo Steering wheel ( these were close to 500 new in the 90s and looks amazing on the car!!!!)
Neuspeed/Momo red anotomical shift knob in red
Quaiff LSD unit ( this was not a cheap upgrade back in the 90's)
ABD short shift linkage
ABD rear stress bar
Coilover conversion on new dampers ( OEM 16V sport package dampers) 450front 350 rear rates
Fuel pumps upgraded – no more plastic fail prone accumulator ( original parts included)
Hawk HPS pads all around
Drilled front rotors ( on when purchased)
Stainless brake lines
K&N filter

The not so good..but…
As stated this is a 100% UN RESTORED CAR is the paint show quality.. no.. It is mostly original with a few spots on the rear quarters where the previous owner said he had a few door dings fixed from parking lots when he drove it daily ( still slept in the garage at night). I have been torn on repainting the nose and hood on the car. Erasing the patina from years of loyal care taking is something I am torn to cover. The original owner took fantastic care of this car waxing it until on a few edges on the hood/fender he waxed through to the primer.. Which he continued to wax the primer is now glossy! (see photos)

The cruise control servo on the engine went bad and the previous owner removed it. easy to source it never bothered me since I rarely drive it and I never drive it in traffic or on the highway.

The AC on the engine side was removed and could be reinstalled it is all the same hardware on any golf from 85. Once again it never bothered me I drive it with the windows down to hear the feisty 16V motor.

The center console could use a new one for power windows original owner had something for the stereo there I think so it has a switch hole.

The rear black hatch sticker needs to be replaced ( window has to come out to do it properly) reproduction decals are available int he UK. I just keep forgetting to order one and fix it.

And then…
Minus the few items above the car is truly amazing to drive and look at. Highly unlikely there is another 16V GTI of this level anywhere in the US. The last "restored" 16V I saw sold for 10k with 220k miles on it… This is a future collectible and will do nothing but appreciate over the upcoming years if kept as an original survivor car.

Thanks for looking!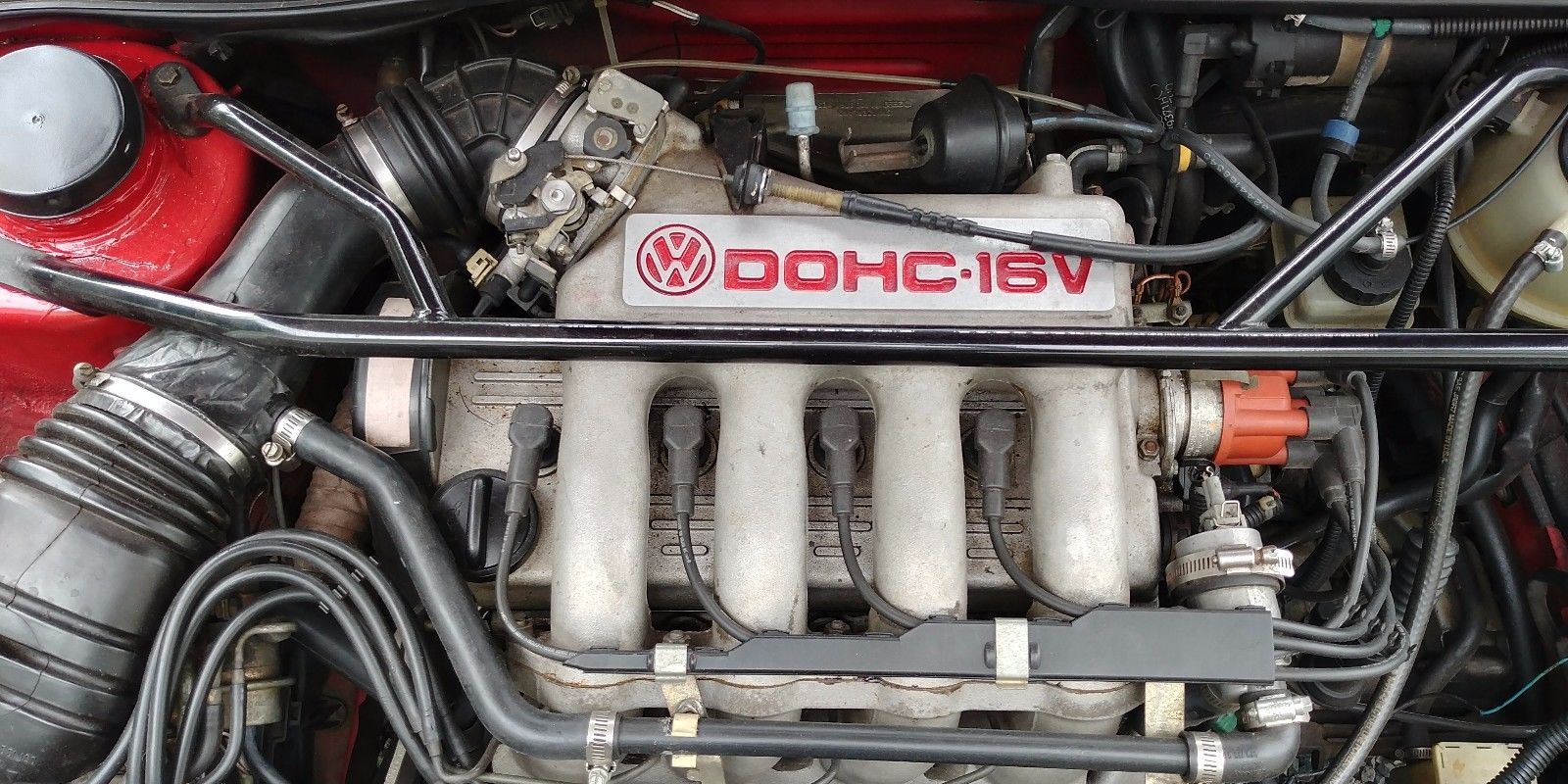 From the window sticker – it should be noted rarely accompanying a period VW – we see this car had the power package, cruise control and sunroof. The bill totaled over $15,000 – up 50% from the base price for the GTI in 1986 – and the car was sold in North Carolina. Generally, the presentation appears to be good and mostly original, but as with the M3 from yesterday the closer you get the more the problems add up. The seller's claim that the car's owner loved it so much that they waxed through the paint is as thin as Tornado Red on the hood; that is, just not possible. That's high speed orbital buffing that did that, likely from the same body shop that poorly applied 2-stage clear coated paint to the sides of the car rather than the correct (and, quite expensive) single stage Tornado Red. Still, back away and the car is straight and claimed rust free.
The suspension has been converted to undisclosed coil overs. The Neuspeed and Quaife additions are generally good items, but then there's a list of unfixed items. Nonfunctional are both the cruise control and air conditioning, along with no radio and a hacked center console. The big question mark is the recovered seats (twice, apparently!) in "Jackie" (it's Jacky, seller) cloth with leatherette sides. While the look may be classic and new GTI mixed, the result isn't that great in my eyes. More worrying, I've not yet seen a bad set of original Recaros even when mistreated; the original cloth holds up very well.
But as with the M3 yesterday, the story really falls apart when you see that after a two year search the seller is parting with this car after driving only 100 miles. Perhaps, like one of the comments noted yesterday, the seller's idea of what this car was or would be didn't match the reality of what it is. To me it looks like a great driver and occasional show car. Is it a perfect, original example? No. Is it worth what the seller seems to be indicating it is? No there for me, either. We've seen some nice 16Vs cross these pages, from a '92 for $5,300, a modified '91 for $6,800, and a signature Montana Green example for $8,000. The auction is no reserve but the opening bid here is $10,000; strong money for any A2 right now. This one looks generally very nice, but I wouldn't say it's worth more than any of the other ones.
-Carter