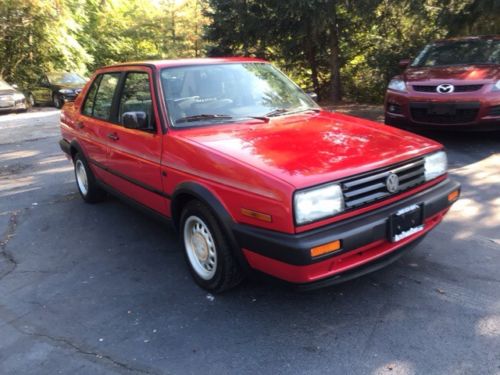 In a recent ad campaign, I've been interested to see Volkswagen roll out its older Jettas to somehow link their DNA to the new model. That's an interesting ploy, since most people I know who have had experiences with a Jetta of this ilk usually remember the calamity rather than the positive aspects of the model.
Back in March, I took a bemused look at the confusing Jetta lineup by considering the oddly placed Carat model. It fell somewhere in between the GL and Wolfsburg model, yet most of the major items remained optional. Today, we get to look at the base model – the GL. The GL and Carat shared the same motor and running gear, but instead of the 'upscale' wheel covers borrowed from the Passat, the GL had steel wheels with center covers and trim rings. It was one of the better looking wheel options Volkswagen had at the time, and though it was the base wheel it somehow looked neat. Inside the seats were not quite as upscale-looking as the Carat, but otherwise equipment on the two was basically the same. But there remains an inherent draw to the second generation Jetta even as a base model, and this clean GL looks ready for some serious swapping action: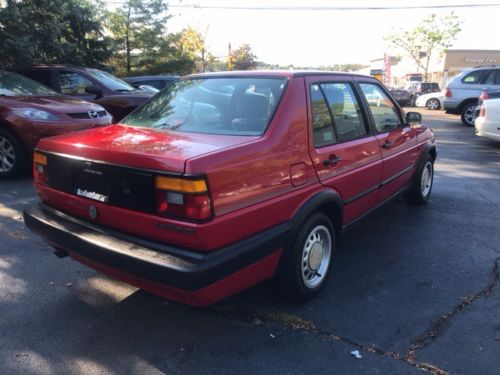 Year: 1991
Model: Jetta GL
Engine: 1.8 liter inline-4
Transmission: 3-speed automatic
Mileage: 105,829 mi
Price: Reserve Auction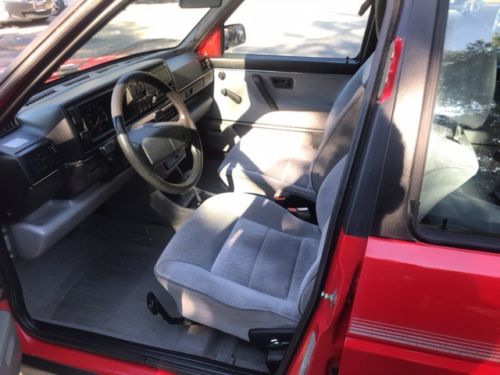 COLLECTORS ITEM WOW WOW WOW ONE ORIGINAL OWNER GARAGE KEPT SINCE BRAND NEW…WOW IMMACULATE CONDITION COLLECTORS ITEM 1991 JETTA CARAT.
You'll never find another one this clean anywhere she literally looks and runs like a new car…. CLEAN CARFAX!
COME DRIVE THIS AMAZING PIECE OF HISTORY SHE RUNS LIKE NEW AND IS A BLAST TO DRIVE…

WE HAVE PERFECT FEEDBACK BID TO BUY AND BID TO WIN…

ANY AND ALL QUESTIONS CALL: 845-623-5097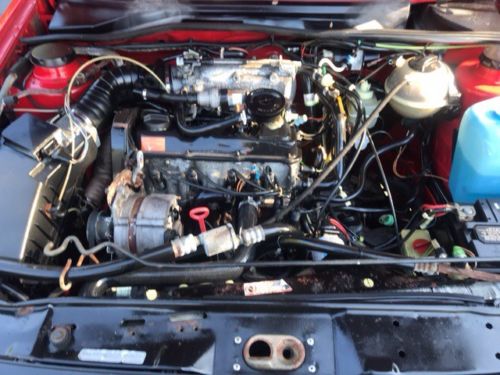 That's a lot of 'wow'. As the seller suggests, you'll never find another one this clean anywhere – except, of course, for the Carat I just looked as in March. It's also interesting that the seller has listed the car as a Carat. One of the few things that was standard on the Carat were power windows and mirrors, and it's pretty clear to see by the cranks that those are missing here. Another harder-to-see tell is the missing rear headrests, if the wheels weren't a give-away. This car appears mildly optioned with an automatic transmission and air conditioning. It's hard to fathom how this is an original owner car that has only turned 105,000 miles, but there it is. Condition is pretty outstanding all things considered from what can be seen – even the Tornado Red paint seems in good shape, but my guess is that most of the bids on this auction aren't for the car as it is.
I think it's a safe bet that this one's appeal is as a blank slate that will be modded. Finding a good condition and good color Jetta opens a goldmine of possibilities for swaps and builds, and active bids seem to support that chance. With two days to go the bids have already hit nearly $3,000. Maybe someone is happy to buy a low-option, automatic Jetta GL – and if so, enjoy. This is probably one of the better examples out there. But I'd wager the chances on this car looking anything like this in twelve months is pretty low.
-Carter