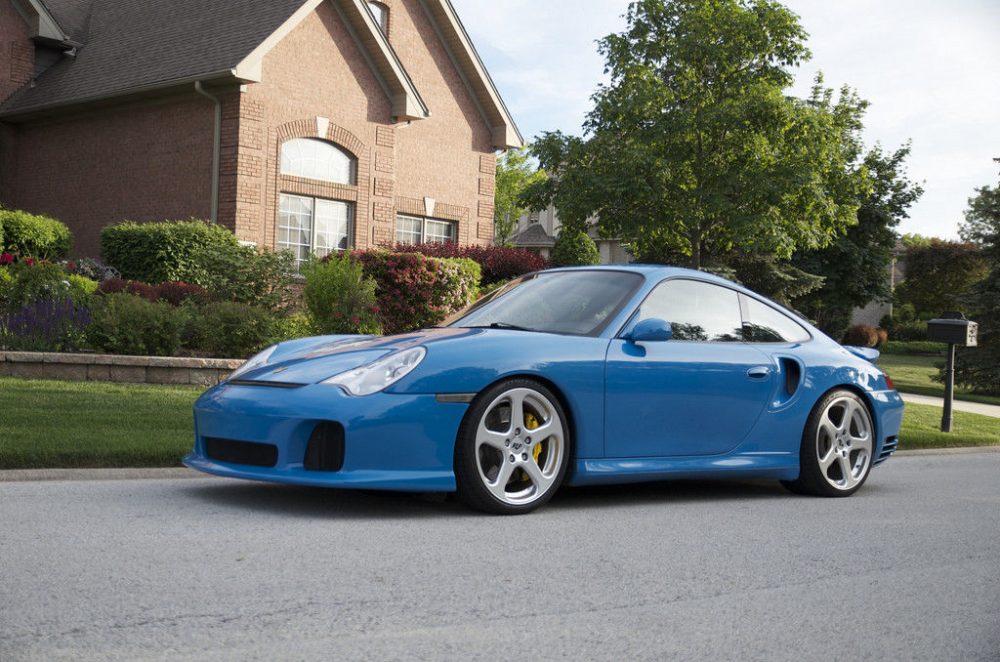 How do you take one of the Porsche's best performance values and make it even better? You send it to…RUF? To be honest that would not have been the answer I'd have thought was correct. A RUF conversion isn't exactly a cheap enterprise to undertake so while the performance and overall appeal certainly will be increased those improvements typically come with a significant increase in price. Such does not appear to be the case with this 2001 Porsche 911 Turbo, which in 2012 was converted to RUF RTurbo specs.
Granted we are a few years down the road and pricing for a RUF conversion always has been significantly lower than for one with a true RUF VIN so perhaps it does make sense that the pricing here seems quite reasonable relative to the performance. But in a world where we frequently see a 996TT with the X50 package priced higher than this (with the caveat that those are asking prices and not necessarily selling prices) I think this one represents kind of a nice bargain.
It also looks phenomenal. Ordered in paint-to-sample Bugatti Strong Blue and then enhanced by the various RUF additions, this 996TT stands well apart from others of its kind. I'm not sure if this sort of lighter, non-metallic, blue will appeal to everyone, but it most definitely is unique. I happen to love it!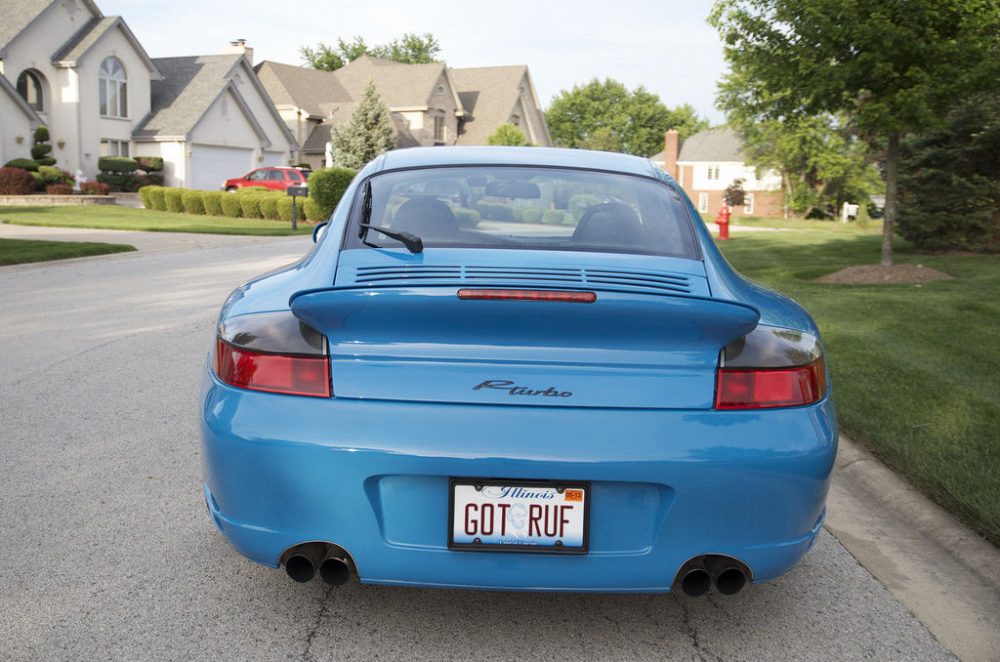 Year: 2001
Model: 911 Turbo
Engine: 3.6 liter twin-turbocharged flat-6
Transmission: 6-speed manual
Mileage: 50,697 mi
Price: Auction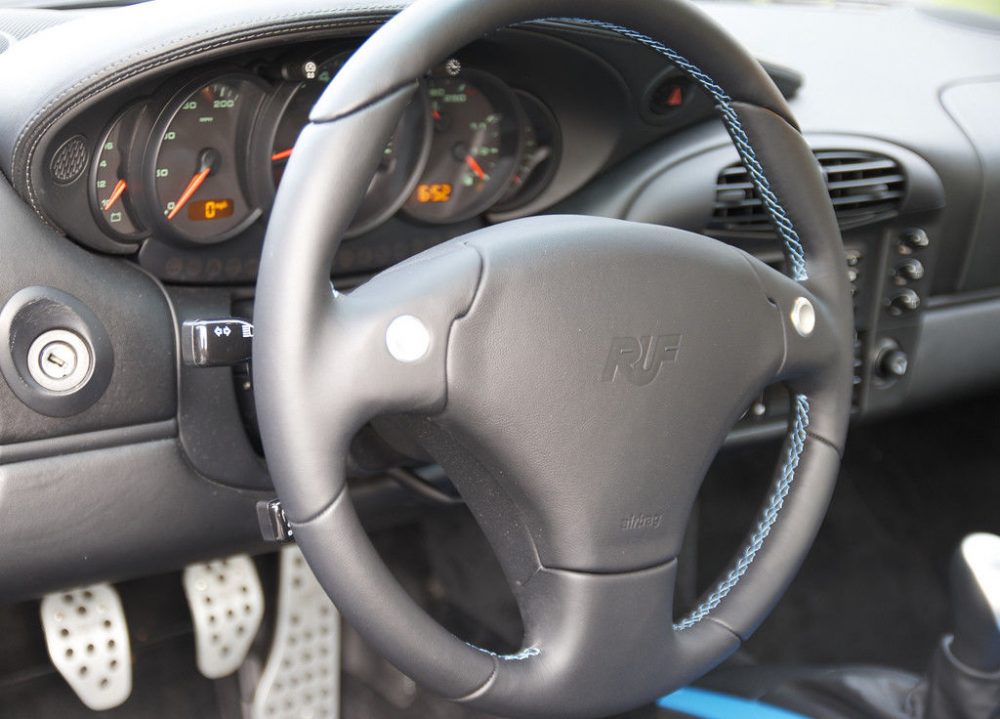 2001 911 Turbo RUF RTurbo Conversion
50,697 Miles
Factory ordered Paint to Sample "Bugatti Strong Blue" exterior
Center console in Paint to Sample "Bugatti Strong Blue"
Full Leather Interior (Leather stitching in dash, doors and rear interior panels
Alcantara Headliner

Suspension
-JIC Cross Coilovers
-Full corner balance alignment

Brakes
-GT3 Porsche 6 piston fronts / 4 piston rear brakes
-Steel 997TT Rotors
-GT3 Cooling ducts

Other Modifications
-Brand new old stock black sport seats taken out of a 2004 GT3 with only delivery miles. You'll see that it has the GT2/GT3 only yellow stickers which state that the back seat is not intended for passengers. These seats are literally brand new.
-EPL 1.0 Bar Tune (Factory reliable, 450rwhp, 520tq)
-Billet divertor valves
-Porche OEM GT3 lower center console delete. OEM black carpet. This looks amazing.
-Kenwood single din radio installed in early 2013 with pandora radio and iPod cable hidden behind GT3 center delete
-Rear spoiler pump deleted in down position. This can be reinstalled if desired. Was removed and replaced with RTurbo rear spoiler.
-Coolant expansion cap replaced July 2012

RUF Conversion Details…

June 2012
Car was converted to RTurbo specs in 2012. This was a spared no expense conversion through RUF Auto US. The previous owner had local body shop spray the front clip both fenders and hood to ensure a perfect match. They also installed and painted the RUF side mirrors as well as the lower valances under the driver and passenger doors that is usually black plastic. He then clear bra'd the entire front end (Bumper, Hood, Fenders) completely to keep it looking perfect and free of chips. There are zero rock chips. Zero.

-RUF Sport Exhaust. Great power with zero drone. This system is over $7k new from RUF. Includes polished slash cut tips.
-RUF 220MPH Gauge Conversion. These aren't on 99% of the RUF Factory RTurbos and almost never on conversions.
-RUF 19 inch Speedlines. No curb rash whatsover.
-RUF 7MM Hubcentric Spacers. Required for proper spacing without the vibrations of non-hub centric 7MM spacers.
-RUF 996 Turbo Front Fascia. Vented just like OEM GT2 setup.
-RUF 996 Black All Leather Steering Wheel with Blue Deviated Stitching
-RUF Aero Mirrors. Also highly sought after and almost never used. These are the real deal.
-RUF Pedals and dead pedal
-RUF Floor Mats
-RUF Shifter. The best shifter **** feel that you can get for a Porsche.

Everything works as it should. The interior smells new and is free of marks and scratches.

One slight car fax issue- The hood was replaced back in 2006 due to debris denting it on the expressway. Only the hood was replaced. This was then resprayed for a perfect match and protected with clear bra in 2012 during the conversion.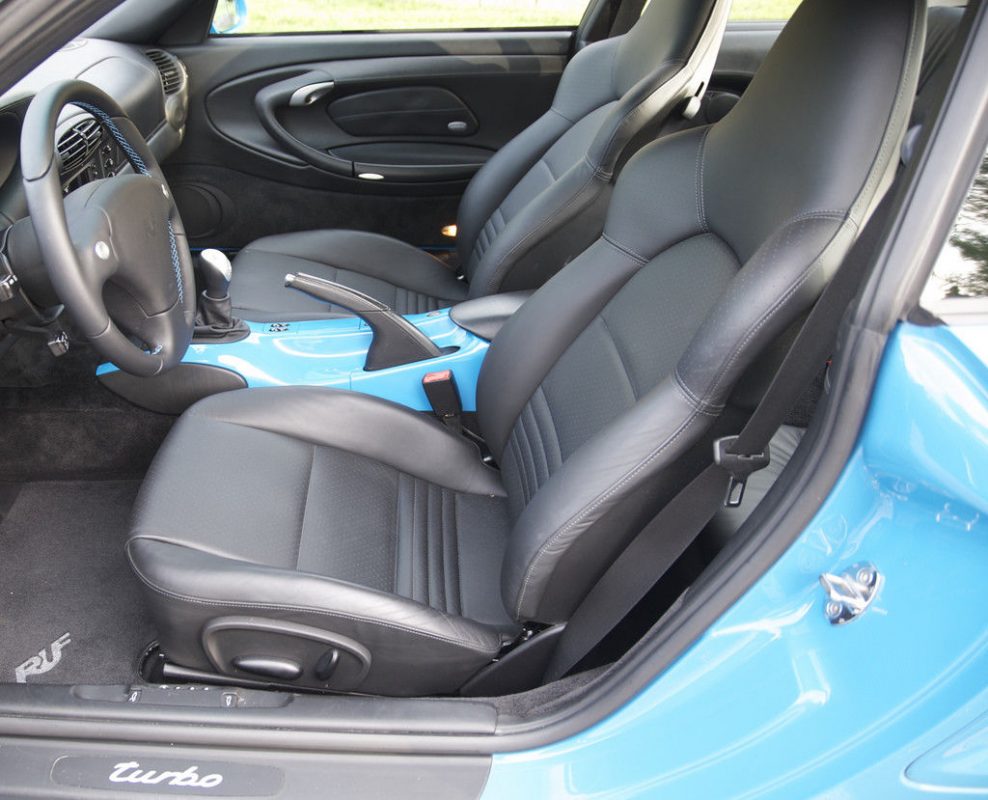 There obviously is going to be a lot to check out with this Turbo before you'll want to proceed too much beyond ogling it. A PPI of course. This Turbo is claimed to be turning 450 hp at the wheels (that sounds about right based on the RTurbo specs) and that kind of power comes with all kinds of stresses. It's also going to be a heck of a lot of fun. You just want to make sure it's not all going to break. Documentation, especially of the conversion, but I think also of this 996's original build. The exterior color obviously is quite unique. This wouldn't be the first example of a Porsche painted in another marque's colors, but it is still something you'll want to verify. Given the modifications I don't know that the color's originality is of supreme importance, but it can't be ignored either especially since it is stated to be factory ordered. There are other modifications as well, including a nice set of seats from the GT3, but really everything pales in comparison to the RUF conversion.
On the plus side the condition of everything looks really good. The paint shows well with seemingly no flaws and the interior shows very little wear. We can probably feel pretty secure in the knowledge that this Turbo's recent care has been quite good. How that translates to its mechanical condition we can't say for certain, but it gives us a nice start.
So, what should a 996 like this one sell for? The auction has a starting bid set at $68,500, which isn't low by any means for a 996TT, but given the modifications doesn't seem all that bad to me. If you wanted to perform this conversion on your own it'd obviously cost quite a bit more and for its sheer performance I'm not sure what else beats it for the price. Even the wayward looks of the 996 seem vastly improved by the RUF additions. If everything on it checks out this seems like a heck of a good value.
-Rob