Warning!
This post is in our archives. Links in this post may have been updated to point to similar cars available to bid on eBay.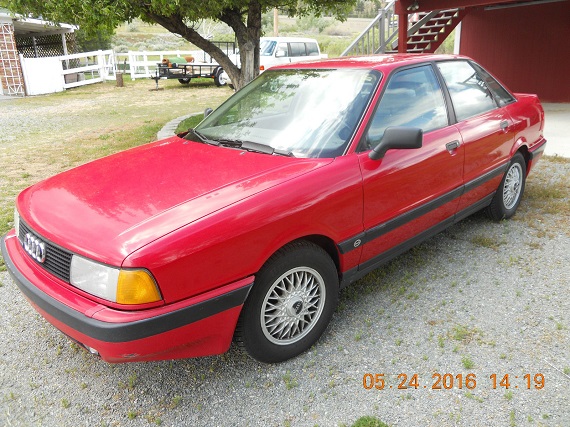 For U.S. customers, 1992 rather quietly signaled the end of an era for fans of the small chassis. Starting in the early 1980s, Audi had offered their offbeat 5-cylinder motor in models like the 4000 5+5 and Coupe models, but it was really the rally success of the Quattro that put the 5-pot on the map. But the turbocharged variant was quiet expensive, so fans of Audi's WRC campaign rejoiced in 1984 when the all-wheel drive platform became much more affordable in 4000 quattro form. In Europe, there were several variants and power plants available in 80 and 90 form, but U.S. customers only got the relatively high-spec 4000S/CS quattro. Audi revised the model lineup with the B3 model run, introducing the lower-spec 80 and the more luxurious (and later, more powerful) 90. When the 90 went to the DOHC 7A 20V inline-5, the 80 remained with the 10V 2.3 liter NG which had first appeared in the Special Build Coupe GT model. Though not hugely powerful and feeling slightly overwhelmed by the 80 quattro's mass, it was a very smooth and fun to drive package capable of huge odometer readings. The package remained available until 1992, when life of the 80 ended in the U.S. as it was not upgraded to B4 specification. As with all Audis from the period, it sold in small numbers: Audi reported only 640 sold in 1992, with not many more sold in the years before it. As the book closed on the inline-5 with a whimper rather than a bang, it's relatively infrequent to spot one of these late 80s: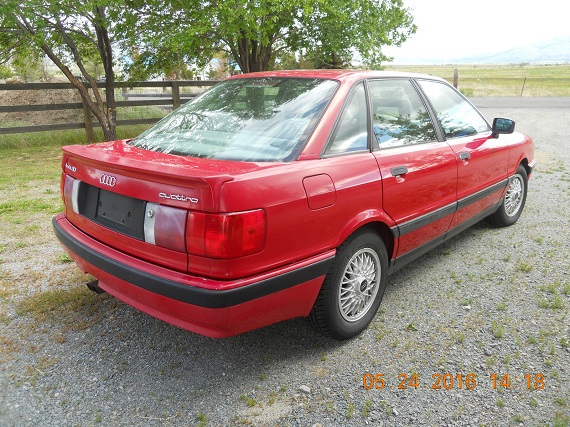 Year: 1992
Model: 80 quattro
Engine: 2.3 liter inline-5
Transmission: 5-speed manual
Mileage: 217,500 mi
Price: No Reserve Auction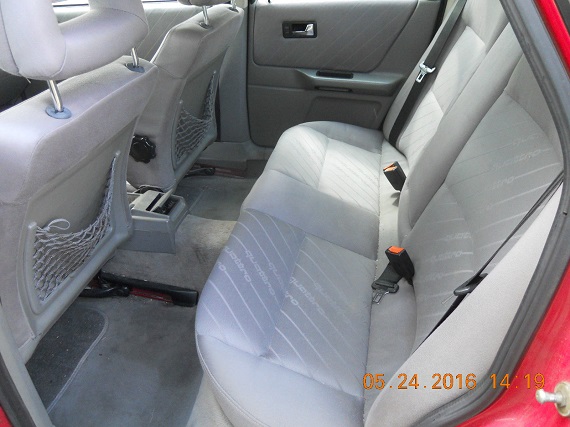 1992 Audi 80 Quattro

This little sports car was bought new and owned by a local DDS and garaged/pampered until my middle aged friend bought it just a few years ago as a daily driver for 2 years until buying a fancy new car this Spring. He showed me the ad from CL and the original owner put in the ad that new starter, alternator, battery, rack & pinion,clutch and CV joints were installed just prior to him selling the car to my friend. I cannot verify that with receipts but that's what the ad says.

I wish I could say it's in perfect condition but it's not. Here are the following defects I know about:

-A/C is not blowing cold.

-Front windows go down slow and don't want to return quickly and have to be helped. Same with sunroof. Obviously needs lubed.

-Will need brake pads soon.

-Windshield and fog light lenses cracked

Here's what it is:

Red w/ a grey cloth "Sport" interior. The paint is buffed out nicely and no dents. Just the normal wear of the car's age. Interior very good condition with the usual driver's side bolster tear from wear.

Drives and stops well. No squealing. Plenty of power left and a smooth 5 speed transmission. OEM diff lock works. Fun to drive in the mountains here. No overheating. Nice OEM BBS style wheels with new, this year tires, stock size.

No obvious accidents/bodywork/respray or butchering of the suspension, interior, etc. Obviously well taken care of well by the first owner for many years.

These little 80/90 Quattro's are fun to drive and getting pretty hard to find in this original condition. Of course AWD and an extremely snow/ice worthy driver.

Clear Nevada title, 2 factory keys, owner's manual come with the car.

NO Reserve so one bid buys the car. Will help the Buyer with shipping details and make myself available when transporter calls.

Thanks in advance. Call/text or email with questions.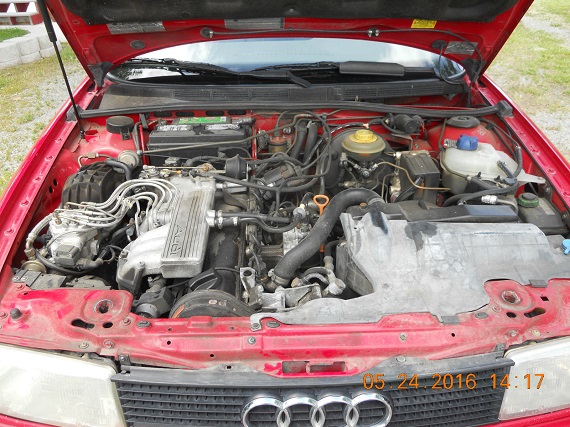 Though the 80 was the theoretically lower specification car, this particular one was well equipped. Optional was air conditioning, the ski sack, sport seats, but I can't quite see if it also has the trip computer. Condition is above average despite the over 200,000 miles; a thorough detailing would probably help a bit more, but overall the car presents very well. I've always had a soft spot for these 80s; they're a stout platform that was over-engineered but under-engined from the factory. It's the perfect combination for a starter car or winter commuter, though. This auction has so far gained no bids, so if you're clever you could snap this car up for a song.
-Carter