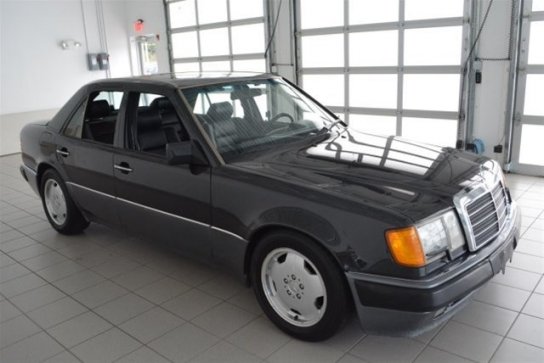 Every time I come across a clean 500E it gets the wheels turning in the 'ol noggin. I find myself wondering if this early 90s tribute to the automotive gods would work as a daily driver. As much as I tell myself I could get by with a sporty coupe, in the end I know my active lifestyle and willingness to shuttle friends around would have me yearning for an extra set of doors. Once I start that internal dialogue I quickly get on the line of thinking that if I'm going to have four doors then I might as well have hatch to access the cargo area. On top of the practical angle there's the cosmetic angle. Most of the cars I'm a fan of look better as a wagon, rarely does a sedan hold my gaze the way a slick long roof does and it is for that reason that I will always write up a crisp 500E when I come across one.
I have a special place in my heart reserved for these cars, they're really unlike anything else that I have on my bucket list of cars. The E34 M5 is about as close as it comes for the era but it's a BMW and BMWs are were focused on the driver's experience above all. The 500E isn't short on driver engagement but one only need look at the heavily bolstered rear bucket seats to see this car was designed to keep everyone comfortable during a proper Bahnstorming. I love a good solo mission up to the canyons where it's just the car and myself but I also enjoy being the wheelman on a night out with some friends. It's a different kind of energy in the car for sure but I think it can be equally as enjoyable, provided your friends don't suck, If they do then riding around in a modern classic like the 500E will surely be lost on them but I know mine would appreciate it, especially when the 5.0L V8 is doing its best Wilhelm Scream impersonation.These days 322hp can be found in many a four door but I think you'd be hard pressed to find one that utilizes it with such emotion and grace. Talk to anyone who has owned a 500E and I'm sure they'll tell you that the car begs for frequent visits to triple digit speeds and will get there without little effort. The question is, would you drop $13,944 for that experience?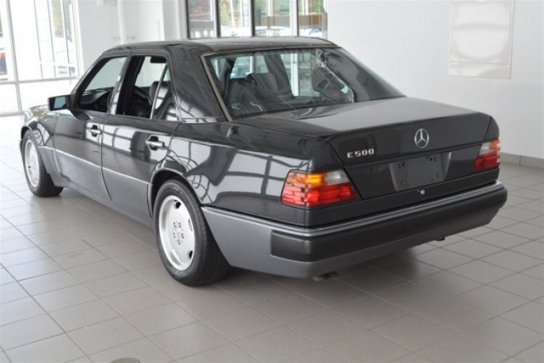 Year: 1992
Model: 500E
Engine: 5.0 liter V8
Transmission: 4-speed automatic
Mileage: 121,384
Price: $13,994
***Clean Car Fax*** and ***Moonroof***. 5.0L V8, ABS brakes, Alloy wheels, Heated door mirrors, Heated front seats, and Traction control. Lundgren Honda of Auburn…Experience It! Here at Lundgren Honda, we try to make the purchase process as easy and hassle free as possible. We encourage you to experience this for yourself when you come to look at this great-looking 500 Class. Want to stretch your purchasing power? Well take a look at this great 1992 Mercedes-Benz 500-Class. This car has only been gently used and has VERY low miles. They don't come much fresher than this! Complete multi-point safety inspection recently performed including: fresh oil change and all fluids topped off. Call 508-832-6200 today to schedule an appointment with one of our knowledgeable sales staff and come experience the Lundgren Advantage.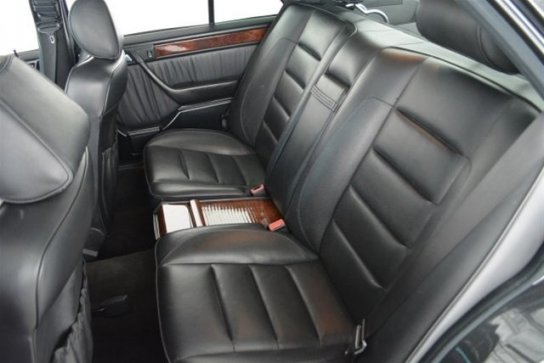 A couple things to point out about this ad that I'm sure the eagle eyed readers will have noticed. For one thing, the listed mileage on Auto Trader does not match the mileage in the photo of the odometer. Either that's someone not paying attention when listing the vehicle or something more sinister. Secondly, the badge designation on the trunk reads "E500" which would be fine if this was a 1994 but as it is a 1992 it should read "500E". Now some of you may think this is a red flag but I like to give people the benefit of the doubt, especially fellow New Englanders. If this car was for sale from a small lot or on Craigslist I'd be very suspicious but given that it's on a large lot I'm guessing it is just someone not familiar with these cars and not doing their job as well as they should be. Either that or they are actually are trying to get people in the door before they find out that this car is a salvage title. Yup, that's right, this car was declared a total loss due to property damage back in 2011. I'd like to believe that lightning struck a tree, the branch fell on the trunk and they replaced with one from a '94 but something tells me it's probably worse than that. Regardless of what happened, those AMG Monoblock wheels look good as does the interior. Is that enough to overcome the stigma of having a salvage title? Without a whole lot more information I can't so if you are still interested in this car, I'd proceed cautiously and dig deep on all the service records. With only 633 of these imported to the U.S. in 1992 it's a shame for a single one to be ignored due to a salvage title. If it checked out mechanically I'd still go for it, resale value be damned. You could probably haggle this thing down to an even $10k and enjoy every minute of driving it into the ground. After all, these cars were built to take a beating and keep going, apparently this one has done just that.
Cheers,
-Andrew