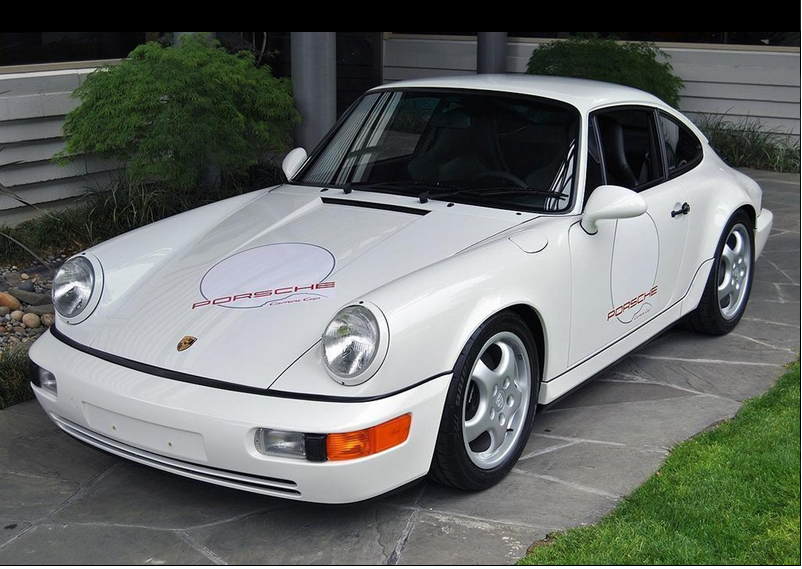 The ad below does a good job of explaining the intention behind the Carrera Cup model so I'll get right to the present example. Purchased as a collector, this pristine Carrera Cup has spent its life in California and at no point has it visited a track. I don't want to say it's flawless because few cars are, but this is probably as close as we'll get. This leaves me torn. Opportunities for coming across a 20 year old track car that is in nearly new condition are obviously quite rare, especially when only 45 of such cars were built in the first place. Yet, these were cars specifically built to be raced. As such, this car has never had a chance to fulfill its single-minded purpose in life. So here we are: a beautiful and rare 964 that is both lighter and more powerful than the Carrera 2 on which it was based. It needs a home (and maybe just one track day).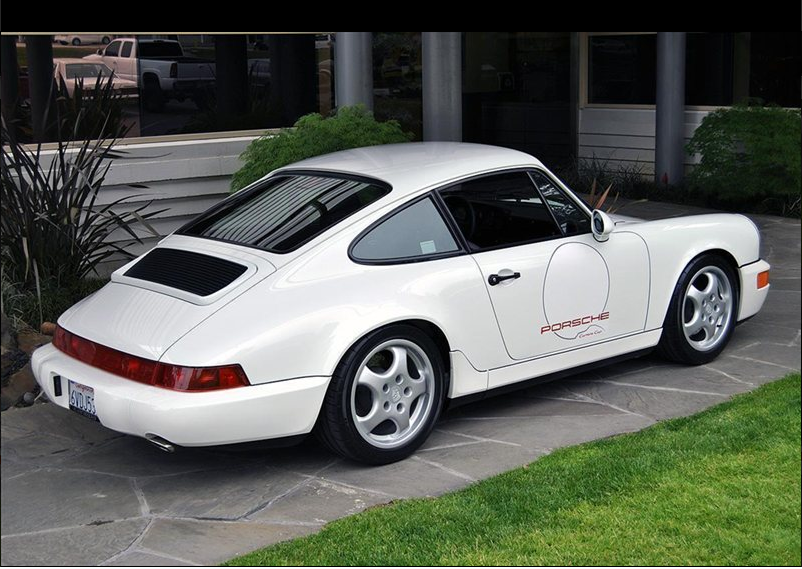 Year: 1992
Model: 911 Carrera Cup
Engine: 3.6 liter flat-6
Transmission: 5-speed manual
Mileage: 773 mi
Price: Call for price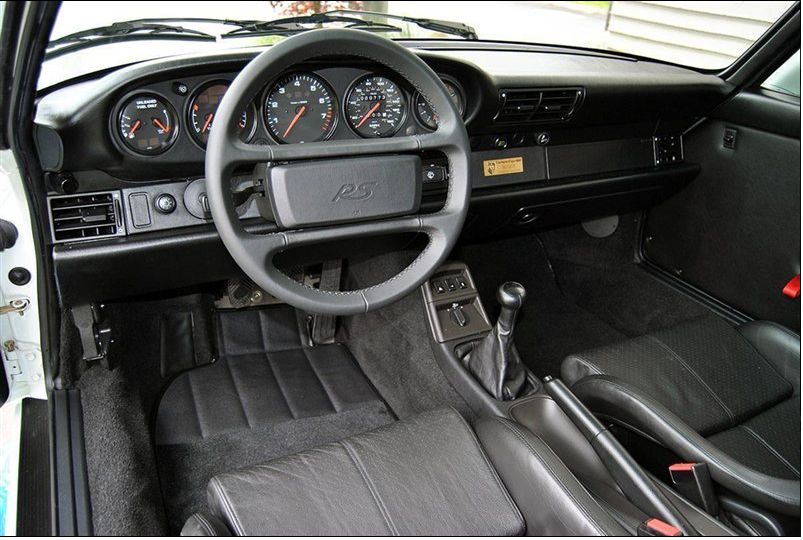 VIN: WP0AB2967NS420576

Only 773 miles
One of 45 produced
In 1992, Porsche introduced two Carrera lightweight cars for the US market. One was the RS America, a performance oriented lower cost alternative to the regular Carrera 2, that was 76 pounds lighter than the base Carrera 2. 701 of these cars were sold in North America from 1992-1994. The second car was bit more special.

A total of 45 Carrera Cup USA editions were imported into the United States in 1992 exclusively to complete in a national race series. That series never materialized and Porsche decided to sell these 45 cars directly to consumers. Certainly not a low cost alternative, the Carrera Cup cars commanded a 20% premium over the base Carrera 2 Coupe, coming in at $78,340.

By the time the decision had been made to sell the Cup cars to the public, Andial had already transformed 25 of the cars into full race-spec. Although they had never been driven, the cars had to be "reconverted" back to street form by Andial and Porsche NA. This is one of the 25 "reconverted" Andial race cars. The only remaining elements of the conversion are 2 tubes left from the roll cage on each side of the engine compartment; remnants of the roll cage weld pads inside the car; and stiffer steering coupler links. The car received a special dash plaque with its VIN and separate Andial race-spec sub-serial number. This car is number three of the 25.

This is a Porsche that was slated to be a racecar from the outset. At 2760 lbs, the Carrera Cup USA is 271 lbs lighter that the standard Carrera 2. The engine is rated at 280hp, a 34 hp increase. The wheels on the car are the racing magnesium editions that save 23.3 lbs over the aluminum wheels. The suspension is firmer and 2″ lower than the Carrera 2. In fact, no system on the car was overlooked to produce as much performance as the 964 chassis could deliver.

Sold new through Newport Auto Center in California, this Carrera Cup USA has been a California car ever since. Kept as a collector car since day one it has only accumulated 773 miles since its purchase, and has been kept in immaculate cosmetic and mechanical condition.

Major differences from the standard Carrera 2:

Engine:
Increased horsepower and torque
Race type engine mounts

Drivetrain:
Varialble ratio limited slip differential
Sport Flywheel
Short shifter
Steel synchronizer rings in transmission

Body/Equipment:
Manual mirrors left and right
Various reinforcement chassis welds
Package shelf (no rear seats)
Hood is made of aluminum with no gas struts
Body cavity wax, undercoating and sound deadening components have been eliminated
No air conditioner
RS America-type door panels with pull strap for door opener
36 ampere hour battery
Master electrical cutoff in trunk
Partial electric seats
No sunroof
Racing electrical charging system

Suspension and Brakes:
Suspension has stiffer Carrera RS springs and shocks
Braking system has different calibrations
Manual steering
Adjustable stabilizer bars

Spares:

1 Roundel
1 Carpet covered package tray
1 Under tray 964-119-029-04
1 Engine cover 964-119-014-03
1 Engine cover 964-119-015-03
1 Engine cover 964-119-012-03
1 Engine cover 964-119-013-03
1 Floor mat set 000-044-801-41-5FV
1 Door sill trim 964-559-293-01-01C
1 Cover strip 964-559-295-01-01C
6 Plastic Grommets 999 702 160 40
1 Screw 900-143-149-07
6 Clip 999-591-916-40
1 license plate bracket.

Contact Canepa Design on (831) 430-9940
We've seen a Carrera Cup listed anywhere from $75,000 to $160,000 so pegging the likely cost of this one is a little difficult. Given the condition of this car we can expect it to be at the higher end of that scale, possibly even exceeding it. At this point, this car will remain forever a collector; a museum piece witnessing to a racing series that never was and the closest thing to a 964 RS ever sold in the US. In a way that's sad, but I suppose having every one of these raced until they died would be sad too.
-Rob