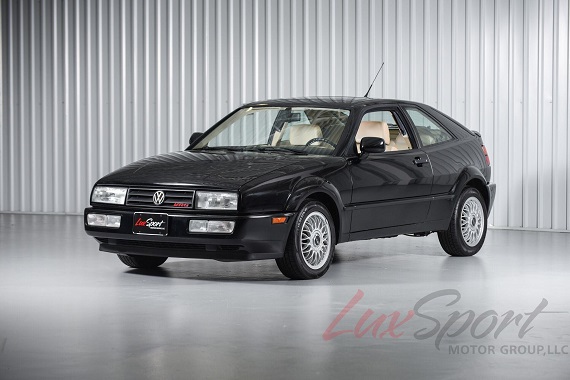 When originally I saw the link to this listing, I was unsurprised. Coming across a 28,000 mile pristine Corrado should be a cause for celebration among Volkswagen fans, but it has almost become expected from the seller Luxsport Motor Group, who currently has no less than three pristine and original Corrados in their inventory. That number includes currently one of the two Corrado Magnum prototypes I wrote up in May, but they've also had a string of amazing G60s and SLCs. Still, this early 28K SLC looked pretty familiar to me….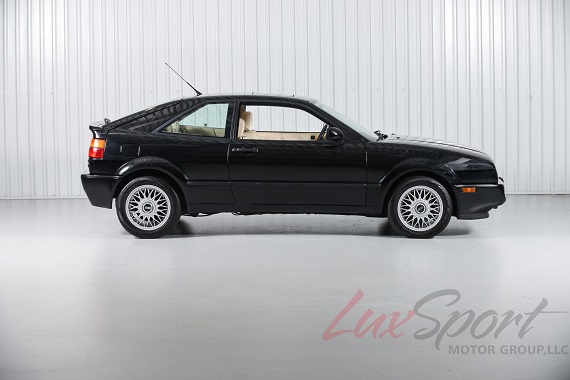 Year: 1992
Model: Corrado SLC
Engine: 2.8 liter narrow-angle VR6
Transmission: 5-speed manual
Mileage: "28,000" mi
Price: $ Buy It Now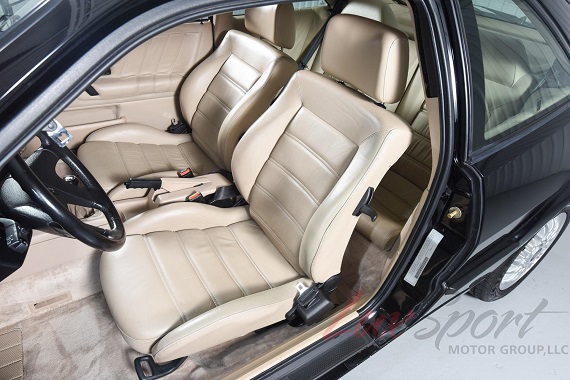 1992 VOLKSWAGEN CORRADO SLC VR6 COUPE RARE BLACK ON TAN LEATHER 5-SPEED WITH ONLY 28,000 ORIGINAL TWO OWNER MILES 5-SPEED IN ABSOLUTELY PRISTINE COLLECTOR GRADE CONDITION EXTREMELY RARE FIND!!!

LUXSPORT MOTOR GROUP, LLC IS PLEASED TO PRESENT THIS ABSOLUTELY STUNNING AND EXTREMELY RARE 1992 VOLKSWAGEN CORRADO SLC VR6 5-SPEED MANUAL COUPE IN STUNNING BLACK PAINT WITH TAN LEATHER INTERIOR. THIS EXTREMELY RARE TWO OWNER VEHICLE HAS ONLY 28,000 TRUE DOCUMENTED ORIGINAL MILES AND IS TRULY A ONE OF A KIND FIND. THIS IS A COMPLETELY ALL ORIGINAL STOCK CORRADO THAT HAS NEVER BEEN MODIFIED, MOLESTED OR ABUSED THIS CAR IS IN TRUE COLLECTOR GRADE CONDITION AND HAS BEEN ENTHUSIAST OWNED AND STORED IN A CLIMATE CONTROL GARAGE MOST OF ITS LIFE. HERE IS YOUR CHANCE TO OWN ONE OF THE LAST LOW MILEAGE UNABUSED VOLKSWAGEN CORRADO'S WITH SUPER LOW MILEAGE!!!

OPTIONS AND FACTORY FEATURES INCLUDE:

OPTIONAL SLC OPTION PACKAGE
OPTIONAL TAN LEATHER INTERIOR
ORIGINAL OEM 15″ FACTORY OEM BBS WITH NEWER TIRES
UPGRADED CD PLAYER
FACTORY SUNROOF
FACTORY CORRADO FLOOR MATS
 


WE PURCHASED THIS CAR DIRECTLY FROM THE SECOND OWNER AND THE CAR HAS BEEN PROPERLY MAINTAINED AND SERVICED ON TIME. THE CAR IS IN ABSOLUTELY PRISTINE CONDITION WITH ABSOLUTELY NO ACCIDENTS OR STORIES. THE BODY IS IN IMMACULATE CONDITION WITH NO DOOR DINGS, ROCK CHIPS OR DENTS. THE PAINT AND BODY ARE IN EXCELLENT CONDITION. THE INTERIOR IS EXTREMELY CLEAN WITH NO UNUSUAL WEAR ON THE SEATS OR CARPETING. THE DASH IS IN PRISTINE CONDITION WITH NO CRACKS OR WEAR. ALL OF THE MAJOR COMPONENTS OF THE CAR WORK AND THERE ARE NO COMMON ISSUES. ALL OF THE ORIGINAL VIN STICKERS ARE ON EVERY PANEL. WE RECENTLY SERVICED THE AIR CONDITIONER AND SUNROOF. WE HAVE ALL OF THE BOOKS, MANUALS, KEYS, TOOLS AND AVAILABLE SERVICE RECORDS. THIS IS A NO EXCUSES CAR FOR THE TRUE VOLKSWAGEN AFICIONADO. HERE IS YOUR CHANCE TO OWN ONE OF THE LAST OF THE VOLKSWAGEN CORRADO VR6'S DESIGNED TO BE THE POOR MANS PORSCHE. THESE CARS ARE GETTING IMPOSSIBLE TO FIND AND MOST OF THEM HAVE BEEN HEAVILY MODIFIED, RACED OR ABUSED. A MAJORITY OF THESE CARS ARE ALSO BEING EXPORTED BACK TO EUROPE, AS THERE IS SIGNIFICANT INTEREST IN THEM BACK THERE.

WE SHIP WORLDWIDE AND OFFER COMPETITIVE FINANCING AND LEASING RATES. WE ALSO ACCEPT TRADE-INS
/ 


PLEASE CONTACT US DIRECTLY AT LUXSPORT MOTOR GROUP, LLC AT
(516) 921-7800 FOR MORE INFORMATION.

EMAIL US DIRECTLY AT INFO@LUXSPORT.COM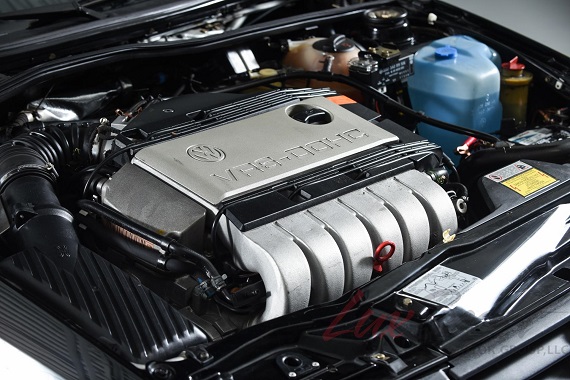 As I looked over this car, one thing immediately jumped out at me. The "SLC" badge was missing from what otherwise appeared to be a perfect example, and I remembered I had seen one other where that was the case. Sure enough, I wrote this car up only a few months ago in July, and the "C" was missing from the SLC badge. Since that was pretty much the only fault, this car sold $19,000 that time around. That was a pretty good amount for a Corrado, but this was a pretty special example. It would appear it immediately it's either under consignment or into a perpetual state of being for sale. Luxsport lists the car for $29,995 on its site. A few things interest me in their presentation; they describe the car both on eBay and their site as having only 28,000 miles, while avoiding pictures of the odometer. That's strange, because in July the car had 28,500 miles – and I can't imagine a potential buyer would balk at the difference. Also amusing to me was the disappearing Fuba roof-mounted antenna mast in the photos. On again, off again, it's not a concern but more funny that you'd take the time to stage these beautiful photos and miss that detail. Obviously, halfway through the shoot someone remembered it wasn't on (likely off for a cover, I'd guess) and screwed it back in hoping no one would notice it was removed in the earlier photos. But perhaps the most annoying detail is that they removed the "SL" part and at $30,000 haven't sourced a replacement badge. It's not as though they spent a ton detailing or updating the car as the prior seller pretty much had it perfect for sale. Does it matter? Probably not, these are inconsequential details on what is otherwise a perfect car. But if you're going to demand a serious premium and profit mightily from opportunism, be prepared for criticism. This car might have been well bought at $19,000, but I think it's pretty overpriced at $11,000 more two months later.
Thank you to our reader Ricky who suggested this listing!
-Carter