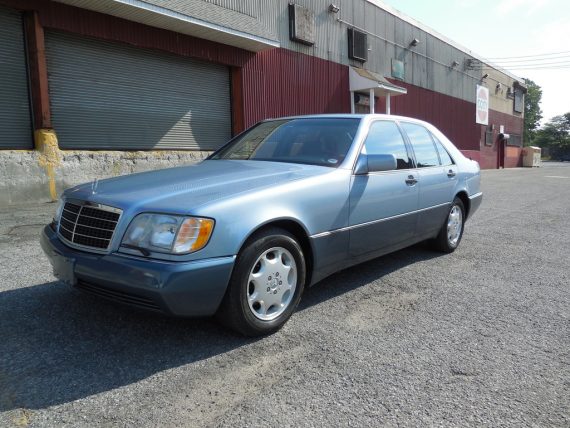 You spend a billion dollars on developing a car, it better be damn good. That's what Mercedes-Benz was faced with when debuting the W140 S-Class. It had to every bit as good as the legendary W126 it was replacing and more. When it launched in 1991, opinions were mixed. Some say it was the last great over-engineered Mercedes that was built without cost in mind. Others say it wasn't attractive with it's body panels that look like slabs. Either way, 25 years later these cars still have me amazed at what it took to get this car — along with all of it's advancements — into the hands of buyers who were willing to pay over 25% more than the W126 it replaced.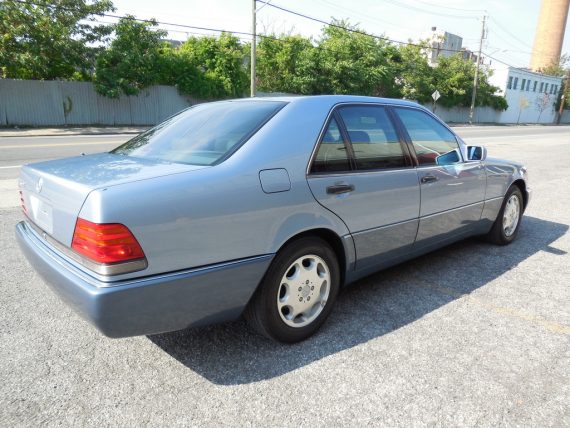 Year: 1993
Model: 300SE
Engine: 3.2 liter inline-6
Transmission: 5-speed automatic
Mileage: 24,604 mi
Price: $14,500 Buy It Now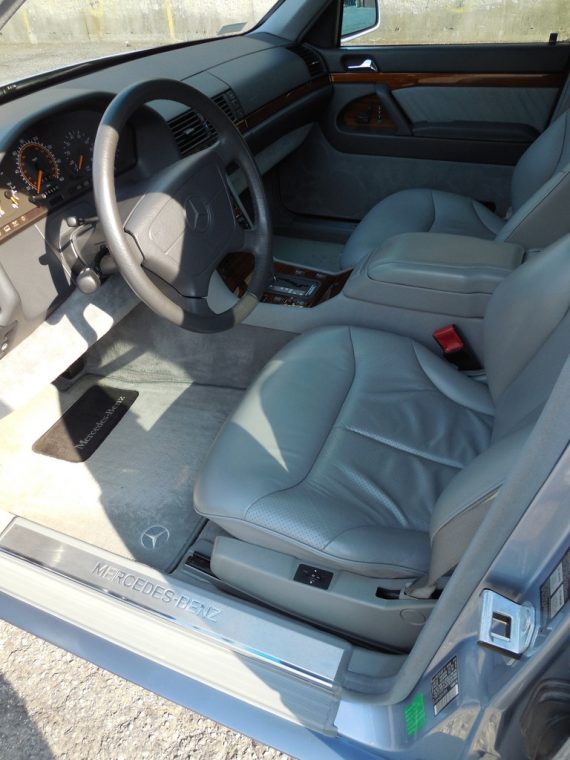 1993 Mercedes 300SE

Only 24,xxx miles!

Finished in a very rare color
(Diamond Blue)

One of the lowest mileage and best examples of a W140 Chassis!
Collector Owned

EXTERIOR:
The exterior of this car is simply breathtaking. The paint has incredible depth and shine! All of the body panels are laser straight. Never driven in foul weather or exposed to excessive UV . Garage kept its whole life. The trim and brightwork are in amazing condition. For those that are familiar with these models, most of the trim around the windows and pillars on the doors turn a goldish color when exposed to UV for years. That is not the case here, as these are showroom new! There are a few here and there chips on the front bumper. Nothing major! The paint inside the door jams is impeccable. To state the obvious, this car was NEVER taken to a car wash. Always professionally done by hand using the finest products. The rims are in excellent condition and shine like new. There is a slight curb mark on one of them, but nothing earth shattering. We also took a photo inside the rim to show how clean and brake dust free they are. Even the inside of wheel wheels are super black and spotless. You can also see how the upper control arms have a like-new appearance. Please scroll down and view the 200+ photos of this car in detail to see how amazing it is. Truly one of a kind!
INTERIOR:
As soon as you open the door you almost feels guilty to sit on the seats as they are supple and wrinkle free. The carpets, dash, door panels, wood grain, headliner, along with every button in the car look like new. There is not much to be said other than those words. Never smoked or ate in. The car literally smells like new leather. The woodgrain is flawless and super glossy. I simply cannot see how any other car can rival this interior. Simply a 9.5 or better. I wouldn't say 10 only because its not new. The original radio has been changed to a high quality radio face. This was professionally installed. There was an adapter used so the original wiring harness was not touched. This can easily be put back to a stock configuration. The trunk is perfect and was always covered, It was never used to carry anything other than a small bag of detailing products for car shows.
MECHANICAL:
The engine compartment on this car is cleaner that most newer cars with less miles. All of the hoses, rubber , stickers etc are in fantastic condition. The wiring harness was inspected and is perfect. The a/c is cold and the heat is hot. Every single button on this car works. The multi function seats along with memory function properly. The car drives incredibly smooth and the alignment is perfect. No shimmys or shakes at high speed. This car always received oil and fluid changes. There was never any major mechanical work needed as it only has 24,xxx miles. This car feels super tight and shifts perfectly. Not much more to be said. The tires are older but have decent thread to them. All of the self closing doors along with the trunk function properly. I highly doubt you can get much better than this.
SHORT STORY:
You are viewing probably one of the best and lowest mileage 300 SE models. This car lived a charmed life and was used for small trips to car shows. For those that are unaware 92-94 models have the best build quality over the newer years. You can literally feel the difference in the construction of the leather, wood and dash. The 95 and newer models dropped the sticker price close to 10k dollars. If you pay close attention as the years went on things changed. You will notice how the gauges, wood grain under the arm rest isnt wood anymore, back up antennas, moving rear view mirror etc are slowly taken out of the equation. Those are the obvious. Some parts of the engine internals were changed out to plastic. This shows how the quality started to decline. What makes a 300SE special is that it has a 5 speed automatic transmission. The inline 6 cyl M104 engine is known to be extremely durable and robust. This engine can handle hundreds of thousands of miles with basic maintenance. If you never had an opportunity to own one new here is your chance to buy one for the fraction of the price. Collector quality or daily driver you choose…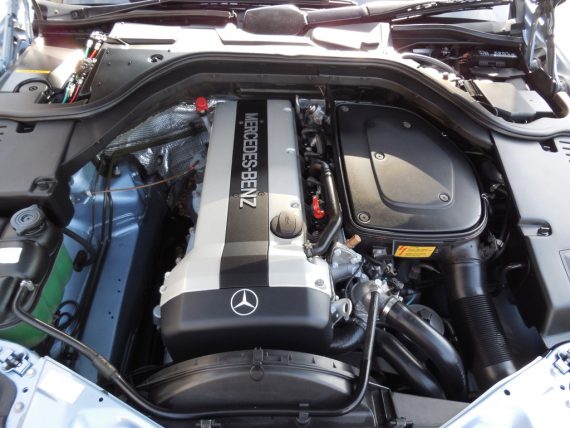 I really enjoy a nice W140. Maybe it's because it reminds me of the great decade of the 1990s and the following W220 was such garbage. You could have your cake and eat it too with almost every version offered. (Except the 400SE/S420. You might as well spring for the 500 as it's the same price and gas mileage with better performance.) The key to buying these is to find one that isn't on the ninth owner on the wrong side of town. It's a rare sight to find one that has been pampered because you can pick of these up for as much as your monthly grocery bill and whatever change you find in your couch cushions. Of course the outlying M120 V12 that is famous in that YouTube commentators think you can throw a $9,000 exhaust from Japan on it and it'll make it sound like a Pagani Zonda.
As for this car, aside from the horrible late 90s head unit, this is one of the cleanest W140s I've seen come up for sale recently. The Diamond Blue paint is wonderfully period correct and the engine is free from any kind of dirt and wear that you'd expect on a car that's old enough to be in grad school. It has all the options of the early W140 paired with the frugal M104 that's found in almost the entire Mercedes lineup of the era. The $14,500 price is optimistic to say the least as that kind of money will buy you a perfectly nice 600. Divide that price in half and it'd be a much better buy.
-Andrew