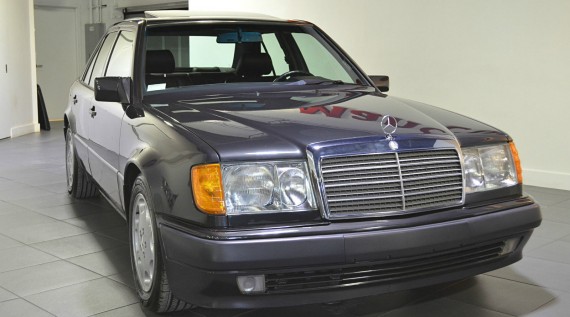 My affection for the original super sleeper is well known but this Anthracite Grey Metallic Mercedes-Benz 500E in Chicago has taken them to a whole new level. This is without a doubt the cleanest 500E I've come across and as one would expect, the excellent condition of the vehicle is reflected in the asking price. With a Buy It Now price of $39,800, it certainly represents the high end of the market. If this vehicle is indeed in concours condition, however, I don't think the price is unreasonable. These cars are very rare. Only 1,528 of them made it to the US and of those, I'd be willing to bet this is among the ten best kept vehicles.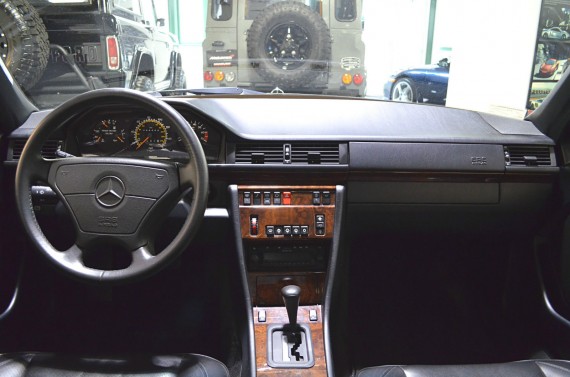 Year: 1993
Model: 500E
Engine: 5.0 liter V8
Transmission: 4-speed automatic
Mileage: 44,444 mi
Price: $39,800 Buy It Now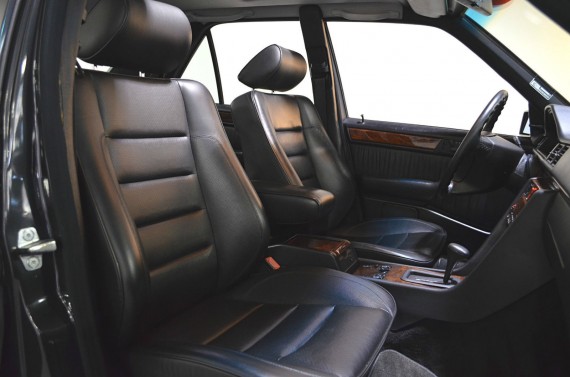 This is a amazing example of a lower mileage 500E. Mercedes-Benz and Porsche worked together to build a total of 10,479 of these limited sport sedans, of which 1,528 were imported to the U.S. from 1991-1994. Each example required a total build time of 18 days and was transported to and from each company's respective factory during the assembly process. The 500E was described as a "Wolf in Sheep's Clothing", by the media due to its (still) impressive 5.5-6.1 second 0-60 time. A large 5.0L V8 propelled the 500E to a top speed of 161 mph.

Financing is available through Woodside Credit, a classic and exotic car lender. Please inquire. We encourage you to visit our showroom and see this car for yourself. For more detailed information, please call (312) 624-8586 or email info@mancusomotorsports.com.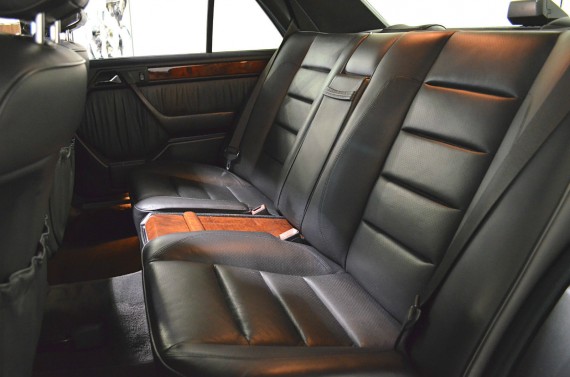 The 44,444 miles on the clock is of little concern here, in fact, given how clean the car looks I think it says a lot about the previous custodian. To keep a regular vehicle in shape for a couple years is hard enough but a workhorse like this that begs to be driven, 22 years is just damn impressive. The seats look brand new, the wood trim is bright and not badly scratched like in other examples. There is zero fading on the steering wheel or shift knob and the buttons have retained their factory finish. When I come across a Mercedes like this, it just reminds me what a high level of build quality they achieved with these cars compared to the majority of the ones I'm more familiar with. Newer isn't always better and I think the 500E is a prime example of that. This car simply couldn't exist today. It would be an over styled mess with two turbos under the hood and status elevating badges. The thing I love about the 500E is that only people who know what it is will be able to pick it out in a crowd of other W124 sedans. Of course, just to further insure the sleeper status, I'd be sure to immediately remove the tiny Porsche emblem for this example's posterior. Leaving it there is just asking to get made fun of by enthusiasts or worse, attract dimwits who want to have themselves a little drag race with a wolf in sheep's clothing.
Cheers,
-Andrew