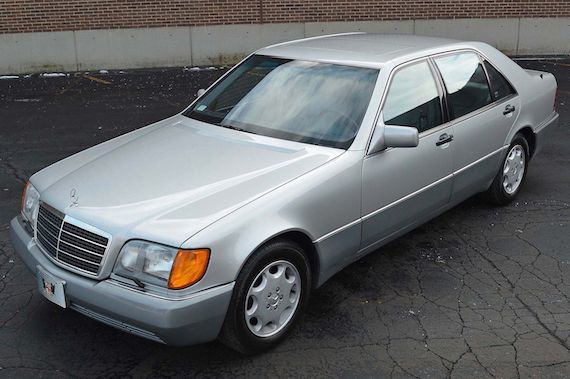 The W140 Mercedes-Benz S-class was a victim of its own times, debuting at the Geneva Motor Show in 1991 under the cloud of an economic downturn. Such a big and brash luxury sedan seemed out of step with the times and if that wasn't bad enough, this car had to follow in the footsteps of the beloved W126 S-class. You still see a good number of W126 models roaming the roads but the W140s are few and far between these days. The W140 chassis would live on in the form of the recently discontinued Maybach 57 and 62, which would help to recoup some of the $1 billion USD spent on development. This 1993 500SEL for sale in Illinois is not the flagship model, but many would no doubt prefer the lower running costs of the V8 versus its V12 sibling.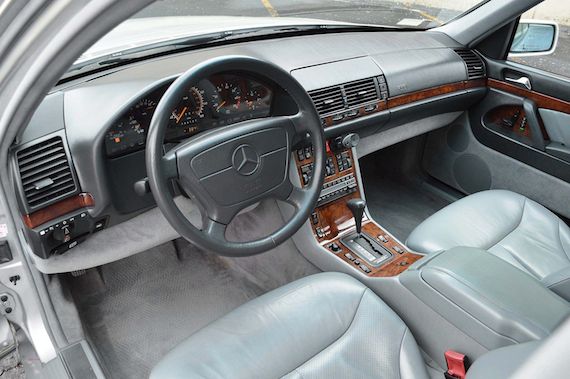 Year: 1993
Model: 500SEL
Engine: 5.0 liter V8
Transmission: 4-speed automatic
Mileage: 86,500 mi
Price: $13,500 Buy It Now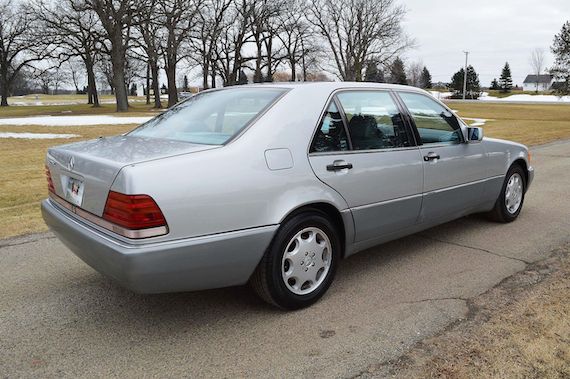 This is a very original Mercedes 500SEL for the W140 S-Class enthusiast finished in Brilliant silver metallic with the light grey leather interior and burl walnut wood finishes.

This is the first of the series considered by my many as the "pure" version before Mercedes designers tried to "stream-line" the W140 in 1995 with modifications to the side mouldings, grill and tail-lamp assemblies. These early cars have the big bulky slab-sided appearance the designers intended to achieve before determining the market was looking for something lighter and less dominating on the eye. For the purist, it was this earlier styling that was preferred.

What few people know, is the W140 chassis is the design platform upon which the Mercedes Maybach flagship was based. Many of the designs and components continuing with the Maybach is/was a big endorsement to the 140 design.

This 500SEL is an extremely well maintained and regularly serviced example, with good original miles – 86,000 highway miles. (If you were asked to guess mileage based on condition and appearance you would honestly guess only some 30,000). The car has been gone over and all is in good shape including the engine wiring harnesses and the suspension. All recently serviced with oil, filter, tune-up, wheel balancing and alignment. The tyres are near new. She drives like a dream, fast and powerful, stops sure and no noisy bumps, rattles or clunks – everything like a 500 should drive.

The exterior is in lovely condition. The body is straight with no dings or scrapes and the paint very shiny, consistent and lustrous. There are no signs of accident damage and the car top to bottom is completely rust free. The paint appears to be mostly factory original and there are some signs of light paint crazing on the sides. These are not "bad" and do not show easily. Wheels are in good condition with the alloys not faded or road damaged. There is no sand pitting to the windscreen, lights or front end. All turn signal and tail lamp lens are in perfect condition.

The interior of the car is in beautiful presentation. The leather is soft and supple without tears rips or wear. It is in original good condition and has not been re-dyed. Carpets are clean and wear-free. Head-lining is the suede finish and is spot-free. There are no cracks to the dash or any part of the interior and there are no signs of sun-fading anywhere. All burl walnut wood finishes, non-sparingly used in the 500, are excellent without any cracks, veneer lifting or unsightly wear or aging of any kind. The car is from a non-smoking environment with all the ash-trays and lighters as new. The inside is simply in stunning condition and not far off a new car. The mount seen on the centre console was for a phone and is only 2-sided taped on. We have not tried to remove but believe with a bit of care, could be removed without any residual damage.

Everything is operational in the car with no lights on in the dash (so common with the W140 series). Self closing doors & trunk and reverse masts operational. All electrics; front and rear electric seats, heated seats, electrically adjustable exterior and interior mirrors and electric windows all in good working order. Totally original, it still sports its factory issue spare wheel and tyre.

This strong performing 500 behemoth is a real beauty – perhaps best appreciated by a W140 lover and enthusiast that can see just how unique condition this particular example is and how special the 500 is over lesser models in the class. A well cared for, original 500SEL.

Special "good" points – reiterating the highlights (and the things that are normally a problem with W140 S classes):

1) Very well presenting paint all round with some slight crazing under close up inspection only. Body all very straight and the paint deep lustered with no unsightly dents or dings.

2) Interior very clean with leather in top condition. (no cracks or splits). Not re-dyed just well looked after.

3) All features and instruments working. Self-closing doors & trunk, lumbar, reverse masts, no warnings lights on dash, electric options (seats, windows, head rests, rear blinds) all doing as they should.

4) A very tidy, clean and original car all round that has a good Car-fax history. Not "tarted up" for sale.

5) This car drives very firm and tight and I would have no hesitation in driving it across the country. It is that good!

The photos of this car say it all so take the time to have a look at the photo link below. If you have high speed internet, I highly recommend you use the "slideshow" feature.

Interesting information on the W140 & 500SEL:

Some new innovations for the W140 included:

Double-paned soundproofed glass was a new S-Class innovation first fitted on the W140. This form of window glazing allowed for improved soundproofing, reduced condensation, and other insulation benefits.
Electrically-operated exterior mirrors could be folded at the flick of a switch to ease driving in narrow spaces.
'Parameter steering' was a system which made low-speed driving easier by reducing the effort required to maneuver in speed-sensitive situations such as parking.
Rear-parking markers, or guide rods. These rods extended from the rear corners of the trunk lid when in reverse, providing the driver with a guideline for rear maneuvers. In 1995, this system was replaced by the sonar-based Parktronic system which measured the distance of the bumpers to nearby obstacles.
12-way powered, heated front seats, with 3 setting memory functions and lumbar support.
Windshield wipers w/heated washer system.
Electrically-operated automatic-dimming inside rear-view mirror that tied into the seat and steering wheel memory.
Heated exterior mirrors.
Four-zone climate control on LWB models.
Reclining and heated rear seats on LWB models.
The climate control system can be set to operate for 20 minutes after the engine had been turned off.
Rear passenger illuminated vanity mirrors.
Self-Closing Doors and Trunk.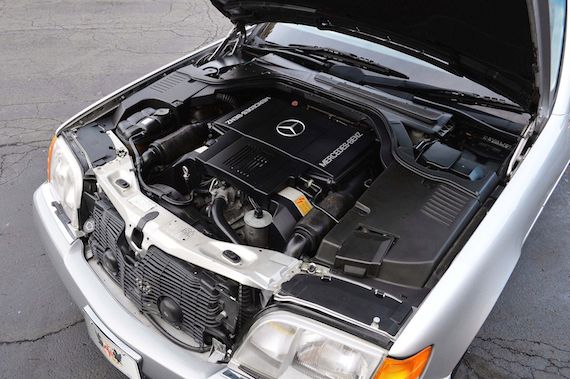 It's rare you see an early W140 in such good nick, and the Brilliant Silver on gray leather combination is a fairly common color that should attract most. It's rather amazing to think you can get all of this car for the price of a new, bare bones subcompact. Of course, we all know a bruiser like this won't be cheap in terms of running costs, but the 5.0 liter V8 was a fairly robust lump when combined with the tried and true 4-speed automatic we see in this car. If all the electrics and accessories are in working order, as the seller states, you should be able to get a good amount of trouble free motoring under your belt while budgeting for the inevitable maintenance and fixes down the road.
-Paul