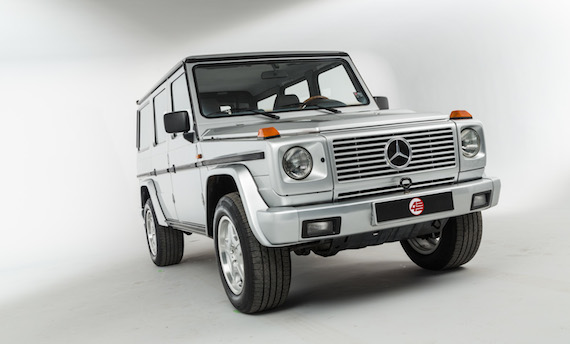 The 1990s was a time of transition at Mercedes-Benz. Model nomenclature evolved from numbers at the beginning of each model to a letter, Porsche was commissioned for a super sedan in the form of the 500E/E500 and AMG, the engineering firm responsible for a lot of Mercedes-Benz motorsport success and performance oriented street vehicles became a subsidiary under the Three Pointed Star umbrella. Their first official vehicle was the W202 based C36, a compact sports sedan intended to battle for enthusiasts' wallets right in BMW's Motorsport backyard. Right before the C36 appeared, an AMG oddity appeared, something that would grab the attention of the burgeoning SUV market: the G36 AMG.
This pumped Geländewagen appeared some years before Mercedes-Benz would flood the US market with G500s, G550s and AMG tuned examples that have become so popular with the rich and famous. With a breathed on 3.6 liter inline-6 under the hood, this G-wagen would give off-roaders a bit more juice when tackling those steep hills with this truck's renowned three locking differentials.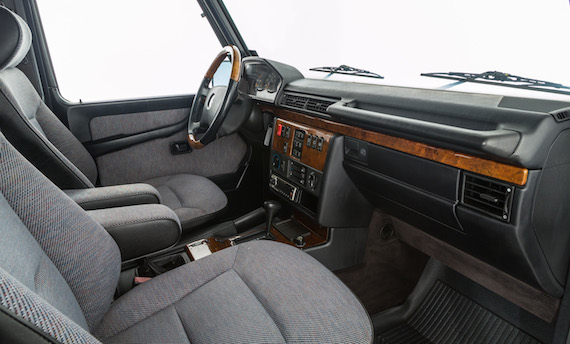 Year: 1993
Model: G36 AMG
Engine: 3.6 liter inline-6
Transmission: 4-speed automatic
Mileage: 85,536 mi
Price: £15,995 (~ $26,844 USD)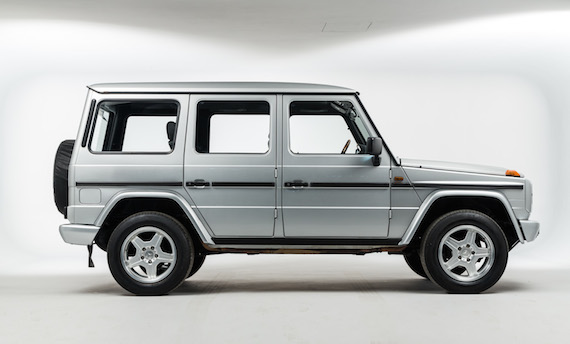 The Mercedes-Benz G-Class or G-Wagen (as it was called from 1979 to 1994), short for Geländewagen (or cross-country vehicle), is a four-wheel drive vehicle / sport utility vehicle (SUV) produced by Steyr-Puch (now Magna Steyr) in Austria for German automaker Mercedes-Benz. The G-wagen is characterized by its boxy styling and body-on-frame construction. It uses three fully locking differentials, one of the few vehicles to have such a feature. Despite the introduction of an intended replacement, the unibody crossover SUV Mercedes-Benz GL-Class in 2006, the G-Class is still in production and is the longest produced Mercedes-Benz in Daimler's history, with a span of 32 years.

Development started in 1972, focusing on off road abilities and maximum safety and comfort; with a cooperative agreement between Daimler-Benz and Steyr-Daimler-Puch in Graz, Austria. Mercedes-Benz engineers in Stuttgart were in charge of design and testing, while the team in Graz developed the production plans. The first wooden model was presented to Daimler-Benz management in 1973, with the first drivable prototype beginning various testing including German coalfields, the Sahara Desert and the Arctic Circle in 1974. Construction commenced on a new production facility in Graz, where the new cross-country vehicle would be assembled nearly entirely by hand in 1975 with production of the "G Model" beginning in Graz in 1979. In 1980, the Vatican took delivery of a specially made G-Wagen outfitted with a clear thermoplastic top which served as the Popemobile. The "Papa G" later took up permanent residence at the Mercedes-Benz Museum in Stuttgart, Germany.

The first major refinements were introduced in 1981, including an automatic transmission, air conditioning, an auxiliary fuel tank, protective headlamp grilles and a cable winch. Fuel injection became available in 1982 when the 230 GE was introduced in Turin along with more comfortable and supportive front seats, auxiliary heating, wider tires and fender flares. For 1985, differential locks, central door locking and a tachometer become standard for the petrol models and in 1986 50,000th G Models had been produced.

The original 460-series Geländewagen went on sale for civilian buyers in 1979, after having debuted in February of that year. It was offered with two wheelbases, a short wheelbase (SWB) of 2,400 mm and a long one (LWB) of 2,850 mm. One could choose between three body styles: A two-door short wheelbase convertible, a two-door SWB wagon and a LWB four-door wagon. The 460 was popular with military and off-road enthusiasts with more than 50,000 built in the first decade.

EQUIPMENT
ABS, Power steering, Electric mirrors, Electric windows, Sony CD player, Front and rear tow hooks, Heated rear screen, Boot space privacy blind, Spare wheel.

EXTERIOR
This imposing G36 AMG is still presented with its original Silver metallic paintwork. The angular body lines and wide arches help to give it a commanding presence on the road. On close inspection there are a few stone chips to be found to the common areas such as the grille, bonnet, arches and mirror.

Both front and rear bumpers are free from any unsightly scuffs or damage and the black waist line trim that runs the length of the doors is also in fine order. The body panels are perfectly straight with no parking dinks or ill-fitting shut lines to be found and all light clusters remain free from any cracks or moisture.

INTERIOR
The G-Wagon interior is a light, spacious place to be and remains in good order throughout. The grey cloth seats are in excellent un-marked condition with no sagging or damage to the fabric. Both front seats are equipped with well-sized central arm rests for added comfort.

The rear legroom is particularly spacious for the passengers and the three rear seats are in especially good condition, with minimal wear to be found. The grey interior is lifted with wood trim laced across the dashboard, centre console, doors and steering wheel. The carpet is clean and protected in the foot-wells and boot area with the original plastic over-mats.

ENGINE & TRANSMISSION
This rare and unique G36 is equipped with the exclusive, hand built AMG 3.6 litre inline 6 engine. It takes a couple of cranks for it to fire into life before it settles into a smooth idle. Mated with a 4 speed automatic gearbox and 3 locking differentials, this G-Wagon is a very capable off-road vehicle.

WHEELS, TYRES & BRAKES
The 18″ AMG alloy wheels look fantastic sitting beneath the wide arches of the AMG body kit. All wheels are in fine order and boast a striking, polished lip. The wheels are shod in a matching set of chunky Michelin tyres, all have a good amount of tread remaining.

The braking system feels competent and strong on the roads, helping to pull the significant weight of the G36 to a standstill quickly and smoothly.

HISTORY FILE
The Mercedes G36 AMG was first registered in June 1993 in Japan and spent its life there untill recently being imported into the UK,

There are 11 stamps to be found in the service booklet, all being carried out at regular intervals. The first major service was carried out at 17,130 km and the last service was at 136,951 km which equates to 85,097 miles.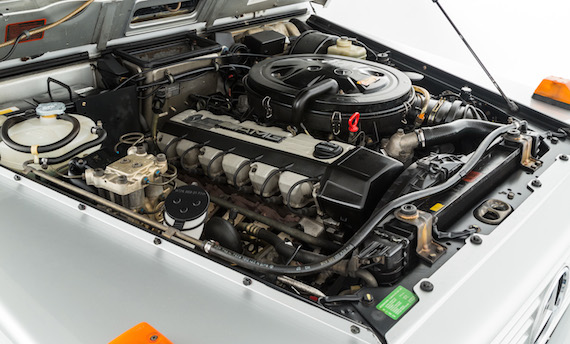 I'm a big fan of this G-wagen's interior. Leather in luxury vehicles has become so commonplace that a patterned cloth such as this seems rather special. While not eligible for import to the US for another four years, the G36 AMG is a very rare G-wagen and sure to capture the imagination of a buyer in the UK or Europe, where an AMG SUV might be attractive but a souped up six cylinder versus a thirsty V8 may be more preferable.
-Paul