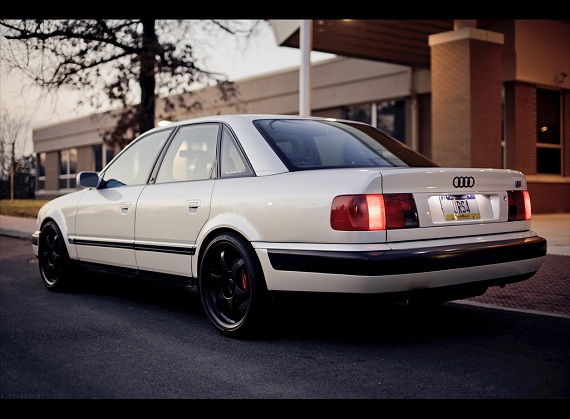 Okay, so you can't get the Euro-spec C4 Audi S6 here in the U.S. yet. That means the awesome 6-speed, interiors, V8 engine options, better bumpers and wheel packages remain across the pond, just out of reach of enthusiasts. Bummer, right? Well, don't forget that nearly the same version of the Euro-spec car came here for 3 short years in the form of the S4/S6, long a popular favorite in the Audi tuning crowd. Capable of monstrous levels of power, the snap of torque in chipped versions of the 3B/AAN motor is downright addictive. You'll quickly find your self repeatedly slowing down, a gear up from where high-revving BMWs would be calling, and planting your foot deep into the carpet to ride a giant wave of torque to illegal speeds. But the C4 is also a comfortable cruiser capable of tackling long trips with luggage for the family in any weather. It is, simply put, one of the best packages Audi has ever produced – and they don't get much better than this one: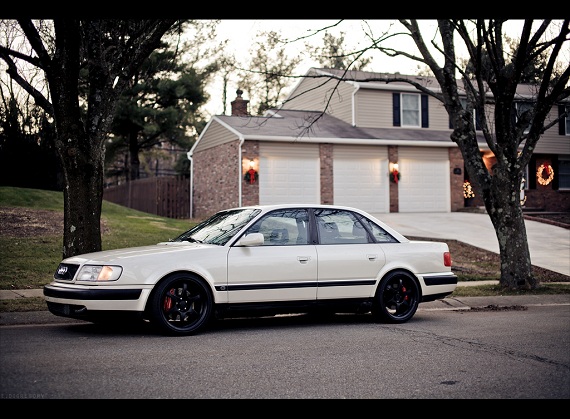 Year: 1992
Model: S4
Engine: 2.2 liter turbocharged inline-5
Transmission: 5-speed manual
Mileage: 175,000 mi
Price: $18,000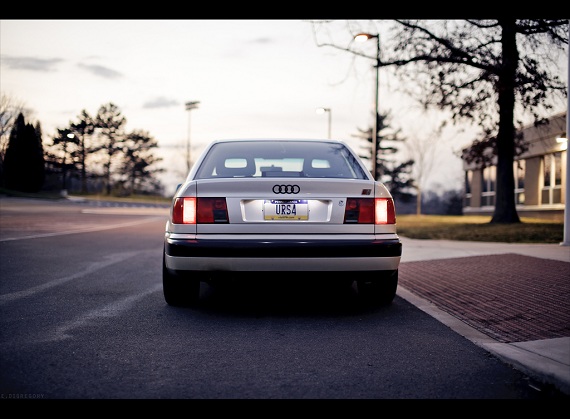 The time has come for me to move on. I really, really love this car but I have been driving C4 s-cars almost exclusively for 10+ years and I lust for something different. A new challenge, a new platform, new hardware and a new ECU to tune. I also want to consolidate to one car that I can drive 365, and this car is simply too nice to subject to salt.

You won't find another UrS4 with this build quality and attention to detail – cars like this are few and far between at this point. The car has a long, highly documented history amongst the UrS enthusiast community – it's crazy to think of the time and money has been invested over the past decade to get it to where it is today. It is loud, mean, fun, and FAST.

I've tried to list all modifications, but may have missed some things. Any questions just shoot me an email. More photos are available upon request.

LOCATION: Pittsburgh, PA
PRICE: $18,000

I will post more photos and will check and update with VIN and current mileage

—————————————————————–

1992 Audi UrS4
VIN:
Pearl white / black gut
~175k miles on chassis
~30k on built bottom end
~10k on built cylinder head
~5k on turbo, header, wastegate
~3k on fuel system, coilovers

Original pearl white paint is in great condition overall. It has normal blemishes that come along with a 22 year old car. A few small door dings, touch up spots, and the front bumper could use a respray due to rock chips. I would grade the exterior 8/10.

Black Recaro leather interior is in excellent condition. Floormats and headliner are perfect. There is a small mark/crack on the dash – only real blemish I can think of at the moment. I would grade the interior 9/10.

The car is currently tuned for E85. It could easily be tuned for pump gas but I do not have a 93 file since the fuel system revision. The dyno graph below is the only one I can find at the moment, 545whp/495wtq. The most recent was 560whp/505wtq @ 32psi – I'll have to look for that one. I have been running the car @ 35psi and I have no doubt it is making 600whp or very close to it. The spark map could use some more dyno time for achieving max power, but that is certainly not necessary…the car runs incredible with the current tune. It is silly fast.

Long block was built by Dave Jones of S-Line Motorsport. Most other items were built/installed by me. The car was tuned by me.

Engine
-VEMS Engine Management
-Saenz Forged Connecting Rods
-ARP Main/Rod/Head studs, MLS Head Gasket
-HTA3582, .82 A/R, TiAL stainless steel v-banded turbine housing.
-Iroz Motorsport Header – Equal length, tig welded back-purged 304 stainless steel, per-cylinder EGT bungs, v-banded for TiAL turbine housing, wastegate, and downpipe. Coated with Swaintech White Lightning thermal barrier coating.
-TiAL MVR44 Water-cooled, billet aluminum/stainless wastegate
-FIC 2150cc EV14 injectors
-Apikol Intake Manifold
-3B valve cover, powdercoated
-Gen 1 Apikol FMIC (24″x10″x3.5″)
-Tial 50mm BOV
-034 High Output Ignition Coils
-Custom catch can setup
-Setrab 25row Oil Cooler
-Vanjen clamps/Samco Boost Hoses

Fuel
-IE dual 044 surge tank
-EFI-X billet -8AN fuel rail
-044 pump feeding surge
-Weldon adjustable FPR

Exhaust
-Iroz Motorsport 3″ v-banded downpipe, heat wrapped
-3″ Stromung Turbo-back Exhaust
-3″ Electric exhaust cutout w/ side dump

Head
-7A Cams
-Ported & Polished
-.5mm Oversize Intake valves
-.5mm Oversize Exhaust valves
-High rate valve springs
-Titanium retainers
-Lightweight lifters

Drivetrain
-6-speed EDU transmission
-10.5lb JB Racing Aluminum FlyWheel
-SouthBend Stage 4 clutch
-Apikol Short Shifter
-V8 Torsen Rear Differential
-Apikol Rear Diff mount
-Poly snub mount/crossmember mounts/etc
-Solid front subframe bushings
-Poly engine mounts (mustang)

Suspension
-Custom Eibach coilovers
-Revalved Bilstein sports (+10% compression, +30% rebound)
-2Bennett Camber Plates
-Apikol/Hap big rear sway bar

Brakes
-993t front brakes w/ Porterfield R4-S Pads
-Boxster S rear brakes
-Custom Hydraulic Handbrake (standalone master cylinder)
-Stainless brake lines

Lighting
-Euro spec headlights w/ relayed 55W HIDs (4300k) & Headlight adjuster motors
-Hella Clear Corners
-Euro A6 center taillights / Euro corner lights

Interior
-OE Carbon Fiber trim
-VEMS LCD screen – displays rpm, labmda, coolant temp, EGT, MAP, IAT, and throttle position in real time
-Custom hardwired V1 w/ concealed display in instrument cluster, and remote audio controller in center console (V1 unit not included)
-Forge billet shift knob
-Sullivan Racing billet pedals

Wheels/Tires
-SSR Comp 18×8.5 et35 wheels (16.8lbs each)
-HTR ZIII tires 255/35/18 – about 3k miles on the tires

Misc
-CF timing belt cover
-Apikol billet rear sway bar brackets included (not installed)
-Brand new OEM lower door trim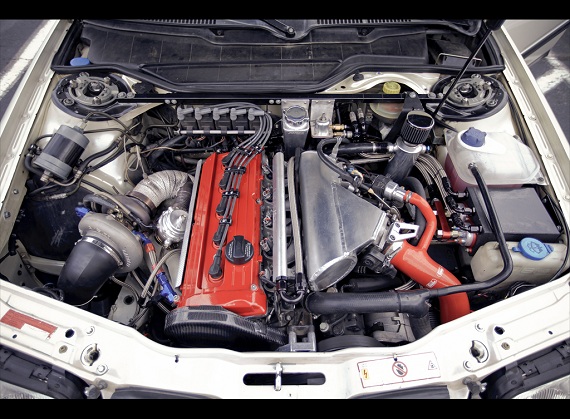 600 wheel horse power. My wallet shudders at the thought of how much it cost to produce such numbers. No interior shots of this car are provided here, but overall the condition looks great – and is certainly helped by some very good photography. The build is top notch and the level of detail shows; a quick glance over that engine bay reveals one of the best presented modified C4s I've seen in some time. Truth be told, I could do without the black wheels and when these cars are as low as this one sits, that front overhang often encounters things – hard to hide the five cylinders all forward of the axle line. But at $18,000 – one of the highest asks I've seen on a C4 in some time – I can't help but think this car is a deal. You get a sense of just how fast this car is from the videos provided. You'd be hard pressed to replicate it for anything close to that amount, even doing all the work yourself. And compared to values on 500E and M5s that are this clean with nowhere near the performance level, this car is certainly a bargain. It's a solid build on an even more solid chassis that I bet the seller will regret parting with, even if he gets his lofty asking price.
In the original posting, I neglected to thank our reader John for sending this through. Thanks, John!
-Carter