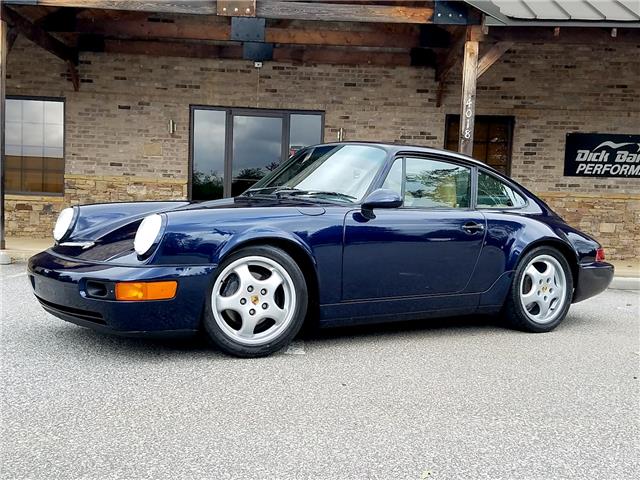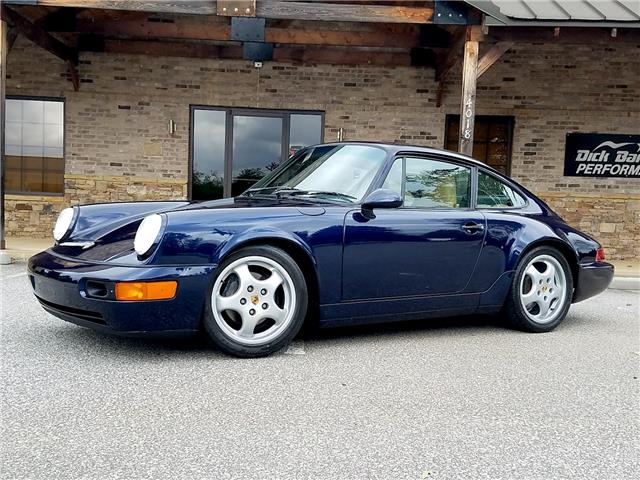 I can never really begrudge sellers who are overly effusive about the cars they are selling, but sometimes it does frustrate me. In most cases, this applies to cars I really like, but which I feel are being presented in the wrong way. (I have a similar frustration whenever I see an ad from Toyota talking about how sporty the new Camry feels.) But I do get it, they're trying to sell something and appeal to certain emotions.
This 964, a Midnight Blue 1993 Porsche 911 Carrera 2 Coupe, falls into this category. I really like this 911; it looks great, the color combination is one that I really enjoy, and with a fairly recent engine rebuild we would hope it's ready to roll and provide many more miles of excellent motoring. But it also has almost 150K miles on it so why should I care about collector appeal?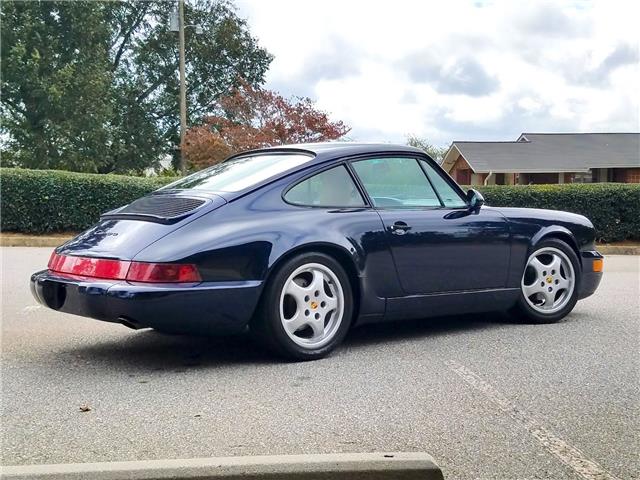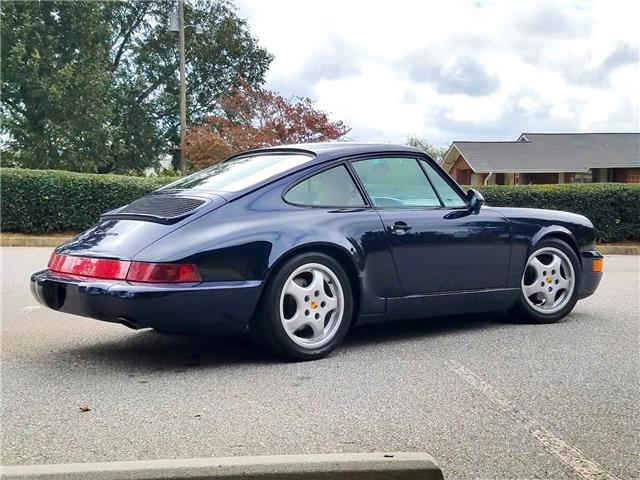 Year: 1993
Model: 911 Carrera 2
Engine: 3.6 liter flat-6
Transmission: 5-speed manual
Mileage: 149,065 mi
Price: $52,900 Buy It Now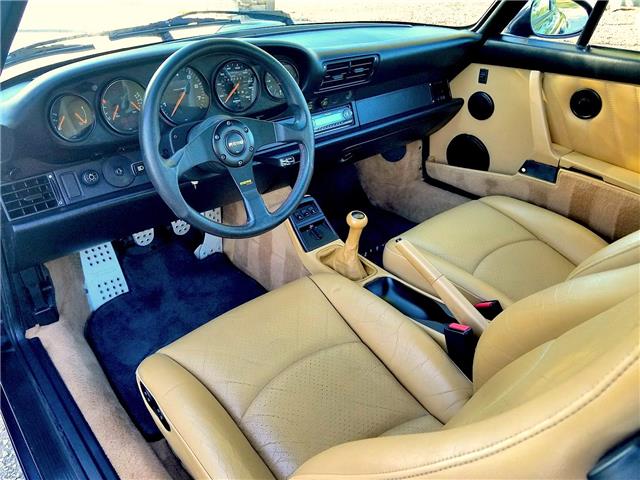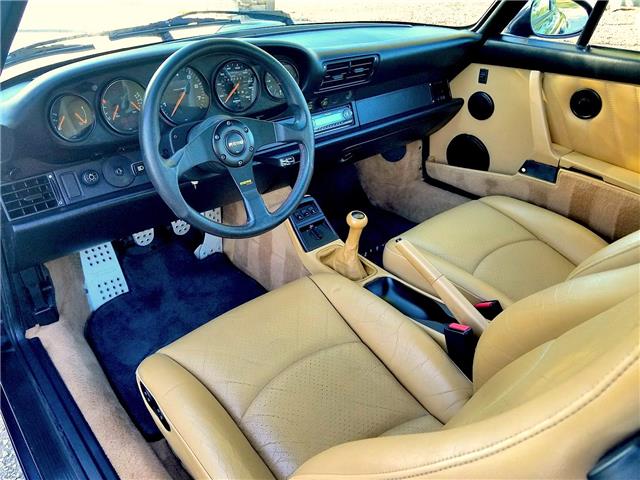 1993 Porsche 911 Carrera 2.

Vin WP0AB2962PS420441.

149,065 Miles.

5-Speed Manual.

Midnight Blue.

Tan Leather Interior.

Clean Carfax.

Manual and Service Records.

This iconic Midnight Blue 911 is part of the 964 era, which has now risen to the top of the Porsche world. The 1993 C2 models especially are very desirable because they are not prone to the mechanical issues of the early 964 cars.

This particular resounding example is an unbelievable performer! The engine has been completely rebuilt very recently at a cost of $15,000 by Porsche specialist Lynmor Performance in New York. A new clutch and flywheel has been replaced as well.

The car sits on its original 17 Inch Cup Wheels, which are fitted with Bridgestone Potenzas.

Overall, this is a great car! In and out.

The 964 Carrera 2 Coupes are sky rocketing and are without any doubt becoming the most highly sought out Porsches in today's market. They are considered by many to be the ultimate 911 build, and they have also become inspiration for some of the most intriguing and beautiful "Outlaw" builds, which also includes the most famous Singer cars.

Collector car financing available at competitive rates.

Vehicle Disclaimer:
We make every effort to provide you the most accurate, up-to-the-minute information on all of our vehicles in our inventory. However, please do verify with us before purchasing that all the information is correct and up to date. Also, unless we take a deposit, any car is fair play and up for sale.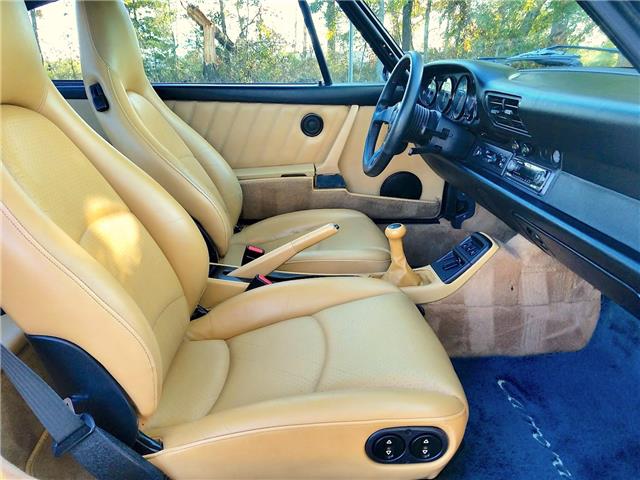 I do agree that the 964 has become more desirable and in that regard it is why one like this comes up with a price north of $50K. I think that price is too high, but if the mechanical condition is very good, then I'm not sure it has to come down significantly. I'd just like that first number to be a 4 rather than a 5. That is a change from years past. That said, I'm not really seeing prices for the 964 shooting up relative to other air-cooled 911s. The whole air-cooled 911 range has plateaued or been on the decline lately. As we've seen with quite a few cars posted here it's only the rarest of the bunch that are seeing crazy prices.
Anyway, enough of all of that. As I said I like this 964 a lot. It isn't entirely original, but the non-original items appear restricted to the steering wheel, pedals, and radio, items that I can't get mad about upgrading. In fact, for a driver, as this 964 surely is, the wheel and radio are items I'd definitely swap out anyway. Added to that this 911 presents quite well given its age and mileage. Everything looks crisp and clean without much major wear. I would be interested in its level of originality as it pertains to the paint and interior. We also don't know much about its history and available records outside of the seller's statements about recent service. Hopefully those questions can all be answered satisfactorily because whether 964s are increasing in value or not this one should come in at a reasonable price and make for a great weekend driver. That's precisely what we're here for.
-Rob