The Porsche 911 RS America is quite popular with enthusiasts, especially those of the P-car set. A lightweight special sold in low numbers, these are revered by club racers and collectors alike. When new, it was less expensive than the more amply equipped C2, but now these 911s are on the radar of driving enthusiasts. As a result, they have eclipsed other non-Turbo 964s in value. This 911 RS America for sale in San Francisco is about as basic as a 911 of this vintage could get, with no A/C, radio, sunroof or limited slip differential.
Year: 1993
Model: 911 RS America
Engine: 3.6 liter flat six
Transmission: 5-speed manual
Mileage: 113,000
Price: Reserve auction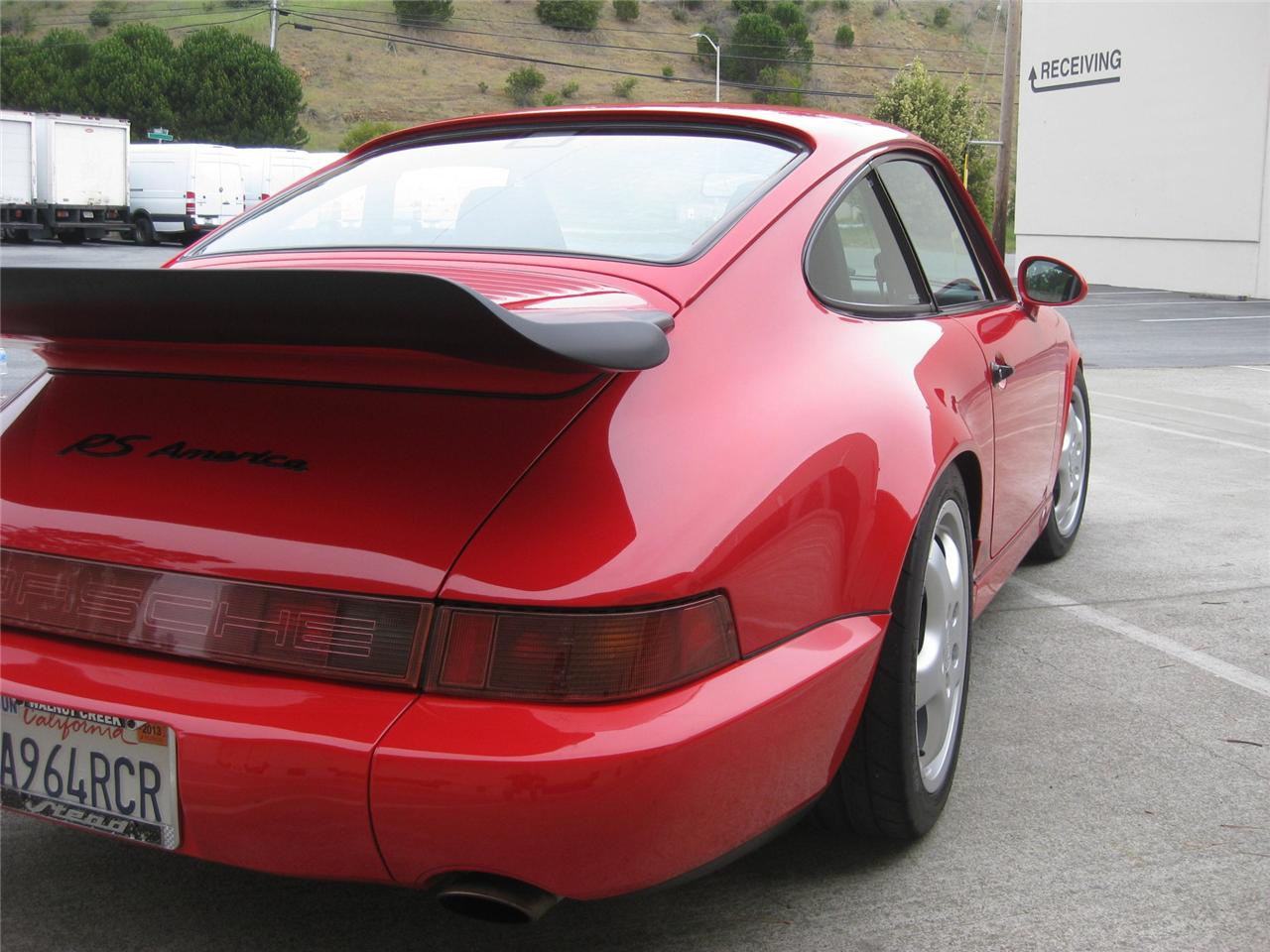 1993 Porsche 911 RS America RSA 964 "Full Delete Package" LIGHTEST VERSION

In late 1989, the 911 underwent a major evolution with the introduction of the Type 964. With many innovative technologies from the 959 model, this would be a very important car for Porsche, since the world economy was undergoing recession and the company could not rely on its image alone. It was launched as the Carrera 4, the "4" indicating four-wheel-drive, a decision that surprised many but demonstrated the company's commitment to engineering by reminding buyers that race and rally engineering (of the 959) does affect road cars. Drag coefficient was down to 0.32. A rear spoiler deployed at high speed, preserving the purity of line when the vehicle was at rest. The chassis was redesigned overall. Coil springs, ABS brakes and power steering made their debut. The engine was increased in size to 3600 cc and developed 250 PS (184 kW). The car was more refined, but thought by some journalists to have lost some purity of the 911's concept. The rear-wheel-drive version, the Carrera 2, arrived a year later.

The 964 incarnation of the 911 Turbo returned in 1990 after an absence from the price lists. At first it used a refined version of the 3.3 L engine of the previous Turbo, but two years later a turbo engine based on the 3.6 L engine of the other 964 models was introduced.

In 1990, Porsche introduced the ahead-of-its-time Tiptronic automatic transmission in the 964 Carrera 2, featuring adaptive electronic management and full manual control. The 964 was one of the first cars in the world offered with dual airbags standard (from 1991), the first being the Porsche 944 Turbo (from 1987).

In 1992, Porsche re-introduced a limited-edition RS model, inspired by the 1973 Carrera RS and emissions-legal in Europe only. In 1993, appeals from American customers resulted in Porsche developing the RS America of which 701 were built. In 1994, the RS America returned with rear seats. Only 84 RSA's were made in 1994. However, while European RS was a homologation special, RS America was an option delete variant of the regular model. The RS 3.8 of 1993 had Turbo-style bodywork, a larger fixed whale tail in place of the movable rear spoiler, and a 300 PS (221 kW) 3746 cc engine.

Since the RS/RS America was intended as a no-frills, higher performance version of the 964, there were only four factory options available: a limited-slip differential, AM/FM cassette stereo, air conditioning, and a sunroof. The interior was more basic than a standard 911 as well; for example the interior door panels lacked the armrests and door pockets and had a simple pull strap for the opening mechanism. Although the RS America was about $10,000 cheaper than a fully equipped C2 at the time of their production, these models now command a premium price on the used market over a standard 964 (RS Europe was about $20,000 more expensive than a C2).

http://www.rsamerica.net/whatis.htm

What is an RS America?

The RS America is a lightened, limited edition, performance version of the venerable Porsche® 911 Carrera® made for the 1993 model year which according to Porsche® both "commemorates the 20th Anniversary of", and "captures the spirit of" the original 1973 Carrera® RS

The original 1973 Carrera® RS was available in Europe but unfortunately not in the USA. Porsche® decided to build the 1993 Carrera® RS both to European spec and a limited number in compliance with US regulations. These US spec cars were assigned the name "RS America".

The intent was to create a basic lightweight, no frills 911 with minimal luxury options. Fitting the RS America with the M030 sport suspension package, which included the use of much of the running gear from the 911 C2 Turbo, led to higher performance limits. The Turbo's progressively wound coil springs, larger diameter front stabilizer bar, and upgraded shock absorbers were standard equipment for the RS America, as were 17" diameter C2 Turbo wheels. The RSA rims were 7" wide on the front and 8" wide on the rear (as opposed to the 7" wide front and 9" wide rear wheels of the C2 Turbo).

ABOUT THIS RS AMERICA:

VIN: WP0AB2969PS418122
Mileage: 113,000
comes with CLEAN CA Title
Stock 3.6 Liter twin plugged motor
Stock G50 5 speed transmission
Rare ZERO optioned or full delete package (lightest version)
PSS9 Bilstein coilovers
RS drop links
Brey Krause carbon fiber strut brace
8′ & 9″ Cup 1 wheels ( stock RSA's come with 7 & 8″'s )
Lowered & aligned to Euro RS/Cup specs
Corner balanced
Primary & CAT bypass (stock CAT included for CA smog)

Of the 701 RS America cars made between 1993 & 1994, fewer than 5% were made with " FULL DELETE " option ( no sunroof, AC, radio & LSD ) which translates to roughly 35 cars however an aftermarket radio was added in the early 90's. Car has been in CA its entire life being sold by Stead Motors in Walnut Creek as indicated by the Original Window Sticker which is included in the sale. I bought this car from the 4th owner who has cared for it the last 10 years with major service completed last year for $3K ( all fuids, valve adjustment, cam timing, timing case re seal ). Upgrades done to the car in the last 60 days are:

new Hankook Ventus RS-3's ( 225/45 & 255/40 ZR 17's )
newly painted CUP 1 wheels & center caps
carbon fiber heater bypass ( stock part included )
clear front indicators with amber bulbs
front brake ducts for aesthetics only
full polish, wax & seal
detailed motor & wheel wells
new front lower valance mesh grille

The Guards Red paint has been well maintained & looks extremely good for being 20 years old however minor chips on the front bumper, touched up driver door scratch & windshield chip are mostly the flaws. Included in the sale are all books & records, custom indoor cover & battery tender.
The last RS America we featured sold rather quickly right after we had posted it with a $69,900 Buy It Now price. That car had just over 10,000 miles more on the clock, which is a lot less than this car. Considering that, I'd suspect the reserve would be somewhere in the $35,000 to $45,000 range.
-Paul