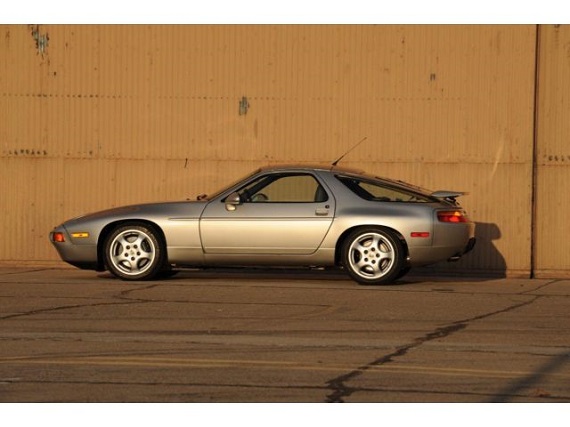 It has been nearly 40 years since Porsche first brought the 928 into the world and almost 20 years since the last one rolled off the line. It began life with a 4.5 liter V8 producing 219 hp and saw gradual increases in displacement and power before finally reaching the 5.4 liter 345 hp producing V8 of the 928 GTS. Cosmetically, the 928 saw a similar level of gradual evolution retaining the same basic design and appearance, but in a more refined package. From inception to final production these were what a proper GT should be: a car combining luxury and comfort with performance that was effortless yet unstrained. The example we have featured here is a paint-to-sample Silver 1993 Porsche 928 GTS Coupe with 5-speed manual transmission, located in California. This particular 928 also holds a place in Porsche media history, which should provide its owner with a nice bit of trivia.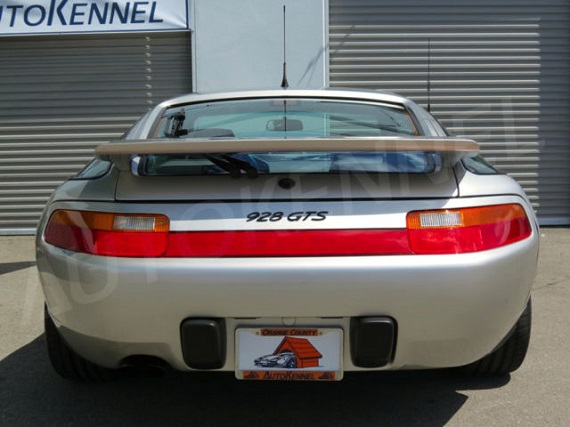 Year: 1993
Model: 928 GTS
Engine: 5.4 liter V8
Transmission: 5-speed manual
Mileage: 56,200 mi
Price: $104,990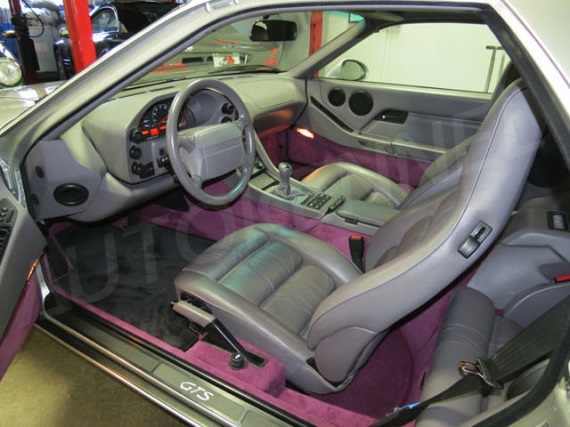 1993 Porsche 928 GTS Coupe
Paint to Sample/5-Speed Manual
Featured in Famous Porsche TV Commercial
Stock #0549

VIN # WP0AA2927PS820107
Engine# 85P00609 (M28/49)
Transmission# 3002382 (G28/57)
56,200 Original Miles (less than 2,000 miles since top-end engine rebuild)
Zermatt Silver Metallic (Paint to Sample) on Classic Grey Leather with Magenta Carpet
5-Speed Manual
Clean and Clear California Title
PCA (Porsche Club of America) Member Owned
No Accidents
2-Owners
Certificate of Authenticity

By the time the GTS was launched, the 928 was ending its 17-year production run. As a result, the GTS cars benefited from all the previous development. These 928s were truly the best of the best. Unfortunately, only a mere 407 examples made it to the U.S. from 1993 to 1995. Of those, less than half were equipped with a manual gearbox. These 928s were made of aluminum including the engine. This 5.4L motor put out 345hp and 369 lb ft of torque. The GTS models were well equipped and expensive. This particular example had an MSRP of nearly $95,000 (approximately $153,000 in today's dollars)!

This first owner was a long-time executive for Coca Cola in Atlanta, GA. He custom ordered the car with specific options and colors, which included the following:

Paint to sample metallic paint
Supple leather seats
Remote CD Changer
Electric sliding sunroof
Increased air conditioning
Protective side moldings
AM/FM radio w/cassette
Black floor mats
Carpet deviating color (Magenta)
Yokohama tires

Due to the special color combination, the order was delayed over a month. Then, the dealer installed the executive package, which included a mobile phone, Lojack, and K40 integrated radar detector. Nothing has been removed and the car remains as delivered new.

These owners truly pampered this 928. No service was ever missed and it was always garaged. All of their services were performed by their local Porsche dealership. 10-years later, they retired to Arizona and brought the car with them. Shortly thereafter, they sold it to the current owner. He is a Southern California vintage car enthusiast who had been searching for a unique and pristine GTS for years. He bought this one in December of 2003 with almost 33,000 original miles. For the next decade and 20k+ miles, this owner did everything to make this one of the best 928 GTS examples in North America. Describing him as fanatical is putting it lightly. If anything made a strange sound or he didn't think it was right, he would spend countless dollars correcting it. Some highlights of significant repairs/enhancements include:

Top-end engine rebuild including heads and valves (over $8,000)
Replaced synchros in gearbox (over $6,000)
Custom header and complete exhaust system (over $10,000)
Rebuilt torque tube
Shark tuned chip (original chips included)
New clutch, pressure plate, and resurfaced flywheel
New H4 headlights
Rebuilt original steering rack
Repair A/C
Timing belt and water pump (at 34k miles)
New Michelin tires

All in all, the current owner invested over $33,000 maintaining and improving this rare GTS. Greg Brown of Precision Motorwerks in Anaheim, CA (one of the top Porsche 928 specialists in the country) performed all of the work for the current owner. He used this car to develop a custom exhaust system that produced an additional 23hp and 12lb ft torque. See pictures for dyno results as well as this video of the run:

Dyno Run

Recently, this GTS was selected by Porsche to be included in their Panamera launch commercial/media called "Family Tree." We have countless pictures from the event. The car is even included in the promotional poster produced by Porsche (included/see pics). Here is the TV commercial and behind the scenes:

Family Tree Commercial

The Making Of Family Tree

Also, Porsche used this GTS as part of his interactive Family-Tree website experience as the representative for the 928 (see pics).

As you can imagine, everything about this Porsche's condition is remarkable. The exterior looks fantastic. There are very few signs of wear. The special ordered Zermatt silver paint looks more like the original Porsche silver of the 70's. It has that very fine metallic look to it. The wheels are near perfect and are wearing new Michelin tires. The underside is just as shiny and clean as the top (see pic with protective covers removed). The interior is equally as immaculate. The leather is soft with no tears and minimal signs of use. There are no stains or strange odors. The dash is perfect with no cracks or warping. Most of the interior is wrapped in leather (except for the dash). The carpet is plush and looks like new. Everything works properly including the factory radio, A/C, and clock (very rare).

Naturally, the best part about this 928 is the way it drives. It feels like new. It has tremendous power and shifts with ease. The suspension/handling is very crisp.

This GTS needs nothing and is ready to be driven or shown.

California registration is paid through December 2014

This Porsche comes complete with all the owner's manuals/books and cover, extra key/s, tool kit, spare, jack, certificate of authenticity, Family Tree posters, most records from new, and 928 history documents. Also included are new RDK (tire pressure warning system) sensors, wheel decals, and other misc. parts. The original exhaust system is also available or can replace the custom system.

If you have any questions, please do not hesitate to contact Paul at 714-335-4911 or paul@autokennel.com

For tons of pictures, go to: http://www.AutoKennel.com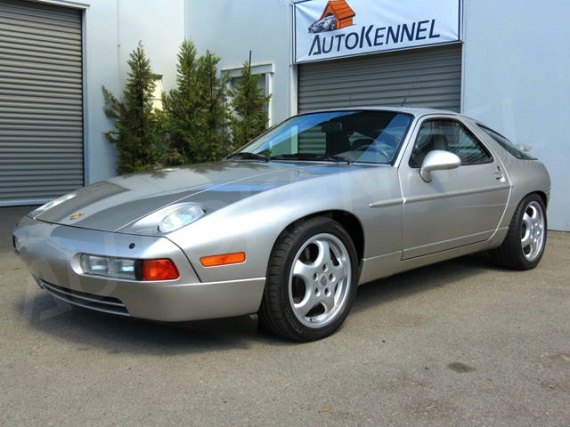 The more I have looked at and written about the 928, the more I have begun to appreciate all that it had to offer. Even two decades after production ceased these cars still look fresh and considering the incremental changes the model underwent during the time of its production we really start to understand just how well-styled the 928 was from the beginning. For anyone in search of a classic grand tourer these cars are tough to beat. That this 928 is a manual GTS in a rare color combination is sure to garner it plenty of attention, but I'm not sure the market for a 928 has reached six figures for even the best examples. We've seen similar cars sell around $60K, but even factoring in the commercial involvement and the color doesn't seem like enough to bring such a hefty increase in price. Still, this is a fantastic looking car with an interesting history so it's sure to see pretty strong value.
-Rob