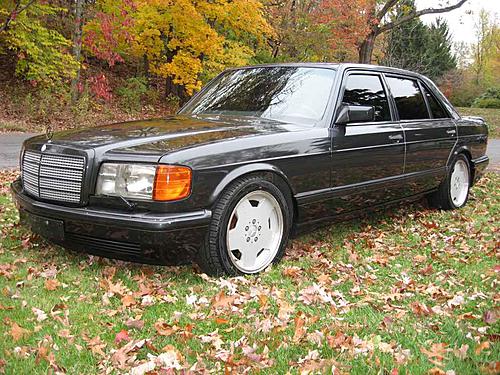 Earlier this year, I struck a few chords with my AMG 500SEC post. The questions of AMG authenticity were once again brought up, reminding us that pre-merger there is still some fuzzy areas regarding these AMGS. As with that SEC, the full documentation of production and maintenance records were key to the value of these boutique cars, and enthusiasts are willing to pay for the right one. Also like that SEC, this later run 1990 560 SEL is fully documented from Japan – but unlike that earlier car, this SEL has the full-fat 6.0 V8 fitted: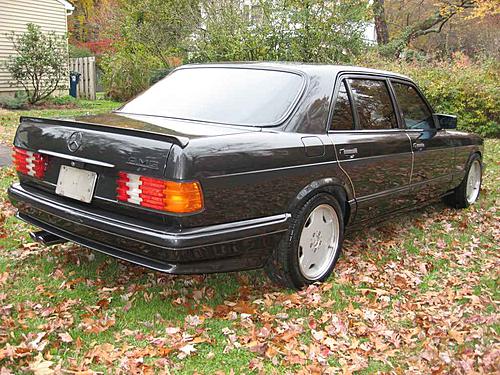 Year: 1990
Model: 560SEL AMG 6.0
Engine: 6.0 liter V8
Transmission: 4-speed automatic
Mileage: 83,000 mi
Price: $29,950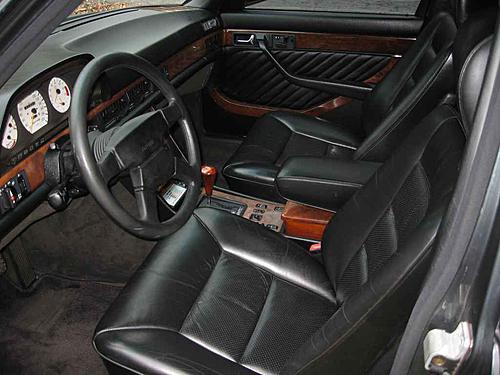 Yes, you read it correctly. You know how many of these cars are for sale in the USA right now? No? Well, me neither, but I'll bet you can count the number on one hand.

This is a 1990 560SEL from Japan. It has approximately 83K miles (135KMs). It is an authentic AMG car built via the Yanase network in Japan, with all the correct and rare badging and period-correct AMG parts. All Euro parts are still on the car.

Those include the mighty 6.0 DOHC 32V "Hammer" engine with 400HP, AMG-modified transmission, AMG exhaust, AMG suspension, speedometer, break-in badges, VIN plate, burlwood picnic tables, leather steering wheel, and much much more.

The car is finished in 199 blue/black metallic (charcoal) over black full leather interior. There is a lot of extra AMG burlwood in the interior, including door panels and dash. Even the original burlwood fold-down picnic tables are included, along with center console storage box.

The car has been serviced properly since new. When you import a car like this from Japan, the exporters typically scrub it from top to bottom, removing everything like service records, manuals, etc. But the owner of this car hid the documentation under the spare tire, so it all came with the car!

Lots of service records, and even the incredibly rare (unobtanium) AMG owner's manuals for AMG cars sold in Japan, describing the special treatment these cars needed at break-in time.

The engine is incredibly strong, with solid compression across all eight cylinders. No leaks or head warpage. Everything operates as it should.

The cosmetics are very nice as well. The paint shines, the interior leather is very nice. There are the usual stress cracks to the wood trim, but nothing terrible.

The car drives great, and will be inspected and serviced so there are no problems for the next owner.

This car has a signed-over Canadian registration certificate, but does not have a US title. Therefore, it should be purchased by a Canadian citizen or someone outside of the USA. Pretty soon, however, it will be legal to import a 1990 Euro car into the USA without needing a Registered Importer or to make it DOT/EPA compliant, so sometime at the end of this year it can be made US road legal with a proper US title. If you are patient, you can buy it now and wait a bit, and then title it in the USA.

The car is located in eastern PA, about 45 minutes north of Philly. Fully serviced, it is $29,950, detailed, with documentation, ready to roll.

If interested please contact Bruce at 856-912-2600, or email brucem105@comcast.net.

Thanks for looking.

Bruce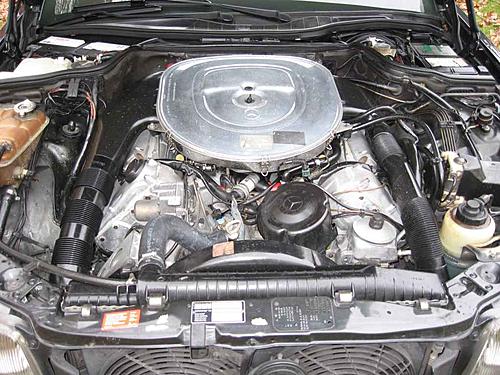 This car is neither for the typical Mercedes-Benz SEL fan, nor for the faint of heart. I love the look, replete with European-spec details. The color combination is pleasing and classic, but the heart of the car is what matters here. With the full "Hammer" spec 6.0 32V V8 pumping 400 horsepower out through the AMG-spec transmission, this is no slouch and was likely the fastest large executive sedan in the world in 1990. It also has the AMG-spec suspension and exhaust, as well as the steering wheel to really finish it off. But it's not all about sport, as this SEL still has the luxury you'd expect from a S-Class Mercedes. It truly is the best of both worlds. Registering this car in the U.S. will be a bit of a trick until next year, but it's still worth considering if you're in the market. At nearly $30,000, it's not even particularly outrageously priced considering the rarity, provenance and simply ability to out-drag every other sedan out there.
Thanks to our reader Martin for tipping us off to this listing!
-Carter