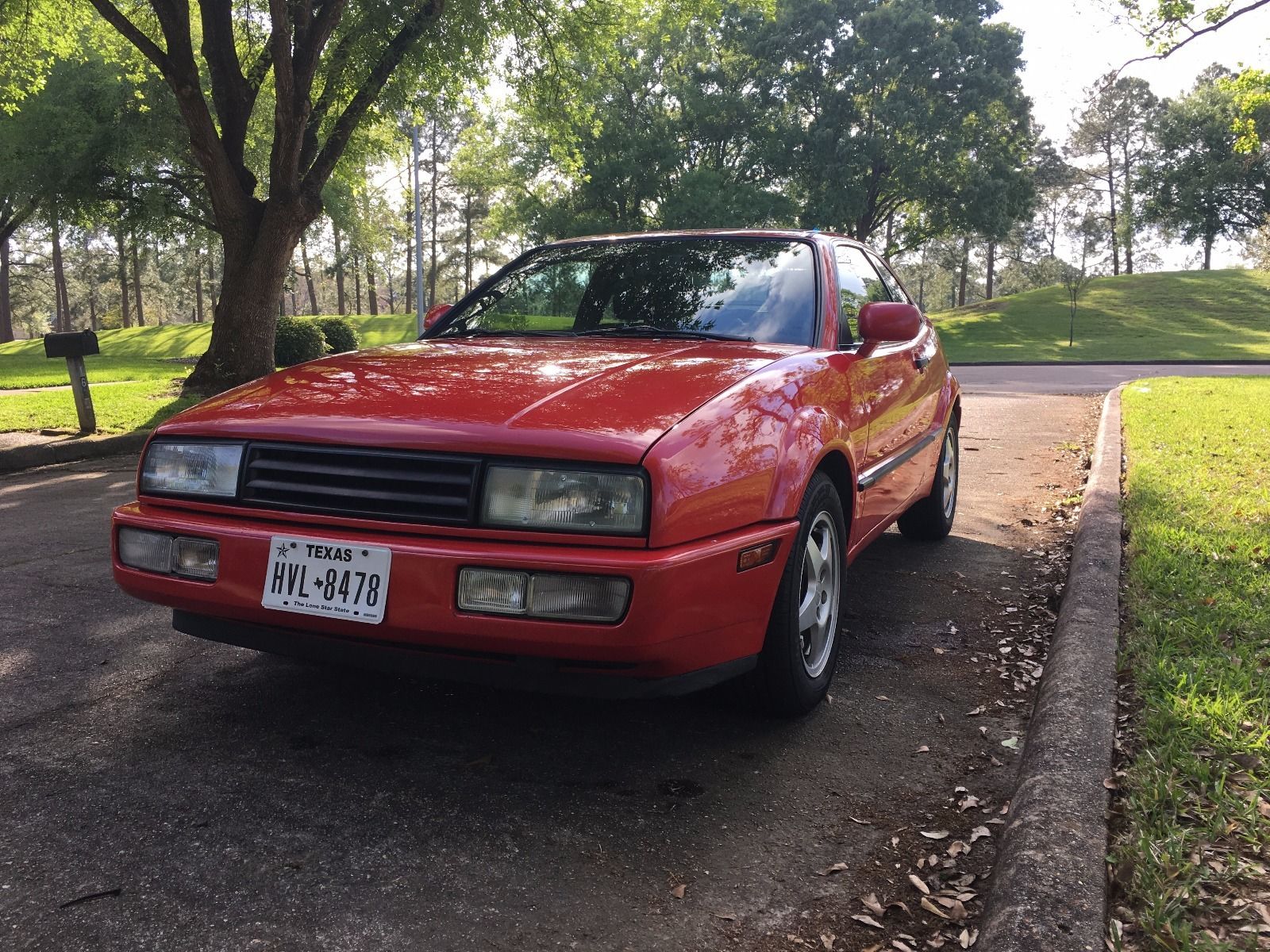 My first thought when I saw this car was literally "Holy Crap. A reasonably priced Corrado!"
And then I saw the salvage title.
But let's not dwell on that yet. Let's consider what we have here first. The photos paint the picture of a pretty nice, mostly original Flash Red Corrado SLC. It retains the original Speedline wheels and Baja-1000 ride height. It's got leather inside, the big complaint of comments on the the last Corrado SLC I looked at. But the big draw must be the price, which at $6,500 is just very reasonably priced in my mind. The last Corrado SLC I considered? Same color, cloth interior, near same miles – $18,995. It's like the 'Cult of Corrado' have decided "Hey, this is basically the same recipe as the E36 M3, and they're increasing in value, so my car must be worth a lot." Logical? Well, no one ever said passionate car enthusiasts were logical. In fact the whole idea of sitting around, pontificating about theoretical car values seems inherently illogical. When someone buys it, obviously that's the price it's worth, right?
But I digress.
Perhaps the asking prices for Corrados are more in line with their premium stature. Since new, they have demanded a premium; the SLC hit the market in 1992 at $22,000, and tick a few option boxes and you were quickly in Audi money. But you could look at this car as an expensive Volkswagen, or (as magazines did at the time) as a budget Porsche. Instead of the E36, the natural comparison to this car probably should be the Porsche 968. And you can't get a decent one of those for $6,500…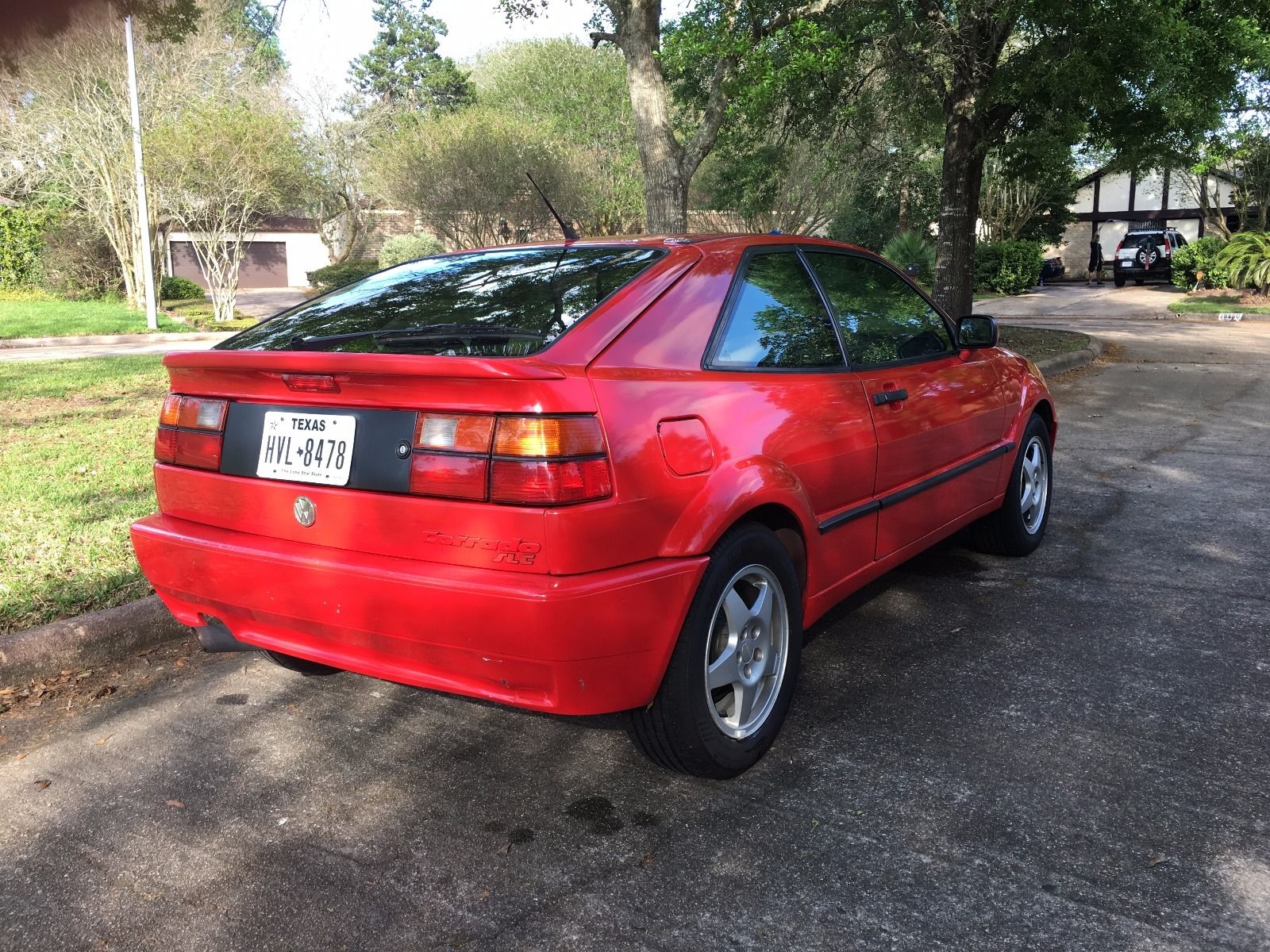 Year: 1993
Model: Corrado SLC
Engine: 2.8 liter narrow-angle VR6
Transmission: 5-speed manual
Mileage: 91,300 mi
Price: $6,500 Buy It Now
Up for auction is a Great VW Corrado, if you are looking at this auction you know what this car is and why finding it in such condition is not only a great opportunity but also a rare one.

Chasis and Body:
The Chasis and Body are straight and true, my Corrado received a rebuilt title in the past because it had a broken headlight and fog light assembly, (I have old printed out pictures from the original owner to prove it) all body part VIN numbers match and there is no rust since this car spent most of its life in California and New Mexico.

Paint:
In my opinion, my Corrado needs a New Paint job to be perfect, the paint is more than adequate for a car its age, there are some chips and the clear coat is peeling off in some spots, but I think overall is in really good condition nonetheless.

Tires, Suspension, Brakes:
The tires are brand new, they have less than 1,000 since I replace them, from what I can tell the spare tire has never been used and the original tool kit comes with the car. The suspension feels true and firm, this car is a true joy to drive, no funky suspension sounds at all.
During the last oil change, there were no recommendations from the Firestone Store to replace any parts or brakes.

Engine and Transmission:
The engine on my Corrado is super smooth, it sounds and runs perfect, the 5-speed transmission is also perfect, the shifting is easy, no grinds or funny noises, the clutch is strong and it was replaced within the last 5,000 miles.

Interior:
In my opinion, the Interior of my Corrado is "perfect" please take that description within the context of a 24 year old car. Please refer to the pictures, the leather is in excellent condition, all buttons and controls are present, the dash is free of cracks and from what I can tell it has always had a dash cover, the rear seats are also in great condition, all the panels are present and free of rattles, shifter and booth are in great condition as well, the headliner is original and free of stains.

Features and Functionality:
All gauges work as they should and the dashboard is illuminated correctly. The cruise control works perfectly as well as the wipers and power windows. The power mirrors don't work, it may just be a blown fuse but I haven't had time to troubleshoot this issue.
The AC doesn't blow cold air but I have receipts of maintenance from the previous owner specifying that the AC compressor and AC hoses were replaced within the last 5,000 miles.
The sunroof pops open and the controls work but as you know the side brackets break (this is a common and known problem for all Corrados) I have a replacement sunroof that I will include in this auction.
The rear wing works as it should, although this is another common problem for Corrados this one works perfectly, see the pictures for reference.
I have also installed a high end Kenwood radio with hands free calling, the model number is KDC-X998. It's one of the best single din models available, please feel free to look it up.

Glass:
All windows and windshield are in perfect condition, I was so proud that even the front windshield was original but while driving it to Texas it was chipped and cracked so it needed replacing, it was professionally replaced by Safelite auto glass. It has a window tint all around, high quality 3M and I have the receipt and lifetime warranty certificate.

Maintenance:
I have some maintenance records from the previous owner, one detailing the following:
Replace the clutch set
Electric water pump
Gear selector bracket
Heater Hose
Engine Coolant
Fuel pump
Fuel filter
A/C Compressor
All AC hoses
All the above referenced maintenance was performed and the cost was over $2,200.00
it was completed within the last 5,000 miles.
I have other maintenance records but refer mostly to oil changes and alignments.

Other:
The wheels are in excellent condition, super nice and hard to find, OEM.
I also have a factory sunroof gasket, it will be recommended for when you replace or repair the sunroof.
It passed TX state inspection with flying colors so there are no emissions issues.
Floormats are in excellent condition, they are awesome and part of what makes this Corrado unique.
My car is a true joy to drive, I will miss it, but I have too many cars and I would rather have some other enthusiast finish the restoration and enjoy this awesome ride for years to come.
The TX title is in my hand and ready to be signed off to the new owner.

Please let me know if you have any questions, look at my feedback and bid with confidence.
The Car is located in Houston TX Zip Code 77059.

Good luck and happy bidding!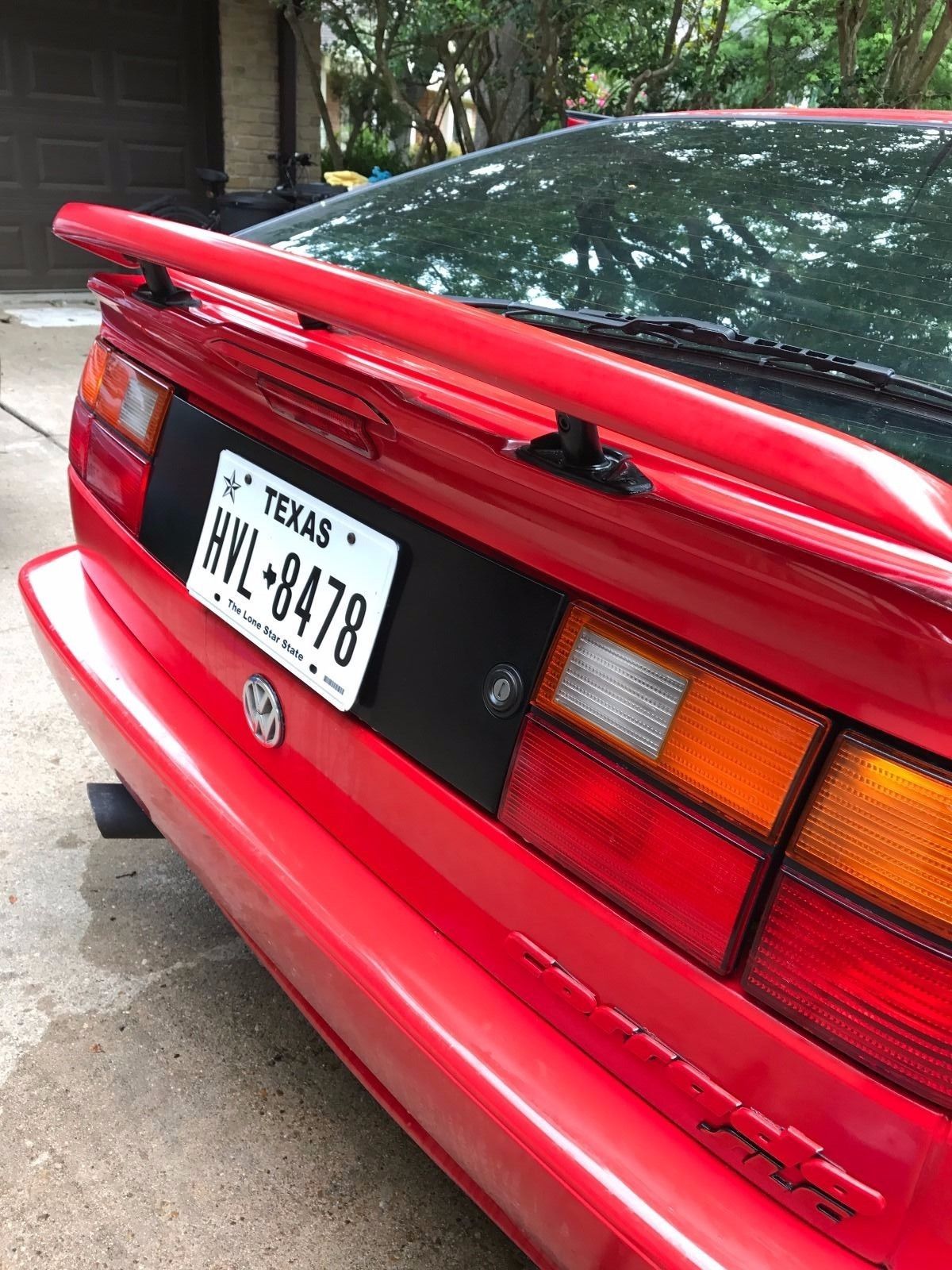 So if the seller is to be believed, this car received a salvage title because of a broken headlight. And indeed, once I read that and went back through the photos, I saw the misaligned passenger unit. But if I'm honest, that seems very unlikely without a picture and documentation to prove the damage. If this was a 10-year old S-Class with adaptive Xenon lights? Maybe, I get it. But even at dealer prices, that broken light had to be well under $1,000 and that's nowhere near 75% book value. If you're selling this car and want to answer the question (which, I will note, the seller both did AND disclosed the damage – kudos on that), why not just add the pictures of the damage and repair?
But take them at their word and overlook a few other items – the cheap tires, the velcro'd dash, and my personal nemesis – the debadged grill, and this is still a very reasonable drive-quality Corrado SLC. In fact, minus the title, I'd say the overall condition could easily be brought up to near show quality without much effort. Even with questions about the repair, from what's shown, what's been done and what the car is, if it tracks straight and the repair was done reasonably it's likely worth the ask.
-Carter