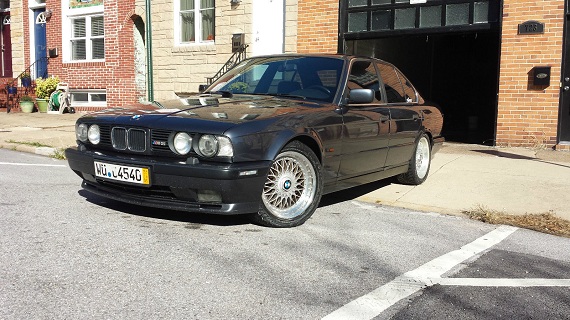 It's a bit of a Euro-spec day here at GCFSB, and both of the featured cars are rare to see on this side of the pond. In the case of the earlier 420SEC, it's rare to see them because there weren't many produced and stateside we have the 560SEC that ran at the same time; in many respects, the smaller motor is a curiosity and a neat side note, but offers no real advantage to U.S. buyers. However, this example is very different; a Euro-spec 1994 M5. While the M5 left U.S. shores in 1993, it soldiered on for a few years in Europe with a revised and enlarged motor. Dubbed the S38B38, the new motor gained 25 horsepower but importantly 30 lb.ft of torque – it was now only 17 horsepower shy of 100 more than the U.S. spec E28 M5's S38B35. That made up for some extra pounds that adorned the E34 chassis versus the earlier M cars and the M5 was even more of a flyer once again. A few of these 3.8 cars and motors have made their way stateside but they're still quite rare to find. Usually, they have some neat oddities that we didn't get here, such as this example's Hurricane cloth interior. All in all, it makes for one tidy performance package that's still quite discrete: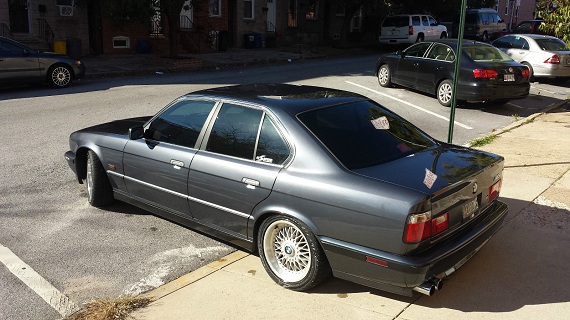 Year: 1994
Model: M5
Engine: 3.8 liter inline-6
Transmission: 5-speed manual
Mileage: 143,990 mi
Price: No Reserve Auction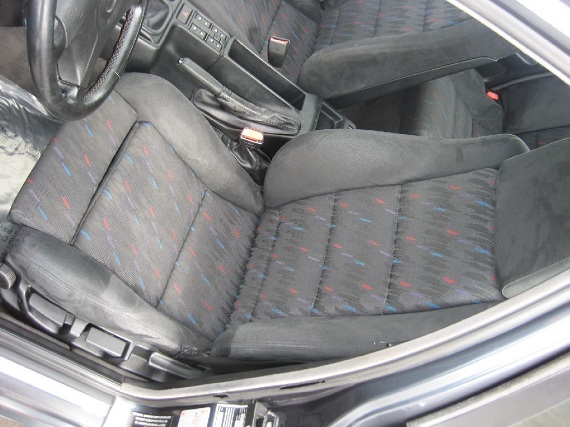 For Sale is my 1994 BMW M5 3.8L euro spec. Last of the hand built m-cars! This is by far one of the best cars I have ever owned. I have been it's proud owner for the past 4 years and am sad to see it go. I hope it finds a good home. Here is about the car:

The car is very mechanically sound and I have been driving it daily for the past two months with no issues. Great color combination Fjord Grey over dark M-cloth seats. Paint and body are in great shape. Interior looks almost new still. The Recaro seats are the manual version to they will never get the cable twist all the power seats got. Style 5 BMW BBS rims with Michelin Pilot A/S tires. Still has original spare tire and tool kit in trunk.

Recent upgrades/maintenance:
-new rotors and pads
-front suspension overhauled (bushings, control arms, idler arm, sway bar links….)
-new shocks and springs. EDC delete in rear. Now running Bilsteins and Eibach springs
-Custom header back exhaust. By far one of the best sounding e34 m5's or any BMW inline-6 I've ever heard. Not raspy or drone.
-S52 timing chain tensioner

Things that need attention:
-slight oil leak up front (every s38 leaks). Took out a/c compressor to diagnose leak. Looks to be coming from front timing chain cover. Like I said I've been daily drive car and with the leak only add about 1 qt of oil every 800-1000 miles.
-windshield washer system doesn't work
-interior dome lights don't work
-typical e34 rust in lower door trim from it early Europe days. I never drive it in bad weather so it hasn't gotten any worse since I owned the car. Also why I never bothered to fix the windshield washers 🙂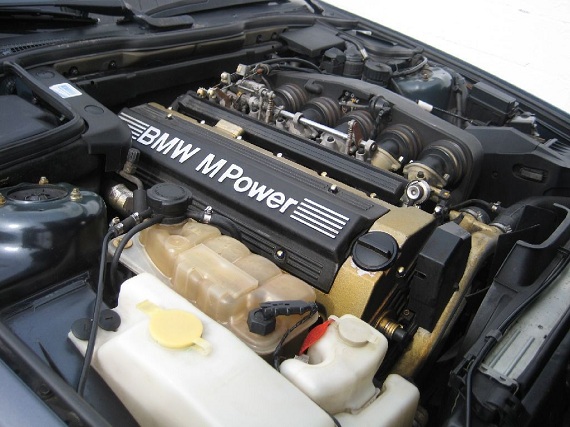 Like Volkswagen ads with unvacuumed interiors and Porsche ads that read like erectile dysfunction advertisements (replete with side-effect warnings), I'm just not sure it's possible to list an E34 M5 for sale without stating it was hand built. I know it's an indication of higher quality, but honestly it makes me chuckle every time. This car isn't in prime condition – most worrying is the high rate of oil consumption. I'm also not sure that adding about 1 quart every 800 miles deserves the descriptor "only"; that leaking rate is close to the amount of hydraulic fluid my V8 quattro was going through towards the end of its career and it was seriously alarming (and, expensive). There are a few details that aren't working – the most expensive of which is the self-leveling rear suspension, and there is some rust to deal with. The original wheels have also been replaced by Style 5 BBS RCs – not a bad change, but I prefer the original M-System wheels on this car. Fjord Grey Metallic was a nice color that didn't make it to these shores on the U.S. spec M5s, and it looks good outside of the aftermarket taillights and too-dark tint. The Anthracite M-Cloth (Code 0475 / A9AT) also wasn't available here and enthusiasts love to see it even if it is a bit of an odd match to a very expensive luxury executive car. Overall, minus the potentially expensive oil leak fix and some minor needs, this car looks like a reasonable purchase for a rare driver. Bidding is over $10,000 already; despite the super power train and unicorn status of these Euro-spec cars stateside, I'd expect the pricing to remain quite attainable; at least, up front.
-Carter