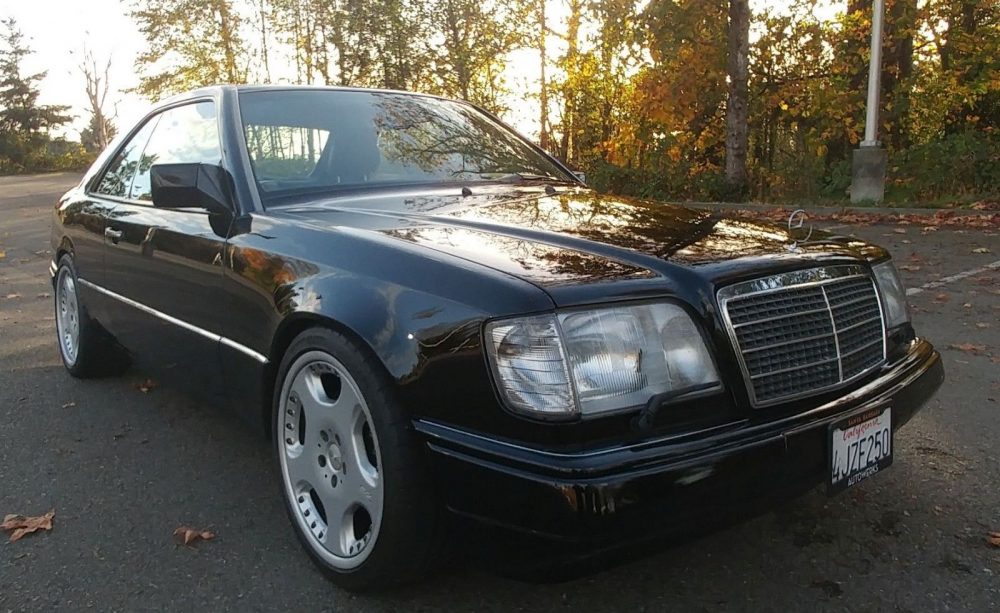 The more I look at the Mercedes-Benz W124 Coupe, the more appetizing it gets. I checked out a really nice 1994 painted in Tourmaline Green a few months ago for what I thought was a really fair price considering what it is. These C124s are not going to get any cheaper and the clean ones are shooting up in value with the facelifted 1994 and 1995 models leading the charge. Today's car, a 1994 up for sale in Seattle, Washington, has some upgrades that you usually don't see on these sleeper coupes. The thing is, I'm not a really a big fan of them. Let me explain.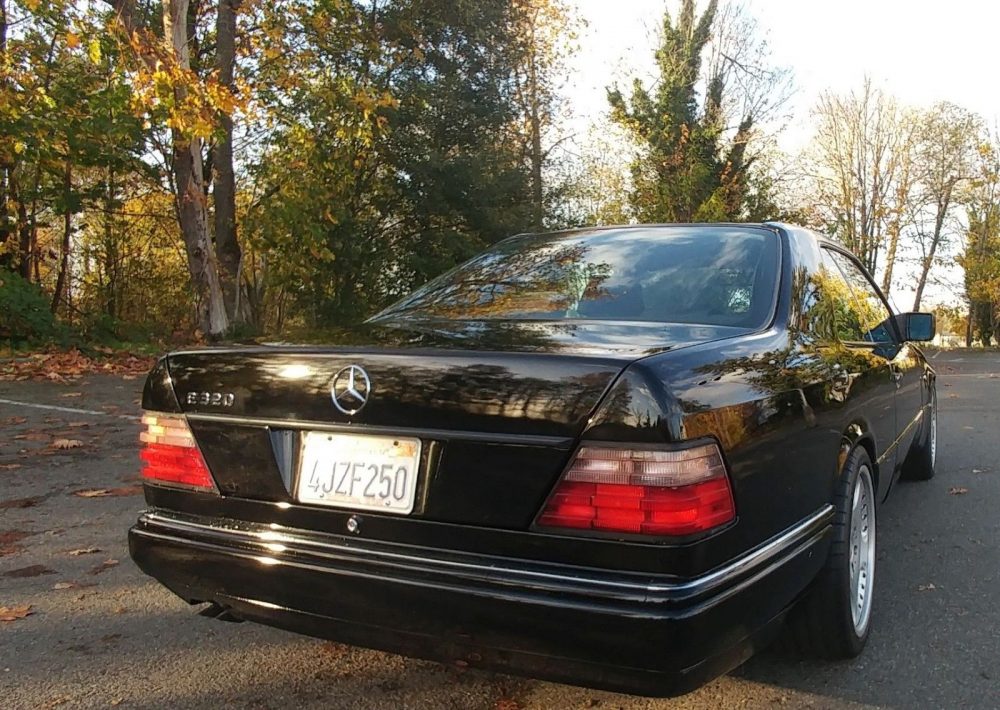 Year: 1994
Model: E320 Coupe
VIN: WDBEA52E6RC092637
Engine: 3.2 liter inline-6
Transmission: 4-speed automatic
Mileage: 137,302 mi
Price: $7,900 Buy It Now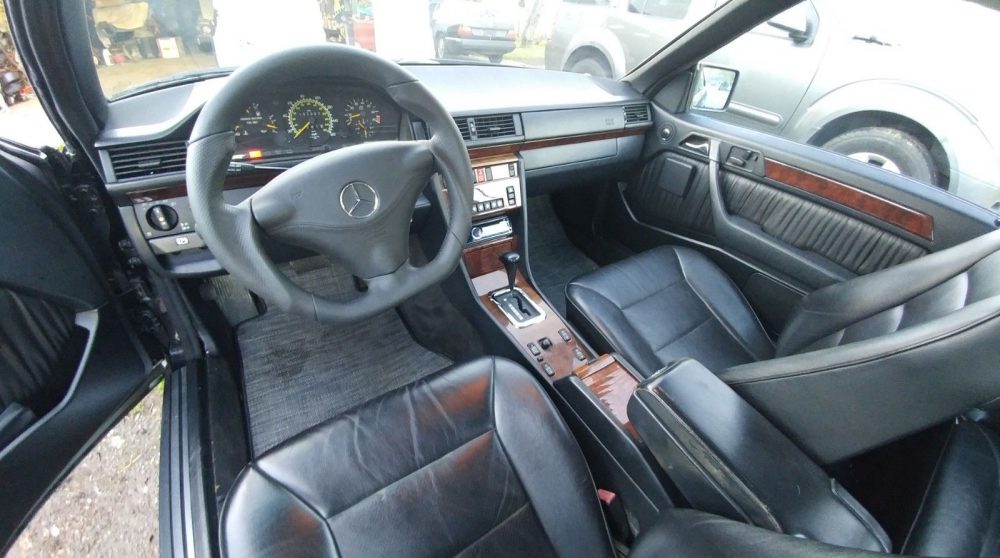 Regretfully selling my beautiful 94 E320 Coupe

Yes, I think I barely driven it like 5 miles since I got it! Didn't even get a chance to register it
(title transferred though)

Unfortunately I have taken on a couple new projects and I have absolutely no room for this gorgeous car.
No way can I ever leave it outside; it deserves to be garaged 24/7!

I had big plans for this car. I got a complete C36 AMG motor w/chipped non-ASR ECU
(will advertise separately for that). I also got a complete 722.6 conversion kit (ditto)
that I was going to put in this car. Sux that now I have to get rid of all this stuff.

BACKGROUND:

See carfax reports. As you can see, it spent originally in Texas, but mostly in California.
I.e. NO RUST ANYWHERE! Looks like the PO did have a minor front bumper accident
(receipts shows this) which he felt was a good time to get the Sacco panels and rear
bumper redone in black. I have thousands of dollars in receipts from the PO, but not from previous owners.

Car is located just a few mile south of Seattle

GOOD STUFF:
no rust
no scratches
straight body
99% things work
Wiring harness replaced w/2003 harness (see pic)
AC blows cold
No oil leaks anywhere (so can assume head gasket was done)
Runs flawlessly
Updated front grille in some of the pics (original included)
Updated awesome newer steering wheel (original included)
Interior in real good condition (video will point out flaws)
OZ Opera II 18″x8″, 18″x9″ staggered wheels
Michelin 225/45-18, 255-40-18 tires w/65% tread left (no rubbing, rear fenders slightly rolled).
New Soundstream amp
Bazooka Sub
Alpine unit w/bluetooth, etc.
~137,202 miles
Receipts showing maintenance
Newer pics shows a console chrome surround
Car cover included
Clear title
Clean Carfax
Bilstein shocks
H&R Springs

MINOR NITS:
Rear head rests down operation recently stopped working (works if you connect the vacuum tubes under rear seat; suspect switch so ordered a new switch that's coming)
Right side mirror sometimes gets stuck
Very slight, minor cracks in the console wood.
Driver's seatbelt presenter holder has cracks/repairs. Included is a newer one.
I really wanted to fall in love with this coupe but all these small things, that admittedly are fixable, just aren't doing it for me. The bones of this car are really nice with a black on black setup with no rust. It has a little under 138,000 miles and had some big maintenance items done like the wiring harness and a (claimed) headgasket. The problem is all these aftermarket touches on the car that just clutter it up. The clear sidemarkers, grille, giant OZ wheels, lowered suspension, big sound system, chrome trim and that god awful steering wheel just leave me with a sour taste in my mouth. I understand modifying your car to your tastes, but don't expect others to feel the same way and certainly don't expect them to pay a premium either. I just wish this was a stock car without all this random stuff that was added to it. The steering wheel looks totally ridiculous in a car like this and isn't even that practical because it cuts off some of the gauge cluster because it is a much smaller diameter.
The seller is asking $7,900 which I think is in the ballpark, but there is probably a reason it has been listed for several weeks and hasn't found a home yet. Not to mention they couldn't even be bothered to fix the crooked hood star before taking photos of it for this listing. If this was a totally stock car, then yes, $7,900 is reasonable. All this aftermarket stuff? I think you are going to have to come down some. I know the seller includes all the stock parts, but putting that stuff back on takes time and time is money whether you are doing it or paying someone to do it. All in all, a car with a ton of potential, but not quite there for me right at this moment.
– Andrew