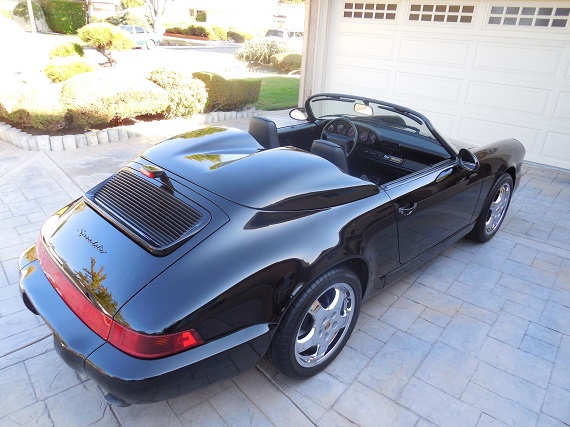 It feels like it has been a while since I've written about a 911 Speedster, but as prices for these models have steadily increased I've become even more torn about these models. I understand why prices for the Speedster have skyrocketed; they are relatively rare and reach back to Porsche's earliest history. Still, I can't help but feel that as these become ever more exclusive, ultimately they are destined to rarely, if ever, see the light of day, and never truly fulfill the basic goals of the original 356 Speedster to which they harken. C'est la vie. The 964 Speedster is my preferred variant over its slightly younger sibling the 3.2 Carrera-based 911 Speedster, and they also tend to sell for a little less money. Granted, those monetary differences can be small and the 964 Speedster appears to have quickly caught up within the current market. Here we have an example from the final year an air-cooled Speedster was produced (unless your name is Jerry Seinfeld and Porsche built you a 993 Speedster): a Black on Black 1994 Porsche 911 Speedster, located in San Jose, with 19,342 miles on it.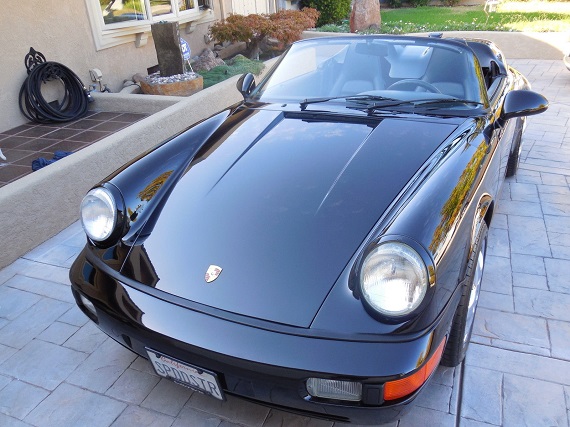 Year: 1994
Model: 911 Speedster
Engine: 3.6 liter flat-6
Transmission: 5-speed manual
Mileage: 19,342 mi
Price: Buy It Now $165,000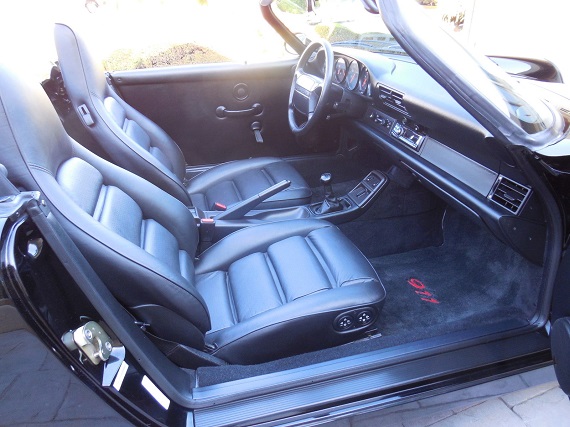 The 1994 964 Speedster is the last of the air-cooled Porsche Speedsters made. Low low production, Porsche planned to build 3,000 964 Speedsters. There were only 936 Porsche Speedsters produced worldwide and of those, only 427 Speedsters were sent to the United States and Canada. This Speedster has the Triple Black color combination. It is by far, the most sought after color combination, especially for this rare sport's car. This fact is agreed upon by the most serious of car collectors and car investors. This car has 19,3xx original miles and has resided in California much of its existence. I was informed this Speedster was originally purchased in Texas and it soon resided in Southern California, in the San Diego area I was lead to believe. It was sold by the prestigious "SYMBOLIC MOTOR CAR COMPANY", in La Jolla, California in 05/2001 by the gentleman that I purchased the vehicle from. At the time he purchased the car it had approximately 11,000 original miles. I purchased this vehicle in 07/2007 with approximately 17,800 original miles. I believe I am the 3rd or 4th owner. Before the final purchase I had two mechanics go over this vehicle with a fine tooth comb and compared their notes to see if anything was missed. Do the math I have only put some 1,500 miles since I have owned this beautiful sports car. The oil has been changed 7 times because of the passing of time and short use. There have been many times I would go out to the garage and uncovered the Speedster just to look at it, sit in it and towel it down. Just to look at it, the car looks like it's moving when it's standing still! When driven, it was driven with respect and I made sure the car was warmed up to maintain all vehicle seals properly. It is very important to run and heat the vehicle properly to keep all seals lubricated properly on an air cooled Porsche motor. Not just start it up or drive it around the block for instance and think you are doing your Speedster justice!

The black paint and black leather interior are in excellent condition. The soft top is in great shape. I have won 4 shows out of 6 attempts. When showing my Porsche Speedster if I showed the car with the top up I simply would dampen and lightly brush the soft top and let it sit in the warm sun for a short time and the top comes to life and becomes wrinkle free. The general condition of this fine sports car is excellent plus. Paint is original and glossy, the car drives and handles like new, AC is cold, it is tight, brakes on a dime and handles as it should. I have two sets of tires and wheels that will go with the new owner. First I have the original set of wheels with replaced tires that are a silver 17" Cup wheels now stored and the set of wheels pictured on the car. Those are a chrome plated after market set of 17" Cup wheels with the original colored Porsche Crests and tires that are in great shape. I have a set of wheels locks that I use on my wheels.

All the code stamps on various body locations are all intact. From the history I know and have, there has never been any body damage or repainting. All the codes stickers are intact with the vehicle ID number.

I reserve the right to cancel this advertisement because the vehicle is advertised locally. Please call Bill at 408 241-0404 with any specific questions and will get an answer back to you ASAP. This is an awesome sports car and will only appreciate. Asking $165,000. I am not a wealthy person but I also do not need to sell my Porsche Speedster. I have proved I am capable of keeping the miles low. It would not shock me to see this vehicle double my asking price in the next 5-7 years or less! This car is rare and a great investment today! This vehicle will not be less rare in the future or loose investment value. Best of luck and thanks for looking.

There is a scratch located on the humped rear soft top cover panel. It can be seen in one of my pics. The original radio has been replace with an updated Alpine unit. I do have the original radio but I need to locate it. We completely remodeled a few years ago and I will need to find where I stored it. The previous owner installed a keyed on/off switch to control passenger airbag for the purpose of his young child. I had no problem with this added feature because I have a young grandson myself who loves driving in his grandpa's Porsche Speedster. There was a lot of expense and documentation involved in the proper installation of this switch. If anyone should take a small child for a ride with the airbag activated, there could be a devastating or even deadly result! Original battery was replaced. The Porsche has personalized California license plates "SPDDSTR" witch I will be keeping for another vehicle I own. A battery disconnect with a turn knob was added to save battery.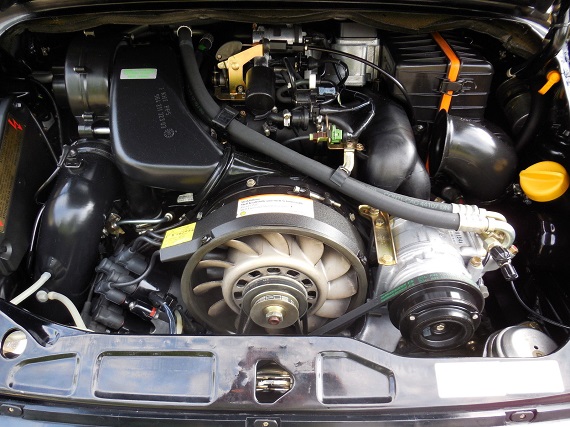 The asking price here seems high though I've seen a wide range of asks and this one is certainly not the highest we've come across. With that said, it'd have been worthwhile for the seller to find the original radio prior to sale and the installation of an air-bag on/off switch is a curious addition that while functional is probably not going to excite collectors. Whether it can be easily removed, I'm not sure. So there are some issues to be resolved here, but with so few of these produced and the air-cooled market continuing to escalate, it should only be a matter of time before this sells. Even at a high price, it's still likely to make for a reasonable investment.
-Rob