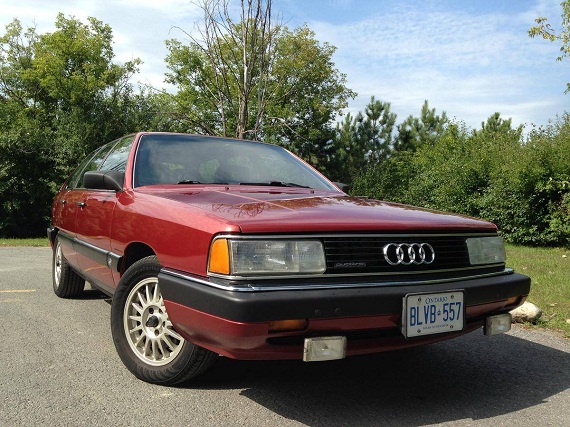 The Type 44 Audi was an impressive advance for German automobiles, a huge leap forward for Audi in a new marketplace – but also nearly the cause of its demise. It was an aerodynamic, futuristic sedan when both BMW and Mercedes-Benz seemed to be producing cars stuck in the 1970s. It was the blueprint for most modern luxury sedans from not only German companies, but many of the advances were copied by the Japanese, Italians and Americans for their large sedans. Yet, by 1990 Audi nearly pulled out of the American market thanks to some creative journalism from 60 Minutes, who in their effort to prove Audi was at fault for some unintended acceleration cases nearly killed off the company entirely. In part as a result of their efforts, it's become quite rare to find clean examples of them today – but it's also because they were such good, long-lived and solidly built machines that few have lower miles today. While I recent featured a few 20V turbocharged examples in the 20V Turbo comparison, today we'll look at a few of the lesser appreciated examples, starting with a clean 5000CS quattro Avant in Canada: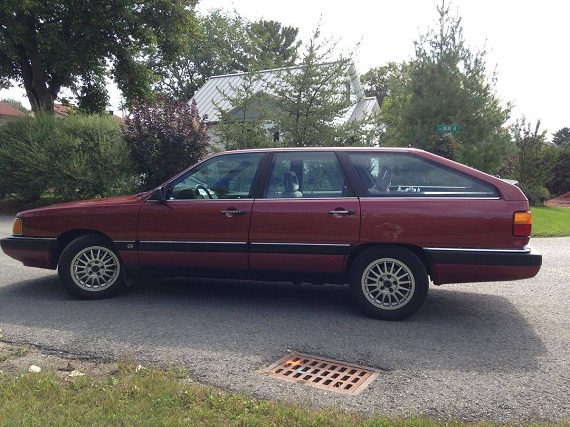 Year: 1986
Model: 5000CS quattro Avant
Engine: 2.2 liter turbocharged inline-5
Transmission: 5-speed manual
Mileage: 111,300 mi
Price: $4,000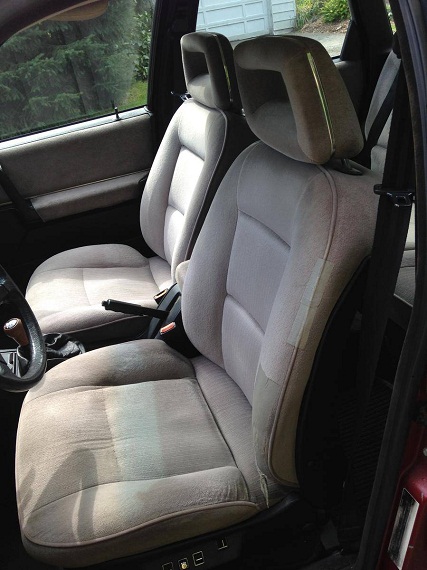 For sale, Audi 5000 CS Quattro Avant (Wagon). I am the second owner of this vintage Audi all-wheel-drive wagon with manual transmission, locking differentials, and 2.2L turbo 5 cylinder engine — the engine that won multiple Group B rally championships and Pikes Peak hill races. This may be the only wagon of its vintage and type with a manual transmission in Canada. The car is great fun to drive and was restored by Mark Motors of Ottawa in 2010. I have had the car for just over three years and have done additional work to it. It is in excellent condition and is an efficient, fun, and practical car to own. The car is extemely capable in the snow and has locking centre and rear differentials. It is also super-efficient on the highway and gets 5L/100KM in highway driving between Ottawa and Montreal and 7.5L/100KM in the city.

Some of the work done recently to the car
– Repainted in original color by Mark Motors of Ottawa in their Audi/Porsche painting facility
– New springs and suspension
– New headliner
– New gas tank and fuel accumulator
– New oil cooler and lines (for turbo)
– New radiator
– New alternator
– New brakes and brake accumulator
– New exhaust
– New clutch linkage
– More updates available and full service history

The car is bone stock with no upgrades. It comes with stock rims with Conti all-seasons plus winter aluminum rims with Conti winter tires are also available. Both sets of tires have less than 7,500 miles on them each. This car is driven daily and has been a joy to own. I have recenlty purchased a truck and simply don't have room in the driveway for both vehicles.

Price: $4,000 firm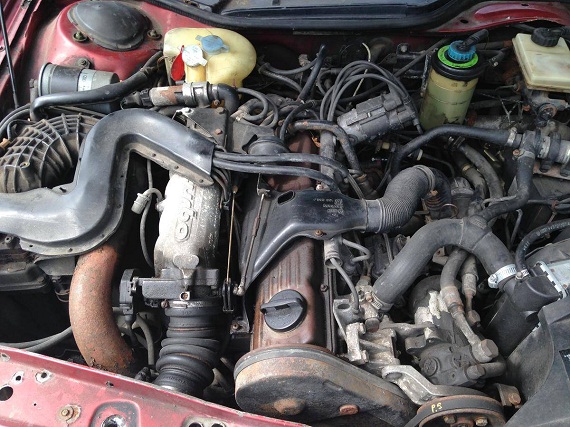 This car certainly appears to be far above average with miles that are well below normal. The Canadian 5000s had some different options from the U.S. spec cars, which mostly came fully loaded. This example has cloth seats, for example, in place of the usual CS leather. It also has wheels more often associated with the original Quattro and 5000CD quattro model – Ronal R8 alloys in place of the typical "aero" wheels. The combination with Titian Red Metallic outside is quite classic and nice, and the car is slimmed down without typical roof racks. With a fair amount of recent expensive maintenance covered, this car is well worth the $4,000 asking price and will make the new owner quite happy.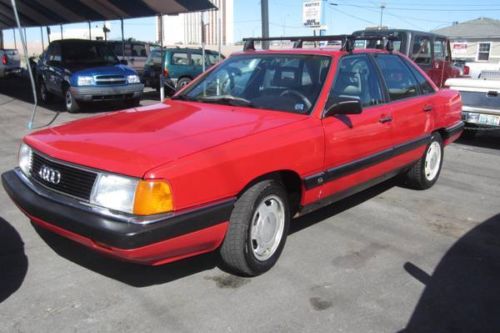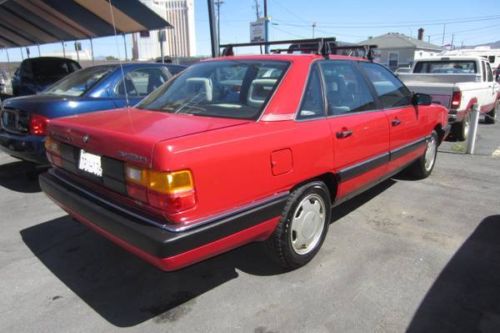 Year: 1987
Model: 5000S Quattro
Engine: 2.2 liter inline-5
Transmission: 5-speed manual
Mileage: 127,416 mi
Price: No Reserve Auction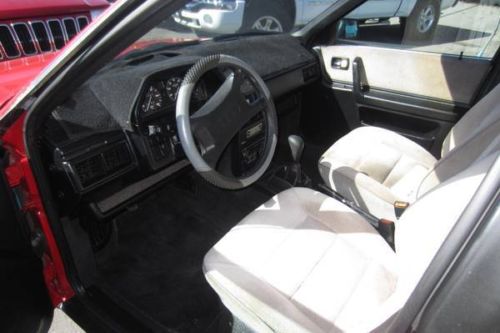 1987 Audi 5000 QUATTRO All Wheel Drive . Rare 5-Speed. Runs and drives ok, needs work to pass smog inspection. The drivers door wont open from the outside.
Registered in California until 2015 . Nice Clean Car. NO rust. Sold As-Is. I was told it had a new motor installed in 1997. Some service records included. Clean , Clear California title
I will assist with shipping from this end.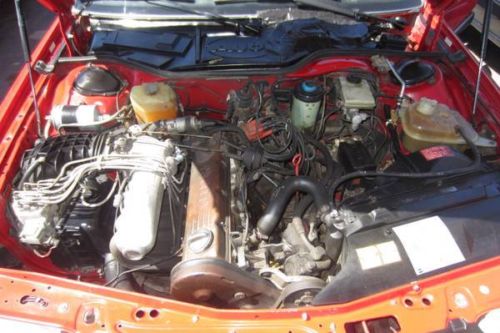 The non-turbo variant of the 5000 quattro is quite rare; dubbed the 5000S quattro, it featured the upgraded brakes and wheels from the turbo and cs quattro models, but the headlights were from the standard 5000. Inside, unlike the U.S. bound CS models, most S models had cloth interior but retained the rest of the twin-locking differential drivetrain that the turbo quattros received. The engine was shared with the coupe and 4000 quattro models, meaning these heavy large sedans aren't quick but are just about unstoppable in snow. This is a nice looking example that is currently well under $1,000; a steal if it stays low, and a bit of an oddity for U.S. Audi fans. Most probably don't even know it existed!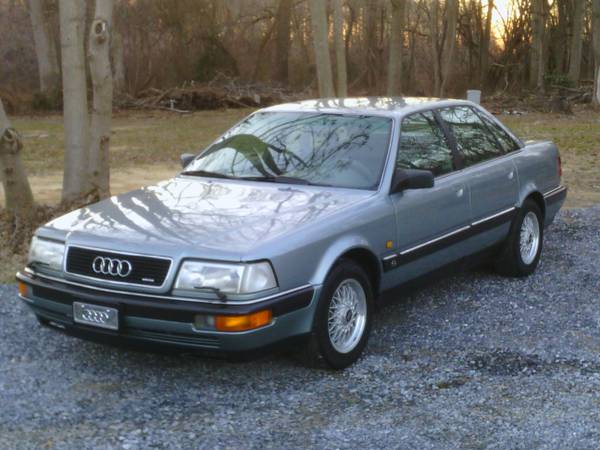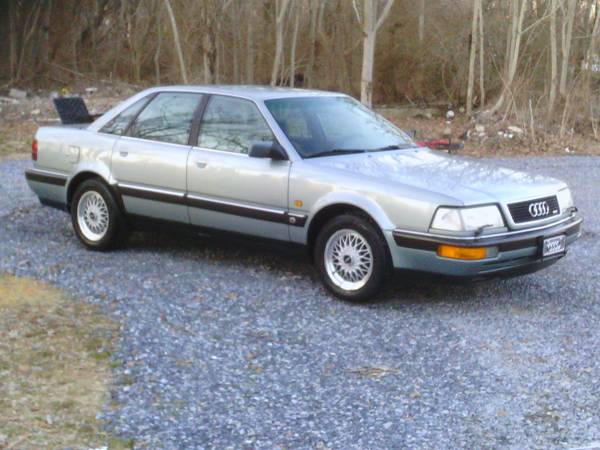 Year: 1991
Model: V8 quattro
Engine: 3.6 liter V8
Transmission: 4-speed automatic
Mileage: 125,000 mi
Price: $4,000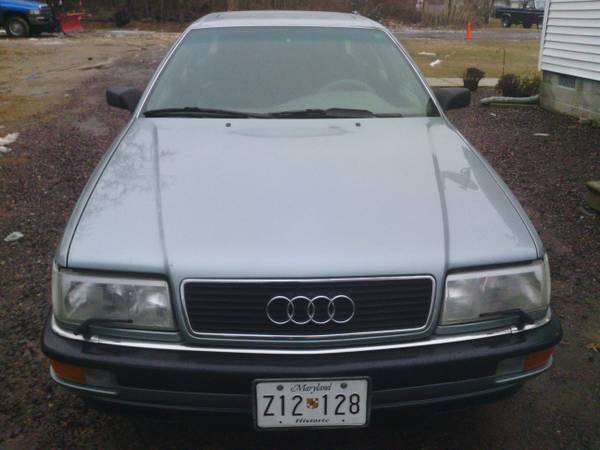 I have a 1991 audi Quattro v8 in pretty good condition for its year,fully loaded tagged and ready to go very few issues with this classic.willing to trade for motorcycle suvs,trucks,lets me know what you have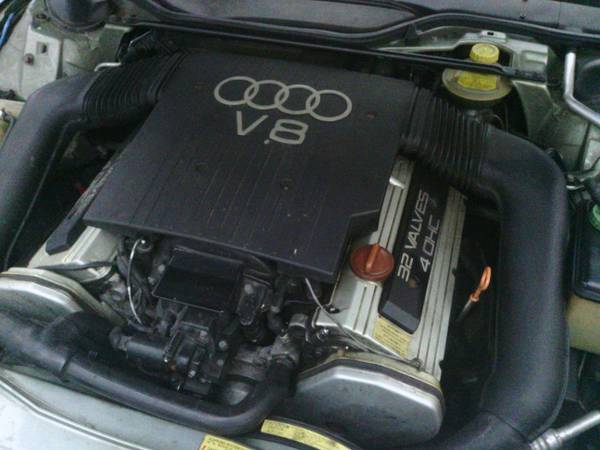 Of course, the V8 was the ultimate development of the Type 44 chassis, with so many changes it received a new model designation. Despite that, underneath it's very similar to the older cars, though modernized with more soundproofing, strengthening and routing power to all 4 wheels now with an automatic option. While not the choice of most enthusiasts, it was an important market for Audi to break into since few large luxury sedans are sold with manuals. Not much is offered in terms of detail as to what's been done on this example maintenance wise, but the condition appears to be better than average and the miles are fairly low. I believe the color is Glacier Blue Metallic and think the interior is grey – though the pictures make it hard to tell. If it's free of major defect and mechanically decent, the price isn't far out of line.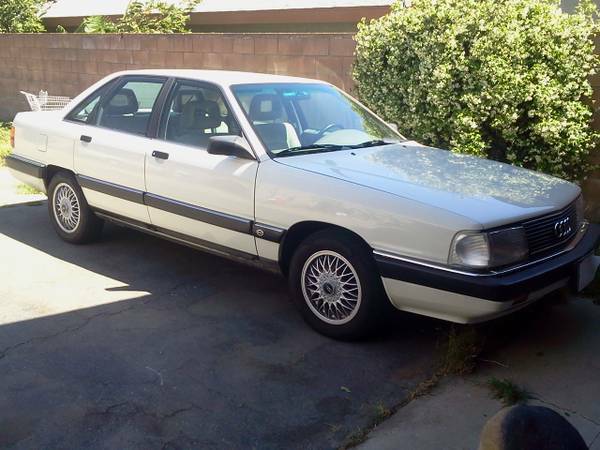 Year: 1990
Model: 100 quattro
Engine: 2.3 liter inline-5
Transmission: 5-speed manual
Mileage: Not Listed
Price: $1,500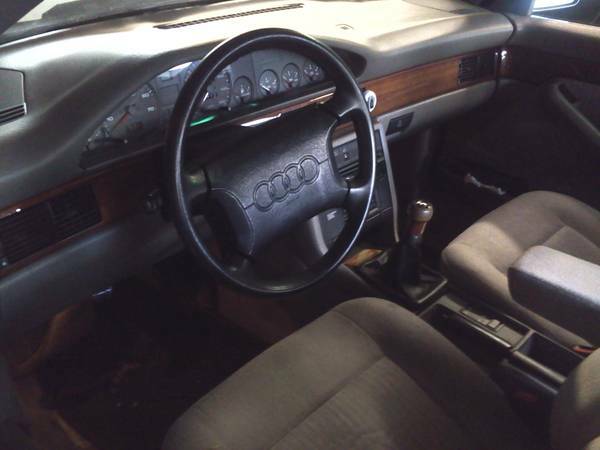 Good Running Car.

Call for an appointment !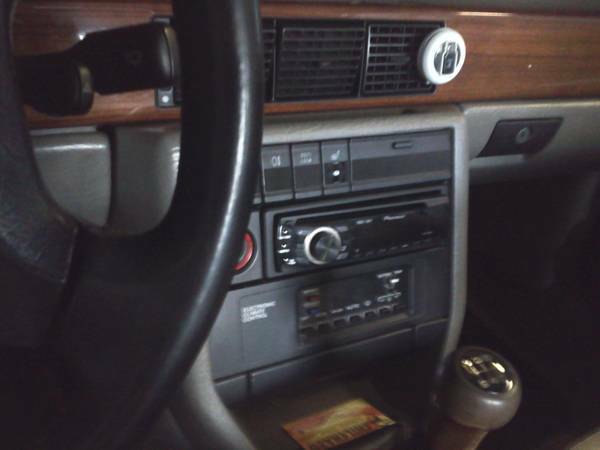 Unlike the 5000S quattro which shared the 5-bolt wheels and brakes from the turbo Audis, unusually the 100 quattro – effectively just a re-badged 5000S quattro – was fitted with the same brakes as the 80/90 quattro, meaning it reverted to 4x108mm wheels instead of the 5×112 seen on the early car. However, it did get nice looking BBS wheels in place of the earlier 5000 chunky alloys; the 15×6 wheels are an easy upgrade for small-body chassis owners. While mileage isn't listed it generally doesn't matter much – if the condition looks this good, as long as it runs the asking price of $1,500 is probably justified. The increase to 2.3 liters meant a few extra horsepower that won't wow you and twin differential locks were gone, replaced by a single rear locking button. The 100 also received the updated dash seen in the 200 and V8 models, arguably a nice improvement and modernization.
Which is the winner? Well, if you paid the current prices on all of them, amazingly you wouldn't have to choose – they total up almost exactly to $10,000. In this group, it's hard to get by how good that Avant looks. While I do love the V8 very much, the lack of detail versus the Avant means that it wouldn't be my first choice. But any of these cars are very reasonably priced, classic Audis that are unusual to see today but will run for years to come if properly cared for.
Thanks to our reader John for spotting the Avant (also featured here on Petrolicious and the V8!
-Carter