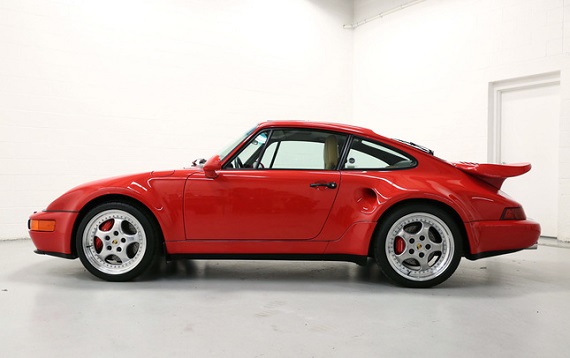 The quest for the 'Holy Grail'. Everyone has their own holy grail among 911 models and for those that are really particular that search gets parsed even further into specific color combinations on said models. Well, among 911 models themselves the one we see here is the one many will seek. Here we have a 1994 Porsche 911 Turbo S Flatnose with a scant 2,306 miles on it. The colors here are Guards Red over Cashmere Beige – a not uncommon, but still eye catching combination on any 911. As you'd expect there aren't many of them (39 were built for the US) so we don't see them come up for sale often and they're very expensive. Interestingly, these aren't the most rare and sought after of these cars. The even more rare 'Package Car', distinguished from these by having the standard 964 nose rather than the 968-derived Flatnose, takes relative rarity even further with only 17 having been produced in total, all of which were for the US market. Holy Grail indeed!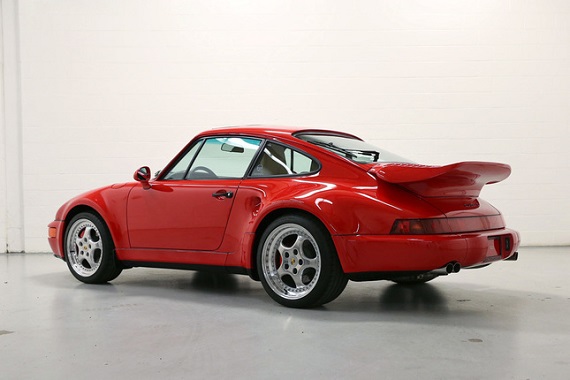 Year: 1994
Model: 911 Turbo S
Engine: 3.6 liter turbocharged flat-6
Transmission: 5-speed manual
Mileage: 2,306 mi
Price: $985,000 OBO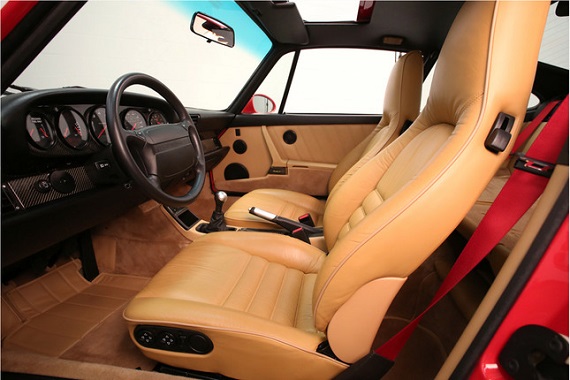 This car is the very definition of a museum piece, in fact, it's so perfect that it was flown to Germany to participate in the 25th anniversary of the Exclusive department exhibit at the Porsche Museum.

1 of 39 USA models
2,306 original miles
3 owners
18 inch polished Speedline wheels
All Books and Records
Cashmere leather interior
Copy of the window sticker
Dual heated seats
Electric sliding sunroof
EXCLUSIVE carbon fiber door sills from participating in 25th Anniversary exhibit
Factory Flatnose/Flachbau Package (cost $60,179)
Full documentation of correspondence with Porsche for exhibit
Full power seats with lumbar support
Guards Red
Head restraints with Porsche crests
Hi Fi sound Package
Porsche Museum created a scale model based on this car!
Remote CD changer
Selected by Porsche for celebrating 25yrs of the Exclusive exhibit at the Porsche Museum in Stuttgart
Supple leather
Will be available for purchase at Bonhams Quail Lodge Auction on August 19th 2016.
X 85 option: Turbo "S" Flat nose package
X 88 engine power option: producing over 385HP
X92 front spoiler lip
X93 rear spoiler
X 99 option: Air inlets in rear side panels for engine cooling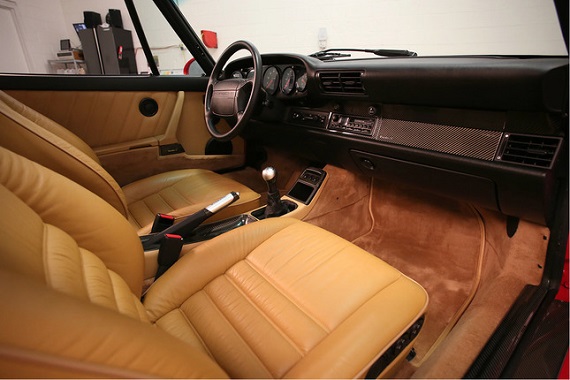 Is all of this specialness worth $1,000,000? Well, maybe. We've featured a couple of these cars over the years, but it's always hard to know what they actually sell for, regardless of their high asking price. We do have one definitive answer: Jerry Seinfeld's Polar Silver Metallic Turbo S sold for $1,017,500 at Amelia Island last Spring. That puts this one in reasonable company, though we'll have to wonder how much of a premium the buyer was willing to pay for something from the Seinfeld collection. That also was the only example in Polar Silver Metallic. Of the ten Guards Red examples, six came with the Cashmere Beige combination we see here. So there aren't a lot, but there's more than one. Regardless, opportunities to purchase a Turbo S Flatnose are rare and for those fortunate enough the right one should bring its owner eternal joy.
-Rob