Like the C3 chassis that predated it, the C4 went through numerous changes seemingly every year – giving each individual model year something special for fans to covet. 1994 to 1995 saw some major changes for the C4; the most obvious being the model designation change from S4 (1991-1994) to S6 (1995-1997). European models had some additional drivetrain options that weren't available in the U.S., and indeed the Avant had previously been available in S4 form, but the 2.2 liter turbocharged inline-5 carried over largely unchanged into 1995. The big news was the addition of the Avant to the U.S. lineup; at the time, as expensive as an Audi got here. There was also the obvious external refresh; smooth body-colored bumpers and wider side trims eliminated the rubberized black moldings. The hood and lights were lightly re-sculpted too, along with the change (rolling, for some models) from the Fuchs-made 5-spoke alloys to the Speedline-made 6-spoke Avus wheels which would be the signature S-wheel for the next decade.
Gone were two staples of the Audi lineup from the 1980s – Procon 10, the seatbelt pre-tensioning safety system Audi highly marketed in the late 1990s disappeared with little fanfare, but also, perhaps more strikingly, S cars would no longer be branded with "quattro" badges – a change that would carry on nearly until today's models, where models like the RS7 re-introduced it in the grill. Inside minor changes were introduced; a revised dashboard, shift knob, along with the introduction of the most notable item (once again, rolling) with a 3-spoke sport steering wheel. It was a tremendous amount of minor fiddling that in sum resulted in a slightly different feel for the S6; slightly more polished and grown up, carrying the new design language for Audi that would remain for the next decade.
Audi wasn't done, though, because in "1995.5" Audi once again altered several items on the then-still-new S6. This included a major switch moving forward – the elimination of driver control of the rear differential, a hallmark of Audis since the introduction of the original Quattro. Audi opted for an "electronic differential lock", which in reality was a system which utilized the ABS system to detect wheelspin and apply the brakes. This major change resulted in some minor interior tweaks, such as moving the cigarette lighter, and there were additional revisions to the radio. The transmission's traditional weak first gear was also addressed, as well as swapping infrared locking for radio frequency and some other minor trim. All of these changes – some of them running – give the limited production S6s a bit of a bespoke feel. With numbers produced only in the hundreds, these are special and coveted cars that are very capable – and highly sought: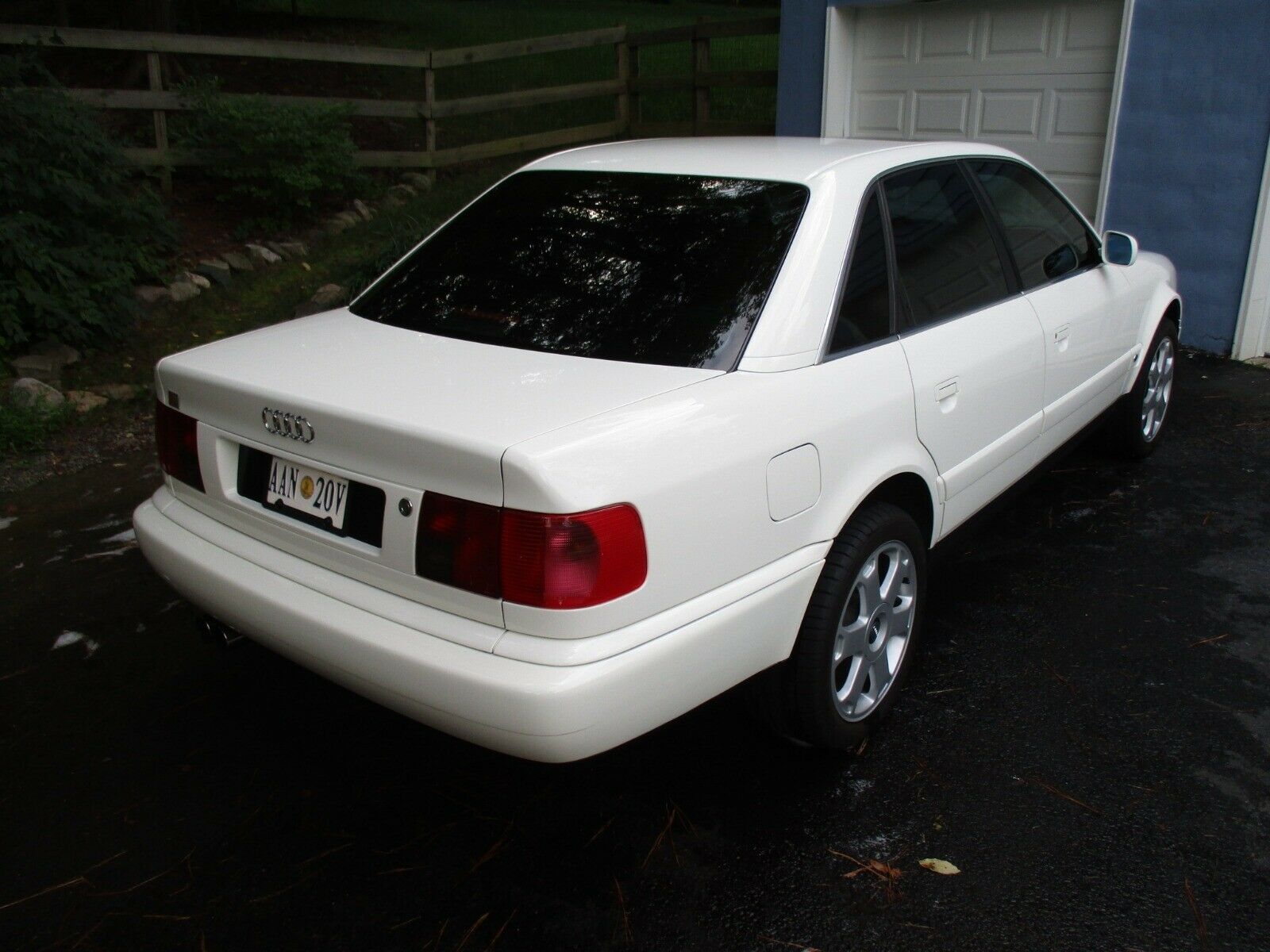 Year: 1995.5
Model: S6
VIN: WAUKA84A9SN121443
Engine: 2.2 liter turbocharged inline-5
Transmission: 5-speed manual
Mileage: 176,815 mi
Location: Reston, Virginia
Price: Reserve Auction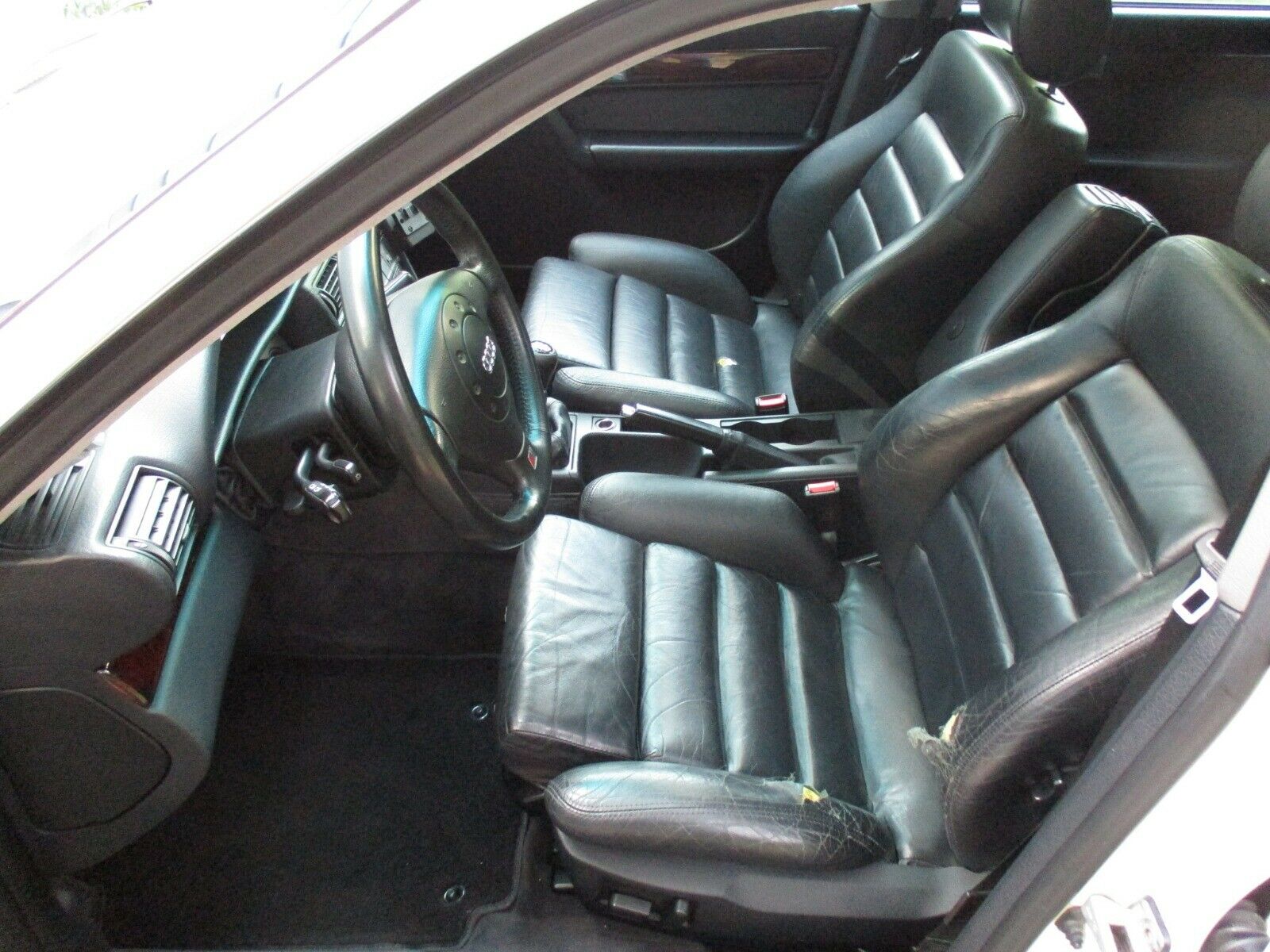 Auction terms – please read before bidding:

1. Vehicle is sold AS-IS, WHERE-IS condition. No warranty of any kind is expressed or implied.

2. Non-refundable deposit of $500.00 via PayPal is due within 72 hours of auction end. Payment in full due upon pickup of the vehicle. Certified check from LOCAL(to me) bank that can be cashed before transfer of title and release of vehicle for carrier transport, or CASH at in-person pickup.

3. Buyer is responsible for pickup or shipping. I will meet with your carrier of choice at the vehicle location to help load the vehicle, but all shipping costs and arrangements are the responsibility of the buyer. Seller will NOT transport the vehicle for shipping, carrier must come to vehicle location. Vehicle must be picked up within 10 days of auction end. Please be aware that all of the extras and spare parts WILL NOT fit inside the car for carrier transport. I will carefully load as many parts as possible without causing damage to the vehicle. Items that do not fit can be abandoned by the buyer or the buyer can arrange for shipping them. Buyer is responsible for any costs and arrangements of shipping for these items.

4. Ask questions BEFORE bidding. Seller will not cancel bids.

Over 100 additional photos of the car are available at

Vehicle info

1995.5 Audi UrS6 Sedan

Casablanca White LY9G

Black Leather N1U

WAUKA84A9SN121443

09/1995 Production

176830 Miles, may go up a little car is still driven occasionally

Passed Va Safety inspection 07/11/2019

Passed Va Emissions inspection 07/23/2019

This is my personal vehicle that I purchased in 2017 from a fellow Audi enthusiast. I have done extensive repairs during my ownership, and the car is ready to drive anywhere. Modifications, maintenance, and known issues are listed here. Per correspondence from Audi USA on January 5th, 2018, this vehicle is one of nine 1995 Audi S6s in this color/interior combination, and one of 11 total imported to the US in Casablanca white. The car comes with owners manuals, two keys with working remotes, maintenance and repair records from me and some records from the prior owners dating back to 2007. I have listed everything I can think of below, I'm sure there are more features and modifications I'm missing. All major power and electrical functions are working, except as noted below. If you have questions about something specific, please ask. I welcome and encourage pre-purchase inspection, please contact me to make arrangements.

Body & paint

Front bumper repaired and repainted

Rear bumper repaired/repainted

Hood repaired/repainted

Left side doors replaced/repainted due to damage from prior owner

Minor cosmetic imperfections on exterior

Tinted windows Virginia legal 50% front doors, 35% rear doors, rear side and back window

E-Code European market A6 inner & outer taillamps(orange signals) with plate tub

Cleaned/rebuilt headlights with all new bulbs

New exterior mirror glass w/blue tint & convex left glass

Marshall instruments Boost Gauge in A-pillar pod, color matched to interior

Programmable wiper relay

Audi Concert radio

Performance Modifications

MTM Stage 1+ (Hoppen Motorsport), Original chipset included

EFI Express LS2 Coil kit w/Magnacore wires

EFI Express 39mm Duel Fuel pump bracket

EFI Express/Walbro 450 Fuel Pump

EFI Express Fuel pump relay harness

EFI Express Downpipe (174704 02/21/2018)

Stromung Gen5 w/cat (174704 02/21/2018)

Samco boost hoses

S4 Metal intercooler and crossover pipe

034 Turbo inlet hose (New 2/20/19)

034 PCV Breather catch can

034 Billet PCV valve and silicone hoses

034 Street density Engine mounts

034 Street density transmission mounts

034 Polyurethane front snub mount

034 Billet Short Shifter

Wheels/Tires/Suspension/Brakes

OEM 17" C5 S6 Avus Wheels w/matching full-size spare

255/40ZR17 94W Continental Extreme Contact DW tires, 9/32" tread depth + matching full-size spare on matching Avus wheel(not pictured).

Rebuilt Porsche Boxster front calipers

ECS Tuning A8 312 MM slotted rotors

034 Motorsports Boxster caliper brackets

Centric/Powerstop Braided SS brake hoses front & rear

AK Motorsports front Swaybar bushings Street hardness

AK Motorsports front control arm bushings Street hardness

AK Motorsports front subframe mounts Street hardness

Known issues/needs

Oil temp gauge intermittent

Exhaust has a minor clearance issue with the center heat shield, probably related to the 034 Engine mounts installed by the previous owner. Tons of info on quattroworld about this.

Occasional hesitation under boost, clears up when the car warms up.

Driver's seat heater inoperative, typical wear on front seats. Pair of seats from a 95.5 S6 is included with the sale.

High beams work on flash-to-pass, but do not stay on(replacement switch included)

Cruise control intermittent(replacement switch included)

Shifter is a little notchy as 01Es tend to be, but gears do not grind. Reverse gear is noisy, but does not pop out of gear when reversing.

Clutch pedal is a little soft, new slave cylinder & 034 braided line are included. Master cylinder is new.

Porsche brakes make noise when hot. New Textar pads w/silencer pads are included.

Left windshield wiper streaks, replacement wiper arm included.

Tires rub on fender liners when reversing at full lock.

Minor cosmetic issues on interior and exterior

Included parts/spares, some new and some used:

New clutch slave cylinder & 034 braided hose

Pair of front seats from 95.5 S6

Headlights w/HID setup

US-market front corner markers

3rd brake light

Instrument cluster(for parts)

Spare instrument cluster bulbs

Spare Audi Concert radio

Original Audi car phone

Headlamp washer pump, hoses, and one jet

A/C system charge port adapters

Pair of wiper arms

New cabin filter

New oil filter & drain plug

OEM Safety/warning triangle

Spare Climate control unit

Interior switches & bezels

Sun visor

Rear view mirror

Door parts

Steering column covers

Radio bezel

HVAC Motors & ducts

Fuse box cover

Fuel door actuator

Decklid wiring harness & parts

Original fuel pump assy

Hood release cable & parts

Headlight plugs & taillight wiring harness

Exterior door/fender moldings

Bumper moldings/grilles

Washer tank

Hydraulic fluid reservoir

Engine parts

Spare LS2 Coil

Driveshaft support bearing

Turbo oil lines

AND MORE!

Repairs/maintenance during my ownership:

172xxx 05/12/2017

Purchased vehicle

05/19/2017

Trunk shocks replaced

Front caliper pins/sliders cleaned/lubricated

05/25/2017

Replaced Transmission fluid w/OEM

Replaced Rear differential fluid w/OEM

06/10/2017

Installed OEM Audi rear car seat anchors

172590 06/15/2017

Left side door/quarter panel repairs completed

172750 06/20/2017

Passed Virginia Safety Inspection

Passed Virginia Emissions Inspection

173081 07/07/2017

4WA (Failed)

173082 07/20/2017

4WA Completed

07/29/2017

New engine air filter

New cabin filter

173285 08/04/2017

Transmission fluid change (OEM Audi Fluid)

Rear differential fluid change (OEM Audi Fluid)

173291 08/04/2017

Intermittent wiper relay installed (OEM Audi)

New engine air filter (Mann)

173318 08/06/2017

CEL Code 00540 Knock sensor

Cleaned & greased knock sensor connectors

New Spark plugs Bosch FR5DTC

173434 08/19/2017

Installed Audi Concert 1 radio

Installed Crux BlueTooth adapter

09/21/2017

Windows tinted Virginia Legal (50% Front side, 35% rear side & back glass)

09/25/2017

New carpet floormats(Covercraft)

173740 10/1/2017

Replaced knock sensors G61 & G66 (Bosch)

Torqued Spark plugs – 22ft lbs

10/29/2017

Marshall Instruments Boost gauge install

11/13/2017

Climate Control unit rebuilt

12/20/2017

Installed Pro-Fit Phone mount bracket

174157 12/22/17

Flushed hydraulic system – Pentosin CHF 11S

174262 12/28/2017

Flushed Brake & clutch fluid – Pentosin DOT4 Synthetic

Engine Oil change w/ Shell Rotella T6 & Mann filter(See Blackstone Labs report)

174349 1/13/18

Instrument cluster bulbs replaced w/2W Osram

174621 02/17/2018

New Valve cover gasket (Reinz)

New oil cap seal

Replaced rear bumper cover

Installed European inner taillights & license panel w/Volvo tag bracket

174704 02/21/2018

Installed new Stromung Gen 5 w/cat. Converter

Installed EFI Express downpipe

174872 02/28/2018

Replaced Clutch Master cylinder

Bleed Brakes/clutch

03/15/2018

New Defa Keyless entry remote

04/04/2018

Installed rebuilt Boxster front calipers w/Centric braided brake hoses

175485 05/04/2018

Front bumper repaired/repainted

Hood repaired/repainted

Rocker panels coated/re-painted

New lower door moldings installed

175700 06/20/2018

Fuel injectors rebuilt/flow matched

Installed w/new o-rings

175816 07/08/2018

Walbro 450 fuel pump installed

175823 07/14/2018

New Mann fuel filter

Installed fuel pump relay harness (EFI Express)

175831 07/20/2018

Passed Virginia Safety Inspection

176978 10/12/2018

New brake light switch

177000 10/13/2018

Installed AK Motorsports Street harndess Front Suspension bushings; Control Arms, Subframe, Swaybar

New OEM hardware

New TRW Control arms

177020 10/22/2018

4WA

176604 02/02/2019

J-hose replacement(Spokane HOH rebuild 12/19/17)

Hydraulic system flushed w/Redline PS fluid

Magnefine filter added to hydraulic system

New horns (Hella 007424801)

176604 02/08/2019

Replaced Lt front brake caliper (faulty Boxster caliper)

Bled brakes Pentosin DOT 4

176604 02/16/2019

New Intake boot (MAF->Turbo) 034 Motorsport

176604 04/28/2019

New headlamp washer pump

New(used) LT Headlamp washer jet

New Hydraulic hose (feed to bomb)

New hydraulic hose (feed to PS Cooler)

176785 07/11/2019

Passed Virginia Safety Inspection

Failed Virginia Emissions (HC ppm @ Idle 130 – limit 125)

176790 07/18/2019

New Spark Plugs Bosch FR5DTC

176830 07/23/2019

Passed Virginia Emissions

Records provided by previous owners:

129499 01/23/2007

Thermostat replaced

113923 06/22/2007

Ignition switch(electrical) replaced

08/11/2008

Auxillary water pump replaced

104182 0823/2006

Timing belt & water pump replaced

08/25/2008

Power steering hose replaced

03/17/2010

Replaced ignition switch

Replaced Turbo Bypass(710) valve

144xxx 04/05/2011

Replaced Timing belt, water pump, thermostat, and serpentine belt

11/2011 Windshield Replaced

7/2011 New Boge front struts

11/21/2012

Passed Pa Emissions

149942 02/23/2012

New rear brake pads & rotors

New spark plugs

New Air Filter

New Fuel Filter

150071 02/27/2012

Replace cooling hose under intake

153368 05/31/2012

New left front wheel bearing

155438 11/09/2012

Right side Tie rod replaced

4 wheel alignment

11/16/2012

New PCV Valve

New Breather Check valve & hose

New 034 Polyurethane Front snub mount & bracket

11/26/2012

New 034 Short Shifter

New 034 Billet PCV Catch can kit

02/12/2013

Engine Flush

New Cabin Filter

02/22/2013

New belly Pan hardware

161202 11/27/2013

Oil & filter change

12/19/2013

New OEM Keyless remote

161563 12/20/2013

Passed PA Safety inspection

1/24/2014

New Ignition coil (EFI Express)

165650 05/29/2015

Passed PA Safety inspection

Tire rotation

New wiper blades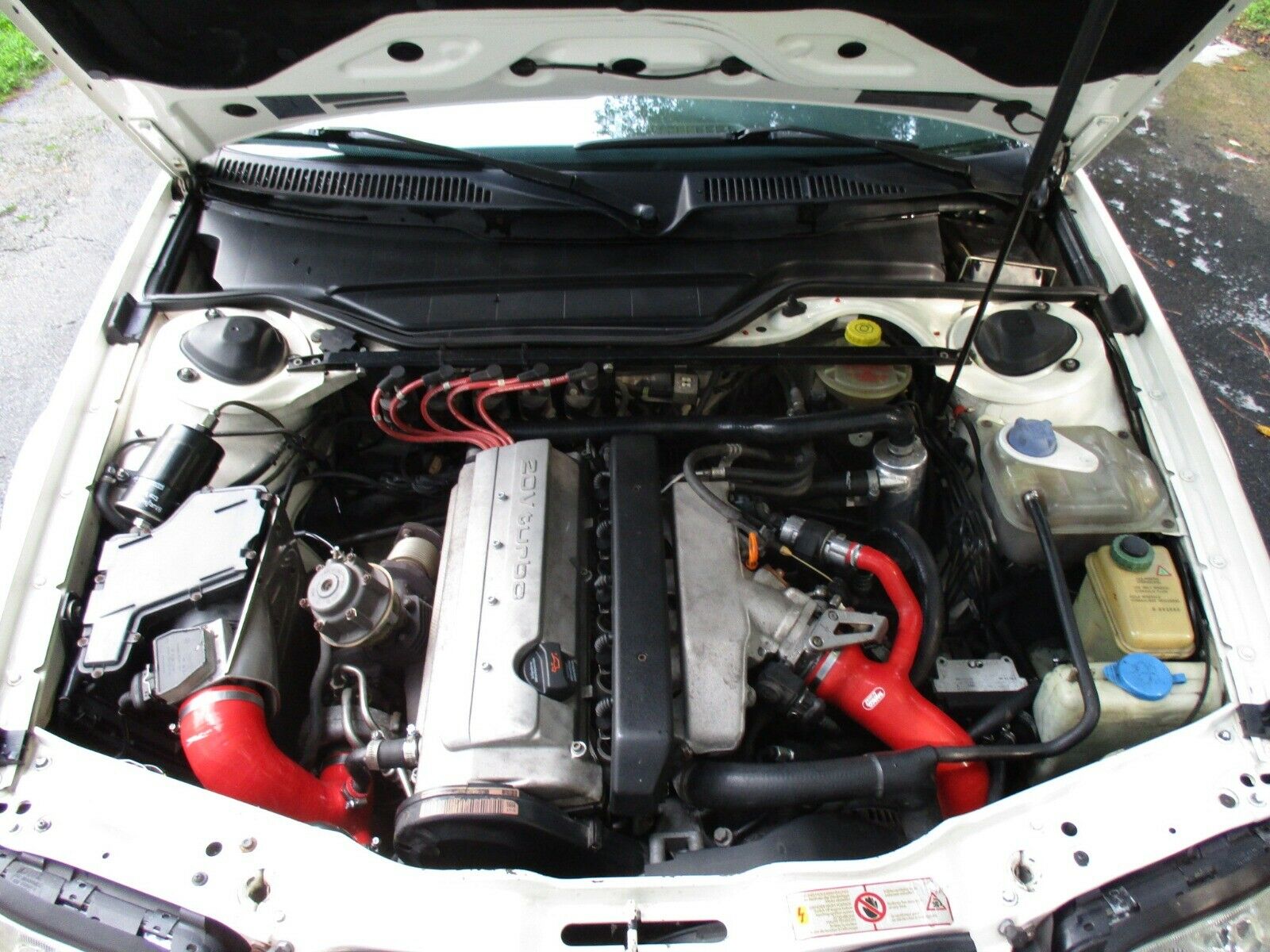 Beyond the limited nature of this package, there's the ultra-rare color combination. LY9G Casablanca White is very rare as noted by the seller, and while it'll quickly be mistaken for the much more common Pearlescent White Metallic, enthusiasts in the know will spot the difference. This one has a lot of subtle upgrades; the rear Euro lights are a great look and the 17″ Ronal-made C5 S6 wheels keep the proper offset and look while going plus one. The MTM chipset, EFI Express and 034 bits help to generate more go while the Porsche brake upgrade ups the whoa. The seller is clearly an enthusiast and has thoroughly documented the work performed. It's got some minor character flaws, but in all this is a very tidy sedan that should be a fun driver.
Unlike the M5 and E500E, values on these cars still haven't taken off though in the right guise they're certainly their equal in terms of performance. Bids have been quiet so far on this example and the reserve is unmet at time of writing, but still this car's sale price will only be a fraction of the more illustrious German names while offering you as much distinction, that fantastic turbocharged inline-5 soundtrack and enough woosh to plant you and your passengers firmly in their seatbacks.
-Carter