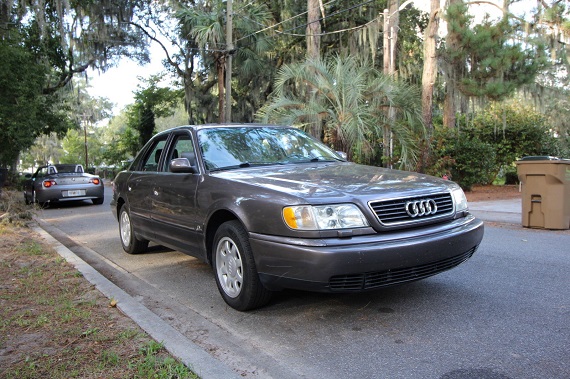 Along with the switch in nomenclature that came with the 1995 A6, there were visible changes. New headlights, all-red tailights and a revised grill stood over smoothed, monotone bumper covers. Gone were the wide black plastic rub strips that had been the signature of Audi products for more than a decade, and in their place were more discrete color-coded units. New wheels from Speedline were the standard 15″ option for both quattro and front-drive models. Outside of that, there were few mechanical changes to either drive configuration and the interiors remained unaffected. Despite this, Audi rolled out one more new name for its lineup that most have forgotten; FrontTrak. What did the fancy name get you? Well, perhaps when being sold it sounded more special than just saying "Oh, you're not opting to buy a quattro-equipped model? Well, the consolation prize is FrontTrak, so everyone leaves a winner!" The reality is that it was still basically just an open differential front-drive sedan, and so ubiquitous was the name Audi with quattro that many have forgotten the popularity of their front-drive models even into the 1990s.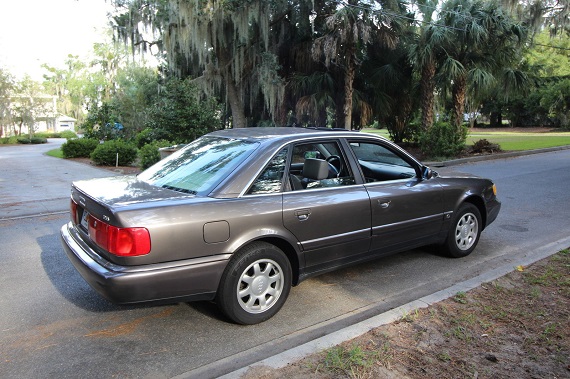 Year: 1995
Model: Audi A6 2.8
Engine: 2.8 liter V6
Transmission: 4-speed automatic
Mileage: 70,000 mi
Price: $3,500 Buy It Now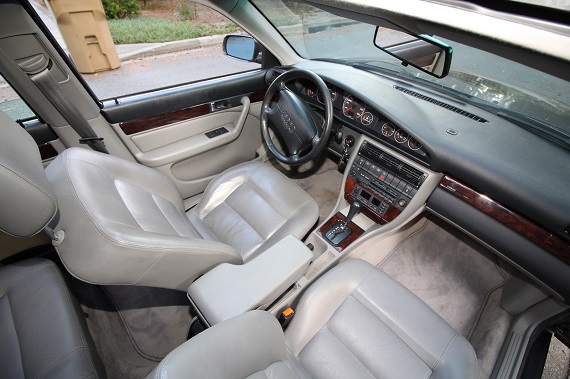 Incredibly clean and classic 1995 Audi A6 2.8 with a flawless interior, absolutely NO mechanical defects, and a straight and clean body in classic colors. Headlights are clear and seats are untorn. This is the cleanest A6 you will find anywhere! Two owner car with a clear GA title and great maintenance including four brand new tires and regular oil changes. This is a super low miles (70K) time capsule of a car that deserves to go to someone who appreciates it. Unfortunately I do not have the space for it or I'd keep it myself. Feel free to contact me with any questions!!!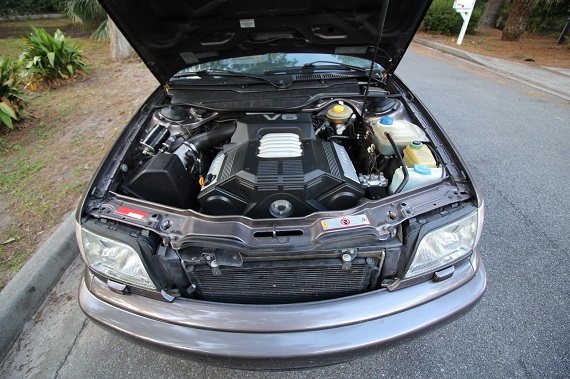 Condition of this Cashmere Gray Pearl example is excellent thanks to relatively low miles, and while the gray leather interior won't be popular with everyone, the wood is a nice touch and this car has the optional heated seats that came as part of the All Weather Package, which included heated locks, washer nozzles, and headlight washers. Automatic transmission was also an additional option, and rarely you can find a manual equipped car. However, the car does not sport other options like the Bose stereo upgrade, instead relying on the pretty good Audi Gamma head unit. The 2.8 V6 carried over unchanged from the 100, which meant adequate power and decent highway cruising, but the floaty standard suspension and automatic won't have you searching out B-roads. Is this car anything to get excited about at $3,500? Not really, but it's a very nice and competent, well-built sedan that will last for a long time. As a commuter with a bit of style, this car makes a great option and should be affordable to keep running for a long time. If it only had Mercedes-Benz badges, so many more would be clamoring over exactly what we see here….
-Carter